Boys "charming" with Galaxy Note10 from movies and notebooks

Nam, 22, an office worker sharing an interesting story from an ifan who boldly changed, switched to Galaxy Note10 + when he understood his interests and needs. Choosing a new and most advanced iPhone version at the time of purchase such as 6 Plus, 7 Plus and later iPhone X, Nam was really impressed with Samsung's flagship at first sight: "Thanks to the Note10 + with a full screen, holding the device in your hand feels like you're just holding a screen, the excess is not much."
Nam was excited to talk about the new phone, especially the image experience on the Infinity-O screen of the device
"I watch movies, experience the screen a lot. Note10 + has a big screen and the image quality is very beautiful. I'm a moviegoer so I feel like the Note10 + is suitable", The guy who is the 7th art fanatic shared the reason for his phone change decision.
In addition to moments of entertainment entertainment in the blockbuster Infinity-O screen, from Galaxy Note10 + "on the team of the South", his work becomes more convenient. "I'm a heavy note-taker, so thanks to Note10 + I have an S Pen so I can take notes whenever, quickly … I used to use my notebook to take notes before. Take notes of writing, sometimes write them down to forget where the notebook is. Now there is Note10 +, when I need it I can take notes directly on the device. The phone is unforgettable. (Laugh) ", Nam was happy to share how his new phone from Samsung helped him at work.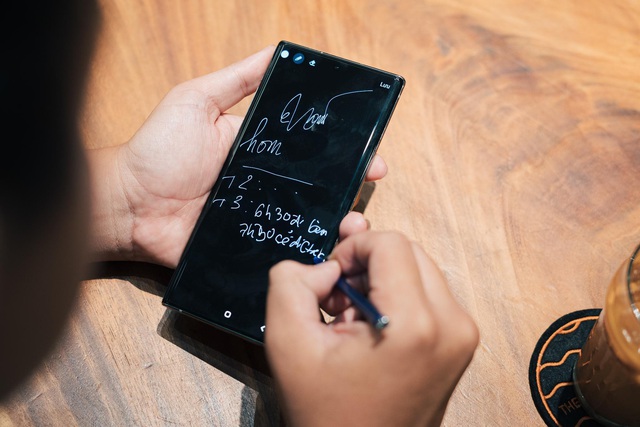 Quickly take note of work from the time of removing pen, Galaxy Note10 from now on also acts as a notebook in Nam's work
Galaxy Note10 + in general, the S Pen in particular is always equipped with a lot of features, which can normally not be used up but sometimes when it comes to difficult things, that abundance helps users to "show the wisdom", " more and more addicted "as Nam shared: "One day my group went out to District 2, I was struggling to think about how to take pictures so that no one in the group suddenly remembered that I could use the S Pen to shoot from afar".
When asked about how the experience was different from moving from iPhone to Galaxy Note10 +, Nam excitedly listed that, when combined, can be encapsulated in the word "comprehensive". "I moved from iPhone to Samsung, the first thing is to see the experience screen is very good, powerful features. Besides, the device is also handy with the S Pen, unique design with rainbow colors.", Nam shared.
She designed the Galaxy Note10 because she loves pink and sketches wherever she goes
Also an Apple smartphone user for a long time with the iPhone 5, iPhone 7, Hoang Yen, 27 years old, coming to Samsung's high-end phone because of its unique S Pen stylus on the market. phone to date. "Note10 owns an S Pen drawing that is very fond of plus due to the specificity of the design work, I can sketch ideas quickly, go out to meet something or record it immediately. Also to sell ideas for customers faster, I also use Note10 to sketch quickly and send it to them through messages, not need to open this computer and that., Yen shared a predestined relationship with the Galaxy Note10.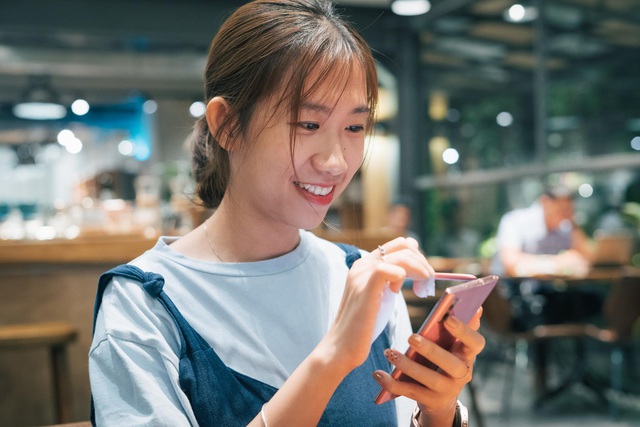 Quick sketching of ideas with the S Pen on the Galaxy Note10 is the most impressive Hoang Yen experience
Besides the ideal S Pen for designers in the field of design like her, Galaxy Note10 also "caught the eye" of Hoang Yen with bold feminine accents. "I find pink on Note10 cute but not on other devices. It also has a neat design, full screen display borders easy content, especially watching movies like", She happily bragged about her new phone.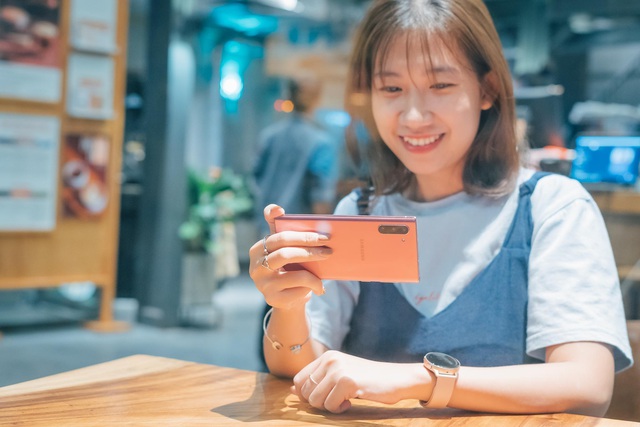 The girly pink and impressive display are the next two points that make her decide to "pick" Galaxy Note10 into her team.
As a creative person, it is extremely important to find inspiration, joy in your personal life and work. Using a high-end smartphone from Samsung, she shared that she was enjoying a very different atmosphere, it was more fresh and more attractive: "Use Note10 to listen to music very well. Every morning I usually open to listen to inspired music to wake up to go to work. At work, every meeting needs to take notes, outline quick ideas, I will work directly on the device very conveniently. Filming is also nice, with video drawing (AR Doodle), making the story uploading more interesting. "
Hoang Yen also joked that from the day of "picking up" Note10, she not only admired her close friends but also made a good impression in front of customers: "I shared on Facebook, uploaded the story of the work done with Note10, everyone complimented" genuine phone ". Customers who found themselves working on the device also admired" it is so convenient ". The pen is colored, so the idea of ​​sketching is also more attractive than using a ballpoint pen. "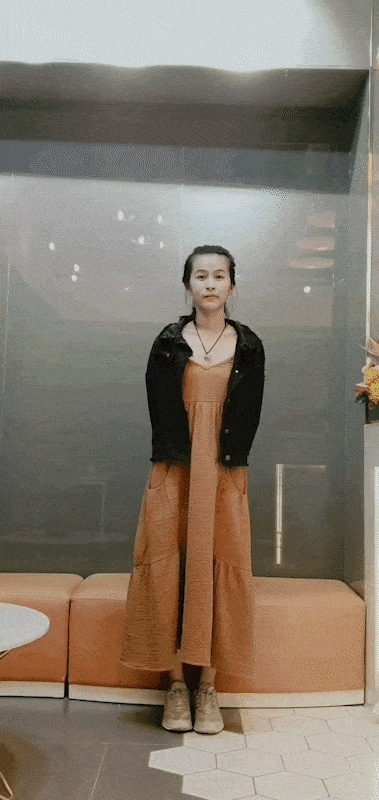 This is just one of many impressive clips filmed by Yen and taking advantage of the AR Doodle feature of Note10. Achievement like this, everyone must admire her creativity as well as the uniqueness of the effect
The same starting point is a longtime iPhone user and decided to boldly change to Galaxy Note10 | Note10 +, but both Nam and Yen fall in love with Samsung's high-end smartphone in different ways. That shows that the flagship from the world's No. 1 smartphone company is strong enough, diverse features to fully meet all high-end user needs today.