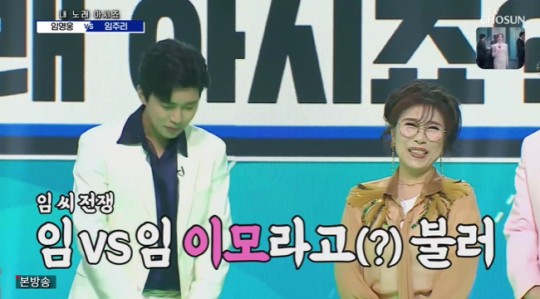 [뉴스엔 이하나 기자]
Lim Joo-ri and Lim Young-woong met as a confrontational opponent and waged a'Lim's War'.
Hit 6 appeared on TV Chosun's'I Sing the Requested Song-Call Center of Love', which aired on February 26, and was held as a special feature of'You Know My Song'.
Im Joo-ri and Lim Young-woong, who were the same, unfortunately met each other in a confrontation. When asked, "Where is Mr. Lim?", Lim Young-woong replied, "This is Yecheon Lim." Lim Joo-ri asked, "Is it a bush?" and "I am almost a relative. Call me your aunt," he said.
Lim Joo-ri showed his own humor, saying, "I'll call'One Single Heart Dandelion' in the version of Lim Young-woong." Lim Young-woong laughed belatedly, and Yang Hye-seung revealed Lim Joo-ri's history, saying, "You came out of law school."
Lim Young-woong gave a deep impression and received 98 points by selecting'Hoo' of Jo Joong-jo. Young-tak said, "This song is going to go wild. It is a hidden masterpiece." Lim Young-woong said, "It would have been nice if we had prepared a little more."
Lim Joo-ri boasted of his prowess by pressing'One Single Heart Dandelion' with an appealing tone and received 100 points. (Photo = Captured TV Chosun'I will sing the requested song-Call Center of Love' broadcast)
Lee Hana on the news bliss21@
Article reports and press releases newsen@newsen.com
copyrightⓒ News. Unauthorized reproduction & redistribution prohibited