A little bit about wireless charging
Currently, there are many smartphone manufacturers applying wireless charging technology to their high-end products. For example, the flagship smartphones of Samsung or LG support both PMA and Qi standards, while Apple feels that simply integrating the Qi standard on the iPhone is enough.
According to DigitalTrends, "Wireless charging is an extremely useful technology, and most of all, rumors about the harmful effects of this charging technology are inaccurate. So you can continue to use it and experience it. without worrying about your phone's battery being damaged.
Apple is a pioneer in using only one wireless charging standard on mobile devices
After a long time manufacturers struggled to find a common wireless charging standard, finally in 2017, Apple released the iPhone 8 and iPhone X duo with the ability to support Qi charging standard. somewhat affects the general direction of the technology village.
Before that, the market was quite confusing because there are so many standards related to wireless charging. The first can be mentioned is the Qi charging standard, a charging standard from the Wireless Power Consortium (WPC) that currently accounts for 90% of the market share.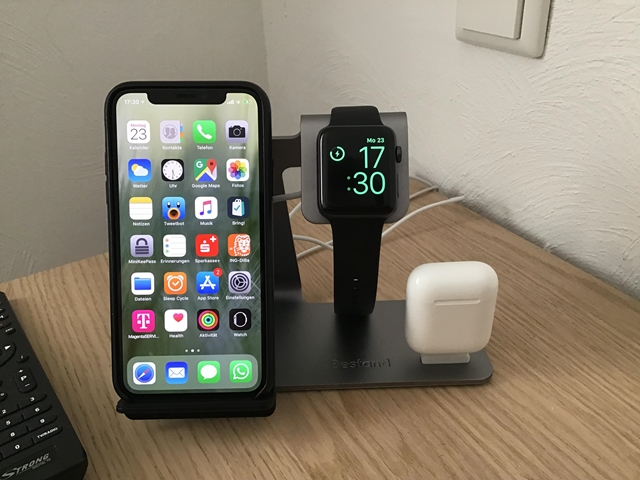 In early 2018, the organizations behind these charging standards merged, putting an end to the fragmentation of the wireless charging standard, and indirectly confirming that: Qi is the common standard, being held by the organizations. and firms focusing on development and improvement.
If in the name, we have quite a few names like Qi, PMA or A4WP, PMA AirFuel, … making it easy to get confused, when it comes to the principle of operation, there are only 2 main groups: It is charging or not. wire for electromagnetic induction and wireless charging using electric resonance.
The Qi charging standard is the most common
Such as the Qi charging standard, it applies the principle of electromagnetic induction as follows: There will be a primary coil placed in the charging dock and a secondary coil placed in the device (such as a smartphone) and so on. These 2 windings form a power transformer.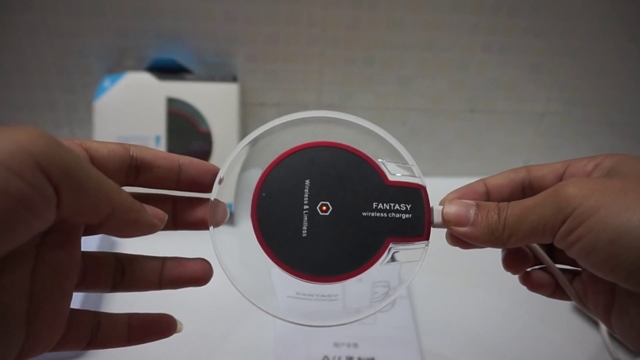 When you plug in the power and turn on the charging dock, the AC entering will create an electromagnetic field around the primary coil. At this point, if you place the device containing the secondary coil close enough (about 45 mm), this current will be transferred to the secondary coil and converted to direct current by the receiver circuit on the smartphone, the charging process will started to take place.
At the present time, the Qi 1.2 standard also supports resonant wireless charging technology for charging at a longer distance, range of 2.8 cm. But in order to ensure backwards compatibility with previous versions of Qi as well as to ensure limits on electrical safety, temperature, quality of transmitted electrical signals, … only charging systems are designed. For long-range charging purposes, the effectiveness can be seen clearly.
How to use wireless charger?
First you need to determine if your phone supports wireless charging or not. Usually the high-end smartphone lines of the cashew companies are equipped with this feature, the rest of the average or popular lines is omitted to reduce costs.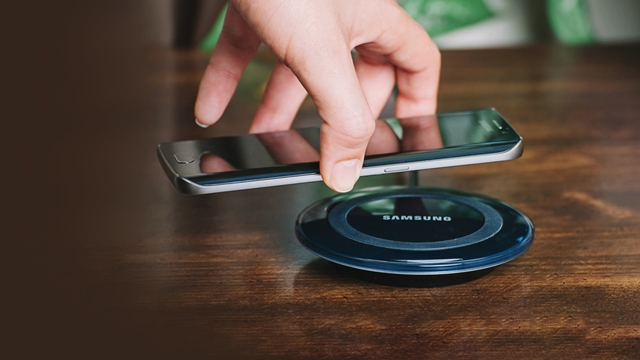 These wireless chargers are usually these small charging pads or plates that come in a variety of shapes and sizes, from the size of a mouse, to the small dish made into furniture, available for a few hundred thousand. .
Is charging with wireless faster than wired charging?
One obvious difference between wireless charging and wired charging is the charging time. While the amount of charge depends on the capacity of your charger, wireless charging is generally slower than wired charging – wireless technology isn't quite as effective. Some wireless chargers have "fast" charging with a high-powered charger, but it's still not as fast as a wired quick charger.
With wireless charging, you also lose portability, as you are limited to where the charger is located, rather than being limited only by the charging cord. Most people usually put their wireless charger on a nightstand or on a desk.
Does the phone heat up when using the wireless charger?
Yes, most phones and chargers will warm up on the contact spot for charging. When charging via cable, the phone also warms a bit, so this is not a big deal or to worry about. However, if it gets too hot, there might be a problem with the battery.
Reasons to use wireless charging instead of wired charger
First, it is clear that wireless charging is easier to use. While plugging in a phone cord is not too difficult, with wireless charging, you just need to place the phone on the charging dock or the charging dock and the battery will recharge. You can also easily check messages or notifications and then put your phone down on the charger without having to mess around with any wires.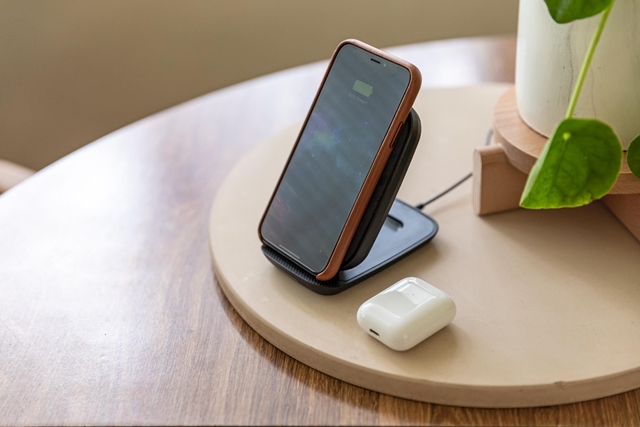 Also, the wireless charger will free up your phone's charging port. With many smartphone manufacturers ditching the 3.5mm headphone jack and providing an adapter to share the charging port and headphone jack, it's inconvenient if you want to charge and listen to music at the same time. With the wireless charger, you can use the headset while charging the battery.
Some wireless chargers are in a vertical design (charging stand), which means you can put your phone in it hands-free to watch videos, chat FaceTime with friends, or watch messages.
Limitations of wireless charging
Although it has been on the market for a long time as well as being noticed by major smartphone manufacturers such as Apple, Samsung, in fact, wireless charging has not really attracted users.
Simply put, charging capacity is not an advantage of wireless charging compared to wired charging. Furthermore, to use wireless charging, you must purchase a separate accessory. You also need to place the device at a certain distance from the base, and the charging dock also needs to be wired to the power supply.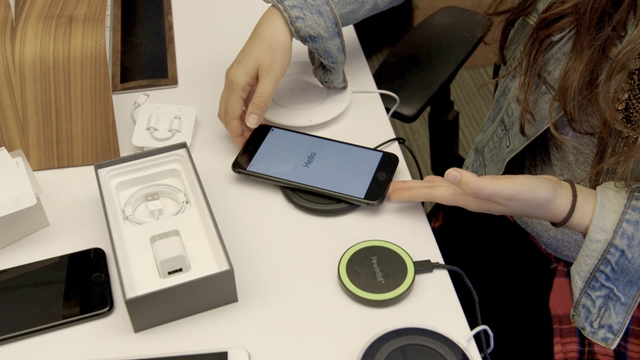 How do I choose the right wireless charger?
You may find it difficult to choose a wireless charger because there are so many wireless chargers from different brands on the market. Most of them have an almost identical appearance, and it's hard to tell what the difference is.
The first thing you need to consider is the phone you already have. Some manufacturers optimize their phones for different amounts of electricity. If you buy a wireless charger and a charger that is more powerful than what your phone needs, you have wasted some money on the additional capacity.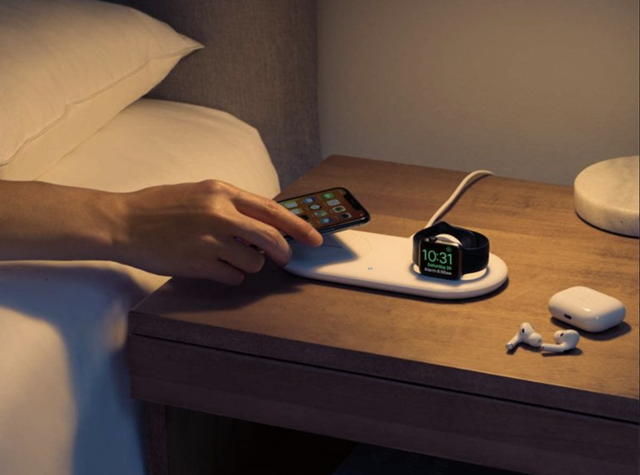 iPhones are capable of wireless charging up to 7.5 watts, and Android phones, depending on the manufacturer, are capable of receiving up to 15 watts. It's best to consult your phone's user guide to see its wireless charging capabilities, and note that not all wireless chargers come with a quick charger, so you may need to buy one. separate quick charge.