What opportunities are there in the shooting game market?
In recent years, with the rise of subdivision gameplay such as tactical competition, this long-established category has further spread to the general public. Many new users have been converted into shooting game players, and the growth curve of the category has also made a lot of developers gear up.
However, this is not a category that can be easily entered. The tactical competition is full of waves, and there are only a few representative products left. The mobile game of a series of classic shooting games such as "Call of Duty" has also set an industrial quality benchmark for the same category of traditional shooting gameplay.
However, this does not mean that the development trajectory of the category has been completely fixed, nor does it mean that small and medium manufacturers have no room for competition.
Deconstructor of fun analysts Michail Katkoff, Adam Telfer, Ionut Dogaru and Alexandre Macmillan have put forward some interesting points in their blogs. For example, the ancient sniper games are now in a state of lack of new products; typical FPS The head camp of /TPS mobile games is also likely to usher in new faces this year.
The following is a compilation of the original text by Mr. Grape, with a little abridgement.
Shooting games are the fifth best-selling category on mobile platforms, and their net income in 2020 reached US$2.1 billion (approximately RMB 13.5 billion). In the past year, both the revenue and downloads of shooting products have seen significant growth, with a revenue increase of about 38%, and the total downloads of 2.7 billion times have increased by 31% compared with 2019.

The top five best-selling categories in the European and American mobile game markets in 2020
Throughout 2020, due to the impact of staying at home during the epidemic, player activity in almost all game categories has increased. Shooting games take a long time to play in a single game, requiring players to concentrate and have a stable network connection. It is almost the category that benefits the most during home, second only to gaming games.
From the perspective of market segments, the games with the highest revenue in the shooting category all use decorative items (skins, etc.) as their main payment points. With the increase in downloads, game content with guaranteed fairness has also greatly increased player activity, resulting in a simultaneous increase in game revenue.
In addition, these games also benefit from the heaviest (in-game) event settings in the industry. The best-selling mobile shooting games often focus on content updates and online activities. Developers need to quickly and continuously introduce new gameplay and activities to ensure that players will invest the corresponding game time every season.
Last year's industry situation just verified how important it is to update the content. In 2020, "PUBG Mobile", "Call of Duty Mobile", "Garena Free Fire", "Fortnite" and "Operation Wilderness" all launched exciting new gameplay and decorative props, driven by these contents, The retention curves of several products are very good.
《Garena Free Fire》
Don't forget the "Fortress Night". "Fortnite" was removed from the App Store and Google Play in August last year, and disappeared for a third of the year. If this is not the case, the shooting mobile game will definitely increase revenue by more than 38%.
From a macro perspective, shooting games are developing into a large-scale and growing category, currently dominated by leading developers. At the same time, this category is also leading a change in the game market: players desire a deeper, more social, and more connected experience.
Shooting mobile game Red Sea
In shooting games, some series have extremely high popularity. For example, "Call of Duty" has become a household brand in the past 20 years. But the interesting thing is that on the mobile platform, some of the best-selling shooting mobile games have not been around for a long time, and there is no heavy historical accumulation. "Fortress Night", "PUBG" and "Garena Free Fire" are relatively new works, which also make their respective distributors become world-class giants in the category.
In 2018, tactical competition set off a "gold rush" for shooting games in Europe and America. Many people want to know whether this round of gold rush is over, whether the shooting game market has become saturated, and whether the category market is only accessible to large manufacturers. After all, only they have the ability to quickly add new gameplay and face thousands of games. Thousands of active players launch massive content.
In our opinion, for those competitive shooting games that make money through skin, the "gold rush" has ended as early as 2019. But as far as the shooting game category is concerned, we still believe that many development teams still have opportunities. Mainly based on the following 3 points.
#1 Strong market demand
On mobile platforms, a shooting game is usually installed up to 20 million times throughout its life cycle. Considering that most shooting games are actually made by small studios that lack IP or distribution resources, this data is quite impressive.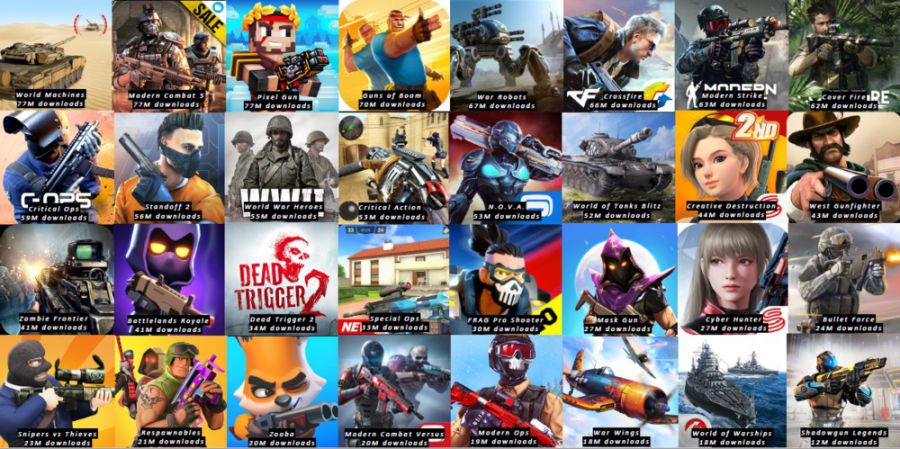 Mobile shooting games are very competitive in "attracting downloads", which is not limited to large productions
#2 Low-price competition strategy creates barriers to entry
Shooting mobile games tend to have higher installations, and CPI is lower than average. At the same time, if a shooting mobile game focuses on PvP battles, its profitability will be limited. Most shooting mobile games do not use the cultivation mechanism that is common in F2P games and are based on numerical enhancement, but mainly rely on the skins sold in Battle to make money.
For large manufacturers in the shooting category, the "low-price competition strategy" has become a winning weapon. For example, manufacturers such as Tencent and Garena will continuously provide large-scale content that can only be produced by a studio of two to three hundred people, so as to attract players to retain for a long time and ensure that the game can continue to be profitable.
By providing better services to players at lower prices, major Asian manufacturers have created barriers to entry, making latecomers unable to compete with them-because they have no inherent user base, nor can they charge players extra fees To build an audience.
Observing the revenue trend of shooting mobile games, you will find that this strategy is very effective. In 2020, the overall revenue of the shooting mobile game market has increased by 38% year-on-year. Although the proportion of downloads of the top 4 revenue models has dropped significantly compared with 2019, their revenue (in the entire market) has increased from one year The former 75% rose to 90%.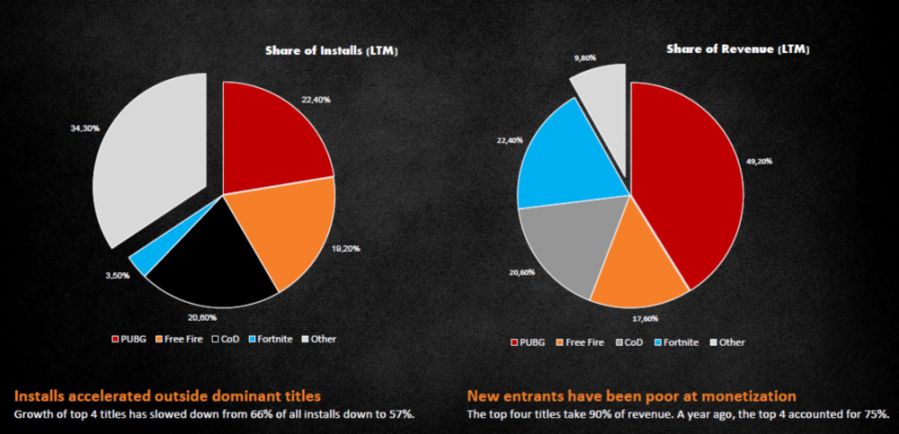 #3 Diversified player needs
To increase the retention rate of a modern shooting mobile game, the usual method is usually to design a rich Battle Pass, continue to add new maps and new modes, and encourage players to play with friends. However, not all players like the fiercely competitive PvP battles, especially for many players, the failure of the battle is often encountered.
On the mobile platform, in addition to sniper shooting games, all other shooting games will allow players to participate in direct confrontation. Although they also encourage players to collaborate, there are only a few games that provide players with careers or play methods that allow players to improve their combat effectiveness. More importantly, because shooting mobile games usually lack a mechanism for developing and improving combat power (players can only rely on operating skills), some older players may find it difficult to compete with younger players, and therefore feel that the game Disappointed.
"PUBG Mobile" launched Metro Royale ("Metro Mode") some time ago, and NetEase also released "Badlanders", both of which focus on some gameplay outside of a single game and provide some form of "combat power enhancement" mechanism .
Find the "blue dot" in the Red Sea in the shooting mobile game
Players have a strong demand for new shooting mobile games. However, it is almost impossible for new products to compete with the "low-price competition strategy" and the best-selling games that have established a leading edge.
Compared with the mobile platform, the shooting category on the console and PC platforms has evolved faster. "Borderland 3", "Vigor", "Star Wars" and "Escape from Tarkov", etc., are available in gameplay or meta-games. The innovation. The successful cases of these games show that in order to gain a foothold in the highly competitive Red Sea market, the development team needs to find its own "blue spot" in the Red Sea.
Overview of shooting mobile games in 2020
We divide the shooting mobile game into four branches:
FPS/TPS that mainly promotes PvP gameplay (such as "Call of Duty Mobile Game");
Tactical competitive games ("PUBG", "Fortnite", etc.), strictly speaking, they belong to a subcategory of multiplayer shooting games, but in terms of coverage, this category deserves to be listed separately;
Strategic shooting games (such as "World of Tanks"), these games have a relatively slow pace of competition, and paid items usually include mechanisms to speed up the progress of the game;
Sniper game (station shooting), the player does not need to move in the game, fixed-point shooting, such as "Sniper 3D".
Next, we analyze these four types of shooting mobile games one by one.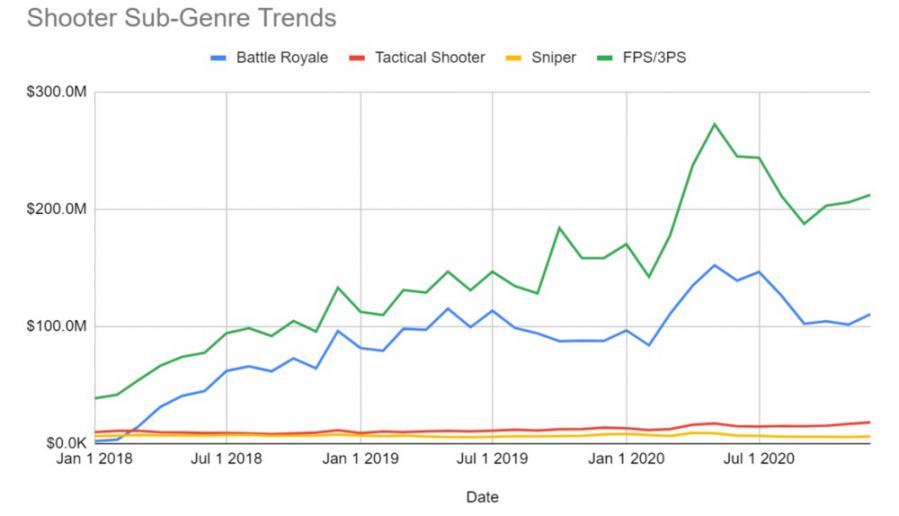 Sniper games once set off a boom in shooting games on mobile platforms, and now they have developed into a mature niche category, with a growth rate far slower than the overall growth rate of shooting mobile games.
Team-based strategic shooting games (such as "War Robots" and "World of Tanks") are a category that has emerged after sniper games, with an overall revenue growth of 31% in 2020.
In 2020, the total downloads of tactical competitive mobile games have not changed much compared with 2019, but revenue has still achieved considerable growth. But two points need to be pointed out:
1. "PUBG Mobile" revenue accounted for 60% of the overall revenue of tactical competitive mobile games, and 60% of its annual revenue of $1 billion came from the Chinese market;
2. The revenue of the Android version of Fortnite is much lower than that of the iOS version. Since it was removed from the Apple App Store in August last year, the game has not generated any revenue on the iOS platform.
Compared with 2019, FPS/TPS revenue almost doubled last year, and "Call of Duty Mobile" is the biggest driver. "Call of Duty Mobile Games" revenue in 2020 has reached nearly four times the previous year's revenue, accounting for about three-quarters of the total revenue of the FPS/TPS market.
Tactical competition: the new subdivision mode is still decisive
Tactical competitive games have been popular for more than two years and are no longer new, but developers are still enthusiastic about adding tactical competitive gameplay to almost all types of games. One of the important reasons is that players who were not attracted by other shooting methods in the past were caught by tactical competition. Tactical competition has the highest retention curve among all game categories-although this type of game is complicated to operate, the time for each game is quite long.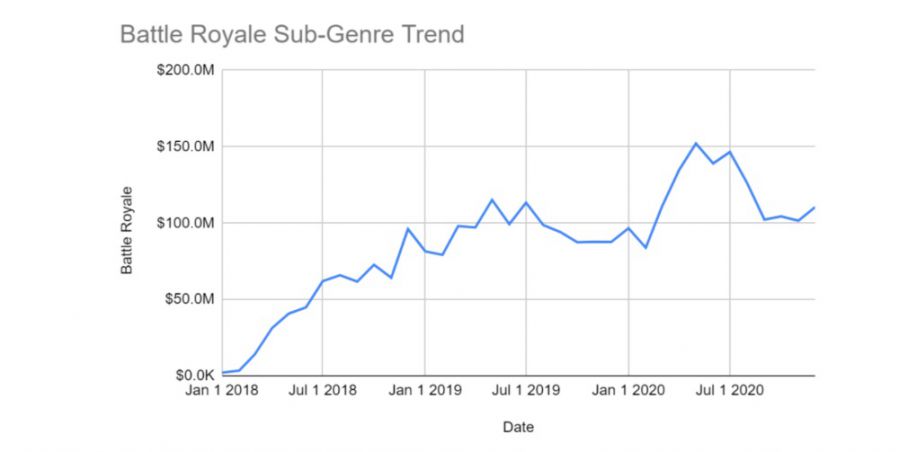 In 2020, in keeping with the overall pace of shooting games, tactical competitive games have experienced significant growth on PC, console and mobile platforms. Over time, tactical competitive games have gradually become mature and stable, but there is still room for player activity to increase.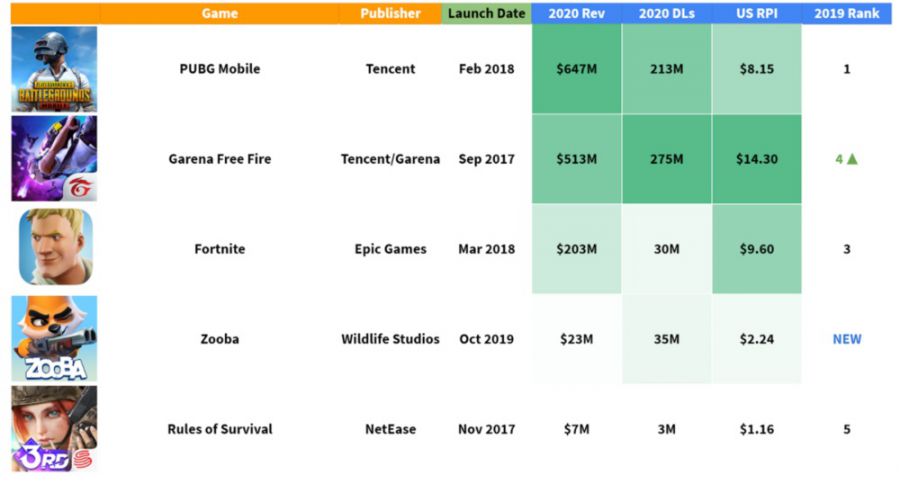 If you look at the top five tactical competitive mobile games by revenue in the European and American markets in 2020, you will find that "PUBG Mobile" continues to maintain its dominant position, but "Garena Free Fire" is quickly catching up. In the past year, the average revenue per install (RPI) of "Garena Free Fire" users even exceeded that of "PUBG Mobile" and "Call of Duty Mobile."
"Zooba" developed by Wildlife Studios is also a product worthy of attention. I once commented: "By taking the leisure route, "Zooba" can avoid confrontation with large publishers such as Tencent and Activision, but so far, the game's ability to retain users and attract money is not as good as those best-selling masterpieces… We believe that in time, "Zooba" is likely to open up a market segment of its own."
In a sense, "Zooba" did it. It does not compete on the same battlefield with "Fortnite", "PUBG Mobile" or "Garena Free Fire", but it proves that compared with the "traditional" payment mechanism that players can get stronger with money, if the development team can source Constantly launching new skins and online activities can push LTV to a higher level.
However, as the entire category has entered a mature stage, the user bonus of tactical competitive games has been exhausted. This type of game is no longer as popular as it used to be, and players are beginning to get tired of its gameplay and eager to find a new type of experience. Tencent's Tianmei, Photon Studios, Epic and Garena are all very clever: by gradually adding new game modes, players can find freshness.
In 2020, "Fortnite" and "PUBG Mobile" are the most commendable in this regard. Following the popular trends of "Among Us" and "Horrorism", Epic quickly introduced a similar "Spy Within" mode in "Fortnite" and encouraged players to try new gameplay by issuing bonus skins.
"PUBG Mobile" launched the "Metro Royale" (Metro Royale), which is like a "trophy shooting" version, which fundamentally changes the way players play. In the subway mode, the player's goal in a game becomes to collect as many trophies as possible, and finally escape safely.
From a design perspective, the evolution of tactical competitive games is far from over. Many development teams will experiment in each season and strive to introduce new game modes that can motivate players. This is still a category worth paying attention to.
FPS/TPS: "Call of Duty Mobile Games" Yiqi Juechen
In order to distinguish it from tactical competition, we treat FPS/TPS as a separate category. These games focus on modes such as team competitions, and usually use the first person as the default perspective. Among the mobile games with FPS/TPS gameplay, "Cross Fire" has been in the leading position for a long time, until "Call of Duty Mobile Games" was released in the fall of 2019.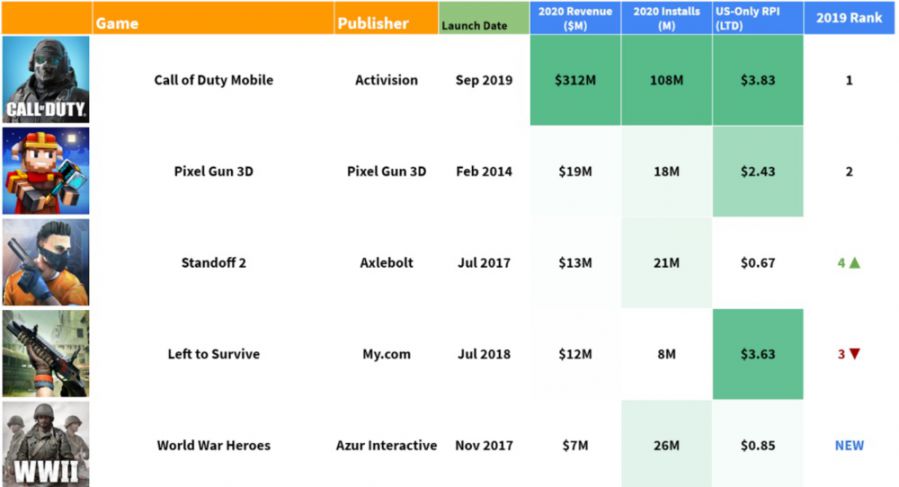 Last year, "Call of Duty Mobile Games" achieved significant growth in the European and American markets. Since its release in the fall of 2019, "Call of Duty Mobile Games" has quickly become one of the most downloaded mobile games ever. However, in that year, the ARPU of Call of Duty Mobile was low compared to other shooting games that profited from cosmetics. Taking into account the strength of the studio behind the game, we predicted that in 2020, Tencent and Activision will greatly enhance the monetization ability of Call of Duty Mobile. It turns out that we guessed right.
In 2020, the revenue of "Call of Duty Mobile Games" increased by 362% compared to 2019, and this is largely due to the development team's high-quality update content.
At present, "Call of Duty Mobile Games" launches a new season every two months. Each season has a different theme. It will introduce new characters, weapons, ultimate skills, kill streak bonuses, special abilities and new game modes. Starting from the third season, the development team made the names of each season and Battle Pass consistent with its core themes, which provide players with a richer skin appearance and are no longer restricted by modern military themes. The development team spent some time on various attempts, until around the sixth season, the revenue of "Call of Duty Mobile Games" really ushered in a leap forward.
"Call of Duty Mobile Games" does not limit the theme of the season to the modern military scope, and the benefits of doing so are obvious.
In Europe and America, the revenue of Call of Duty Mobile Games accounts for approximately 75% of the total revenue in the FPS/TPS market. In 2020, its revenue exceeded 16 times that of the second-selling FPS mobile game "Pixel Gun". Although certain games have also attracted a group of loyal players, such as PvE's well-designed "Left to Survive", as well as "Standoff 2" that has an eye-catching performance in the Russian market. But in the foreseeable future, I am afraid that no FPS/TPS shooting game can pose a real challenge to Call of Duty Mobile.
Strategic shooting: high ARPI but limited market size
The revenue scale of strategic shooting games is much smaller than that of tactical competition and FPS/TPS. Such products usually have the same 5V5 game mode, classic PvP and other gameplay loops, as well as distinctive vehicle systems. However, the biggest difference between them and other sub-category shooting games is that the overall pace of the game is slower, and there are often systems that allow players to spend money to improve their combat effectiveness. In a sense, strategic shooting games seem to be suitable for players who are older, slower to react, but have higher financial strength.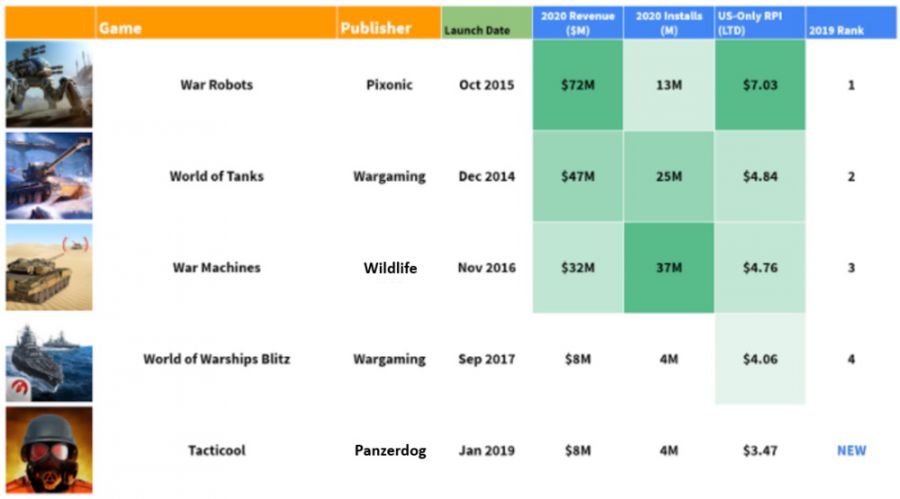 In all successful strategic shooting games, players need to drive a giant vehicle (tank, robot or battleship), and the speed of movement and aiming will naturally slow down. Due to the slow pace of the core gameplay, players can spend more time deploying tactics or teamwork. Both of these elements are deeply loved by the target audience.
Strategic shooting games often have a set of combat power enhancement mechanisms based on character occupations/vehicle types. For example, compared with low-level vehicles, higher-level vehicles have advantages in terms of armor, health, and firepower. Compared with the Battle Pass (it cannot help a player with poor operating skills to win the game), this type of mechanism is also more helpful to improve player retention and stimulate players to spend in the game.
In theory, players can spend money to buy better tanks/mechas, but strategic shooting games also have fairer competition, because just like "rock, paper, scissors", various occupations will check and balance each other. Players can indeed spend money to buy better vehicles, but they can also show off their skills in the game. As long as they give full play to their own advantages and attack the weak links of their opponents, any team has a chance to win the game.
Combat power enhancement mechanism, more mature player groups, and many players are keen to conduct in-depth research on playable occupations… Under the combined effect of these factors, the ARPI revenue of strategic shooting games has reached at least two levels of tactical competition and FPS/TPS games. Times.
In 2021, this category should not change much. Considering that all head games are very mature and the overall market size is limited, we believe that strategic shooting is not a category worthy of priority consideration by the development team.
Sniper game: new products are rare, there are vacancies in the market
In the shooting game market, sniper games are the smallest category in terms of revenue. Although sniper games have existed on mobile platforms for many years and generally adopt the most user-friendly operation methods for mobile phone users, such games do lack innovation. The tastes of mobile game players have changed, and most people have switched to other types of shooting games.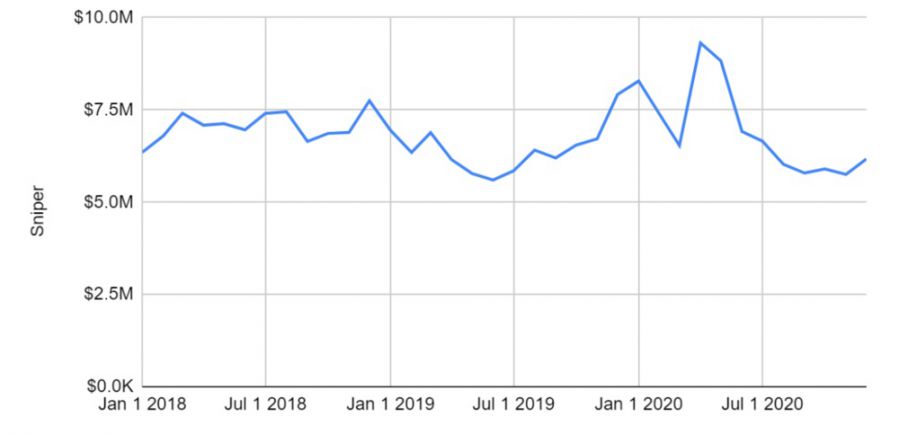 The gameplay of the sniper game is simple and easy to understand. Players know what they need to do: aim at the target-zoom in-shoot. The operation of this kind of game is not complicated, mainly through the sale of weapons and upgrades to make money. The development team can often combine the core gameplay with other systems that can add depth to enhance its replay value.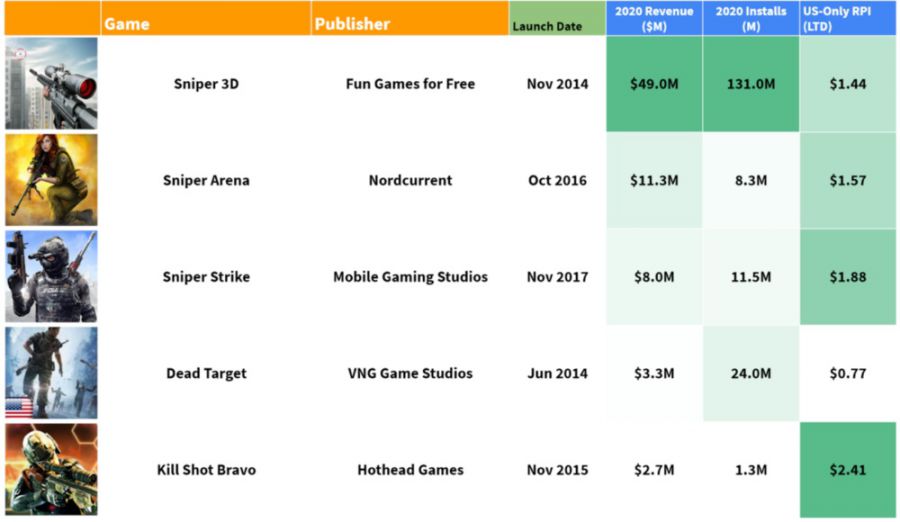 In 2020, the download volume and revenue trend of sniper games will stabilize, and the overall market revenue will increase slightly (8%) compared with the previous year. This is not because the market has become saturated, but because there are few competitive new products.
The leader of the sniper game market is rapidly aging: "Sniper 3D" was released in 2014, the production cost is not high, and the paid design has become outdated. "Sniper 3D" still relies on a very linear progress system, a bit like "CSR Racing" or "Deer Hunter", the update content is rather rigid and lacks flexibility. For example, the development team failed to enhance the replay value of the game by reusing levels. From another perspective, this also means that if a new product has a new system or gameplay design, there is still a chance to occupy a place in the sniper game segment.
The advantages of sniper games are reflected in their simple gameplay and the ability to attract a wide audience. The payment logic of this type of game is also very clear: players spend money to buy better weapons, use them to cause more damage to the target, and aim and shoot faster.
The development team needs to find ways to make weapons/upgrades more valuable or attractive. Sniper games usually allow players to directly spend money to obtain weapons, and the card drawing mechanism seems difficult to replace this payment model. But in the past few years, there have been several key innovations in the payment design of sniper games: Battle Pass is one of them, and products such as "Sniper Strike" show that the development team can also incorporate other payment models into this type of game.
The sniper game is played more casually, and the average user revenue per install (RPI) and LTV are not high. But this market segment still contains business opportunities. On the one hand, sniper games have broad appeal, and the purchase cost is relatively low. On the other hand, the top products of the category have been aging and outdated. In recent years, there is also a lack of competitive similar games, which means that new products have more opportunities to stir the market and achieve good results.
For some time in the past, "Deer Hunter: World" seems to be expected to challenge the dominance of "Sniper 3D" in sniper gameplay (although it has been tested for more than a year). Glu stated in its latest quarterly financial report that they believe that "Deer Hunter: World" can boost the company's revenue in the first year of official operation, and the online subscription revenue in the second year of operation may even exceed $75 million. However, Polish mobile game developer Ten Square Games has launched a similar gameplay "Hunting Clash". If "Hunting Clash" is as successful as "Fishing Clash", "Deer Hunter: World" will have a hard time competing with it.
Shooting mobile game market in 2021: system design innovation, head may shuffle
#1 "Free Fire" will enter the top three in shooting game revenue
The revenue curve of "PUBG Mobile", "Free Fire" and "Call of Duty Mobile" in the App Store and Google Play Store (revenues from China, Japan and South Korea are not included)
"Garena Free Fire" was once ridiculed by many people as "low-profile version of "PUBG", but it has been developing steadily, and now it has even become one of the strong contenders for the category championship. From April to December 2020, the monthly income of "Free Fire" in the U.S. market has increased fourfold, and in December it became the best-selling mobile shooting game in the U.S. market.
If you observe the statistics of the game on a global scale, you will find that the average RPI of "Free Fire" users is very low compared to other head shooting games. Some people may think that this indicates that "Free Fire" is weak in attracting gold, slow in content updates, or lacks certain necessary gameplay… However, this indicator is misleading because the growth method of "Free Fire" is similar to other shooting games. completely different.
In fact, the paid design and content update rhythm of "Free Fire" is quite radical, and the gameplay will not lose to similar works. The reason why the RPI data of this game is low on a global scale is only because it is very popular in Southeast Asia, Latin America and other regions with low player consumption levels.
If we only count the RPI data of games in the US market, our conclusions will be completely different.
We believe that "Free Fire" will enter the top three best-selling shooting games in 2021, there are four main reasons:
1) "Free Fire" not only has a huge base of daily active users, but also can retain players for a long time;
2) The development team always maintains a stable and rapid content update rhythm;
3) Compared with some similar products, the sales of strength items in "Free Fire" are more cautious;
4) In addition to developing countries, "Free Fire" has also gained a foothold in developed countries with higher levels of player consumption.
#2 In order to promote RPI growth, more games will introduce a new progress system
In 2021, more and more multiplayer shooting games will introduce a gameplay mode similar to the "Metro Mode" of "PUBG Mobile", and even begin to try to sell props that can help players advance the game faster. These modes do not directly affect the outcome of the game, maybe only a seasonal limited time mode, but anyway, PvP shooting games will usher in a new progress system.
#3 If "Apex Heroes" is launched on the mobile platform in 2021, it will not enter the top four best-selling shooting mobile games
We have no intention to target EA or Respawn studios, they have a great team, "Apex Heroes" is a great game. But an unchangeable fact is: on the mobile platform, the multiplayer shooting/tactical competitive game market is very mature, and it is difficult for even the larger developers to shake the existing pattern.

"Apex Heroes" has maintained a good market performance on PC and consoles. However, on mobile platforms, it will have to compete with the best-selling masterpieces such as "Call of Duty Mobile", "Free Fire", "Wild Action" and "PUBG Mobile". The RPI of the shooting mobile game is often not too high at the initial stage, but will gradually increase over time. This means that although the mobile game version of Apex Heroes can attract a group of loyal players, its revenue will not reach its peak in 2021, so it is almost impossible to rank among the top four best-selling shooting mobile games.
#4 By the end of 2021, the cumulative net income of "Call of Duty Mobile Games" will exceed 900 million US dollars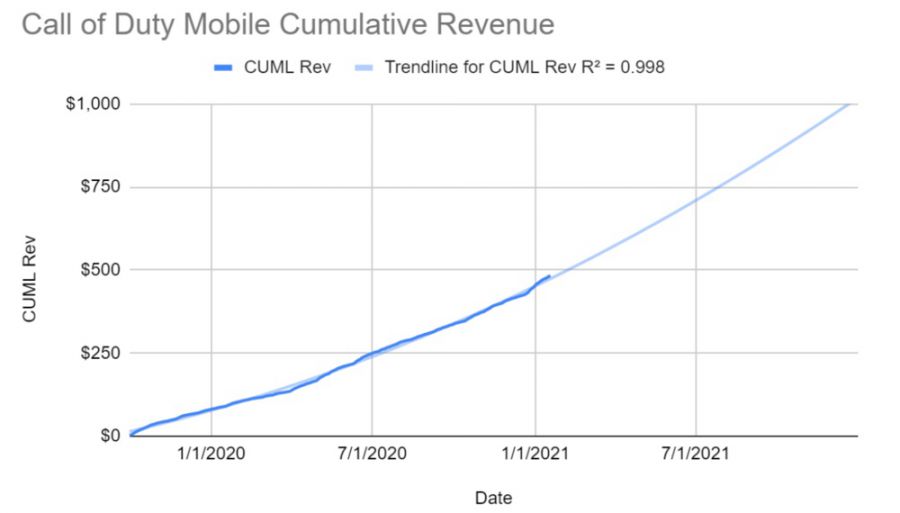 "Call of Duty Mobile Games" net income in the first year after its release exceeded $350 million. Since entering the Chinese mainland market on December 25 last year, the growth of game net revenue has accelerated, and it is likely to reach 500 million US dollars by February this year.
If we take the revenue trend of "PUBG Mobile" after its release in China as a reference, we believe that throughout 2021, the RPI curve of "Call of Duty Mobile" will rise faster, and the life cycle net income is expected to exceed US$900 million by the end of the year. It may even reach $1 billion.
#5 In the shooting game market, strategic shooting and sniper games are still the smallest categories in terms of revenue
#6 New products that focus on the design of the schedule system will find room for development in the Red Sea market
The continuous growth of downloads of shooting mobile games shows that players still have a strong demand for such games. For the development team, the key to success is to find a way to retain players and stimulate their consumption, while avoiding direct competition with the head products of this category.

Source: Game Grapes
Original: https://mp.weixin.qq.com/s/QAcrA84VkyXFf__BLEASig
Article source: https://www.deconstructoroffun.com/blog/2021/2/4/2021-predictions-7-the-next-big-shooter
.