Original copyright prohibits commercial reprint
Authorization
Last year, 36 insurance companies made a total of 142.9 billion losses.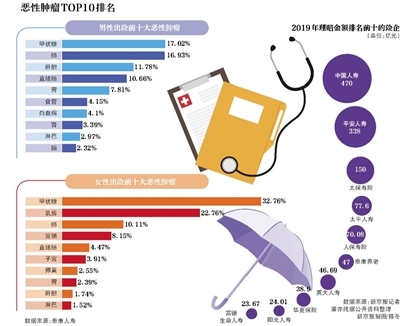 Soon after entering 2020, many insurance companies released their 2019 claims annual reports, showing off their services.
According to incomplete statistics from reporters from the Beijing News, as of January 15, a total of 36 insurance companies have released claims reports for 2019, with a total payment amount of approximately 142.9 billion yuan, of which China Life, Ping An Life and CPIC Life Insurance have annual total compensation The amounts are more than 10 billion yuan, respectively reaching 47 billion yuan, 33.8 billion yuan and 15 billion yuan.
It is worth noting that in the claims annual report, 17 insurance companies disclosed the claim compensation rate. The data shows that all the insurance companies that have disclosed this indicator claim compensation rate / personal business claim compensation rate / small The payout odds for all claims are above 97%. In other words, at least 97 of the 100 accepted claims cases can be settled. For example, Taiping Life Insurance's small claim compensation rate is as high as 99%; China Insurance's claim compensation rate last year also reached 97.71%. These data The disclosure also broke many people's belief that insurance "does not pay, that does not pay," or "difficult to claim."
Last year 36 insurance companies lost about 142.9 billion yuan
According to incomplete statistics, last year, the total compensation of 36 insurance companies amounted to about 142.9 billion yuan, which means that these insurance companies paid an average of nearly 400 million yuan to insurance customers every day.
Specific to a single company, "Life Insurance One Brother" China Life still ranked first in the amount of claims, with annual claims of over 47 billion yuan and over 18 million, an increase of about 16% and 26%, respectively.
Second is Ping An Life Insurance. Last year, the total amount of compensation reached 33.8 billion yuan, an increase of 26% year-on-year, of which medical insurance accounted for the highest proportion, reaching 44%; the total number of claims reached 4.47 million, an increase of 17% year-on-year, of which medical insurance accounted for The ratio is as high as 93%. In addition, the total amount of CPIC Life's claims last year also exceeded 10 billion yuan, reaching 15 billion yuan, serving 3.1 million customers throughout the year, up 14% year-on-year.
The reporter of the Beijing News also found in the annual report of insurance company claims that 17 insurance companies that disclosed the claims payout ratios had their payout ratios / personal business claims payout ratios / small claims payout ratios above 97%. The disclosure of data also reversed the public's inherent impression of insurance companies' "difficulty in settlement" to a certain extent.
However, although insurance companies have higher claims, most of them fail to reach 100%. There are still some claims that are not paid in the end. What is the reason? Yang Zeyun, a teacher of the Department of Finance at the School of Management of Beijing Union University, previously explained to the Beijing News reporter that if the insurance company fails to compensate, it may be that consumers have not fulfilled their obligation to truthfully notify when they are insured, such as insurance with illness and major illness insurance. Inform past medical history, etc. The second is the status that is not covered by insurance, such as medical expenses outside medical insurance in medical insurance.
There is a high probability of medical liability, and the death rate of men is much higher than that of women
Many insurance companies also analyze the claims cases and data in detail in their annual reports. For ordinary insurance customers, this information can provide a reference for their subsequent purchase of insurance.
First of all, regardless of the amount of claims or the number of claims, the proportion of liabilities related to diseases such as critical illness and medical treatment is generally the highest. For example, Sun Life, in terms of the proportion of cases, 92.62% are medical liabilities; in terms of the amount of compensation, 51.54% are all in severe illness; Life Insurance Life Insurance is similar, based on the total compensation, medical treatment is ", Accounting for 66.01%, followed by severe illness, accounting for 15.57%.
This data may show from the side that insurance products with medical liability are more practical. At present, many insurance companies on the market have introduced millions of medical insurance. For young people in their 20s, they can enjoy a medical insurance coverage of several million yuan for only a hundred yuan a year. Therefore, the million medical insurance has also become a category of explosive products on the market this year.
In addition, from the data of insurance company claims, the death rate of men is much higher than that of women. The annual report of MetLife claims that the risk of sudden death for men is as high as 91.4%, of which middle age is 35 to 45. Males are at high risk of sudden death, accounting for 51%. Qianhai Life claims annual report also shows that in the death cases, men accounted for 60.3% and women accounted for only 39.7%. From the perspective of age distribution, the proportion of people over 60 years old was the highest, reaching 53.1%. From the cause of death, the proportion of deaths due to illness accounted for 89.7%, while accidental deaths accounted for only 10.3%. Among them, traffic accidents accounted for the highest proportion of accidental deaths, 30%.
These data also show that under the circumstances of a budget, men can also equip themselves with an additional insurance with death liability, such as the more popular term life insurance in recent years. Young people in their 20s buy 500,000 Yuan Life Insurance's term life insurance (insured to the age of 70) only needs more than 500 yuan a year. If the insured person dies or is completely disabled during the coverage period, the insurance company will pay all the sum insured at one time.
However, the claims data of insurance companies in 2019 also exposed the hidden dangers of inadequate protection for most insurance customers. For example, the Huatai Life Insurance claims report showed that a total of 950 customers of the company suffered severe illness last year, with an average payment of only 115,000 yuan per person. According to the data released by China Life, the amount of insurance for critical illness insurance is only 85,500 yuan. This level of protection is obviously not enough in the context of increasing medical expenses.
High incidence of thyroid cancer, the leading cause of serious illness
The reporter also found from the annual report of insurance company claims that malignant tumors have become the biggest cause of critical illness insurance. Among them, thyroid cancer is the "TOP1" reason in many insurance companies' critical illness claims list. The Sino-British life claims report shows that the top three high-incidence types of severe diseases are malignant tumors, sequelae of stroke, and acute myocardial infarction. However, whether male or female, the highest incidence of cancer is thyroid cancer. The ICBC Ansheng claims report also shows that the highest incidence of malignant tumors in men and women is thyroid cancer, which is 32.75% in men and 40.41% in women.
Thyroid cancer is the most common malignant tumor of the thyroid gland. The "China Cancer Register Annual Report 2018" shows that nationwide, about 170,000 people develop thyroid cancer each year, ranking seventh among all malignant tumors. Among young people aged 15 to 44, the incidence of thyroid cancer ranks first.
However, the cure rate of thyroid cancer is also relatively high. At the "2019 Comprehensive Thyroid and Head and Neck Cancer Treatment Forum" held on May 24, 2019, data released by the Fudan University Cancer Hospital showed that the hospital had been diagnosed and treated for nearly 10 years. Long-term follow-up of 26,984 patients with thyroid cancer showed a 5-year survival rate of 98.35%.
However, according to the current rules, thyroid cancer is a type of malignant tumor, and malignant tumor is one of the insured diseases for major disease insurance of insurance companies. Therefore, in general, the insured person will get critical illness insurance compensation if he gets thyroid cancer. Because of the high incidence, the insurance company's risk rate is naturally high.
Therefore, the high incidence, high cure rate, and relatively low treatment costs of thyroid cancer have repeatedly triggered discussions in the industry about whether to exclude early thyroid cancer from severe illness or to make it a minor responsibility.
A senior insurance product manager previously admitted to the Beijing News reporter: "The probability of claims for thyroid cancer is relatively high. For insurance companies, the risk of risk is high. Then there will be a lot of room for price reduction for critical illness insurance. But if the relevant provisions are implemented, consumers may not understand it, or insurance sellers may use this hype to mislead consumers. "
Beijing News reporter Pan Yichun
Editor Yue Caizhou Proofreading Xue Jingning