KAWASAKI of Indonesia has released a face-to-face picture of the Ninja ZX-25R with a 250c.c. 4-cylinder engine and the Ninja 250SL with a single-cylinder engine on the SNS social network.
Translated article authorized to reprint from: Webike
Original reference: Ready for sale? KAWASAKI "ZX-25R" real car photos revealed!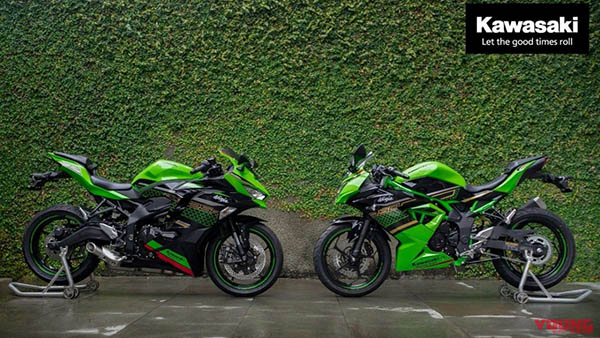 What exactly does this photo want to suggest? That's right, the ZX-25R is coming soon!
KAWASAKI is good at drawing everyone's nervousness, so that the editorial department dances with the wind
It is said that the Ninja ZX-25R will be launched in Japan in the fall of 2020, and Indonesia will be released this spring as early as half a year. It seems that this rumor should be true.
On October 10, 2019, KAWASAKI first announced a 250c.c. model in the Tokyo Motor Show in Japan. From the publicity advertisements published in advance, it looks like a 250c.c. four-cylinder engine model, but it was not expected that it was actually a single-cylinder engine Ninja 250SL (Indonesia version).
For those of us who already knew the existence of the Ninja ZX-25R, we made wrong judgments in haste and sent the wrong news. Although we can talk about this now with a smile, at KAWASAKI at the Tokyo Motorcycle Show Before the ZX-25R was announced on the surprise, we can say that it was too ecstatic to make a wrong guess.
Fortunately after that, KAWASAKI really successfully announced the ZX-25R at the Tokyo Motorcycle Show on October 23, so that our staff finally put down the big rock in their hearts.
According to subsequent announcements, Japan will launch the ZX-25R in the fall of 2020, and the Ninja 250SL does not look like it will be sold in Japan.
However, in Indonesia, where the 250c.c. class is actually the top model, the situation is different. Indonesian car enthusiasts are very enthusiastic about the 250c.c. four-cylinder model, and local sales should not be underestimated.
In order to comply with the 2020 emission standards, the listing date of the Japanese version should wait for a while, but it is an established fact that the Indonesian version will be launched this spring.
Therefore, Indonesia's KAWASAKI will release this photo at this time, and it will have a warm response on the Indonesian social networking site. It seems that this boom will also spread to other Asian countries such as Taiwan, Hong Kong and Japan.
According to the exclusive news received by the editorial department, the maximum horsepower of the ZX-25R will exceed the 45ps of the previous ZXR250, and then it will be paired with an electronic control device that does not lose to large models; after the official launch of Indonesia, we will definitely Hurry up and take a test ride!
KAWASAKI KAWASAKI ZX-25R WEBIKE