Kia Motors is responding to a serious outage that affected access to company applications and services.
Cyber ​​attacks for ransomware are not uncommon in this day and age. Simply put, it is when an individual or a group of hackers target a person or company and block them from performing an activity on the network until the victim pays a certain amount. A recent ransomeware attack took place in the US when Kia Motors was attacked with ransomware with a ransom of up to $ 20 million ($ 460 billion). The incident happened just a day after Kia had a problem with IT systems across the US.
The network system of Kia USA was seriously attacked
According to BleepingComputer, the attack was attributed to the DoppelPaymer ransomware team. The group issued a ransom notice that BleepingComputer obtained, and that announcement required Kia to pay $ 20 million to stop the attack. The message contained a link to the victim's private page on the DoppelPaymer Tor checkout page and said the target of this attack was Hyundai North America. However, Hyundai – Kia's parent company – is not currently affected.
But this can easily be changed. The hackers have claimed that a large amount of data from Kia North America has been stolen and they will roll out whatever they got within 2-3 weeks if Kia doesn't negotiate with them. In fact, the hacker group requested a ransom of 404 Bitcoins, which is equivalent to $ 20 million. If the ransom is not paid on time, the amount will increase to 600 Bitcoins, or $ 30 million. A lot of Kia's services were affected, so it's safe to assume a lot of data was stolen.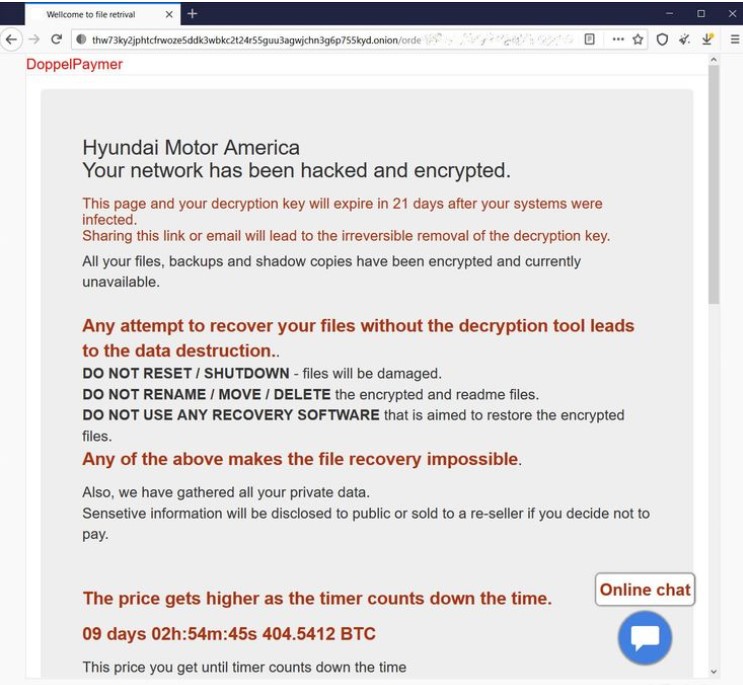 DoppelPaymer hacker organization ransomware photo
DoppelPaymer is known for this attack. BleepingComputer said organizations such as the University of Newcastle, Hall County in Georgia and the City of Torrance in California were similarly attacked. Although not directly affected, Hyundai also interrupted several network services at the same time as the Kia attack, although whether they were related to the Kia attack is still a mystery. The incident came just a day after Kia launched its new K8 with the ambition of aiming at a more advanced and advanced design.
.