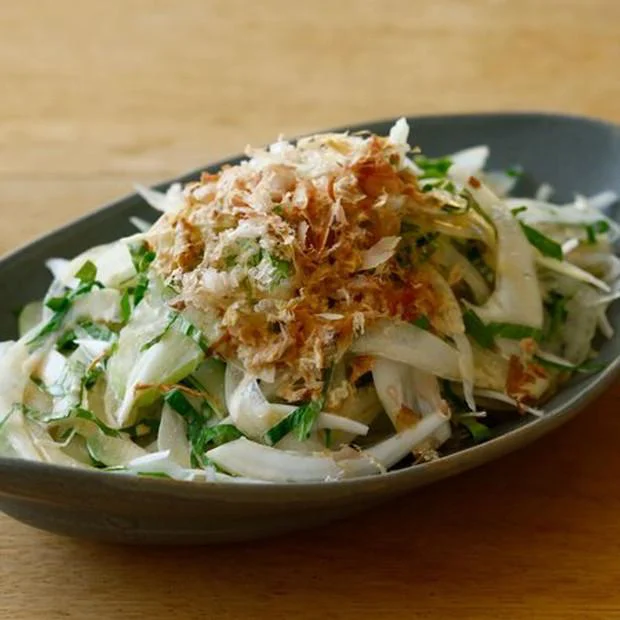 New onion bonito salad
New onion and ham curry mayo
New onion and tuna salad
New onion lemon marinade
Marinated new onions and paprika
If you're wondering what to eat for dinner, why not make a salad with the new onions that are in season now? The new onions that are sold in the spring are characterized by being fresher and softer than the general onions that are sold all year round. It is suitable for raw food because it is less spicy. If it's a salad that you just cut and eat, it will be completed in about 5 minutes! You can get nourishment.
New onion bonito salad
[Materials for 2 people]
New onions … 3/4 pieces, celery (including leaves) … 1/3, shavings … small 1/3 bag (about 1g), ponzu mayonnaise (mayonnaise … 1 tablespoon, ponzu sauce … 1/2 tablespoon )
[How to make]
1. Slice the new onion into thin slices and soak it in water to drain it well. Cut the celery into stems and leaves, slice the stems diagonally, and chop the leaves.
2. Mix everything, serve in a bowl, put shavings on it, and sprinkle with ponzu mayonnaise.
(74kcal for 1 person, 0.5g salt)
If you put on a refreshing and rich dressing that mixes mayonnaise with ponzu, you can eat as much as you want! It is a dish that goes well with Japanese, Western, and Chinese dishes and any main side dish.
..