JD.com 11.11 Global Goods Festival has begun in full swing. On November 1, JD.com's time-limited spike day was officially opened. Thousands of explosive goodies hit with great value.
JD.com 11.11 Global Good Things Festival has begun. This year, JD.com joined hands with more than 100 world-renowned brand manufacturers to gather at JD.com, bringing nearly 2 million pieces of high-end goods, and dedicating the largest consumer feast in history, giving out 10 billion subsidies and 100 billion discounts to consumers. . On November 1st, JD.com's time-limited spike day was officially opened. Thousands of explosions and goodies struck with great value.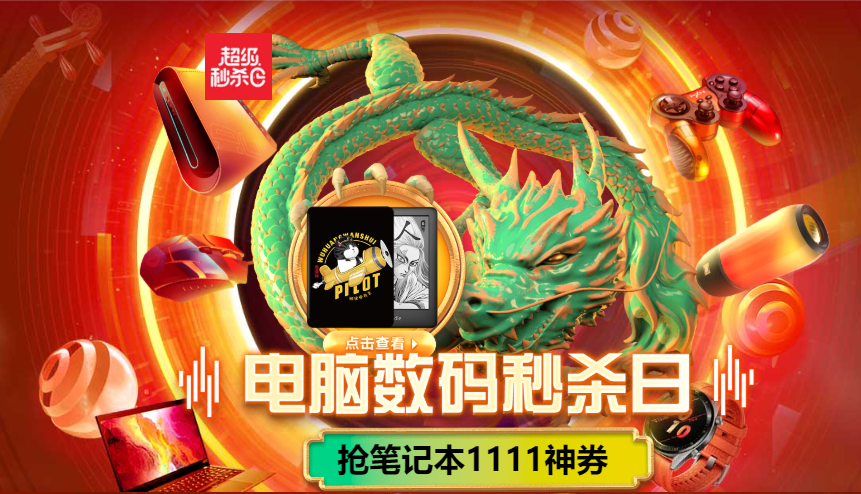 · Sony PS4 is only 1799 yuan at hand
Having a Sony PS4 game console has to be said to be the dream of thousands of boys. Those "master exclusive" massive classics that cannot be played on PCs can be fully experienced on Sony PS4. "Dance Full", " Distant Interstellar, Gravity Whimsical World, pick up your cross key handle and you can swim immediately. JD.com has a spike price as low as 1799 yuan on November 1, and there is an upgraded version of the Sony PS4 Pro that goes down by 300 yuan, and the spike price is only 2499 yuan!
· More than 65,000 people make an appointment
As the game's popular product this year, HP Shadow Elf 5 has continued to be popular since its launch. The hardware is equipped with Intel's 9th-generation Core processors, a 15.6-inch narrow bezel large screen with 72% high color gamut, and three new cooling modes upgraded to keep you away from the nightmare of computer fever. Jingdong's Shadow Elf 5 with a price of 7,499 yuan is as low as 6,999 yuan on November 1st, and the number of reservations has exceeded 65,000. This is such a cost-effective and good product, and users who like it will hurry up!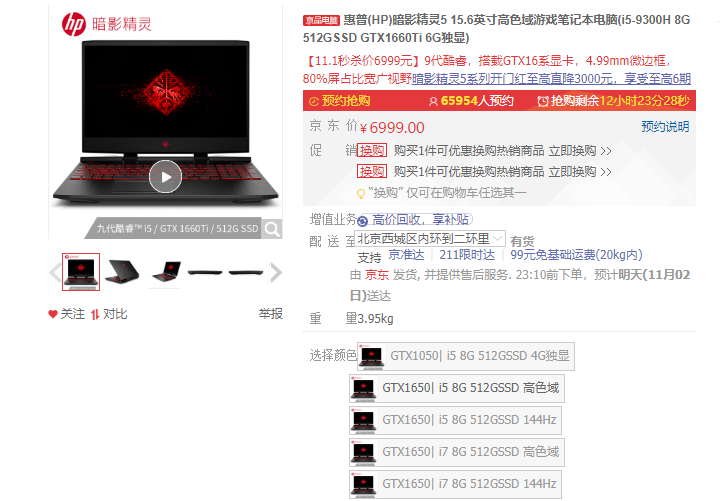 ·TP-LINK New generation WiFi6 router as low as 379 yuan
No matter how good the PC hardware is, the internet speed is not good, and you want to play dramas and online games at home? Then TP-LINK new generation WiFi6 router is definitely your best savior. The blessing of dual-band dual-gigabit and dual-core CPU allows your internet speed to rise to a level. Such an all-around wireless router, as low as 379 yuan on JD.com on November 1.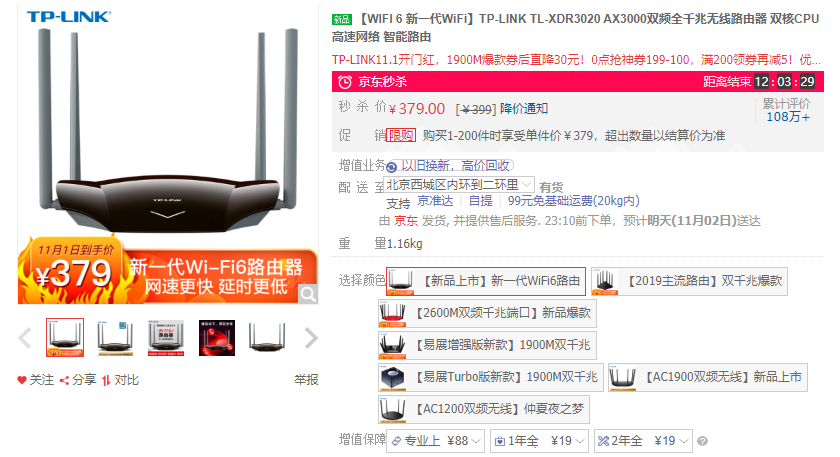 · Sony WF-1000XM3 "Noise Reduction Bean" spike price of 1499 yuan
Real wireless earphones are very popular. Everyone has heard about the Sony WF-1000XM3 true wireless noise-cancelling earphones that have recently become popular. Sony WF-1000XM3 uses world-renowned active noise reduction technology, with stable Bluetooth connection, excellent sound quality and long-lasting battery life of up to 32 hours, to restore the most pure listening experience. Such a hot new noise reduction product, JD.com's spike day on November 1 straight down 200 yuan, only 1499 yuan in hand, you can enjoy the white bar 6 period interest-free.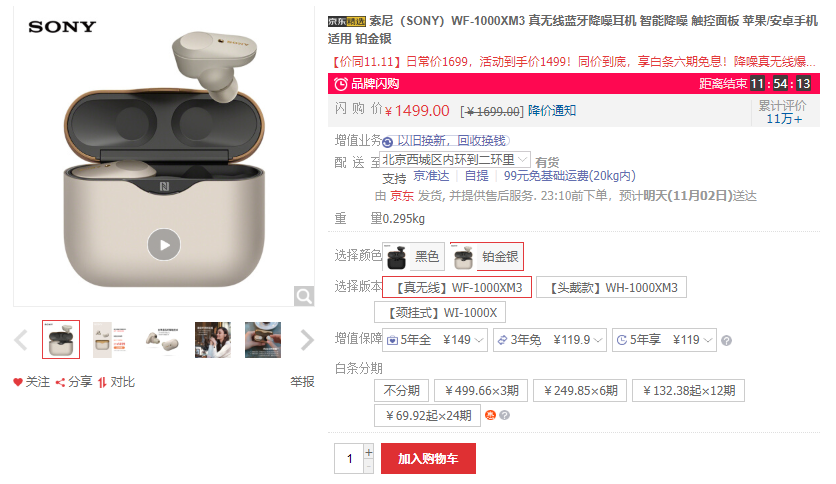 Time passes every second, and the friends who want to start have to hurry up. After all, the opportunity of such a good price is missed and it can only wait another year! Looking at the venue of JD.com's Digital Super Spike Day on November 1st, there were HP's explosion models down 3,000 yuan, Lenovo desktops 3.5 sec, Huawei notebook models down to 50% off, kindle explosion models down 1800 yuan, Bose Explosive models will drop 1800 yuan, Sony full-frame camera 5999 yuan, nuts projector explosion models enjoy 24 interest-free and countless benefits such as waiting for you to grab, not much to say, hurry to buy a wave!
.