Mr. Makoto Watanabe recalled the towering snow-covered mountains to the top of his head when he was a young, dense snow covering Otaru City (Hokkaido Province, Northern Japan) for months. But this year, he doesn't seem to feel when Winter has come.
"This is the least snowy year I've ever seen in my life. This morning, only a little bit of snow was falling but the amount of snow was so little that it was not enough to accumulate anywhere in Sapporo. This is the first winter in which I feel climate change has really affected Hokkaido, "said Watanabe, a professor of communications at Hokkaido Bunkyo University.
According to the South China Post in the morning (Hong Kong, China), not only Hokkaido is experiencing a warm winter, but the temperature in many other areas in Japan is also much higher, causing much less snow. compared to previous years.
The Japan Meteorological Agency determined that the amount of snowfall in Hokkaido in December was only 48% of the annual average, which is the lowest snowfall according to the record data recorded since 1961.
In areas near the northeastern coast of Japan, where the weather is often influenced by cold climates from northern China and Russia, the average snowfall is only 28% compared to normal years.
Some towns near the coast often have snow covered the streets, knee-high in mid-January every year but so far have not seen snow appear.
The Japan Meteorological Agency said the cause of the unusual weather was because the western winds blowing through northern Japan prevented cold air from moving south and carrying more snow. The agency also predicts that similar weather patterns will become more common in the coming months, and warmer temperatures will cause water vapor to form rains.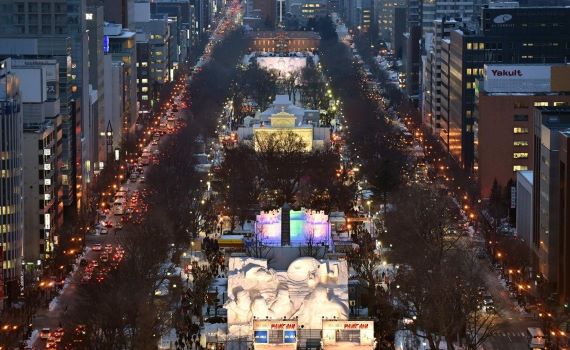 Climate change also seriously affects the tourism industry in localities where heavy snow falls. Sapporo City – Hokkaido's largest city is preparing to host an annual snow festival in late January, which is an important event for local tourism.
Featured in the festival are sculptures of famous buildings around the world made from snow. But this year, the city had to request transportation of thousands of tons of snow to the park to serve the festival. It is estimated that each truck carrying 5 tons of snow will have to make 6,000 transports before the festival takes place.
Naturalist and professor of cultural anthropology at Tokyo University of Information Science Kevin Short said the reduction in snow is only an expression of the impact of climate change in Japan.
"At the local level, experts say it is quite difficult to see the impact of climate change firsthand, but now I just need to look through the window to see this difference. The Kanto region is known as a cool temperate zone, which is often considered the 'capital' of deciduous trees but in recent years that has changed. I looked out the window and saw the green trees like in other warm temperate regions, "said Professor Short.
According to Professor, a recent global warming conference has identified Japan as one of the countries most at risk of climate change impacts.
"Experts predict that the Japanese island nation, which includes a series of islands at the edge of a large continental continent, will have more serious consequences. This country will suffer more and more powerful storms and they will come later than usual. Japan will also have sudden rains, wind and temperature in this country are also easy to change, "Mr. Short said.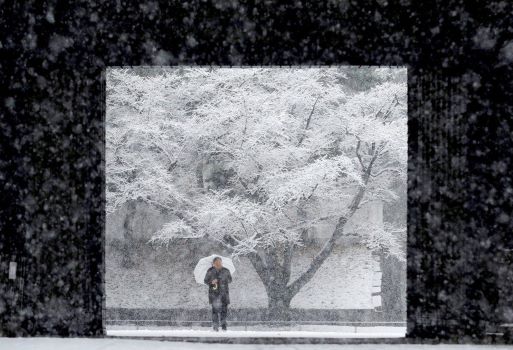 Faced with this situation, companies with shares in the field of winter sports were also extremely worried. Daisen White Resort in Tottori Prefecture was closed in early January after using a snow machine to form the ski area during the New Year holiday.
The town of Zao, Yamagata prefecture, is also worried that the women's skiing tournament on the weekend could be canceled due to lack of snow. However, organizers have mobilized to transport snow to these locations.
Ross Findlay, managing director of Hokkaido's Niseko Adventure Center, said that mountain sports services around the city are still open to skiing. However, he must admit that one of the most popular ski resorts for foreign visitors to Japan is facing less than normal snowfall this winter.
"It's certainly not as much snow as in previous years. I find that the snowfall here is only about 86%, but it is still much more than in Japan. I drove to Sapporo a few days ago, and I saw a lot of festive snow trucks that had to travel 100 km to get snow. It is unbelievable that there is not enough snow near that city, "Mr. Findlay said.
Professor Watanabe warned that Hokkaido will have to face even bigger impacts when the snowfall has significantly decreased since this year.
"The melting snow will provide farmland and irrigation for Hokkaido in the summer. Without snow, Hokkaido would lack water. Maybe this year or next, the amount of snow melting can still provide enough water for this city, but if there is no snow in the future, Hokkaido will fall into a shortage of water, "he said.