By Jasper Sharp.
The ongoing Coronavirus crisis may have disrupted many aspects of the cultural calendar, but it is heartening to report that one the Japan Foundation UK Touring Film Programme is still pushing ahead. Its 18-film line-up for 2021 is organised under the theme "This is My Place: Carving out a sense of existence and belonging in Japanese Cinema."
This annual touring event traces its roots back to 2004, when about half a dozen films played at as many venues, and has grown steadily year after year in terms of the size of its programme and the number of cinemas that have hosted it. Like so many other film festivals and events, everything is moving online for this year (and for free), which may even be a good thing, as there's the potential here to reach a far wider audience across the United Kingdom.
Those habitués of who tried as far as humanly possible to catch earlier programmes in their entirety will now find it that much easier to do so, without the need to cram watching them all in the cinema within a two-week period. And though this year's programme is a smidgen smaller than last year's 20-film peak, it is worth remembering that only a select handful of venues ever got anything like the full programme anyway, whereas online we can all have it all – watching a series of Japanese films themed "This is My Place" quite literally from our own place.
The anime offering this year, Tomohiko Ito's Hello World (2019), seems the most appropriate gateway into a programme that explores scenarios in which "the world we thought we belonged to collapses or reveals itself to be a mirage, to be replaced by an altogether different reality." Set in 2027, it takes us into the mind of a shy, withdrawn and bookish high-schooler named Naomi, who immerses himself within a world of fiction. His world is turned upside-down by an encounter with a youth claiming to be his future self, and that the boy's whole existence is a virtual simulation of his own past, and he's come back to set it back on track.
Like all the films on offer this year, Hello World was completed before the outbreak of the COVID-19 pandemic, leading its alternate-world narrative to take on a new resonance. So, too, does that in Labyrinth of Cinema (2019), a trip back to a time of war that plays out like a self-contained and self-referential exploration of the nexus between images, history and memory. A group of youths who, while attending an all-nighter of Japanese war films to mark the closure of their local cinema, find themselves caught in a rift in time that takes them to the real worlds represented on the screen.
Labyrinth of Cinema was the swansong of one of Japanese cinema's last generation of great directors, Nobuhiko Obayashi, who was lucky enough to be present for the premiere of this summation of his life's work at the Tokyo International Film Festival in November 2019. He succumbed to cancer shortly after the planned theatrical run of Labyrinth of Cinema in Japan was put on hold by the coronavirus shutdown.
In my eyes, this is certainly the must-see film of the Japan Foundation's 2021 programme, and one of the must-see Japanese films of the past decade. Its inclusion in the online line-up should also prove doubly poignant in reminding us of the important role played by cinemas themselves in providing an arena for shared experiences and shared dreams.
One slightly unfortunate aspect of this year's programme is that Labyrinth of Cinema is the closest we get to exploring Japanese cinema's glorious past. Unlike previous years, there are no retrospective screenings of older classics in a line-up consisting wholly of titles that were all produced in 2019 and 2020 – presumably due to licensing restrictions and the need for online digital masters instead of 35mm film prints.
Another title worthy of mention is Extro (2019) – nothing to do with the killer alien of the 1982 gory sci-fi horror, but a spoof documentary celebration of the unsung local townspeople who live and labour in the shadow of a major film studio lot that specialises in samurai-era films. The aforementioned Obayashi is but one of a number notable cameos, in this comic mockumentary about extras – an ideal companion piece to the altogether more serious, nostalgic drama, Uzumasa Limelight (2014).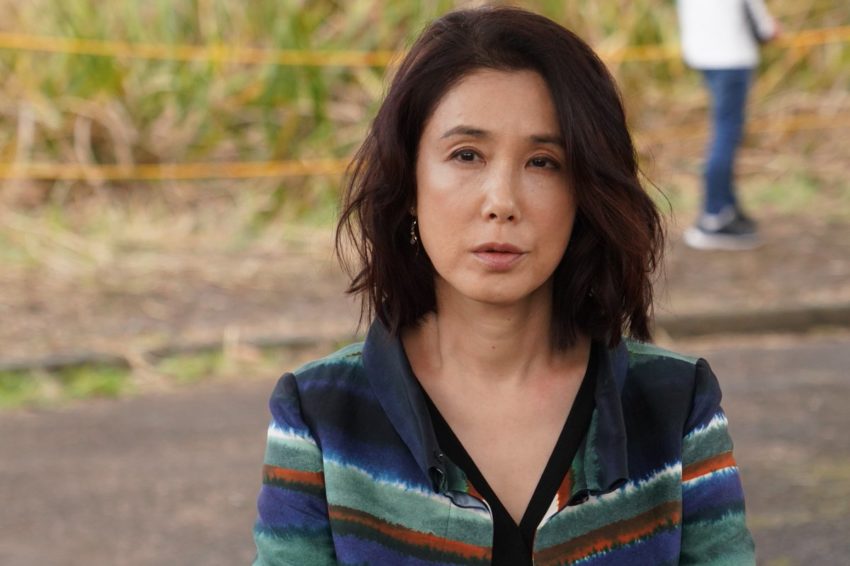 A modern-day drama from a modern-day auteur is A Girl Missing (2019) by Koji Fukada, whose unsettling Harmonium caused such a stir at Cannes back in 2016. Mariko Tsutsui carries the show as Ichiko, an enigmatic private nurse who sees and hears everything in the course of her employment amongst the three generations of the women of the Oishi household. When the youngest member of the family, happy-go-lucky teenager Saki, goes missing, a seemingly simple story is constantly thrown off-kilter by peculiarities in Ichiko's bedside manner. Fittingly, given the film's original title of Yokogao (meaning 'side profile') – the form it takes remains tantalising obscure until the final moments. A Girl Missing is a slow burning and unpredictable psychological drama, featuring a highly intricate plot. Just one tip – pay close attention to the hairstyles (not to mention hairstylists…) that that distinguish the two distinct timeframes in which the story unfolds!
Those are my top picks from the line-up, which also includes a diverse range of other films. Shape of Red by Yukiko Mishima features a seemingly contented housewife who hits a crisis in her life when she bumps into a former love. Rikiya Imaizumi's his (2020) is a portrait of the only gay in the village as a man to keep his identity a secret in a small rural community. Based on the manga by Disc Furai and Yasumasa ishizaki, Haruka's Pottery (2019) follows a young woman's journey as she quits her unfulfilling office job to specialise in traditional Bizen ceramics. And Farewell: Comedy of Life Begins with a Lie is a comic period-drama adaptation of an unfinished novel by Osamu Dazai, set during the US Occupation, in which a philandering literary editor recruits a woman to impersonate his wife in a vain attempt to streamline his romantic complications.
All of this, and plenty more of course – with 18 films to choose from, there's plenty here for everyone, and unlike previous years, the online nature of this year's programme means there's much less of a barrier to see it.
Jasper Sharp is the author of The Historical Dictionary of Japanese Cinema. The Japan Foundation Tour details can be found at the festival website.
Jonathan Clements


Jonathan Clements