Really only "Air": Lenovo Xiaoxin Air15 Ryzen Edition notebook configuration is fully exposedLive release on September 23
2020-09-17 10:13:28
4 likes
6 favorites
10 comments

This article was released under the authorization of Kuai Technology. The original title: Lenovo Xiaoxin Air15 Ruilong version configuration is fully exposed: It is really only "Air". The content of the article only represents the author's opinion and has nothing to do with this stand. Please do not reprint without permission.
On the evening of September 16, Lenovo Xiaoxin Notebook announced all the parameters of the Xiaoxin Air 15 Ryzen Edition, and announced that the notebook will be released live on September 23.
Compared with the Xiaoxin 15 Ryzen version released in June this year, the Xiaoxin Air 15 Ryzen version has not changed much. The screen, CPU, memory, hard disk, power, and keyboard are completely unchanged.
It's just thinner (1mm thinner) and changed the color. The metal on the A side of the fuselage is changed to three-sided metal, and the round charger is changed to a Type-C charger.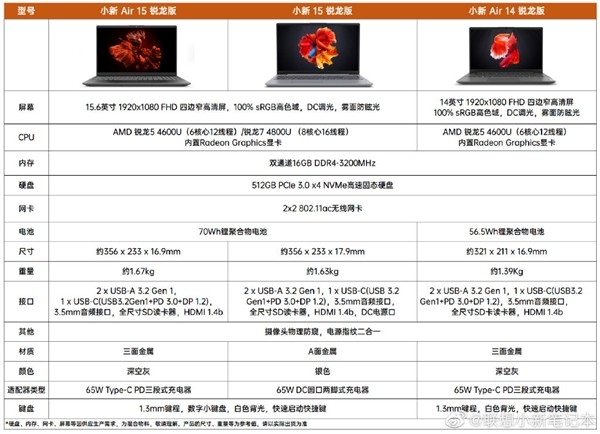 The Lenovo Xiaoxin Air 15 Ryzen Edition is equipped with a 15.6-inch four-sided narrow matte screen, a resolution of 1920×1080, a 100% sRGB high color gamut, and DC dimming.
In terms of performance, the book is available in R5 and R7 versions. R5 4600U is AMD's latest 7nm processor with 6 cores and 12 threads, the base frequency is 2.1GHz, and the highest frequency is 4.0GHz. R7 4800U supports 8 cores and 16 threads, adopts 7nm process, base frequency 1.8GHz, maximum frequency 4.2GHz.
In terms of battery life, the Lenovo Xiaoxin Air 15 Ruilong Edition has a built-in 70Wh battery.
In addition, Lenovo Xiaoxin Air 15 Ryzen Edition also has a full-featured USB-C interface, fingerprint recognition power button, Dolby audio dual speakers, three-speed backlit keyboard, HDMI 1.4b interface and full-size SD card reader.
As for the price, the six-core R5 version of Xiaoxin 15 Ruilong was priced at 4499 yuan, and the eight-core R7 version was priced at 4899 yuan. Xiaoxin Air 15 Ryzen version should be similar, we will wait and see.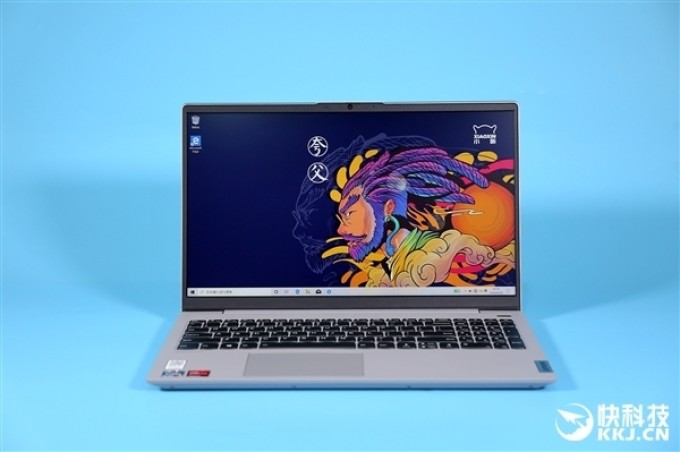 Xiaoxin 15 Ryzen Edition
Unauthorized, no reprint

.