Iranian Supreme Leader Ayatollah Ali Khamenei hosted a Friday prayer meeting in Tehran for the first time in eight years amid a wave of outrage over the downing of a passenger plane, and tense climax with America.
Khamanei made fun of American officials, calling them "American clowns". He also criticized France, Germany and the United Kingdom as "American" servants, and unreliable people. He also expressed his condolences to the families of the victims in the plane crash.
It is rare for Khamenei, Iran's highest political and religious ruler, to chair a Friday prayer. The move is said to be an attempt to raise public support after weeks of upheaval have increased pressure on the people to rule the Islamic Republic.
Mr. Khamenei presided over the prayer
During the ceremony on January 17, Khamanei described General Soleimani as a "martyr" and Tehran's response to the US was "an act of God, not a man". He also called this a slap in the US face from Iran.
"What happened cannot be a product of any human element, it could only be the hand of God," Mr. Khamenei said. "The day the rockets were [của Iran] down on American bases, that is the day of the Almighty ".
"We are witnessing the established history. These are no ordinary days. The fact that a force, a country, possesses enough spiritual strength to respond to the greatest bully in the world with a slap in the face of such pain, shows the mighty hand of God, "said the leader. capacitor said.
Khamenei also attacked US President Donald Trump and Secretary of State Mike Pompeo, who claimed on social media that they supported Iranian protesters.
He said the "American clowns" lied to the masses by asserting that the United States stood next to the people of Iran.
"If you stand near Iran, it is only with the intention of stabbing a knife into people's chest," he said.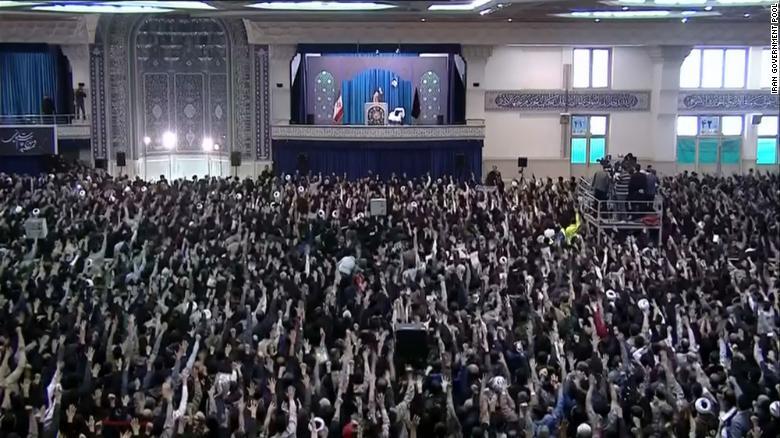 Many people came to attend
Khamenei also expressed his condolences to the families of the victims in the plane crash, but accused the international media of deliberately deceiving Iranians in doing so.
"Our enemies have tried to manipulate information about the heartbreaking accident, to overshadow what we have achieved," he said.
"Can't let things happen after the accident," he added. It is understandable that this is a strong warning to the security forces, asking them not to allow protests or rebellion to continue.
Many witnessed the ceremony, and President Hassan Rouhani sat in the front row with National Assembly Chairman Ali Larijani. The last time Khamenei had presided over Friday's prayer was in 2012 to mark the 33th anniversary of the founding of the Islamic Republic of Iran. He also presided over a 2009 prayer amid the protests that erupted after the Presidential election.
Heroine
.