Near the Tet period, a series of 4 models of iPhone 12 series VN / A were deeply discounted at Mobifone and Ho Chi Minh City Mobifone system, especially iPhone 12 Pro down to 6.2 million VND.
As noted, the selling price of iPhone 12 at Mobile Vietnam is very competitive in the market. The representative of this system shared "This is the biggest discount of the year, surely after Tet there will not be such a good price".
The price of iPhone 12 at Mobile Vietnam is "destroying" the phone market in the Tet season
It can be said that Mobile Vietnam is the "biggest game" system on the market at this time when bringing the price of iPhone 12 models down to the floor. This is a very attractive opportunity for users who are waiting for a "record low" price to drop money.
Specifically, at Mobile Vietnamese stores, iPhone 12 Pro Max was adjusted to a discount of 5.4 million (1 week ago, the highest reduction was only 5 million). iPhone 12 Pro Max only 29.99 million for 128GB version, 32.59 million for 256 GB version and 38.99 million for 512 GB version.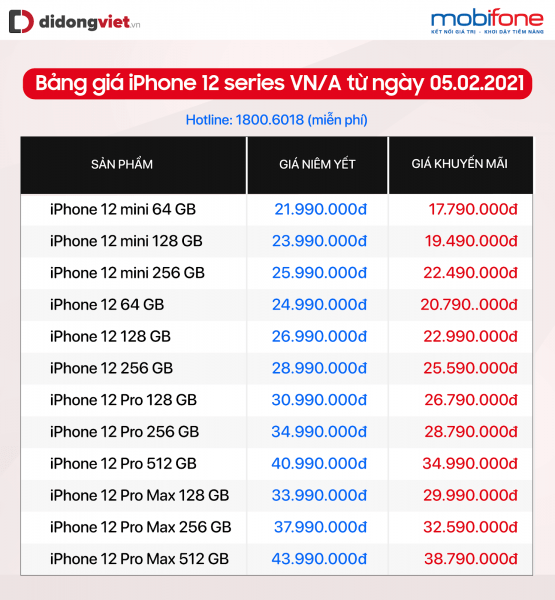 Most notably, the iPhone 12 Pro is being reduced to 6.2 million. The 128GB version has only 26.79 million, the 256GB version is only 28.79 million and the 512GB version is only 34.99 million. From the second model in terms of attraction, behind the iPhone 12 Pro Max, this discount has put 12 Pro in the lead. The right size and carrying the title of "Pro" in itself, this smartphone is highly sought after by many users.
iPhone 12 Pro Max is priced from 29.99 million
The iPhone 12 line with the 3rd highest amount of interest in the market (after the iPhone 12 Pro and Pro Max) is also slightly discounted. 3 64GB, 128GB and 256GB versions are priced at 20.79 million, 22.99 million and 25.59 million respectively.
iPhone 12 mini, a model with a relatively modest purchasing power, is also being reduced to 4.5 million. In particular, the 64GB iPhone 12 mini version is 17.79 million, the 128GB version is 19.49 million and the 256GB version is 22.59 million. This new price prediction will help 12 mini-players gain great attention from consumers.
iPhone 12 is being discounted to 4.2 million
With an abundant supply, the lowest price reduction in the market, integrating many incentives such as "trade-in, old and renewal" saving up to 21 million VND, 0% interest installment, free eSim activation, discounted accessories when buying with phone …, Mobifone and Vietnamese Mobifone system in Ho Chi Minh City is the address for Apple devotees who want to buy a phone for Tet.


Hoàng Lịch