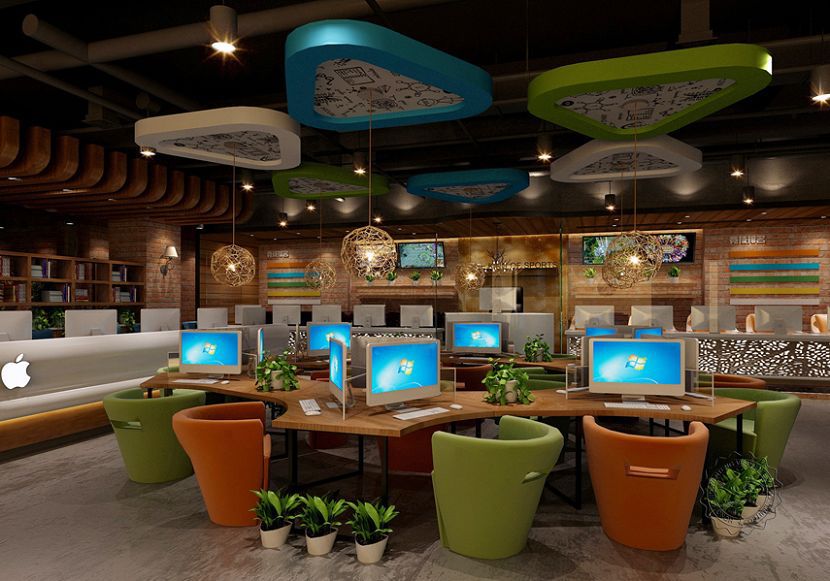 Picture source network
On January 23, 2020, Netfish Internet Cafe stores outside Hubei received notices of closure. The old monkey in charge of the regional store said that the boss just killed the previously negotiated Spring Festival activities and game cooperation, and he must rush to choose his own store before the outbreak of the national epidemic. The opening time is not yet believed.
On January 28, 2020, Netfish closed 1,000 stores across the country last week. Vice President Zhuang Yi said that "the daily loss is now around 5 million." Shunwang and Internet Cafe Association said they have received news, which probably means "delay the opening indefinitely".
On January 31, 2020, Internet cafe owner Zhu Ge said, "Waiting for a round of central bank subsidy loans", Internet cafe owner Zhang Yi said, "No one has no money or new games. This year may be over."
Judging from the earliest notes about Internet cafes in the past year, it is probably because of these three that I will start a separate page on January 31 and say: 1996-2020, the second birth year of Internet cafes is sad.
It was also because of this judgment at the beginning of the year. For the next 10 months, I also kept taking notes related to Internet cafes. Now I put it together and there are about four things to see.
The longest winter vacation
"On February 1, police officers patrolled Internet cafes in Hebei, Beijing and other places. Owners who continue to operate will be fined or detained.
On May 12, the Ministry of Culture and Tourism issued the "Guidelines for the Prevention and Control of Epidemic Prevention and Control Measures for the Reopening of Internet Service Business Places", confirming that Internet cafes will resume work in late May and that prevention, control and current flow should be controlled. "
There are many reasons for people's insomnia. Some people work too much, and Zhao Xin is because of the long vacation.
In the 11 years of opening Internet cafes, Zhao Xin only prepared five days of holidays for himself every year, and others had seven days of fun during the Spring Festival. Regardless of the wind and snow and the sanitation scolding the street, he had to pick up a few firecrackers at 4 a.m. on the fifth day of the fifth day to blow up the shop door to be comfortable. On January 29, the fifth day of the first lunar month of the Year of the Rat, the opening ceremony was not as scheduled.
The reason is simple. Three days ago, Zhao Xin received an "internal notice" from the local Internet cafes association. In order to reduce crowd gathering, the relevant authorities asked the Internet cafes to postpone the resumption of work. A brother from the northeast said that the earliest resumption of work may have to wait until March 15.
From that day on, Zhao Xin couldn't sleep anymore. In the past, he started to dream before 11 o'clock, he would close his eyes and wait until his wife fell asleep, then took out his mobile phone to look at the deposit, look at the loan, then opened the association and the owner group to slide up and down, and only started to sleep lightly at the time when the gun was fired in previous years.
Because of the popularity of chicken eating, Zhao Xin made a new round of investment in early 2018, which mainly includes four parts:
1. Staff, just hire a simple meal chef who can make muffins and other pastries, and add a full-time network manager for the new system maintenance
2. Software, access to new billing, ordering and acceleration systems
3. The hardware and the host are fully replaced. The 140 machines are divided into two types: i7 7700+GTX1060/2070+16G/8GDDR4, and the display and keyboard and mouse headsets are only replaced by 30 sets of gaming zones.
4. Renovation, a large area of ​​new decoration, opened a separate smoking room. The water bar has an independent snack self-service area based on the form of net fish, and is also equipped with 30 professional gaming chairs and 60 cushion sofas.
Subtracting the money from the old equipment, the total investment this time is more than 700,000, of which 500,000 comes from bank loans with an annualized interest rate of about 5%, and more than 200,000 comes from a local microfinance company with an annualized interest rate of over 25%.
Zhao Xin said that since the 1990s, the return cycle of Internet cafes has been lengthening. Before 2005, the return cycle of opening a 30-computer Internet cafe was mostly only within 10 months. After 2010, it began to extend to 1-2 years. After the popularity of "Internet cafes" in 2015, requiring large space, excellent service, and high configuration, this return cycle has been stretched to more than 3 years.
Therefore, according to the plan, this round of investment is expected to get net profit in early 2021, and 2020 is the "sprint phase." Obviously, there was no charge.
From the first wave of notices received on January 26 to the beginning of May, the Hebei Internet cafes where Zhao Xin is located has experienced more than 5 rounds of "rumoring". Every few days, the owner brothers will send out "inside news" saying He resumed work on xx days and was then cracked down by relevant departments. Until May 12, the Ministry of Culture and Tourism finally officially announced the resumption of work in batches from mid-May, but Zhao Xin's holiday still has not completely ended.
In accordance with the requirements of the "Guide", Internet cafes that resume work need to have full-time personnel at the entrance to guide registration, check the health code and real-time body temperature. At the same time, the private rooms in the Internet cafes cannot be opened, and the lobby area needs to be opened separately. In Beijing, Northeast and other regions, some associations will also require the suspension of catering and other businesses that "need customers to take off their masks".
In other words, the 30 most expensive machines in the high-end area of ​​Zhaoxin Internet cafes will not make money, and the lobby area can only be half open. In addition, he has to separate a network manager to be responsible for registration and inspection. The water bar that accounted for more than 20% of its income in 2019, and the water bar that makes Meituan takeaways alone, will also be suspended. Of course, employees' salaries will be paid.
So by the end of December, Zhao Xin had calculated the performance for 2020, and did not say the specific amount of loss, but he had already applied for a loan deferment and applied for a new microloan. This time the annual interest rate is said to have risen. 34%.
College students who can't wait
"On February 23, teachers from several universities in Beijing, Hebei, and Shandong said that the school is planning new credits and online courses. The school received news that it is expected to return to school in batches in mid-April.
On April 5, colleges and universities in high-risk areas in Beijing, Hebei and other places received notices one after another, and the return time for the first half of the semester will be delayed until the end of May. Colleges and universities that have returned to school need to be isolated on campus. "
Draw a circle with Yuboyuan as the center. Within a radius of one kilometer, two commercial centers, five universities and three middle schools can be circled. The community and the nearest School of Disaster Prevention Science and Technology, School of Civil Affairs and Management, and Party School are only across the road, and it is less than five minutes away from the North China Institute of Science and Technology.
Every September, the number of new students who come to these five universities will be more than 20,000. If the old students are added, nearly 100,000 young and irrational consumers in Yanjiao will be mixed in this area which is later called the "University Town". "Spend money in the ecosystem."
On top of these advantages, in December 2020, the last Internet cafe there, Miaoshiwu, closed down, and the once famous Yuboyuan Internet Cafe Street died inexplicably.
Zhang Yi, the owner of the local Internet cafe, said that this was because the epidemic trapped college students and the mobile game trapped the post-00s.
Zhang Yi's Internet cafe is also in the university town. It is not big, with only 70 machines, but with the support of college students, business has been good. In the early years, except for winter and summer vacations, the attendance rate of Internet cafes can be maintained at more than 70%. Saturday and Sunday One is hard to find.
Because of the winter vacation, the suspension of business operations and the isolation of college students, Zhang Yi's Internet cafe was only open for four months in the first 10 months of 2020. During those four months, he and college students faced each other by the wall. There were only a dozen or so people scattered, and almost none of them covered the night.
To my surprise, Zhang Yi didn't completely throw the Internet cafes closed to the epidemic. He just told me that "even if there is no epidemic, the university town is no longer the most suitable place to open an Internet cafe."
Probably from 2017, Zhang Yi did not follow the trend to increase the Internet fee to 4 yuan per hour. He insisted on the price war strategy of 3 yuan. Although the Internet cafe environment and configuration are not bad, the income still decreases. When I asked later, the same was true of my neighbors.
According to the Internet cafe membership data provided by the two Internet cafes in the University City, from 2010 to 2015, the average age of their members has been around 21 years old, and from 2015 to 2019, they have risen to 23 years old. In other words, there are fewer children coming out of the Internet in their freshman year and sophomore year, and the main users have become senior students and social people waiting for graduation. "Internet addiction teenager" is actually getting old.
Similar to the conclusions of Internet cafe membership data, there are also the national survey results on Internet cafe systems. According to data from Shun.com, the portraits of Internet cafe users in 2019 have some characteristics of "aging". From the perspective of users of all age groups, the post-90s are still the main users of Internet cafes, accounting for about 58%, followed by the post-80s, accounting for about 27%. In 2019, the proportion of post-90s users dropped by 3%, the proportion of post-80s and post-70s both increased by more than 2.5%, and those born after 18 years old grew by only 1%.
As for the reasons, a number of Internet cafe owners, Internet cafe association organizers and Netfish summarized four points:
1. The cost-effective configuration of home computers is improving. Internet cafes have gradually changed from solving the enabling problem to a place to improve the experience level. According to the income level of Internet cafe users in 2019, young people under the age of 24 are unwilling to bear this expenditure
2. End-to-end games are still the main content of Internet cafes, but most Internet users do not have PC gaming habits. Mobile games have taken away PC share and the attendance of Internet cafes.
3. Data related to entertainment venues shows that compared to Internet cafes and movie theaters where many people are on the same site, the Internet generation is more willing to spend in places with more privacy and more personal space.
4. The production frequency and quality of "Internet cafe games" are not as good as before
The disappearing Internet cafe game
"In the first six months of 2018, the net profit from PlayerUnknown's Battlegrounds was less than one-fifth of League of Legends, and only a fraction of that of Overwatch.
Zhu Ge, the owner of a chain Internet cafe, said that I saw many children come to the Internet cafe to play mobile game simulators. At the time, I thought it was an opportunity, but later found that the situation was not good. "
In early 2018, Brother Zhu saw for the first time a few young groups playing mobile games in Internet cafes. Sometimes they used the simulator, and sometimes they took out their mobile phone and shouted "Up, Up, Up". Brother Zhu was very excited that day. He thought he had seen another way of making money.
Two months later, Zhu Ge dealt with 20 machines at a low price, separated a small room with frosted glass, put a table, sofa, board game, patch panel and service bell to make a mobile game cafe, 2 yuan One hour.
In the first month of the opening of the mobile game cafe, the enthusiasm of the young man proved Zhu Ge's idea. Compared with the four or five thousand machines outside, the number of sofa tables is more than 80% every day. Each person's consumption in the water bar reached 27 yuan, more than 6 times that of the computer area.
You ask me how is this mobile game cafe now? Has it scaled up?
Of course not. In fact, almost no one went to this mobile game area in the third month of its opening. After the Internet cafe resumes work in 2020, the mobile game area has been used by Brother Zhu as a warehouse and staff rest area. Brother Zhu also knows that someone coming to an Internet cafe to play mobile games does not mean the establishment of a mobile game cafe. What it really shows is: Internet cafes are not fun enough, and there are not enough.
Like Brother Zhu, almost all Internet cafe owners I know have said the same thing in the past two years:There are fewer and fewer games that are suitable for Internet cafes, and the alternate cycle of popular Internet cafe games is getting longer and longer, and there are cases where the game is not available.
They believe that the most basic condition for a good Internet cafe business is the continuous emergence of popular "Internet cafe games" on the market. This kind of game is preferably a PC online game,It needs to be started for a long time continuous online, strong social attributes, slightly higher requirements for hardware and network speed, and it is best not to increase too much software and hardware upgrade costs.
Many people think that the latest "Internet cafe game" will be PlayerUnknown's Battlegrounds, but in fact, more data from owners show thatIn the past ten years, the only real ideal Internet cafe game was "League of Legends".
According to the income analysis summarized by Zhuge Internet cafes, users who launched PlayerUnknown's Battlegrounds in the first half of 2018 brought about 40% lower Internet fees and income from water bars than those in League of Legends. However, in order to make them eat chickens well, Internet cafes paid The cost of software and hardware is much higher than that of those adapted to "DOTA2", "League of Legends" and "Overwatch".
Judging from the start-up data of the past three years, the top five most popular Internet cafes are still "League of Legends", "Cross Fire", "DNF", "Sword Spirit", "QQ Speed" and "DOTA2", and the top five in 2012 Exactly the same. Roughly speaking, since 2012, there has never been a new game like Dota connects Warcraft, LOL connects Dota and RPG to achieve a perfect handover.
In addition, the lack of new Internet cafe games has actually led to the migration of users to other games.
According to data from Sunnet,In 2019, Internet cafes still accounted for the highest proportion of content launched by games, accounting for around 84%, which is a drop of 1% from 2018. At the same time, the percentage of PC online game launches fell by 6% to 74%, mobile game simulators increased by 4% to 26%, and local stand-alone games fell by 9% to 18%.
Nowadays, the reality is that users are becoming more and more interested in playing games that Internet cafe owners don't want them to play. When CP wants to follow the user's taste, where does the Internet cafe go? I do not know yet.
who am I?
"I began to think, what exactly should an Internet cafe be? Our products and business model are about to change?"
Zhang Yi said something very mysterious to me:"People who really understand Internet cafes are definitely not afraid of the epidemic."
A long time later, an Internet cafe senior person who returned to work in the system from a company told me, "The real difficulty in the Internet cafe industry is the same as the original restaurant, tavern, and furniture city. It is to find a new era of positioning and better Business model."
Judging from past notes and daily records, in 2020, Youfan has asked a question from 22 Internet cafe owners, 4 Internet cafe brands and 3 local associations in many places. What are the current Internet cafes selling? There are two main answers:
1. What sells is professional gaming experience, including smoother operation and comfortable control experience. The meaning of other meals is not to interrupt the game behavior.
2. What is selling is a casual social scene customized for game players. Professional gaming experience is just one of the services. If you want to earn more, you must add services, shift your focus, and make this scene a good one.
I am more optimistic about the second explanation, which is a bit vague, but it can avoid many unfavorable trends such as users, content, policies, and capital. In fact, many well-known brands including Wangyu, Mojie, Alliance E-sports, and Jera, and some small owners of Luziye have already tried this area. Starting in 2019, this "scenario thinking" has been concretized into a complex format similar to a small entertainment city.
According to news from the management of Wangyu and Jera, "continuously reducing the number of computers in a single Internet cafe, increasing personal space and other business formats" has been put on a strategic level. More and more top Internet cafe brands have added simple meals and soft drinks to the only on-board service. After this, there are independent water bars that can receive Meituan, Dianping, e-sports viewing area, board game area, and movie bar. .
Compared with the "game as the core addition" from bar to coffee, this kind of scene-based "game as the theme, parallel development of various formats" is currently unknown.
To be sure, only this direction is more difficult, but the space is indeed larger. In addition, after such a natal year, whether you like it or not, big changes seem to have become the only way out.
Source: Youfan Research
Address: https://mp.weixin.qq.com/s/21bgQncjW4e3TKkek8WRTA
.