Intel releases NUC M15 notebook, using 11th generation Tiger Lake processorStarting at US$999 (about 6570 yuan)
2020-11-20 14:30:10
4 likes
4 favorites
12 comments

This article was released under the authorization of Chaoneng.com. The original title: Intel made a Tiger Lake notebook by itself, using the name NUC M15. The content of the article only represents the author's point of view and has nothing to do with this stand. Please do not reprint without permission.
Recently, Apple's new Mac computers equipped with the M1 chip have performed beyond everyone's expectations. They have greatly changed the trend of the current notebook computer market. In addition, this year, the next door AMD's efforts on mobile processors have made Intel feel more or less. Before and after the enemy, but Intel still maintains its own rhythm, and now in order to popularize the Tiger Lake architecture notebook, Intel made a notebook computer, named NUC M15.
Intel's NUC was originally used as a series of mini-PC hosts, but in recent years, Intel has not been limited to NUC but just a little guy. They have made high-performance Pluto Canyon and Ghost Canyon versions of NUC, and now they have expanded to do A 15.6-inch thin and light notebook with an aluminum-magnesium alloy body with a thickness of 14.9mm and a weight of 1.65kg.
This NUC M15 is equipped with Intel's 11th-generation Tiger Lake architecture processor, which can play up to 28W TDP performance. With Iris Xe Graphic, it can provide good gaming capabilities, but its memory is soldered on the motherboard. Currently 15.6-inch notebooks are not common, and the capacity is only 8GB or 16GB.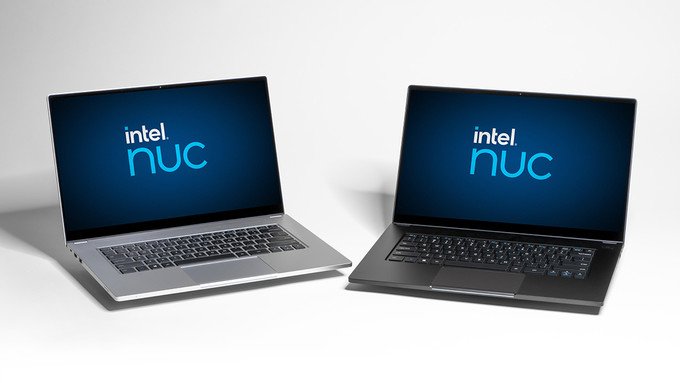 Intel also mentioned that this NUC M15 was derived from their Project Athena project, but it is not the Evo platform certification that Intel pushed hard this year, but it has a complete range of connectivity capabilities, including Wi-Fi 6 wireless connection, Thunderbolt 4 Interface, Type-C USB 4, and 10Gbps USB Type-A interface, etc.
This Intel laptop is actually a Kit, which means that they will not put the Intel logo on them for sale. Instead, they will sell them on the market by some small and medium-sized brands. This makes it easy for them to develop and design themselves without spending costs to speed up the distribution. And scope. It is said that the foundry of this M15 notebook is actually Tongfang. In the past, Intel also designed a gaming notebook MAG-15, which was also made by Tongfang.
It is reported that the price of Intel NUC M15 starts at US$999 (approximately 6570 yuan), with a maximum of US$1499 (approximately 9850 yuan), but the actual price depends on the pricing of various partners, and the final product will be early next year Listed.
Unauthorized, no reprint

.