When it first revealed information about the first 10nm chip on the CES 2019 stage in January, Intel has attracted a lot of attention from the community for this potential product. Up to now, after nearly six months, the world's largest processor has kept its promise, officially releasing the 10th generation Ice Lake CPUs, accompanied by Gen 11 graphics, Intel Deep Learning Boost technology, 9 to 15W TDP, supports WiFi 6 and Thunderbolt 3 to help advanced users get the most out of their premium laptops and PCs. me. In particular, this is the first Intel processor line to be built on a 10nm process with the Sunny Cove micro architecture.
Intel revealed information about octa-core i9-9900KS CPU
The chip is a major step forward for Intel after years of delays and grappling with the 10nm process. Intel originally planned to introduce the 10nm processor, dubbed Cannon Lake from 2016. However, a few financial and technology issues delayed this plan. It is these difficulties that have caused the world's leading chip maker to constantly have problems with the 10nm fabrication process, so it has to prolong the maintenance of 14nm ++ for 9th Gen Intel Core CPUs.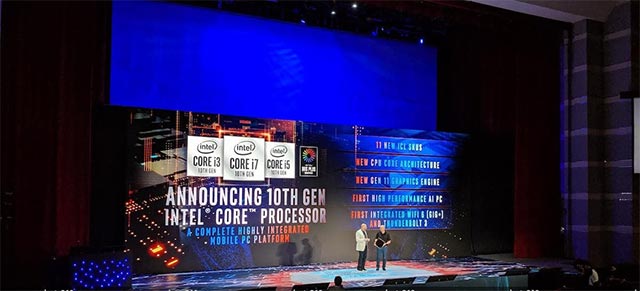 AMD launches Ryzen 9: 12-core CPU, PCIe 4.0, priced at $ 499
Intel announced it will release its first 10nm CPU in 2019 and it has finally kept its word. The company also confirmed that the first batch of 10nm Ice Lake will ensure timely delivery to manufacturers and the first Ice Lake processors will hit the shelves by the end of 2019.
Hardware outline and performance
Initial batch of 10th Gen Core processors including low-power Ice Lake-Y (9W TDP) and Ice Lake-U (15W) models for laptops, 2-in-1s tablets, and PCs mini desktops, but at the same time can also suit a wide variety of embedded and IoT devices. These chips will have 4 cores, 8 threads, and provide maximum turbo speed up to 4.1GHz, equivalent to the chip on Apple's 13-inch MacBook Pro.
In addition, the Ice Lake-U processor will also be accompanied by Intel Gen11 Iris Plus graphics with up to 64 EU (Execution Units), the same speed up to 1.1GHz, the ability to support 4K HDR video recording and play. high-end game.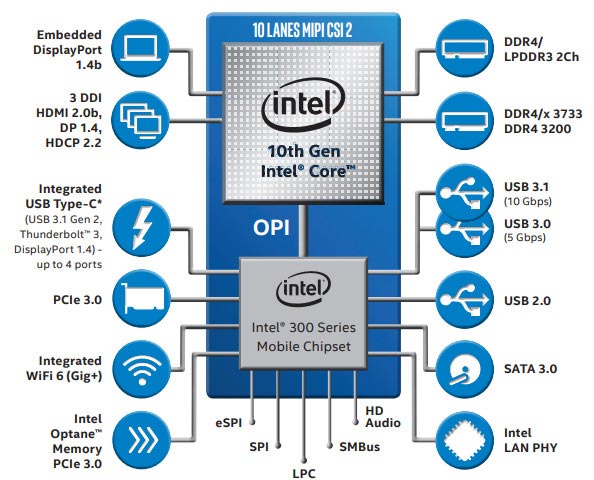 Intel announced the powerful 9th ​​generation H series CPUs for gaming laptops
Intel Gen11 is the first integrated GPU created to incorporate variable speed shading by applying variable processing to different areas of the scene, improving rendering performance. export. Gen11 Iris Plus graphics won't be available with every Ice Lake SKU – some will come with 32EU UHD graphics. Iris Plus 11 is said to be 2% to 25% more powerful than the Vega 10 processor on rival Ryzen Mobile Ryzen 7 3700U from 2% to 25% depending on the test.
The Ice Lake Sunny Cove CPU cores will provide Intel DL (Deep Learning) Boost technology, designed to assist in handling heavy AI tasks with low latency. Intel DL was previously featured on some of the new 2nd generation Xeon server CPUs announced this past April.
Ice Lake's Gen11 graphics also feature native AI support with up to 1 Teraflop of vector computation for heavy inference tasks, Intel says. In addition, Ice Lake will also own the Intel Gaussian Network Accelerator (GNA), "specialized" for "low power AI applications".
Additionally, these 10th generation chips will also provide built-in support for up to 1Gbps WiFi 6 (802.11ax). More specifically, the Wi-Fi 6 technology is integrated on Ice Lake with Intel's solution called Intel Wi-Fi 6 Gig +, which can support 160MHz channels, double the standard Wi-Fi 6. . Four high-throughput Thunderbolt 3 ports (coming to USB 4) are also a very good "toy" package on Ice Lake. As such, laptop manufacturers can easily place the Thunderbolt ports on both sides of the product while maintaining design aesthetics. In addition, according to Intel's calculations, simplifying the design of the Thunderbolt port will also help save power consumption per port about 300mW.
Performance comparison with previous generation chips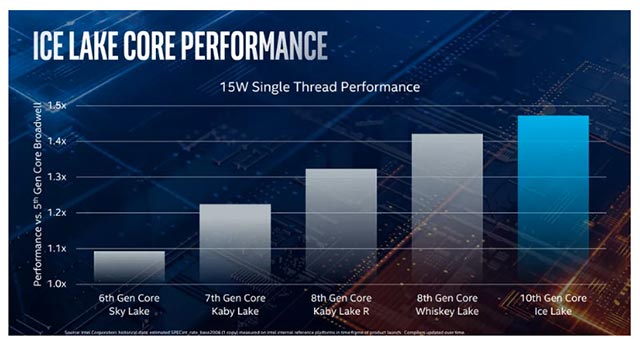 Why aren't CPU and computer RAM packed together to increase processing speed?
Although produced on the new 10nm process, but through the comparison above, it can be seen that the processing performance of Ice Lake is not much improved compared to the previous 8th generation Whiskey Lake. However, compared to the "old" Skylake architecture, Ice Lake will give 18% better performance, and even this increase will be higher depending on the application as well as the task it handles. Unfortunately, there are no comparable figures between Ice Lake and Coffee Lake Gen 9 processors.
In terms of graphics performance, Ice Lake will not disappoint you when deciding to upgrade. According to calculations from the manufacturer, the Gen11's performance can nearly double that of the previous generation depending on the game. However, looking at the comparison chart below, it can be seen that this GPU is still difficult to deliver a smooth full HD gaming experience with over 60fps on heavy games like World of Tanks or Fortnite. However, such a level of performance is completely acceptable because it is still just an integrated GPU chip running on a 15 TDP CPU, and the purpose it aims to is a thin, light laptop. with moderate work and play. If you want a smoother gaming experience, a discrete graphics card is probably still the best choice.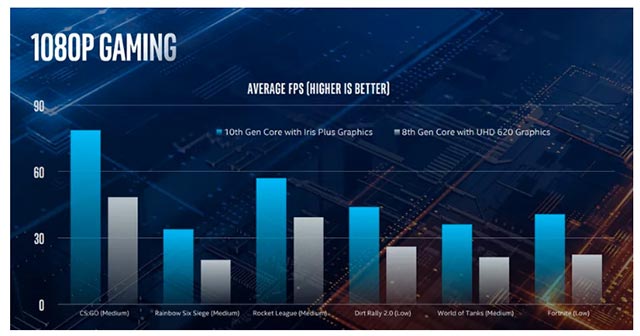 Will Qualcomm's 5G CPUs be on the market in 2020?
Intel has yet to list or classify specific Ice Lake models. A previously leaked release roadmap that shows early-stage shipping models will be the dual-core Ice Lake-Y SKU and the Ice Lake-U (dual-core and quad-core options). Early next year, we can expect a new generation of Ice Lake Refresh with a richer and at the same time richer model number than this original batch. Notably, Ice Lake along with the new Gen Coffee Lake Gen 9 chips will not be threatened by the ZombieLoad and MDS vulnerabilities, which have been raging on Intel Core chips lately, leaving not just Intel. but also manufacturers headache in finding solutions to cope.
Computex 2019 (formerly known as Taipei International Information Technology Exhibition) is the major IT event this year. The event will take place from May 28 to June 1 in Taipei, Taiwan. On this Computex 2019 occasion, Intel also launched its Vpro enterprise product line and revealed that the Intel X-Series product line will be released this fall.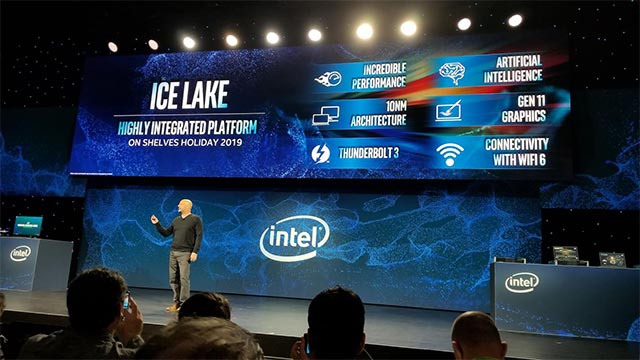 We will actively update the most notable information happening in the framework of this year's event, welcome to read!
.