Removing viruses with Malwarebytes Premium for computers is quite simple, but not everyone knows how to use these functions effectively. This article will guide you how to remove viruses with Malwarebytes Premium to get the highest efficiency
Related posts
Install Malwarebytes Anti-Malware, setup Malwarebytes Anti-Malware on Windows 7, 8, 8.1, 10
Synthesis of virus and malware samples and how to remove it on March 2, 2015
Synthesis of virus and malware samples and how to remove it on March 3, 2015
How to use Malwarebytes Anti-Malware to scan and check for malicious code on the computer
How to remove adware on Mac OS X
Malwarebytes Anti-Malware Premium is one of the best anti-virus software with low cost, powerful virus scanning and handling. Not integrating many functions like other security software, but Malware Premium possesses excellent virus handling power. With a simple, easy-to-access interface, removing viruses with Malwarebytes Premium is very simple. Taimienphi will guide you through the detailed steps to handle viruses on your computer with Malwarebytes Premium.

Instructions to remove viruses with Malwarebytes Premium
Step 1: Download and install Malwarebytes Premium. The installation steps you refer to in detail how install Malwarebytes to install successfully on your computer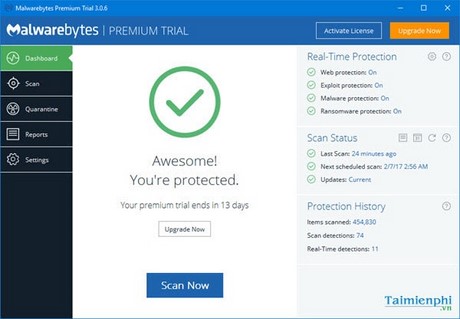 Once downloaded, you will have a trial period of 15 days before being asked to charge.
Step 2: Check the software's running features to make sure the software is working properly. (All features have status as On)
Web protection: Browsing protection
Exploit protection: Prevent exploitation of vulnerabilities
Malware protection : Anti-malware
Ransomware protection : Protect users from ransomware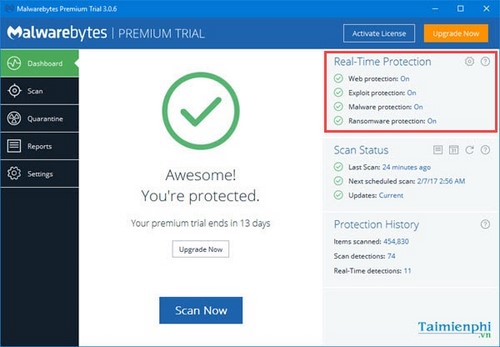 Step 3: Press Scan, choose the appropriate virus scanning method.
You should use the method Threat Scan with malware scanning and virus handling on the system.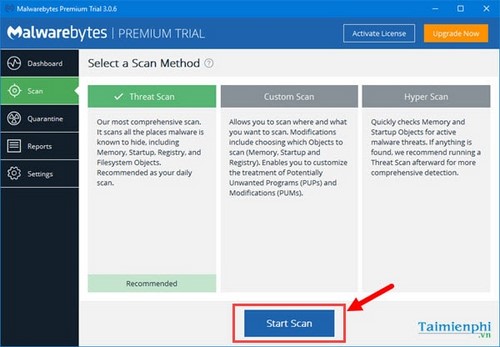 Step 4 : The virus scanning process starts with a virus scan performed in turn:
Check for Update : Update virus database to the latest
Pre-Scan Operation : Prepare the system before scanning
Scan for Rootkit: Scan for Rootkits (malware located in the background of the operating system)
Scan Memory: Scan for viruses on memory
Scan Startup File: Scan boot files
Scan Registry: Scan Registry key
Scan File System: Scans for system files
Heuritics Analysis: Analysis and identification of malicious behavior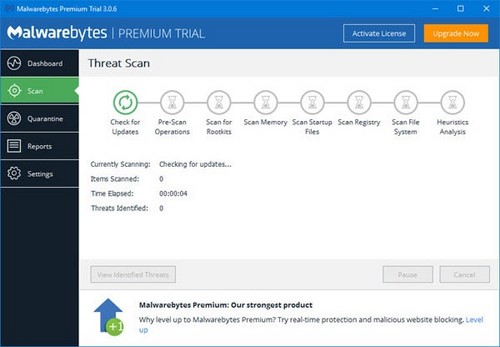 During the scan, you can track the number of malicious codes detected in: Threat Identified
Step 5: The virus scan is complete, viruses and malware will be automatically processed and displayed in the list.
In this case, my computer has no virus problem, so the list will be left blank.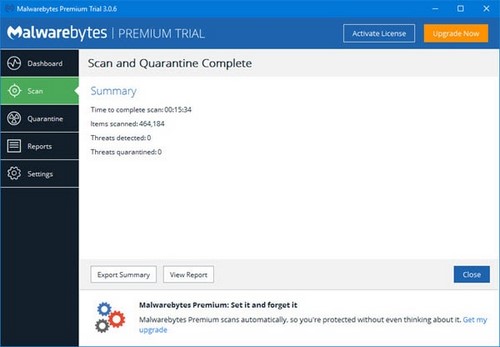 After scanning for viruses, you reboot to complete. This way, your computer is safe and secure
You can also review the list of detected malicious codes by clicking on the item Quarantine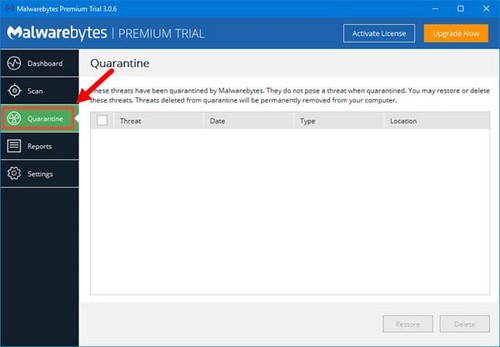 Schedule a scan for your computer
During use, for those who often have to work with software downloaded on the Internet, you should schedule periodic scans for your computer to ensure that your computer is always protected. Malwarebytes Premium allows you to schedule periodic computer scans according to preset schedule.
Step 1: On the main interface Malwarebytes Premium, you press Setting, select tab Scan Schedule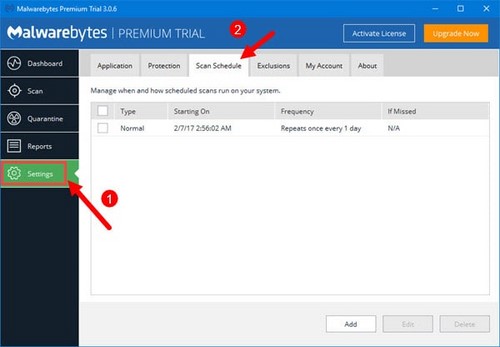 Here will appear a list of scan schedules you have created to manage.
Step 2: To create a routine scan schedule. You press Add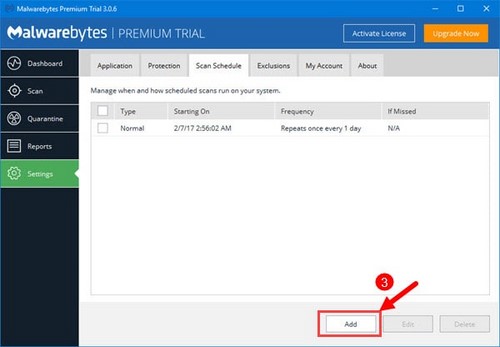 Step 3: Appear window to create scan schedule, you can customize scan schedule, scan method, scan option as desired.
Operation Type: Scan method
Schedule Frequency: Schedule repeat scanning. You can customize repeat scans daily, weekly or monthly …
Starting Date: Date of scan
Starting Time: Scanning time
Quarantine all threats automatically: Handling malicious code automatically
Restart computer when required for threats removal: Automatically restart when required to start to handle the virus
Scan for Rootkit: Scan for Rootkits
Scan within archives: Do not scan compressed files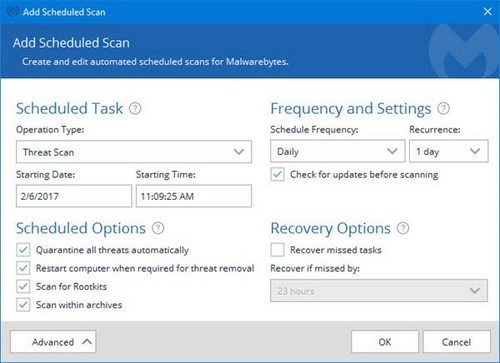 Install computer protection options
To install options to protect your computer, click Setting, select tab Protection.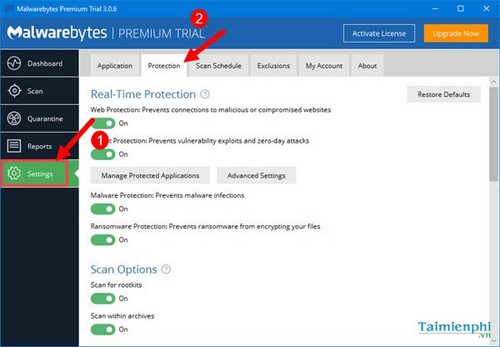 Here will appear the options, you note the first 4 options should always be activated.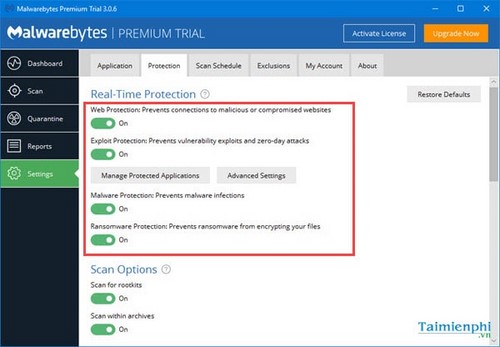 The items below should be left as they are by default without any changes. These items should only be customized by advanced users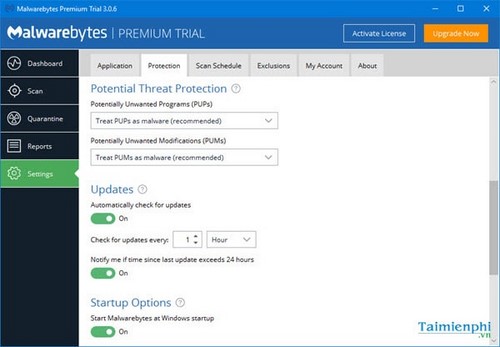 Above are some instructions to remove viruses with Malwarebytes Premium. These are the basic guidelines for you to make good use of this antivirus software. During use, you can learn more about the virus as well as how to handle the virus manually to use the functions of the software more effectively.
https://thuthuat.taimienphi.vn/huong-dan-diet-virus-bang-malwarebytes-premium-cho-may-tinh-12732n.aspx
In addition to Malwarebytes Premium, there are many other effective anti-virus software on computers such as BKAV HOME, Kaperskye, Avas … Of which BKAV is the Vietnamese anti-virus software that has affirmed its name in the field. in the domestic and overseas antivirus area, download BKAV to experience the best features of the software.
.