The most effective way of blocking ads on web browsers says they are using ad blocking utilities (in other words, using browser extensions or add-ons). However, on Firefox, AdBlock Plus is the top choice, while on Chrome it is the AdBlock add-on.
To install and use AdBlock Plus is not difficult, you just need to perform some basic installation operations and because the automatic operation mechanism should be very easy to use. The following article I will guide you how to install and use AdBlock Plus to be able to block ads effectively while browsing the web.
Blocking this ad according to you, you should only apply to sites that place too many ads, especially pop-ups that are offensive to you. With pages that provide useful information, Please consider about blocking ads because this is it main source of income help them – Bloggers, Webmasters maintain and be motivated to develop the site in the future.
content
Help me conduct ad blocking software survey
Below will be the best ad blocking software today that you can refer to, if you have ever used one of these software, vote right in the survey below!
Voted the best ad blocking software Chrome, Firefox, … nowadays
Pop Up Blocker Pro Software
Popup Ad Smasher Software
AdsGone Popup Killer Software
Install AdBlock Plus Firefox browser
Step 1. First you open up Firefox, then click on the Menu icon in the right corner of the browser and click Utilities as shown below (you can also get quick access to Utilities by pressing key combination Ctr + Shift + A or paste about: addons in the URL box).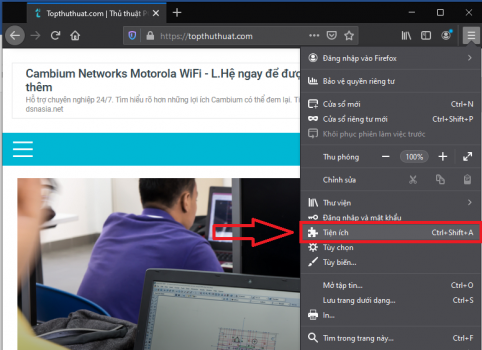 Step 2. Now a new window appears, click the option Find more gadgets in the Manage gadgets section.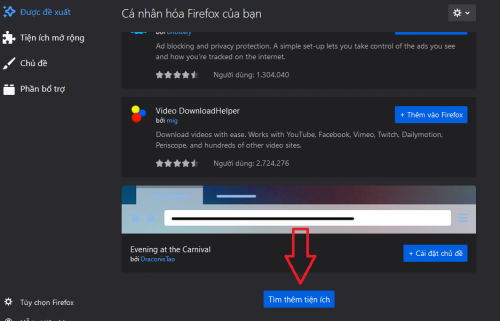 Step 3. Now the Firefox add-ons management page appears, search for the add-ons with keywords Adblock as shown below.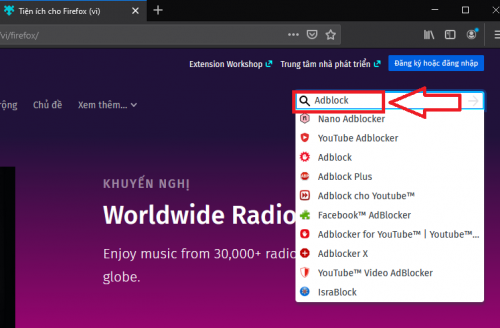 Step 4. A list of Adblock software will appear, at this time you just need to click on Adblock Plus which is used by most users.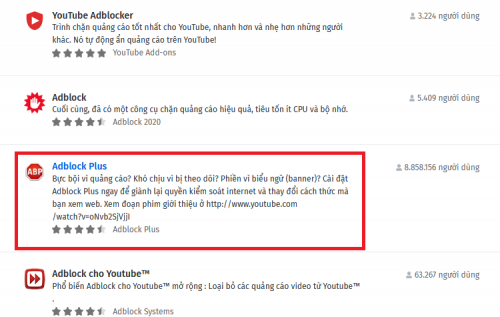 Step 5. Continue to click Add to Firefox or Add to Firefox as shown below.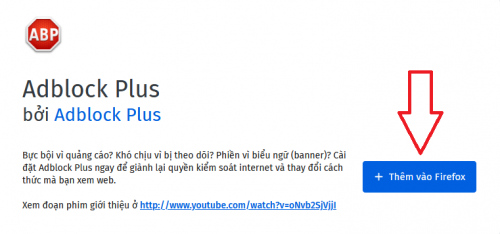 Step 6. A new window will appear, click on it Add (A) as shown below.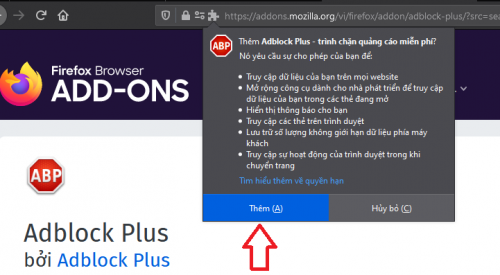 Step 7. Now you just have to wait a while while the utility will be automatically integrated into the browser. The AdBlock Plus icon will appear in the top right corner of the browser as shown below. Here if you want to enable ad blocking in incognito browsers, then tick Allow this extension to run in a private window.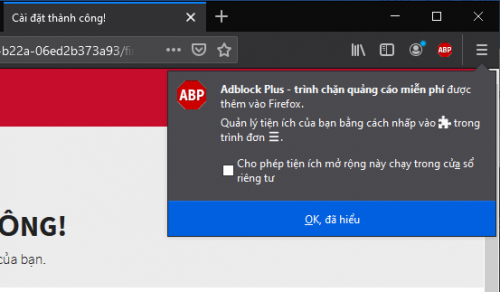 How to use AdBlock Plus to block ads on Firefox
After installing AdBlock Plus, all ads on the websites you visit will be blocked, and the number of ads will be displayed next to the gadget's icon as shown below.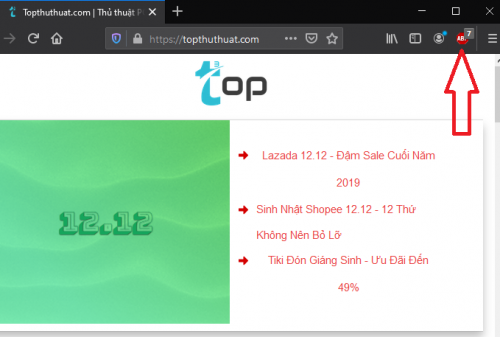 To know exactly which website you are visiting is being blocked, click on the AdBlock Plus icon. The green icon means that the button is turned on and the button is grayed out.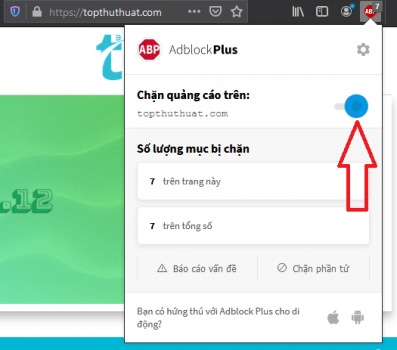 Here you can turn on or off ad blocking and refesh the page to activate.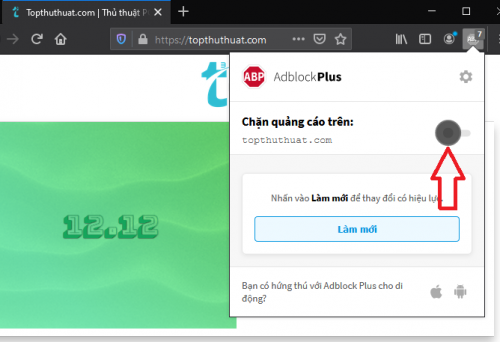 Besides, AdBlock Plus has many other ad blocking options. To access AdBlock Plus settings, right-click on the icon of the utility => then click the gear button as shown below.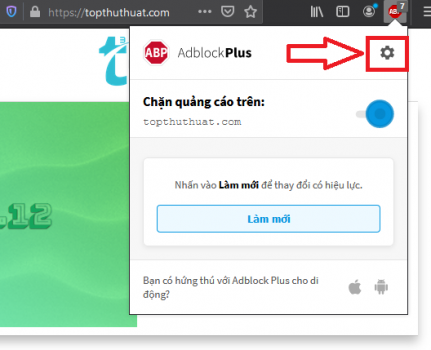 There are many different options and interface in Vietnamese.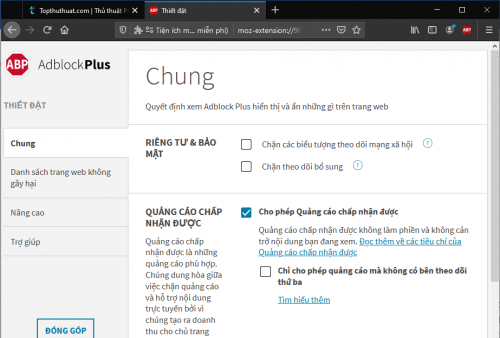 Activate ad blocking in incognito mode
While browsing Firefox in incognito mode, if you want to block ads, then right-click on the AdBlock Plus icon => select Utility manager as shown below.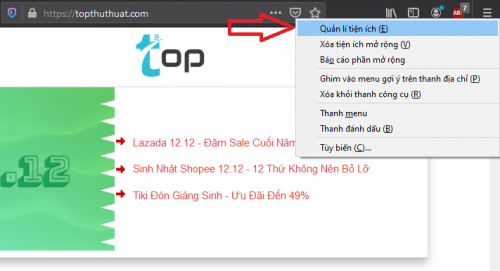 A new window will appear, tick the box Allow in the privacy window section as shown below. After you select "Allow", the ad blocker in incognito mode is enabled.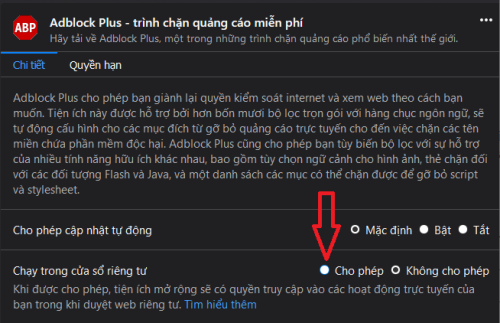 Block everything with AdBlock Plus
In addition to advertising, with AdBlock Plus you can block anything else that is offensive. To do this quite simply, right-click on it => select Block element as shown below.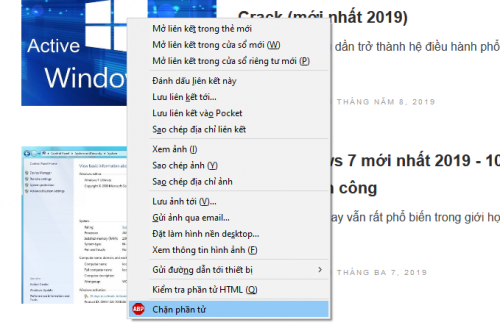 A new window will appear, click the button More as shown below.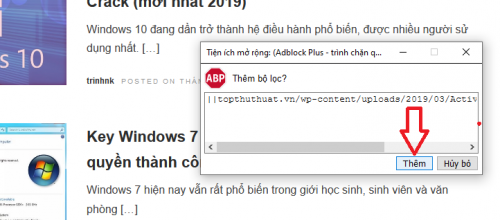 If you want to unblock ads for this element, you must access the settings, by right-clicking on the browser AdBlock Plus icon => clicking on the gear.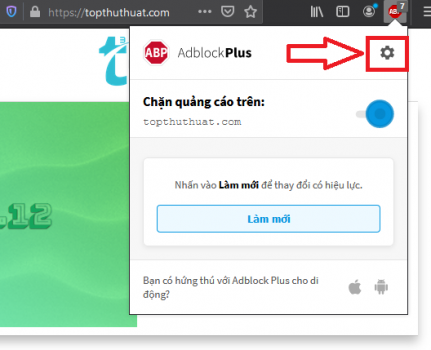 A new window will appear, click the option Advanced => then select the element you want to unblock in the section My filter list at last click Erase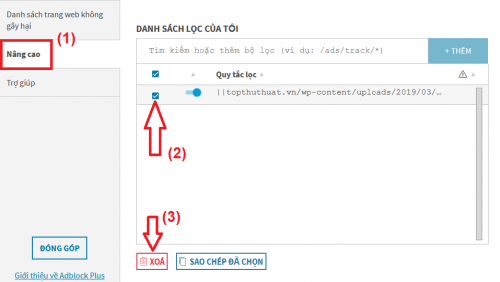 Conclusion
So to block ads on Firefox is not difficult, AdBlock Plus is the simplest and most effective solution for you to block ads on the browser not only on Firefox but also on Chrome, Coc Coc … In addition, if As you know of other better solutions to block ads for browsers, please share with me in the comment section below!
The post A guide to blocking ads on Firefox full episode appeared first on Computer Tips – Informatics for you.