Instructions on how to block ads on Gmail is a collection of tips and tricks for those who regularly use Google's email service, to help clean up the mailbox space, and remove spam and junk messages. daily annoyances, thereby helping to browse and work with quality and efficiency.
Related posts
Block senders on gmail, block any email in gmail
Block spam, how to block spam mail in Gmail
How to remove the Social & Ads tab in Gmail
Swizzle – Prevent and delete spam in Gmail, Yahoo! Mail
How to stop receiving email in Gmail
You will notice that at email addresses, especially personal emails used to sign up for services such as email registration when using application software, registration when buying online … Your inbox will grow more and more with regular promotional emails.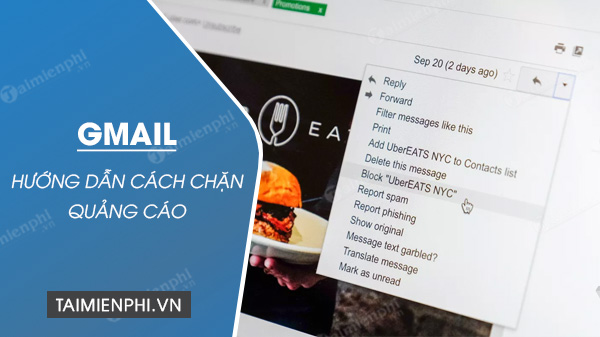 How to block ads on Gmail
If you don't want to be disturbed, there's only way register gmaiJust another, to overcome this situation, please follow the instructions below to know how to remove promotional emails.
HOW TO STOP ADVERTISEMENT ON GMAIL
* Download Gmail for iPhone: Gmail for iPhone
* Download Gmail for Android phones: Gmail for Android
To block ads, you can unsubscribe from a newsletter, you can also find and unsubscribe from a series of promotional emails, or you can use a third-party service to unsubscribe. Here are a few ways you can choose:
1. Unsubscribe from promotional emails (Unsubscribe email)
To unsubscribe from promotional emails, follow these steps:
Step 1: Friend login to Gmail then open a promotional email you want to block up.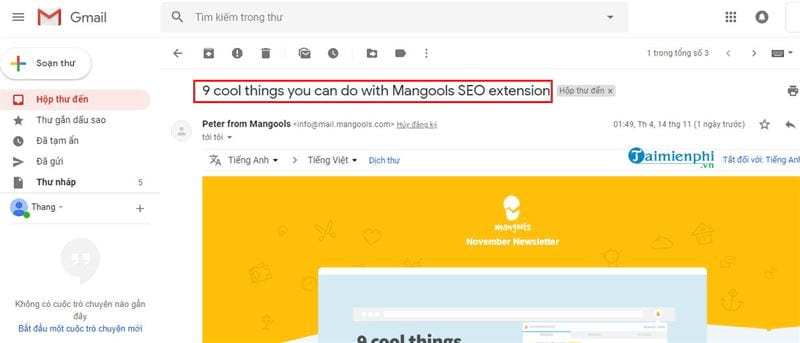 Step 2: You left click on the item Cancel registration (Unsubscribe) right next to the sender's name.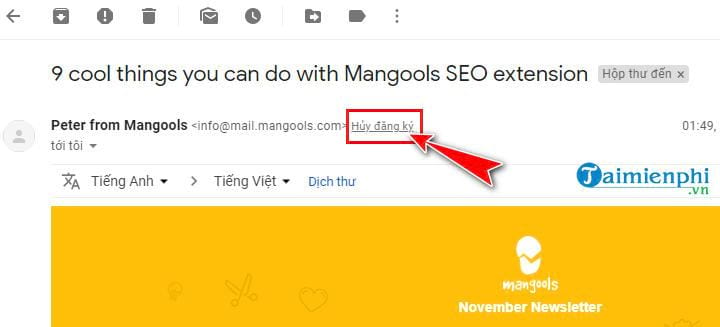 Step 3: The message window interface appears, choose next Cancel registration.

Step 4: You will notice that there is a message confirming successful unsubscribe from the main interface of Gmail as below picture:

At this step, you can also click select Go to Spam folder to complete the steps Cancel registration promotional emails.
2. Find and unsubscribe from multiple promotional emails
To be able to cancel many promotional emails, follow these steps:
Step 1: In the main interface of Gmail, enter the keyword "Cancel registration"go to the search bar and press Enter.

You also try to find more with the keyword "Unsubscribe"and see the results after searching:

Step 2: Emails you can Cancel registration or Unsubscribe Immediately appears as 2 images above.
At this step, you do the same as the Cancel advertising email just instructed above to disable ads from these addresses.
3. How to block advertising mail senders
In this way, do the following:
Step 1: At the mail interface to be blocked, left-click on the icon as shown below and select next Block "Names, email addresses to block".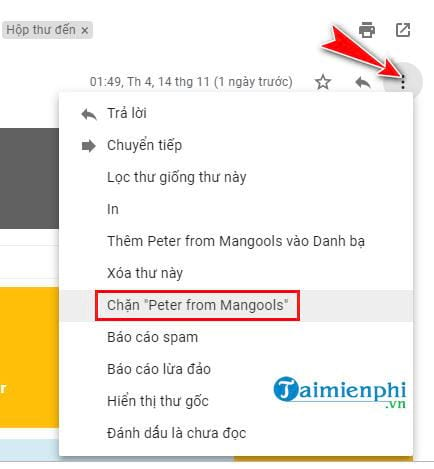 Step 2: You click Block out to do it will be successful.

4. Use a third-party service to block Gmail ads
In this way, Unroll.me service is available which is quite reliable and easy to use. You can use the 3rd party through this Unroll.me service.
Note that when you have used Unroll.me, you have defaulted to sharing your email information and your list of contacts, so you should be careful when using this way.
To cancel promotional emails in this way, follow these steps:
Step 1: You access the address Unroll.me Here in a new tab. Then click Get Started Now to begin.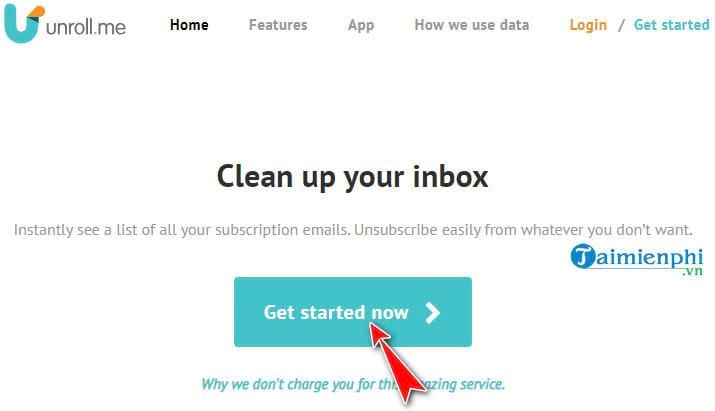 Step 2: New interface appears, you choose Sign in with Google: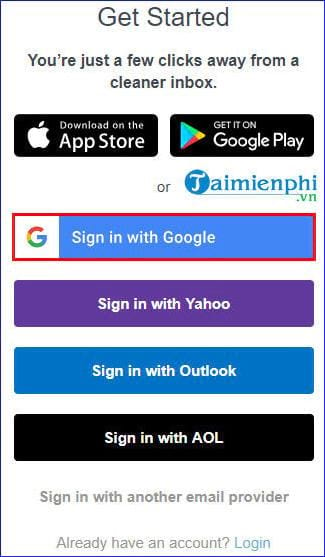 Step 3: You perform login to your Gmail account as usual.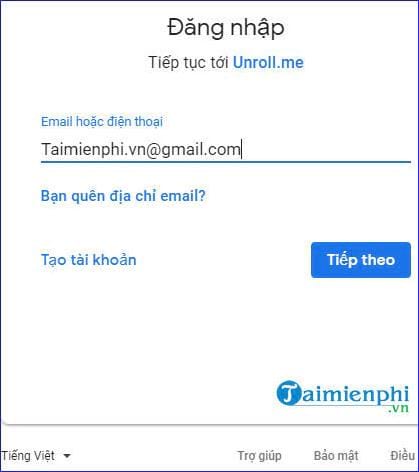 Step 4: Unroll Will want to access to know some of your personal information, contacts. Choose Allow to accept.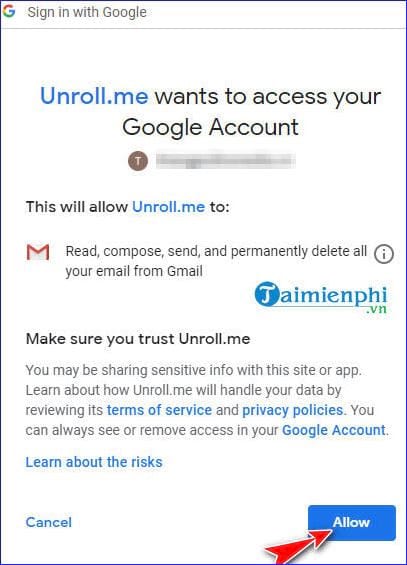 Step 5: Unroll will scan and notify you how many items are "hacking" the current Inbox. You continue to follow the instructions of the website then left-click on each item Unsubscribe corresponding to the services you are using to disable is okay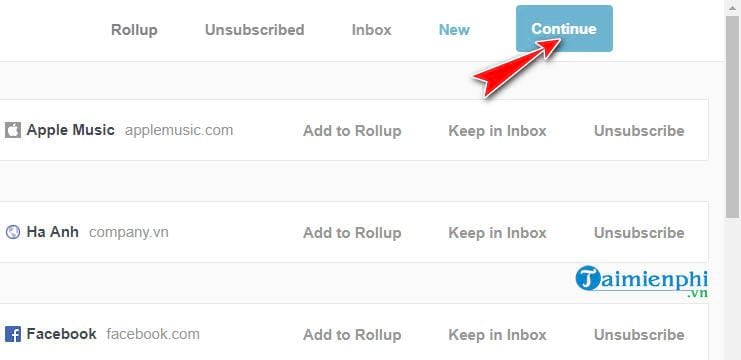 Step 6: You will notice a message appears as below that you have successfully blocked.

Blocking is complete, you can see how much deactivation you have and how much information you keep in your account.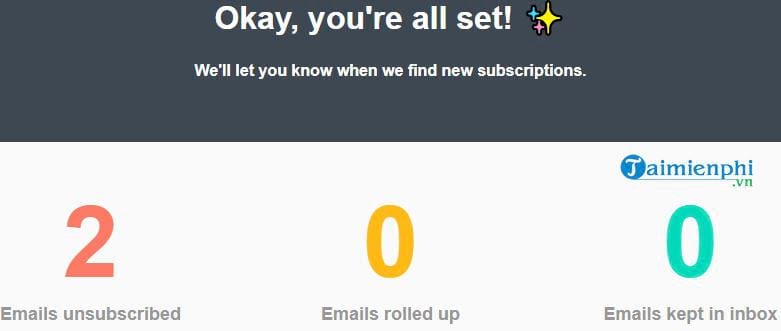 https://thuthuat.taimienphi.vn/huong-dan-cach-chan-quang-cao-tren-gmail-40942n.aspx
So I have just guided you How to block ads on Gmail. With the instructions along with the detailed steps above, you should choose for yourself a way that you find the simplest, easiest and easiest way, in addition, you can also refer to Block spam in Gmail here. Good luck.
.