Vaccine COVID-19
According to information from the Ministry of Health, the national COVID-19 vaccine vaccination campaign will take place across the country with 19,500 vaccination points. It is expected that by the end of 2021, at least 50% of people aged 18 years and older will be vaccinated, and by the end of the first quarter of 2022, more than 70% of the population will be vaccinated.
To register for COVID-19 vaccination at home, people can download the application that can be done by visiting the link https://hssk.kcb.vn/#/sskdt. In addition, people can find the "Electronic Health Book" application released by the Office of the Ministry of Health on iOS and Android repositories.
After successful registration and login, the application will have the Immunization Registration feature. To register for the COVID-19 vaccine, please fill in your personal information including full name, date of birth, gender, identity card number/citizen identification number (ID/CCCD), number health insurance card (HI), select the date you want to inject and the object. If not in the priority list, the user just needs to select "Other".
Next, you need to declare the previous vaccination history (if any), finally confirm the information and submit the request.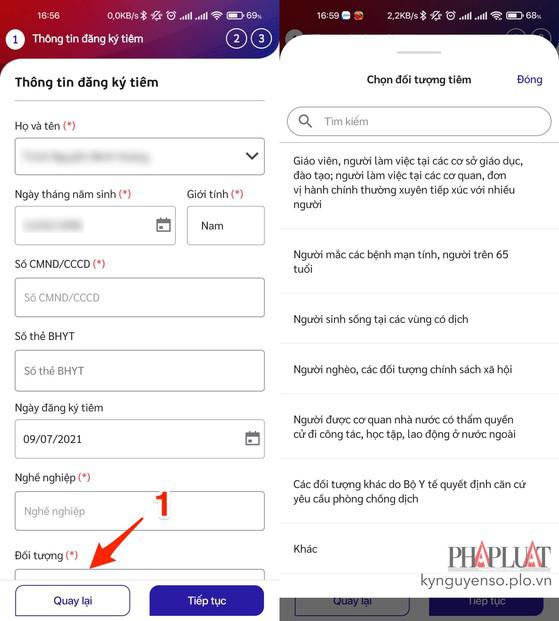 After clicking Confirm, the user will receive a successful registration message. However, this is only the step "Collecting needs and information to make a list of registration for injection according to each location". When there is a specific plan, people will be contacted by phone number. After injection, the system will update the Certificate of Immunization in the form of QR Code on the application to use in case of need.
For those who do not use smartphones, the registration is done by paper according to the form, and sent to the People's Committees of communes, wards and townships. After that, the locality will support the import of content into the electronic health book software. In some neighborhood groups, registration is also done through filling out a form on Google Docs.
.