In the process of using the computer, the font is very important to help us compose documents or chat with each other through the application and moreover when you download Font full to your computer to install, you can read a lot of texts. The version uses many different types of fonts. So how can you install fonts for your computer, please follow and follow the ways below of ElectrodealPro!
Related posts
How to install VNI fonts on computers, laptops
How to install VntimeH font and VNTime font on computer, laptop like?
How to install Calligraphy font on computers, laptops
How to type VNI font on a Macbook
Typing accented Vietnamese when using Font VNI
Many of you open documents or enter erroneous text. Font is because your computer does not have the type of font used by the typist. The thing to do now we have to install that font on the computer. However, installing fonts on the computer is not the same as when we install regular software.

With the following guidance, ElectrodealPro will help you with many ways to install fonts on your computer and use them immediately, but you should only install when necessary and should not install them all because it may be the cause. slow down your computer.
Article Contents:


1. Copy directly to the Font folder.
2. Install Font of computer directly.
Install font on computer, setup Font Full, Vietnamese Font for Windows 10, 8.1, 7
First of all, you need to have a full Font, you can download a Font with all the most popular and beautiful Font styles including: VnTime, Vni, Calligraphy, … Download Font Full
1. Method 1: Copy directly to the Font folder
This way is very simple, not time-consuming but applicable to all types of operating systems that you are using.
Step 1:
– Access to your windows drive, usually the drive C:
– Go to the directory Windows
– Find the next directory Font (This is where the computer's Font system is saved)
The directory path takes the form: C: Windows Fonts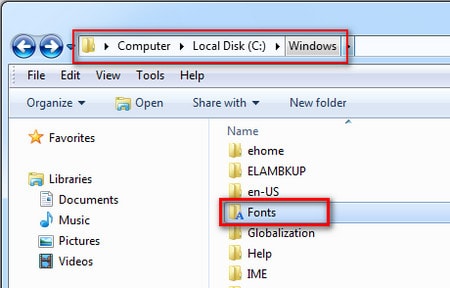 Step 2: Copy all the Fonts you want to install into this Font folder. So you have finished installing all Fonts on your computer.
Attention

Because the Font Full set may have some fonts already on the Font system of the computer, when you copy Font into the Font folder, the system will notify that the Font already exists.
– Choose Yes to overwrite the old Font
– Choose No to ignore Copy Fonts

(You can check the box Do this for all current items to perform actions on other Fonts)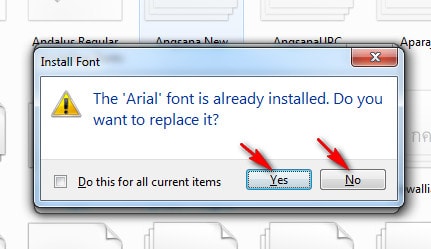 2. Method 2: Install the Font of the computer directly
For Windows 10, 8, 7 users, in addition to copying fonts to the c: Windows Fonts folder of the computer, you can also install fonts for the computer directly from the font file. This is a feature that only Windows 7, 8 or Windows 10 and above are built-in, and for operating systems like Windows XP, 2000 you must install the computer Font by copying like the way I said.
Step 1: Simply after you download the font and unzip as mentioned above, you can right-click on each file or select all the fonts then right-click and click Install to install the font, this feature starts. Word on Windows 7 helps you to install Font quickly without having to go to a folder like above.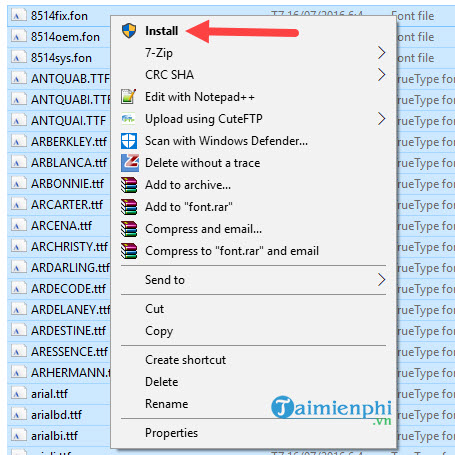 Step 2: Then remember to tick Do this for all current items so that the system only asks once and finally bamasm yes to install the entire Font including old and new.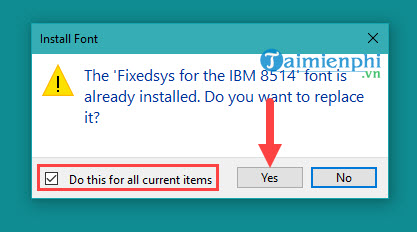 This process is fast or slow, completely depending on the number of Fonts you have installed, after the installation is complete you can use it immediately.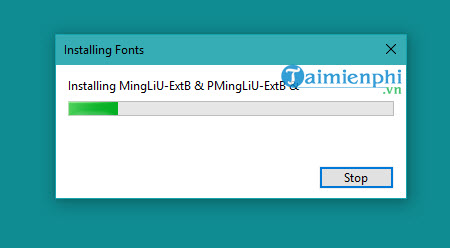 The computer font installation makes it possible to read many types of documents using many different fonts. And increasing your choice in front of the wide variety of fonts makes the text richer. If there are not enough fonts available for the current work, ElectrodealPro will guide you to install a full set of fonts and fully support Vietnamese.
The above article has guided you quite in detail to install Fonts on your computer with how to install it for popular operating systems such as Windows 7, 8 or Windows 10. Depending on the method of installing Font on the computer you want to have Vietnamese Fonts, Font VNI, Font UTM, or even beautiful calligraphy fonts can be easily installed.
If in the process of using that you encounter problems with font errors on Windows, you can Fix font errors on Windows easily by referring to the previous article of ElectrodealPro. And still have any questions during the font installation process, leave a comment below, we will help you solve the problem in the shortest time.
https://thuthuat.taimienphi.vn/cai-font-full-tieng-viet-vntime-win7-win-8-165n.aspx

.