Launched since 2006, Present KMP has appeared on all platforms Windows, MacOS, Android as well as IOS. Today, Taimienphi will guide you to download, install and use KMP 64X, listen to music and watch movies in the latest version in this article.
Related posts
KMP shortcuts, synthesizing shortcuts in KMPlayer
Always open Video and Audio files with KMPlayer
KMPlayer is available on both iTunes and Play.google
KMPlayer – Error handling cannot open MP4, FLV files
KMPlayer 3.7 was released with many new features
KMPlayer also known as KMP is a software for listening to music, watching movies, and multimedia entertainment that allows you to enjoy high quality music and movies on your computer. KMP Supports many different file formats, so when install and use KMP 64XUsers do not need to install any external decoder (codec).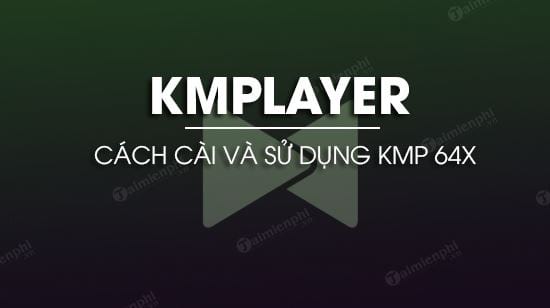 Install and use the software KMPlayer latest version KMP 64X
How to install KMP 64X
* Recommended preparation steps and parameters:
– Use on Windows Vista, Windows 7, 10.
– Machine support DirectX 9 or higher.
– 150 MB free disk space installed.
– Download KMP 64 X here
– Download KMP for Android here
– Download KMP for iPhone here
Step 1: After downloading, you have an installation file as shown below -> you click on it to launch the installation.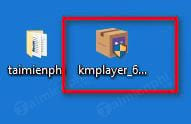 Choose the language displayed, at first there was no Vietnamese option in this section -> you can change it after the installation is complete, select English -> press select OK.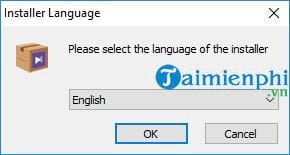 Screen overview of KMP, select next to continue.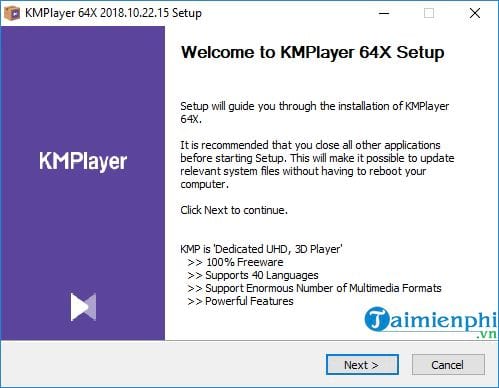 The manufacturer gives the terms of use, you choose I Agree to continue with the installation.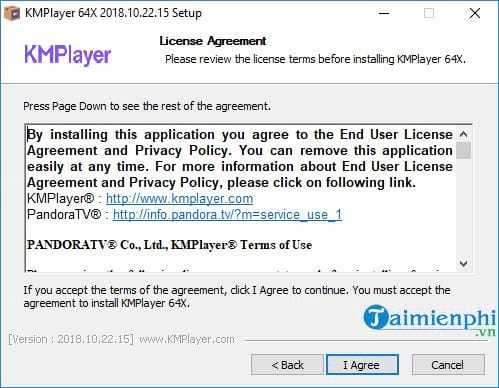 Next to the selection of features used, for ordinary users we will leave Recommended (default) because the advanced features are often not used either. Friend next to continue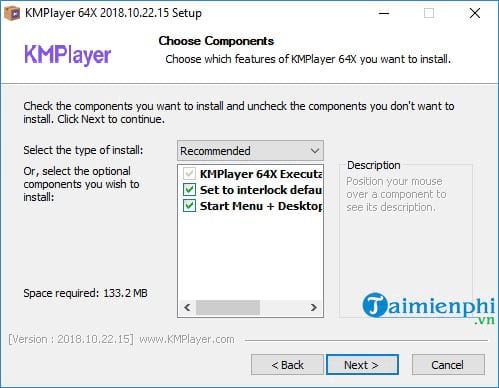 Select the path you want to save the program (default will be: C: Program Files KMPlayer 64X). You can choose another save location by pressing Browse -> select the location you want to save -> select OK
Then click Install to start the installation.
After a few minutes when the installation is completed, select finish to end and launch the program.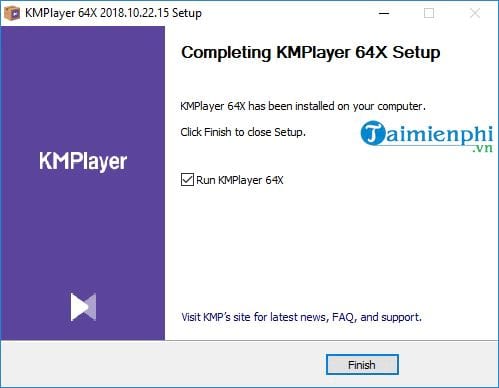 So KMP has been successfully installed on your device, the previous versions contain a lot of ads, but this update KMP interface is very clean and modern.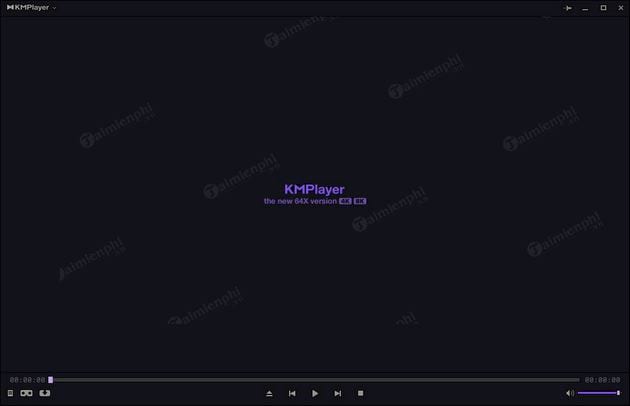 KMP 64X manual
Once installed successfully, on the Desktop screen, an icon of KMP will appear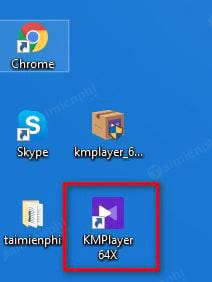 1. Change the KMP language
For easy experience, using the software's features -> you can change the KMP language to Vietnamese to use.
Step 1:
Open KMP click on Menu left corner -> select Options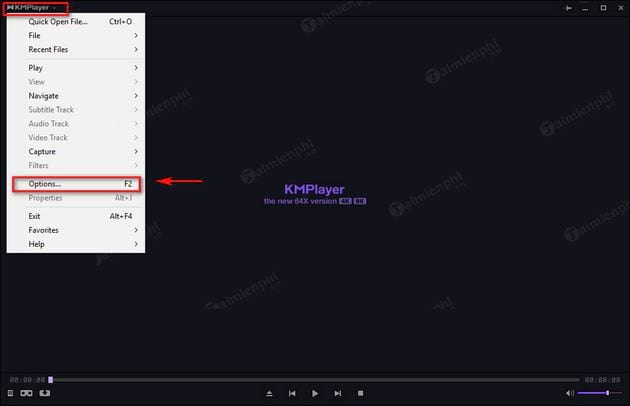 Step 2:
At the window options -> you choose Language -> select Vietnamese -> select OK. All information and function keys have been changed to Vietnamese.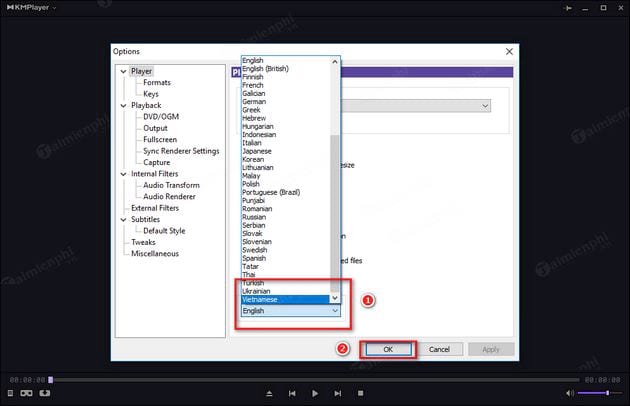 2. Set KMP as the default media player
For windows 10
Step 1: You guys click on Start Menu (left corner of the screen) -> enter "app settings" choose Default app setting to select default app settings.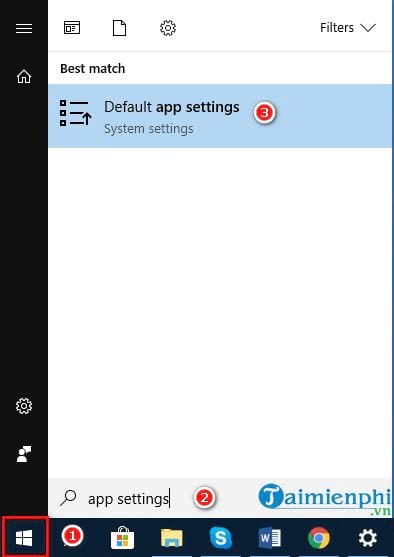 Step 2: At the window Default app, you will change 2 items Music player and Video player as follows:
– Music player selected KMPlayer 64X
– Video player selected KMPlayer 64X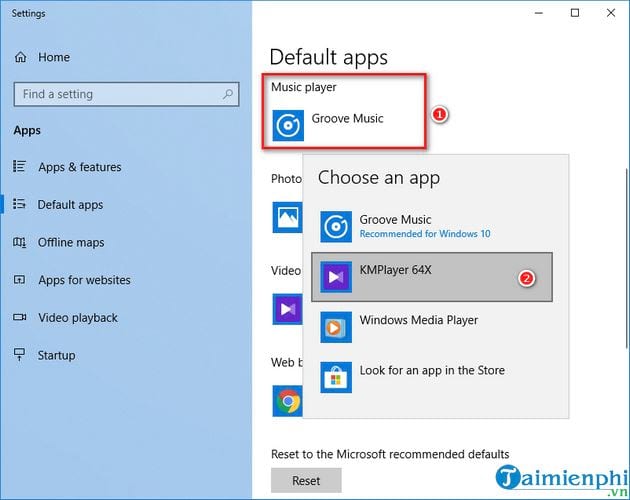 For windows 7
Step 1: You choose any file (can be Video or Audio), right click and select Open With -> select Choose default program… to choose the default program to open files.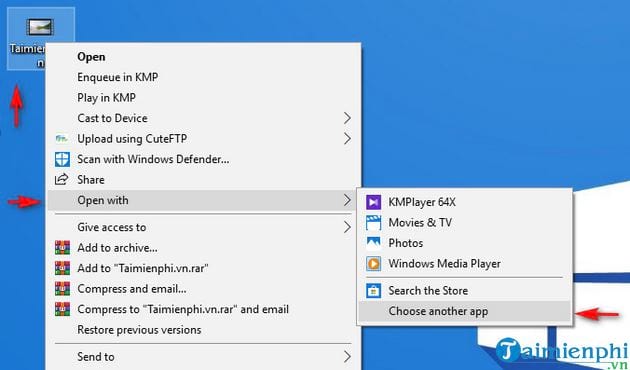 Step 2: At the window Open with choose your logo KMPlayer64XYou remember to tick on the line Always use the selected program to open this kind of file to always select this program as the default to open media files. Click OK.
For directories you will also do the same steps as above.
3. Download high quality online video using KMP
Here's a pretty useful feature of KMP:
– Downloading videos on the internet is very simple and fast.
– Fast download speed.
– Videos are downloaded with the highest quality (more than other online downloaders).
– Support downloading videos on many platforms Youtube, Vimeo, Dailymotion, Facebook …
To be able to use you do the following:
Step 1: In the KMP interface -> click on the icon Download URL left corner.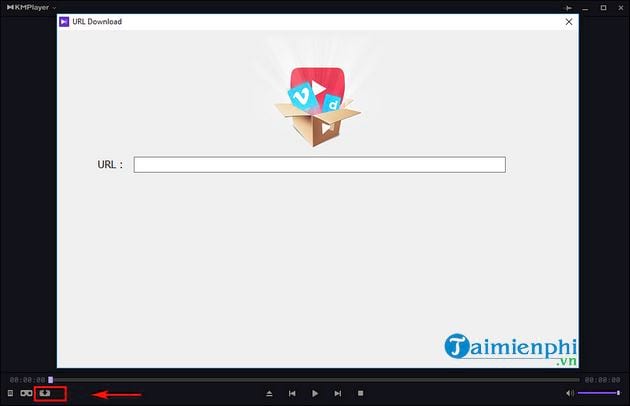 Next, you copy the link of the video to download in the URL section. Example: Taimienphi will download a video on Youtube.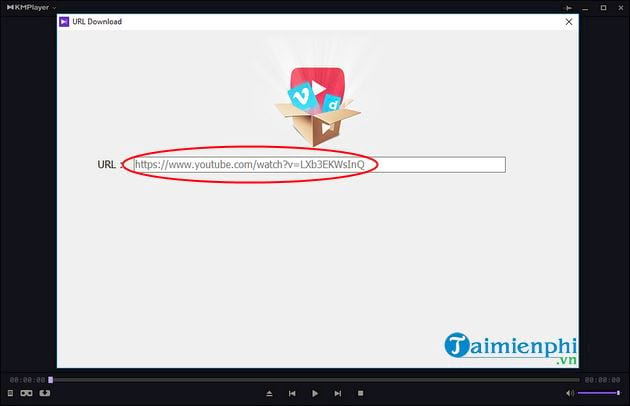 Wait a few seconds, let KMP search for the video: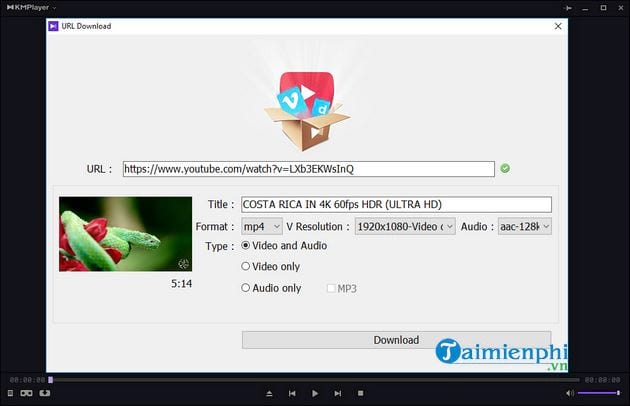 Step 2: Then, you can choose the parameters of the video before downloading
– Title: Video name
Format: Video format after downloading
– V Resolution: Download resolution
– Audio: Audio format
Type: Select video download type (you can choose to download videos separately or download audio only).
Step 3: Finally click Download to start the download. Select the location where you want to save the video, press select Save (The download process depends on network speed, length, video quality).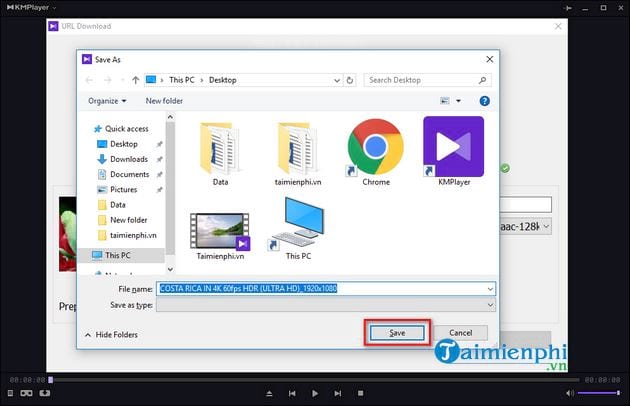 4. Useful shortcuts in KMP
In KMP, the developer has provided users with extremely useful, convenient shortcuts to enhance the experience. ElectrodealPro will list below shortcuts and shortcut combinations to make listening to music and watching movies easy and convenient.
– F2: Open Options
– Ctrl + Z: Close the currently playing file.
– Alt + F4: Exit the program.
– Esc: Pause and hide the video that is playing.
– Arrow keys Left / Right: Fast-forward or rewind 5 seconds.
– Ctrl + Arrow key Left / Right: Fast-forward or rewind 30 seconds.
– Alt + Left / Right arrow key: Fast-forward or rewind 60 seconds.
– Ctrl + Alt + Left / Right arrow key: Fast forward or rewind 10 minutes.
Up arrow key: Volume up
Down arrow key: Turn down the volume
– M: Turn off the volume
– Space: Pause, continue playing
– Enter: View in full screen or in window format
Key 1: Reduce screen size in half
– Key 2: Return to original size
– Key 3: 1.5 times increase in size
– Key 4: Double the size
– Alt + O: Open Video subtitles
– Atl + X: Show / Hide subtitles on Video
– Alt + Q: Download subtitle editor
– Alt + F1, F2, F3: Re-set subtitle display size.
5. KMP software new features
– Improved 360 degree virtual reality video viewing functionality.
– Support watching movies with high resolution, best quality 3D, UHD, 4K and 8K.
– Support new formats, RTS, MPEG1, MPEG2, AAC, WMA7, WMA8, OGG etc …
– Can record audio and video or capture screen and save in the format you want.
– Added new, more powerful codecs.
– Multi-language support, more than 24 countries around the world.
Above is a tutorial on how to install and use KMP 64X, listen to music and watch movies on the computer. It can be said that KMP is one of the best software for watching movies, listening to music and entertainment today, widely used, integrating many powerful utilities.
https://thuthuat.taimienphi.vn/cai-va-su-dung-kmp-64x-nghe-nhac-xem-phim-40332n.aspx
In addition, you can refer to other music and movie player software on ElectrodealPro such as RealPlayer, VLC… or you can try compare VLC and KMPWhich software to listen to music and watch movies is better to be able to see the difference between KMP and other softwares. Good luck!
.