In this photo by wildlife photographer Mohan Thomas, there are two cheetahs. With the mother leopard, you can immediately see it lying on the branch, but can you spot its cubs looking at the camera too?
Thomas, who lives in Bangalore, India, took the photo in the Kabini Forest Reserve, which is famous for its animals including leopards, monkeys, deer, crocodiles, etc.
He shot from about 300 meters away using the 600mm lens on a 1.4x teleconverter, which gives it a focal length of 840mm.
Although Thomas knew the cub was there, as he could see it moving, in the post-shot he was still impressed with its camouflage. This week, he posted the photo on social media, and many people couldn't see the leopard, even when Thomas suggested the location, they only saw the tail of the cub.
If you have trouble finding it, just follow the tail. The cub's face peeked out from the left side of the tree. If you still can't find it, please scroll down to the post to see the location.
Thomas's photo is an interesting illustration of how leopards camouflage, a type of camouflage known as "disturbing color".
The UCSB ScienceLine page explains: "Spots, stripes, and other markings help erase the outlines of objects. That's why hunters and soldiers wear camouflage and why the military uses camouflage veins on vehicles. Most of the time, leopards are in places with lots of light and dark patches. If they're in a place where there's a solid color, they're easy to spot."
This is where the cub is lying: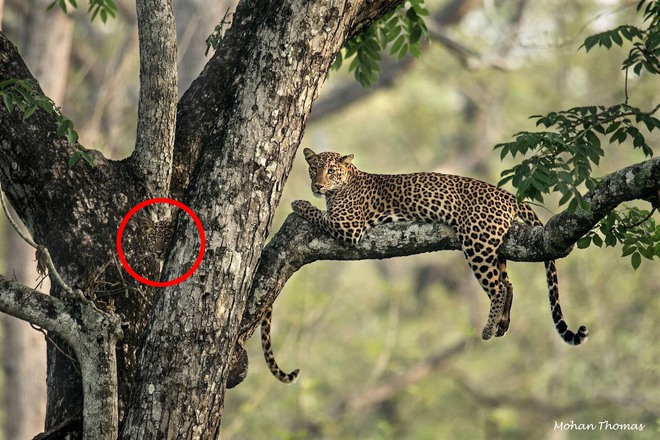 Reference: Petapixel