"Head bidding" is one of the mobile application monetization topics that have been hotly discussed in the industry. Compared with the waterfall flow format, the head bidding allows multiple advertisers to bid on the media advertising inventory at the same time, and the highest bidder wins the advertising display opportunity, thereby effectively increasing the advertising revenue of the developers/media that need to be monetized.
As far as the current market is concerned, although it takes only about 2 years for head bidding to spread to mobile terminals, it has been widely recognized and has become the first choice for developers to achieve effective management and monetization. At the time when the mobile advertising industry is transforming, how to increase monetization revenue becomes more urgent and important.
On June 24th, in the online closed-door conference on "Head bidding becomes a trend, how developers can maximize revenue" held by Beluga Going to the Sea and PubMatic, PubMatic Greater China Media Development Director Wang Zongbo shared his opinion on the head Insights on bidding, and the significance of head bidding for the entire mobile application field.
This event also invited PubMatic Southeast Asia, Greater China, South Korea and Asia Pacific mobile terminal business director Peng Huishan, Chengdu Pinguo Technology Monetization Business Leader Lu Junqiang, Beijing Xiaomi Mobile Software Co., Ltd. Xiaomi Overseas Internet Sales Director Wang Wei, Xi'an Button Software Industry leaders including Qiao Jinliang, head of technology mid-office business, Song Rui, COO of Beijing Amber Creative Technology Co., Ltd., and other industry leaders formed a roundtable forum to discuss how to use SSP technology to improve their advantages to deal with the impact of iOS 14.5 on monetization business.


Head bidding has been widely used,How developers turn challenges into opportunities
Why is head bidding called the new trend of monetizing mobile applications? How to seize new opportunities to realize efficient realization? In this closed-door online meeting, Wang Zongbo launched content sharing based on these questions.
According to reports, current advertisers and international advertising agencies are concerned about how to improve the quality of media transparency and achieve transparency? How to better optimize channel supply? How to ensure the visibility of advertising parameters? And how to ensure the safety of the brand and achieve high-precision matching between advertising and media? There is a strong demand in other areas. The industry is eager for better SSP technical services. Programmatic monetization and head bidding have become a new transformation trend in the industry.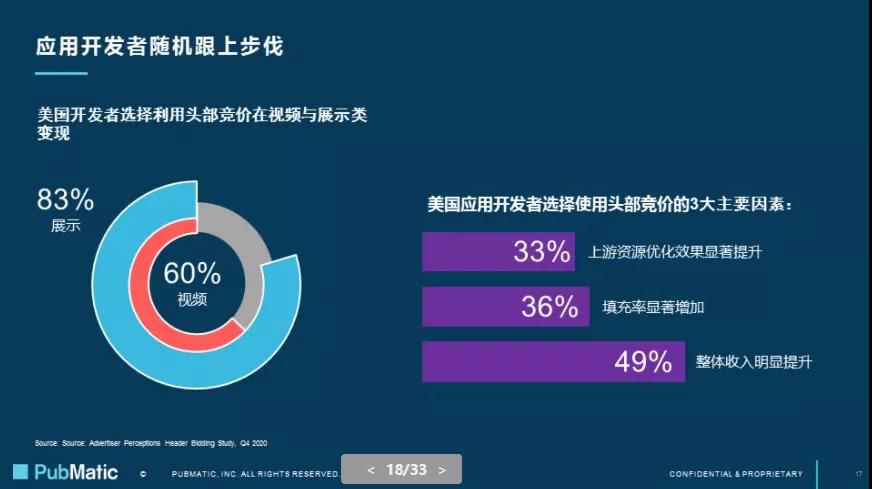 As competition in various tracks continues to intensify, advertisers often face "difficulties in real-time adjustment of prices on demand", "too many SDKs lead to increased risks", "manual adjustments of missed maximum bids", and "return band Problems such as "coming delay" are also the fundamental reason why traditional advertising network alliances, aggregation, and waterfall flow failed to maximize the realization of monetization.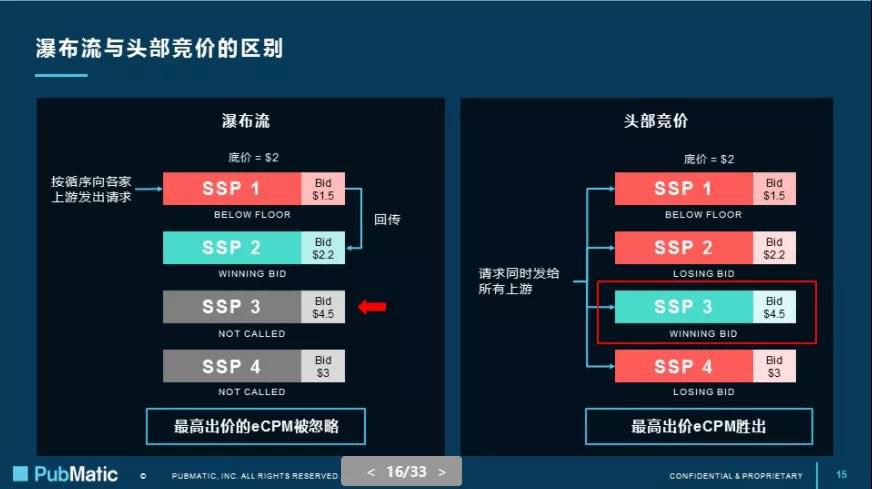 Compared with "Waterfall", head bidding can open multiple upstreams at the same time, choose the highest bid among many bid eCPMs, and access more upstream channels through unified bidding, reducing the manpower operation required for waterfalls. This is the biggest difference between the two and one of the most obvious advantages of head bidding.
PubMatic, as the integrated media channel SSP platform preferred by international advertising agencies and advertisers, provides developers with a wealth of high-quality monetized income through effective programmatic head bidding methods. Focusing on the main pain points faced by current advertisers and advertising agencies, PubMatic mainly uses the following four directions to maximize the realization of the program based on:
1. Maximize upstream channels
2. Optimize the monetization effect of the open market
3. Monetize the media to cater to international standards and enhance attractiveness
4. Best practice to keep it procedural
In the head bidding model, advertisers can use an SDK to meet the needs of scale, and efficiently manage the demand side through the server side, thereby improving the overall application experience. It is understood that only a single SDK of PubMatic can realize the docking with more than 200 upstream companies worldwide. With strong technical advantages, PubMatic has helped many companies at home and abroad complete the transformation of the head bidding format.
Scores App realizes cloud management of partners through Open Wrap SDK, and can easily add new demand sources, and the increase of eCPM is directly doubled.
After the IDFA reform, several core issues regarding growth and monetization
The data shows that the mobile programmatic advertising budget in 2025 will increase from US$102 billion in 2020 to US$175 billion, while the overall scale of the mobile application video, OTT and CTV programmatic advertising budget will increase to US$165 billion, a compound annual The growth rate reached 17%.
With the blessing of data, mobile header bidding and programmatic advertising have clearly become an effective new monetization model. In this live broadcast, Wei Fangdan, founder and CEO of Moby Dick, shared his views and predictions on new trends in the industry.
"For service providers, how to more accurately insight into the needs of advertisers is a very important link. For the advertising side and monetization side, how to further optimize the advertising strategy according to the current trend, and how to better complete Monetization is also a key point that cannot be ignored." Mr. Wei briefly explained his views, and also led to the theme of the follow-up roundtable-after the release of iOS14.5, how to deal with the new challenges and new opportunities in it?
After iOS 14.5 was released, LAT was replaced by ATT. The ATT framework requires all App developers to ask users whether they agree to ad tracking through a pop-up window. Such an eye-catching pop-up method has greatly reduced the number of IDFAs that can be obtained, which is undoubtedly a "nightmare" for advertising platforms, advertisers, and advertising attribution vendors. The latest data shows that only a quarter of iOS users in the world may allow ad tracking, and the proportion in the United States has even dropped to 16%.
In this event, a round table guest group composed of PubMatic, Chengdu Pinguo Technology, Beijing Xiaomi Mobile Software Co., Ltd., Xi'an Button Software Technology, and Beijing Amber Creators Technology Co., Ltd. also opened the round table through live broadcast connection. The curtain of the forum.
What impact did the release of iOS14.5 have on corporate monetization? How do developers respond to shocks through international SSP optimization? How to balance advertising benefits and user experience to maximize monetization benefits? In response to the opportunities and challenges brought about by the release of iOS14.5 and the change of IDFA policy, several guests answered for everyone.
1. New opportunities and challenges in the overseas market
In the context of the domestic race tracks being monopolized by giants, companies often find new growth in some small and beautiful race tracks, including platforms that are more friendly to such products, and launch various favorable policies to support application growth. And by learning from and re-engraving domestically mature business models, overseas companies can also explore overseas markets more efficiently.
In addition, after iOS14.5 and the privacy policy update, it will inevitably have a certain impact on the realization of enterprises and user operations. How to find and grasp the platform's policy benefits, formulate corresponding solutions to accurately respond to national policies, and complete channels The further integration of the company will be a major challenge that enterprises need to face.
2. What are the impacts of the changes in the privacy policy?
From the developer's point of view, how to achieve better monetization without violating user privacy has become an important proposition. In addition, e-commerce sellers often need more accurate data to ensure that their products can better reach users. Therefore, changes in privacy policies have also had a relatively large impact on the e-commerce industry.
Manufacturers such as Xiaomi have formulated a series of solutions for this type of privacy policy a long time ago to ensure that users' pain points can be solved more accurately when advertising, and to avoid the experience degradation caused by mismatched advertising content.
3. How to balance advertising benefits and user experience to maximize monetization benefits?
For developers in various tracks and regions, the balance between advertising effectiveness and user experience is also very different. Limited by the development cycle and funding conditions, how to find this balance point more efficiently is a common problem in the industry.
During the testing process, developers should pay more attention to user feedback. When the user feedback experience declines, it means that you have exceeded the so-called "balance point". At this time, you should take timely measures to optimize advertising and avoid excessive advertising. Lead to a large loss of users.
At the same time, developers can also adjust advertising according to the consumption level of users in different regions. For example, in some markets with low payment capabilities, some monetization services such as VIP and subscription can be appropriately cancelled, and advertising monetization services such as incentive videos can be added. The development of corresponding product functions and monetization functions for the local market often has unexpected effects.
4. How to better complete the realization of cash through head bidding?
With the development of the market and technological innovation, more transparent, programmatic, and intelligent advertising monetization forms have become the new favorites of major companies and advertisers. Especially after the IDFA policy is updated, the monetization effect of waterfall advertising is possible. Is further reduced, so head bidding will become a new attempt by more application vendors.
In the process of trying to use head bidding to complete the monetization process, we found that some channels still cannot support head bidding. Therefore, for manufacturers who are just beginning to deploy, the combination of waterfall flow and head bidding may become a new form. s Choice.
It should be noted that when adding the head bidding form to the existing business, developers should consider their own monetization business and the environment in which they are located, and in the smallest possible adjustments, incorporate the head bidding form into their subordinates to achieve better results. The realization.
Source: Beluga Whale Going to Sea
Address: https://mp.weixin.qq.com/s/MA0-sB5qX0WfP1zVX6226Q
.