The concept of the OLED screen is no longer too strange for technology believers, especially smartphone enthusiasts. However, the OLED screen on the laptop is a completely different story and users are very interested in Samsung's OLED screen technology. Right in this article, let's see the first impressions of Samsung's OLED technology for laptops.
See also: Samsung's 90Hz OLED display will take laptops to a new level, the first device expected to launch in the first quarter of this year.
The Samsung Display OLED screen opens up a host of groundbreaking laptop design ideas
In the launch video, Samsung Display talked about the future of OLED displays. According to the company's orientation, this technology screen will be used to develop thin and light devices with high mobility. In addition, this screen also unlocks a series of breakthrough design possibilities, such as the inner folding screen, multi-fold screen, scroll screen, slide, …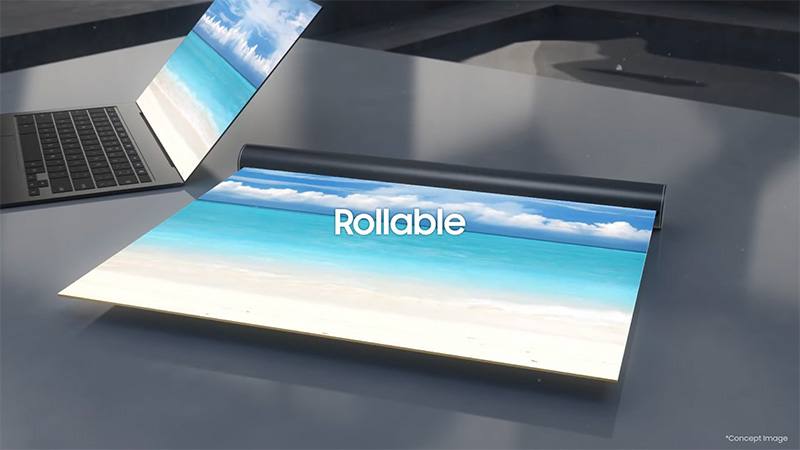 These ideas allow the company to create and create novel laptops. Imagine a laptop with a screen that slides, extends to the sides, or a screen that can extend height by scrolling up from the hinge …
In fact, a laptop with an expandable screen is not a crazy idea. In 2017, Razer launched a multi-screen laptop concept called Project Valerie, but the experience is still limited to the individual screens.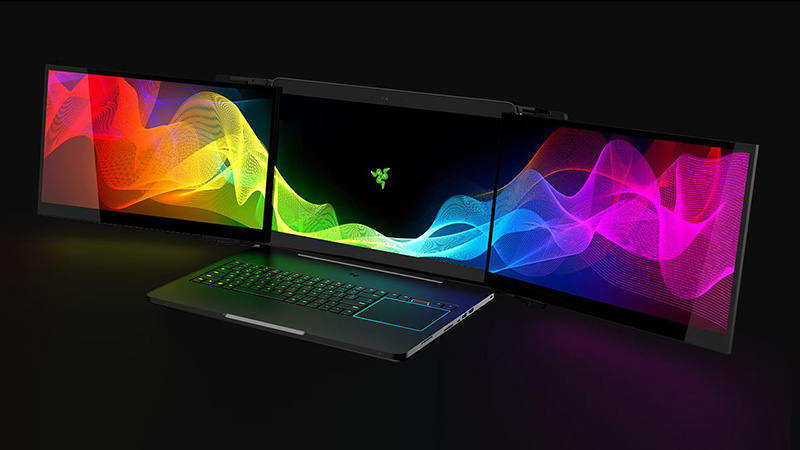 Another good example is the Lenovo ThinkPad X1 Fold laptop, a foldable laptop with a 2K OLED screen. In terms of ideas, Lenovo has done very well and has captured the pioneer position, but in fact, this product of the company has many problems related to practicality and price is too high.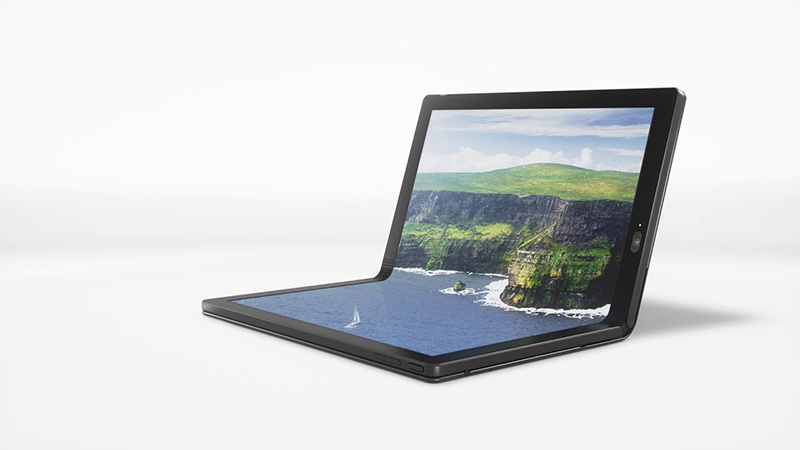 From the examples above, we can hope that Samsung will learn and release more complete OLED laptops.
The OLED display on Samsung Display's laptops will take the aesthetics of thin and light laptop designs to the next level
Samsung Display's laptop OLED screen technology promises to optimize design aspects like thinness and weight. Specifically, screens using this technology will have thinner bezels as well as thinner panels (reduced from 2.1 mm on conventional panels to only 1 mm). In addition, the weight of the panel will also be 30% lighter than the conventional panel and the camera technology hidden under the screen will be used by Samsung on the new panel.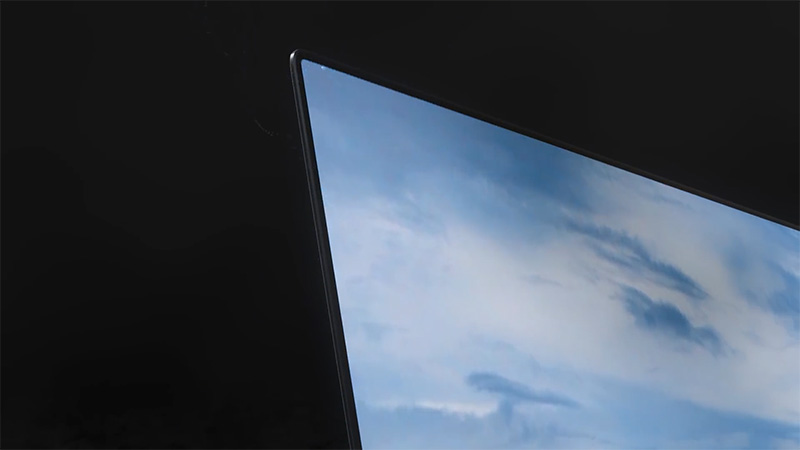 It can be seen that with the modern laptops being designed increasingly thin and light and elegant, this is understandable because the thinner the devices, the more advanced and complex machining quality, thereby making those devices become more advanced. In addition, most of the thin and light laptops also show high aesthetics and are easy to carry with you to use.
By optimizing the screen bezel size, panel thickness as well as weight, Samsung Display's OLED technology will continue to encourage this laptop-making trend. At the moment, the world's thinnest laptop is the Samsung Galaxy Chromebook with a thickness of 9.9 mm. Maybe in the future, we will see even thinner and lighter laptops using Samsung Display panels.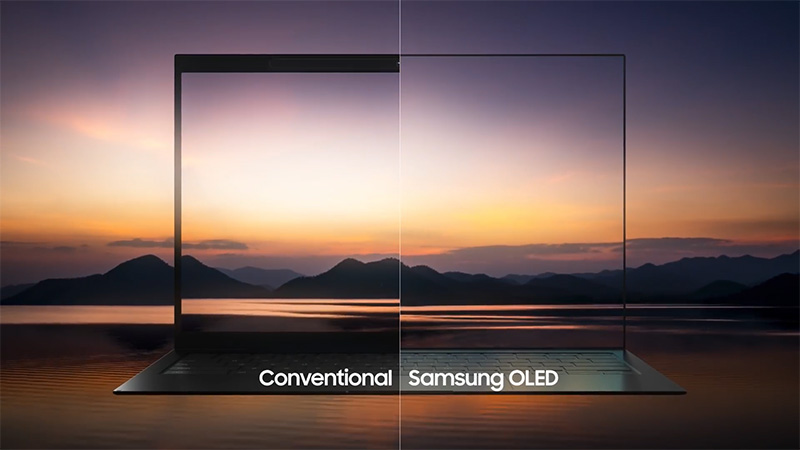 The OLED screen on Samsung Display's laptops has excellent display quality compared to traditional IPS screens
An advantage of OLED screens in general and Samsung OLED screens in particular is that the display quality is superior to traditional IPS screens on laptops. Specifically, the colors on the OLED screen will be much brighter and more vibrant than the old screen, Samsung calls this technology Ultrapure Color. What's more, Samsung's OLED display covers a much wider range of colors than regular displays.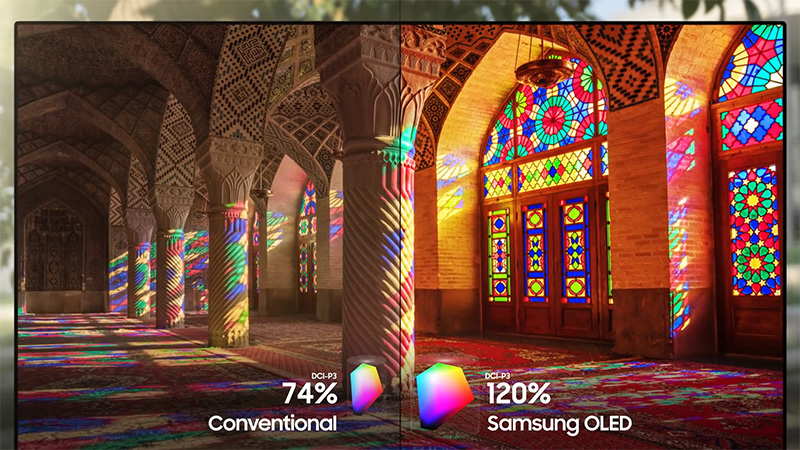 In addition, the Samsung Display OLED screen also has HDR coverage up to 85%, making the image displayed on the screen more vivid and closer to real life. In addition, the OLED screen also has a high contrast of 1,000,000: 1, which helps to display dark colors with depth, not the dull, dull feel like on traditional IPS panels.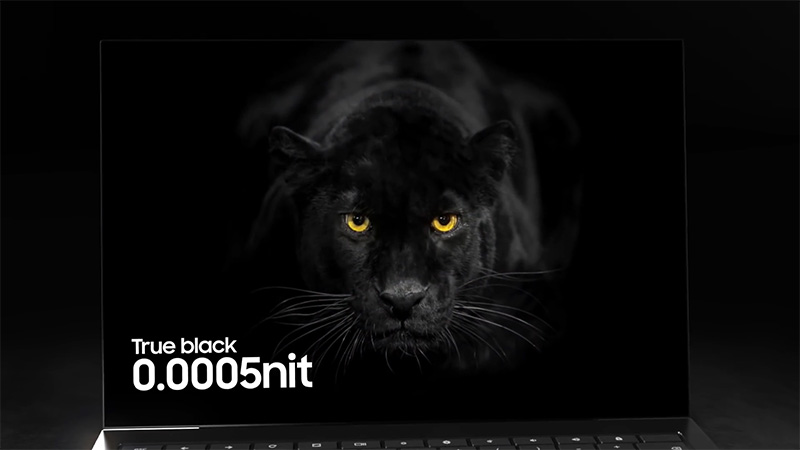 Samsung also integrates another feature that reduces blue light, helping to protect the user's eyes, especially for young users with sensitive and vulnerable eyes. Samsung Display's OLED screen has 6.5-7.5% less blue light output. The company also claims that the image quality of its OLED display at a refresh rate of 120 Hz will be equivalent to that of a conventional display at 240 Hz.
In short, I consider the OLED screen for the Samsung Display laptop both capable of displaying good and friendly to the user's eyes.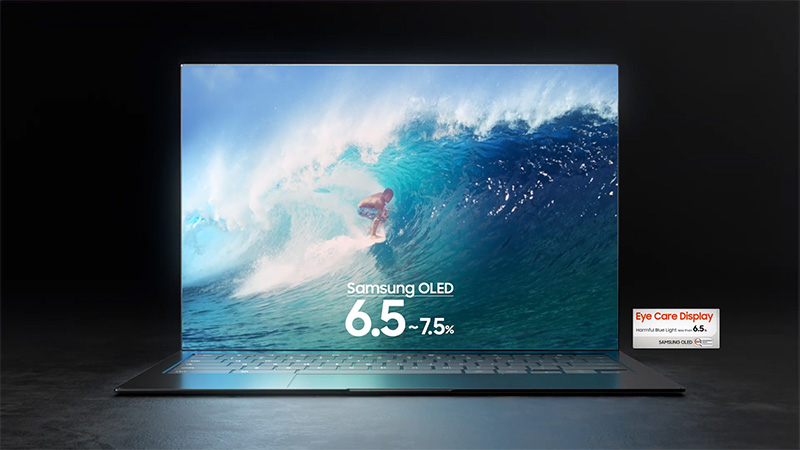 Conclude
It can be seen that Samsung Display is very confident with what OLED screen technology for its laptops. Let's wait and see how Samsung and other laptop brands will take advantage of this technology on their products in the future.
What is your impression of Samsung Display's OLED screen technology? Please leave your comments below.
Video Samsung launches OLED screen technology on laptops:
See also: Not a smartphone, this is the first Samsung device to feature a hidden camera under the new screen
Edited by Vu Truong An
Not satisfied with the article
31 views
Related posts
Galaxy A51 to One UI 3.0 (Android 11) detailed review: Is the battery better and will the device get much hotter?


2




17 hours ago

Galaxy A52 5G is clearly shown in the advertising poster, confirmed to be equipped with IP67 water and dust resistance


2




18 hours ago

Galaxy Z Fold 3 not only has a folding screen, but also a successor to the Galaxy Note 20, effectively supporting online work.


1 day ago

Galaxy M62 with 7,000 mAh battery, Exynos 9825 chip set the release date, is the Galaxy F62 renamed for the international market


1 day ago

How to review accidentally deleted notifications in the status bar of Samsung without everyone knowing


1 day ago

In 2020: 'Made in Vietnam' phones and accessories earn more than $ 50 billion thanks to foreign exports, Samsung accounts for the majority of total turnover.


1 day ago
.