Around 2014, a number of M&A cases in the game industry emerged in the A-share market. High-premium acquisitions were accompanied by high-performance betting. Now that most of these companies have spent 1-3 years of gambling, can the promises made at the beginning be easily realized? How much can the acquirer win?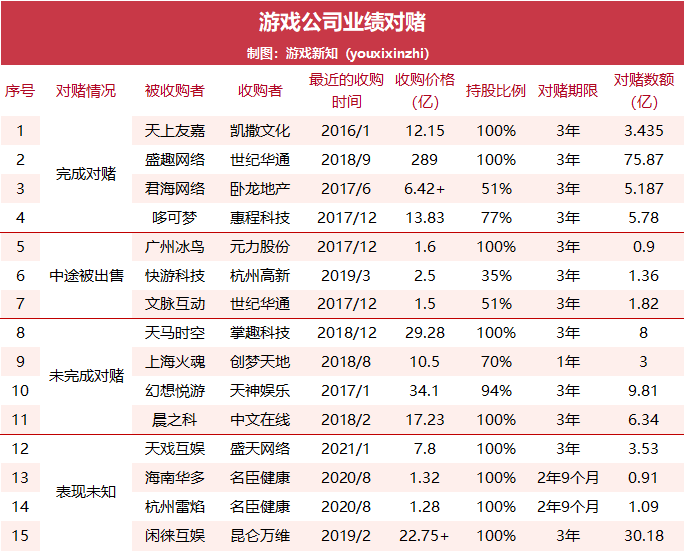 Completion of performance commitment during the gambling period
As can be seen from the above table, there are 4 companies that have completed the betting, but most of them have just reached the standard. What can bring surprises in the end is mostly because the initial expectations are set relatively low, which naturally tends to appear "exceeded expectations". Looking at the time after the gambling, the achievement of performance may only be in a false high state in a short period of time. After the gambling period is over, there may still be a big drop in performance.
1. Tianshang Youjia: The gambling period is quite satisfactory
Tianshang Youjia is a representative who meets expectations and performs relatively well. Since it has certain hard power in R&D, it has become an indispensable helper since it was acquired by Caesars Culture. The "Three Kingdoms 2017" he participated in the research and development is the main force of Caesars culture in game revenue from 2017 to 2019.
In May 2015, Tianshang Youjia launched "New Legend of Sword and Fairy 3D", which once entered the iOS best-selling list TOP10. This allowed Caesars Culture to see its ability to adapt its IP. In 2016, it acquired Tianshang Youjia at a high price of 1.215 billion yuan. At the same time, Tianshang Youjia also gave performance promises from 2015 to 2017, and completed it in the next few years. .
Although in 2016 and 2017, it has been a bit difficult to maintain net profit growth, Tianshang Youjia's business situation in the following years has also been generally stable and rising, and there has been no major jump in performance after the end of the gambling period. Case.
At present, Tianshang Youjia is more focused on the research and development of SLG and RPG. Later, it also reserves the national war SLG and the two-dimensional RPG, including the "Glory of the New Three Kingdoms" which was officially unveiled at the Tencent Game Annual Conference not long ago.
2. Shengqu Network: The three-year business excess rate is controlled within 1%
Shengqu Network was brilliant enough before it was acquired, and naturally it was placed with higher expectations.
The predecessor of Shengqu.com is Shanda Games. It owns well-known games such as "Legendary World", "Dragon Valley" and "Adventure Island". When it was listed in the United States in 2009, it also became the largest IPO that year. In 2013, it smoothly turned to the mobile terminal and achieved mobile game revenue of more than 100 million yuan. At that time, "Million Arthur" also let the market see the popularity of two-dimensional mobile games.
In 2018, Century Huatong spent 28.9 billion yuan to acquire Shengqu Networks, and Shengqu Networks promised to achieve 2.14 billion, 2.51 billion and 2.98 billion net profits from 2018 to 2020.

Although from the perspective of the completion rate, Shengqu Network's performance is basically the same as expected during the initial acquisition, and the three-year performance excess ratio does not exceed 1%. However, the volume of Shengqu Network is among the best in game company mergers and acquisitions. In the past two years, its revenue has exceeded 6 billion yuan, and its net profit has also approached from 2 billion to 3 billion. So if judging from the excess amount, the annual net profit exceeds expectations by tens of millions, which is not a small amount.
As of 2020, Shengqu Network has become one of the right-hand mans of Century Huatong as planned. Century Huatong can achieve 14.98 billion yuan in revenue in 2020, of which Shengqu Network has provided nearly half of the help-creating 7.198 billion yuan in revenue.
After the gambling period has passed, it is time to test the true performance of Shengqu.com. Judging from the financial situation in Q4 of 2020 and Q1 of 2021, the net profit of Century Huatong has dropped from about 800 million yuan to about 500 million yuan. It remains to be seen whether Shengqu Network can turn the tide in 2021. .
3. Junhai Network: The founder regained the controlling rights
Compared with the above-mentioned game manufacturers, Junhai Networks, as a traditional purchasing manufacturer in the South, urgently needs to find a new way out. Once the gaming period is over in 2020, it will encounter a lot of trouble.
Although Wolong Real Estate acquired a 51% stake in Junhai Network for 750 million yuan in 2017, Junhai Network was not the first choice of Wolong Real Estate at first.
Earlier in 2016, Wolong Real Estate planned to acquire 97% of Mo Lin's equity for 4.409 billion yuan and 100% of Tianjin Carre's equity for 5.43 billion yuan, at a premium of more than 300% and 700%, but in the end neither transaction was reached. Just chose Junhai Network. Therefore, Junhai Network is more like a tool for Wolong Real Estate to enter the game industry.
In a short period of time, this tool man is worth the money. Both the "Qing Yun Jue" released in 2017 and the "Journey to Kyushu" in 2018 had good results, with the highest monthly turnover exceeding 160 million and 200 million respectively. , The company has also fulfilled its performance commitments three years after being acquired.

But the good times are not long. When the three-year gambling period comes, Junhai Networks will experience a big plunge in performance in 2020, with an estimated loss of more than 173 million yuan. Part of the reason for the loss was the increase in R&D investment, which increased by 43.96% year-on-year in 2020.
At present, Junhai Networks is facing pressure to get rid of the title of "buying company" and focus on popular categories like SLG. The SLG "Rise of the Ants" under development is differentiated with a casual SLG. The game has been tested on June 9 and is scheduled to be launched in August 2021.
But unlike waiting to let go after the gambling period, the two bosses of Junhai Network, Chen Jinhai and Ge Kunhong, redeemed 5% of the equity twice in 2018 and 2021, and have already regained the holding of Junhai Network. The pain that Junhai Networks faces is inseparable from the intention to tear off the label of "buying company", but only companies that are willing to survive the pain can usher in the next peak.
4. Duo Kemeng: After over-completed gambling, it slipped rapidly again
Duokemon is also a buying company, and its peak business performance is even higher. The completion rate during the betting period was rarely as high as 170%.
In December 2017, Huicheng Technology acquired a 77.57% stake in Duoke Meng for 1.383 billion yuan. At the same time, Duoke Meng promised a total of 578 million net profit for the three years from 2017 to 2019. In 2017, Huicheng Technology acquired only 10 days after the acquisition of Duoke Meng, so it was in 2018 that Duoke Meng really ushered in its performance.
In 2018, the monthly turnover of a product exceeded 300 million yuan, the operating income reached 1.56 billion yuan in the same year, and the net profit was 323 million yuan. This product later became the basis of the Dokemeng "Divergence" game. After that, many self-developed games were iterated based on this game.
After 2018, Duo Kemeng's revenue has returned to a calm state. The company's operating revenue has experienced a serious decline for two consecutive years. By 2020, the company's high revenue bubble has been completely burst, and operating revenue will only There are 462 million, which is a huge gap compared with 1.56 billion in the previous two years.

At the beginning of 2020, Duo Kemeng had set a bold ambition to benchmark Sanqi Mutual Entertainment, claiming to strive to achieve 1/3 of Sanqi Mutual Entertainment's income. In 2020, Sanqi Mutual Entertainment's revenue from mobile games alone will be close to 13.3 billion yuan. If converted to 1/3, Duoke Meng's original goal should be about 4.4 billion yuan, but the actual completion is only about 10%.
If manufacturers with advantages in traffic distribution capabilities do not fix their R&D shortcomings in time, they will easily go downhill. In addition, they are forced to invest a large amount of prepayments to compete for purchases, and profits will naturally be difficult to achieve.
It was sold off halfway before the deadline
Getting acquired or investing is not everything. If the investment company's intentions are not met or the business situation is really bad, it may even be sold before the gambling period has passed.
1. Guangzhou Ice Bird: In the hands of the game company "Stamp Collector"
Ice Bird Network is a mobile game operating and publishing company that does not have R&D capabilities itself, so it was originally not expected to have a good business performance. However, the "Qingyun Jue" that it participated in the release also did have good results. In 2017, it created 180 million revenue for the icebird network, allowing the icebird network to complete its first year of gambling promises.
From 2016 to September 2017, the icebird network continued to be in a state of loss, with a cumulative loss of more than 68 million. However, Bingbird Network claims that it is for the reason of buying volume, and there will be a time difference between input and expenditure.
In December 2017, Bingbird Network sold itself to Yuanli shares for 160 million yuan.
Although the acquisition premium reached 8 times at that time, the business situation was really poor, and the promise of gambling was naturally not much higher. At that time, Bingbird Network promised not less than 20 million yuan, 30 million yuan and 40 million yuan in net profit for the three years from 2018 to 2020.
According to Yuanli, Bingbird Network has turned losses into profits in just one year. In 2018, Bingbird Network miraculously achieved operating income of 739 million yuan, net profit of more than 24 million yuan, and more than 21% of the pledged amount in the first year of gambling.
But less than half of the gambling period passed, Yuanli shares all packaged and sold its game companies. Yuanli shares stated that the purpose of selling the game company is to "reduce the proportion of the game business, recover cash, and focus on the main physical chemical business", with the intention of letting go of the development of the game business.
In May 2019, Yuanli shares sold Bingbird Network to Xuanyu Network's owner Chen Huasheng for 220 million yuan-including Chuangyu Network, Chen Huasheng has held at least three game companies, even in Guangzhou. "Go to a city to invest in a game company."
It is reported that Bingbird Network has plans to form a research and development team, but it is not clear whether the future development advantages still exist.
2. Kuaiyou Technology: Loss of over 100 million yuan in 2020
Kuaiyou Technology's main business is the development of web games and mobile games. Several major games such as "Secret History of the Assassin" and "Eternal Devil" are all web games, which are not particularly excellent in terms of team team and development path. Afterwards, only the first year of the three-year gambling completed the goal.
Hangzhou Hi-tech has not previously been involved in the game business, and originally planned to acquire Kuaiyou Technology wholly-owned at a price of 250 million yuan in 2019, and use this to enter the game industry. However, after consideration, only 35% of its shares were acquired for 77 million.
Kuaiyou Technology promises to achieve 36 million yuan, 45 million yuan and 55 million yuan in non-net profits from 2019 to 2021, respectively. In the first year, the net profit of Kuaiyou Technology reached 42.1 million yuan, and the performance was completed as agreed.
But Kuaiyou Technology's loss in 2020 exceeded 100 million yuan. It is very likely that the product has nothing to do with the issue. In 2020, the company's own operations were severely affected due to illegal guarantees and illegal borrowings. Later, even the actual controller of the company has lost contact.
Seeing that the trend is not right, Hangzhou Hi-tech immediately asked the original shareholders to buy back these 35% shares, completely abandoning the idea of ​​developing the game business.
3. Contextual interaction: double the profit after changing hands before gambling
Century Huatong has acquired several game companies, but not all of them are as outstanding as Shengqu.com.
Wenmai Interactive is a company focused on the research and development of legendary games. In November 2017, Century Huatong acquired 51% of Wenmai Interactive for a total of 150 million yuan. At that time, the legendary game of contextual interaction was still in the page game stage. The main game was the "Strengthen Enhanced Edition" in the public beta in June.
At the time of the acquisition, Wenmai Interactive promised to Century Huatong that the operating performance from 2018 to 2020 would not be less than 50 million yuan, 60 million yuan and 72 million yuan, respectively.
The performance during the gambling period has not been verified. In May 2018, half a year later, Century Huatong transferred its shares in Wenmai Interactive to Shengli Huyu at a price of 300 million. The price was higher than when it started half a year ago. Doubled.
Century Huatong, which acquired Shengqu Networks in August of the same year, may have already negotiated at this time. Games such as "Legend of Blood" and "Legend World" under Shengqu Networks performed significantly better. The advantage is naturally replaced.
In fact, the game performance of the contextual interaction is actually not bad. In 2019, Wenmai Interactive launched the mobile game "Thunder Tyrants", which was handed over to China Mobile Games for sole release. The maximum monthly turnover exceeds RMB 200 million, and the average monthly active users are nearly 1.3 million. By 2020 In the first half of the year, there was also the highest monthly turnover of over 100 million.
Although the three-year gambling period of Wenmai Interactive only spent half a year, it does not mean that there is no market for legendary games. The suspension of gambling by both parties may be more of a choice of the company's development direction.
Poor business is not up to standard
1. Tianma Time and Space: Better performance after the gambling period
Tianma Space-time launched "Miracle MU for All" in 2014. The first day's turnover exceeded 26 million. Two years after the game was launched, the global turnover exceeded 6 billion yuan. It was a miracle-type mobile game that performed well at the time. Favor of technology.
In 2016, Zhangqu Technology acquired 80% of the shares from Tianma Time and Space. Later, in December 2018, it acquired the remaining 20% ​​of the shares for 250 million yuan. At this time, Tianma Time and Space's valuation reached 1.25 billion yuan.
At the same time, Tianma Horizon has set a performance promise of achieving a net profit of 800 million in three years. At first, there was still a good completion situation, but the net profit for several consecutive years has not produced much change. After three years, the overall gambling commitment has not been fulfilled.
The problem lies in the product connection. After "Miracle of the People MU", Tianma Time's next works with better performance are "Miracle MU: Awakening" in 2018 and "One Punch Man: The Strongest Man" in 2019, but during the gambling period. Encountered the embarrassing stage of the old product entering the second half of the life cycle, and the new product has not yet been launched.
After the gambling was completed, Tianma's performance in 2018 temporarily ushered in a small climax. Operating income reached 700 million, but operating profit was only less than 270 million, which did not increase much compared to before. After that, net profit declined successively, dropping to 100 million yuan in 2019, and only about 36 million yuan in 2020.
The reason may be related to the increase in purchase cost. Take the performance of "One Punch Man: The Strongest Man" in 2020 as an example. Its revenue exceeds 600 million yuan, but the promotion and marketing expenses cost 170 million yuan, accounting for more than 28% of the revenue.
Perhaps under the dual pressure of R&D speed and purchase cost, it is indeed a good choice to belong to a large company.
2. Shanghai Fire Soul: the team slowly being exiled
It is rumored that Shanghai Fire Soul has a team from Shengqu Network (formerly Shanda Network), which belonged to the Legend Studio at the time and was responsible for the development of legendary games. However, Shanghai Fire Soul later launched in April 2018 a not-so-matched two-dimensional turn-based MMORPG "Magic Baby Mobile Edition", which remained in the iOS best-selling list TOP50 for a month at the beginning of its launch.
It may be that Chuangmeng Tiandi saw the strength of research and development. In August 2018, Chuangmeng Tiandi acquired 70% of Shanghai Huohun for 1.05 billion yuan. At the same time, Shanghai Huohun set up a one-year gambling and promised to A profit of 300 million yuan in one year.
However, Chuangmeng Tiandi, which is good at casual game publishing, lacks experience in medium to heavy games, and it is unlikely to bring any empirical help to such a team.
In the following year, Shanghai Fire Soul has been online for a while because of the old product "Magic Baby Mobile Version", and the iOS best-seller rankings have also begun to drop out of 100. At the same time, the sequel of "Magic Baby Mobile Version" has been delayed. Go online, resulting in a net profit of only 210 million yuan in the following year, which is close to one-third of the target.
According to the agreement signed by the gambling, Dreamland was originally able to acquire the remaining 30% of the shares for 1 yuan. Later, Dreamland said that it was to "incentivize the core R&D team to cooperate closely with the development of new games", and finally chose to ask for 315 million yuan. Compensation.
But in fact, Chuangmeng Tiandi gradually let go of Shanghai Huohun after groping its own way. In September 2020, it sold 19% of its shares at a price of nearly 200 million yuan, and finally held 51% of the shares.
After that, Shanghai Fire Soul was empty, and the loss of employees became more and more serious. In September 2020, Shanghai Fire Soul still had 84 R&D personnel. Three months later, there were only 10 employees left in the company, and the development of new games was forced to shelve.
3. Fantasy Tour: It was sold at a low price of 26% off
Fantasy Tour is a game publisher mainly oriented to overseas, focusing on the Middle East, South America and European markets. The company itself estimates that more than 30% of its revenue comes from advertising revenue. Its most outstanding products are the two web games "Naruto" and "The Divine Comedy", which are the only two products with an annual turnover of more than 100 million between 2016 and 2018.
In January 2017, Tianshen Entertainment acquired 93.54% of its equity for 3.41 billion yuan. Fantasy Yueyou promised to reach net profits of 250 million yuan, 325 million yuan and 406 million yuan in 2016-2018, respectively.
Special attention is paid to the fact that the net profit of Fantasies in 2014 and 2015 were 56.86 million yuan and 78.42 million yuan, which are obviously far below the promised amount. Therefore, the final purchase amount and the gambling target have been adjusted downwards. .
During the three-year gambling period, the performance of the first two years was supported by "Divine Comedy" and "Naruto" to help it complete the gambling promises of the previous two years, but then it took a sharp turn in 2018, with a completion rate of only 35. % Less than.
According to Tianshen Entertainment, the decline in Fantastical's performance in 2018 was mainly due to the limitation of version number and the lack of self-developed system, which led to an increase in the cost of acquiring games. In addition, game developers are affected by the policy, and there are financial constraints and layoffs. The original Gongdou game, two card SLGs and console games have been forced to delay their launch.
In addition, major companies such as Tencent, Sanqi Mutual Entertainment, and Youzu Networks have also joined the overseas competition. SLG and MMORPG that can go online have performed poorly. For Fantasy Yueyou, it can be said that the house is leaking and it is raining overnight.
After failing the gambling, Fantasies not only had to submit a compensation of 877 million yuan, but in the following two years, due to the increase in game acquisition costs and promotion costs, it lost 332 million yuan and 118 million yuan in 2019 and 2020.
Tianshen Entertainment also no longer has expectations for this operating company that only makes a difference in web games. On June 15, 2021, Tianshen Entertainment transferred all of its equity for 902 million yuan. Final Fantasy Joy Tour was sold at a low price after a 2.6 discount because it could not keep up with the demand for mobile game publishing.
4. Chenzhike: No one wants a low-price sale?
Chenzhike also uses game agency distribution as its main business, and does not actually have R&D capabilities. At first, "White Cat Project" and "Battlefield Double Ponytails" were released in 2015 and 2016. However, the "White Cat Project" was a bit unacceptable in China. It was suspended in August 2016, and the accumulated turnover was less than RMB 46 million. "Battlefield Double Ponytail" has also been discontinued at the end of 2018.
Because the game that got the agency is still a bit famous, in August 2017, Chenzhike was acquired by Chinese Online for 1.47 billion yuan of the remaining 80% of the shares, and Chenzhike has become a wholly-owned subsidiary of Chinese Online. Chenzhike promised to reach net profits of 150 million, 220 million and 264 million yuan in 2017~2019, but its performance plummeted shortly after the acquisition.
First, the game was suspended due to poor business operations, and the company faced even more uncontrollable performance pressure. Later, it became more obvious after the release of the version number was stopped in 2018. Since 2018, Chenzhike games have not been able to go online normally, and the company's net profit has shown negative growth for two consecutive years.
In December 2019, Chinese Online planned to give all of its equity to Ganggang.com for 324 million yuan, but the transaction ended in failure because Ganggang.com had not paid. No one wants low-price sales. Chinese Online can only announce the termination of Chenzhike's existing business on February 3rd, and Chenzhike has been hidden by the snow.
Performance is not yet known
1. Tianxi Mutual Entertainment: The unexpected surprise brought by IP authorization
In the company's gambling, there are not many stones that can produce beautiful jade. Tianxi Mutual Entertainment can be regarded as one of the unexpected surprises, but the gambling period has not yet been completed, so no conclusion can be made for the time being.
Tianxi Huyu was established in 2006, mainly based on IP operation as its core business. The main profit comes from mobile games adapted from game IP, so the revenue was not expected to be too high. But what is more commendable is that Tianxi Huyu and KOEI Koei Co., Ltd. have maintained a good cooperative relationship. They have reserved "Three Kingdoms", "Dynasty Warriors", "Life and Death Fighting", and "The Great Voyage Era" which are also well-known in China. IP.
In 2019, Shengtian Network acquired 70% of its shares for 420 million yuan, and Tianxi Interactive promised to achieve non-net profit (net profit after deducting non-recurring gains and losses) in 2019-2022. Less than 60 million, 64,800, 77,800 and 81 million, totaling 308 million in four years.
In the end, in 2019, Tianxi Interactive Entertainment realized a deduction of RMB 69 million in non-net profits, reaching 115% of the committed amount. At the beginning, Shengtian Network did not have high expectations for the performance of Tianxi Mutual Entertainment. In 2019, it even agreed that 80% of the excess performance was given as a reward for Tianxi Mutual Entertainment, which brought good benefits to Tianxi Mutual Entertainment.
In 2019, Tianxi Interactive Entertainment gave up the bonus, but it still has a good performance in 2020. Comparing Shengtian Network's 2020 Q3 financial report and annual report can see the amount of bonuses. Although operating income rose from 670 million in the first three quarters to 890 million in the whole year, the deduction of non-net profit dropped from 55.93 million to 46.58 million. The biggest reason was that Tianxi Huyu paid a high bonus.
Immediately, Shengtian Network once again blessed Tianxi Interactive Entertainment. In January 2021, at a premium of 7 times, it acquired the remaining 30% of the equity for 360 million yuan. This time, Tianxi Interactive Entertainment has once again made a three-year performance commitment, promising not less than 106 million, 117 million and 130 million in non-net profits from 2021 to 2023, for a total of 353 million in three years.
At present, the company's authorized game reserves include "Dynasty Warriors" and "The Great Voyage: Overlord of the Sea", both of which will be issued by Tencent. In particular, "Dynasty Warriors", as a mowing type of warrior game, is still a blue ocean field in the mobile game, and it is expected that the performance will not be too bad.
2. Hainan Huaduo: High-premium acquisition and low-performance gambling
More than 90% of Hainan Huaduo's revenue comes from the mobile game "The Kingdom of Kings". The game was launched in May 2019, with a maximum turnover of 350 million yuan, but according to the 18-24 month life cycle estimate, the current game has passed the life cycle, and now this game can no longer find the ranking on the list. data.
Mingchen Health acquired the entire equity of Hainan Huaduo for 133 million yuan in August 2020, at a premium of up to 10 times. However, high-value game companies have not been placed on high demands. Hainan Huaduo promised to achieve a cumulative net profit of not less than 91 million yuan from April to December 2020, 2021, and 2022.
It means that Hainan Huaduo actually does not have much performance pressure in the gambling. Hainan Huaduo was officially consolidated in September 2020. The financial report showed that the net profit exceeded 19 million yuan. If this performance can be stabilized, it will be completed as agreed. Performance commitment is not difficult.
With the backing, Hainan Huaduo also has the confidence to explore new categories. In addition to MMORPG, there is also a self-developed SLG in the research game.
3. Hangzhou Leiyan: completed most of the performance in half a year
Also acquired by Mingchen Health is the start-up Hangzhou Leiyan.
In August 2020, Mingchen Health acquired all shares of Hangzhou Leiyan for 129 million yuan, a premium of 18 times. At this time, Hangzhou Leiyan's book net assets were -7.45 million yuan, and there was no game operation under it, so the pressure on Hangzhou Leiyan was also not great at that time.
Hangzhou Leiyan promised that the cumulative net profit in April-December 2020, 2021 and 2022 will not be less than 109 million yuan, but this goal is likely to be achieved much earlier.
Not long after the acquisition, in September 2020, the placement card "The Legend of the Three Kingdoms" was launched in the Hong Kong, Macao and Taiwan markets, and both have good results. In the Hong Kong market, they can basically rank within the iOS best-selling list TOP100. In the Taiwan market, it is basically less than 50.
This game alone supported Hangzhou Leiyan's revenue. In September 2020, Hangzhou Leiyan joined Mingchen Health. The financial report showed that its net profit reached 64.84 million yuan, which has completed more than half of its gambling commitment.
It can also be seen from the official website and financial report that Hangzhou Leiyan is still developing a variety of games in new areas. Among them, "Anchor Point" is a two-dimensional turn-based mobile game with a science fiction theme. The selected element types are relatively popular and popular at the moment. The game has been opened for testing in April this year. Currently, TapTap has 310,000 reservations and a score of 8.8. The performance is worth looking forward to.
In addition, "My League" (tentative name) and "Project Alice" (tentative name) are also being developed, but no more news has flowed out for the time being.
4. Leisure and mutual entertainment: after the acquisition at sky-high prices, it encounters policy control
Xianlai Mutual Entertainment was established in April 2016. The company was founded less than a year ago. In December of the same year, it was acquired by Kunlun Wanwei and Chenhaike Translation. At that time, the consideration was 2 billion yuan. By 2018 and 2019, Kunlun Wanwei The second capital increase completed the wholly-owned holding of Xianlai Mutual Entertainment. At that time, the valuation had reached 6.5 billion yuan, which had more than tripled within three years of the acquisition.
Xianlai Mutual Entertainment mainly targets the local chess and card market in tier 3-6 cities, and revenue is mainly supported by room card charges. Not long after the acquisition, local chess and cards were strictly controlled because they were easily suspected of gambling, and Xianlai Mutual Entertainment was still able to maintain a relatively stable business situation. After being wholly owned by Kunlun Wanwei in 2019, the net profit in the first year can still be completed as scheduled, but from the second year, the revenue growth rate has begun to fail to keep up with expectations.
It can be known that the game business of Xianlai Mutual Entertainment is mainly based on stock operation. Although it is still based on room card revenue, it has also begun to try to add advertising to monetize. Judging from the financial report, Xianlai Mutual Entertainment's current R&D projects include big data analysis platforms and advertising monetization commercial systems, but there is no research and development of new games.
Relying on local chess and cards alone, leisure and mutual entertainment may not go too far in the future. At present, there is also a trend that Xianlai Mutual Entertainment wants to downplay its game attributes and thus transform its leisure entertainment platform. There are also investors who speculate Xianlai Mutual Entertainment is developing a voice interactive product.
Concluding remarks
Gambling is itself a big bet for the acquired company. Excessive completion can get a high amount of incentives, and failure of the bet will also cause the company to attach high compensation or risk of selling in vain. Now the company is more cautious in gambling, lowering expectations may bring unexpected joy.

Source: Game News
Original: https://mp.weixin.qq.com/s/LMnfwDc_MIC-vnaV5jFYAg
.