Original copyright prohibits commercial reprint
Authorization
Hunan Normal University Supervisor Guides Students to "Research themselves"
Beijing News (Reporter Zhang Jingzheng Intern Sun Chao) The Ph.D. graduate of Hunan Normal University answered the debate topic "Imagination of Educational Research——Taking Zhang Chuting's Educational Research as an Example", which attracted attention. The Beijing News reporter noted that the paper Zhang Chuting himself was the instructor, and Zhang Chuting was also included in the reply. Lai Kaisheng, a doctoral supervisor of the School of Educational Science of Capital Normal University, told reporters today (January 16) that if Zhang Chuting instructs his students to research themselves, he may lose the objectiveness and fairness of the dissertation and violate the generally accepted academic norms in the industry.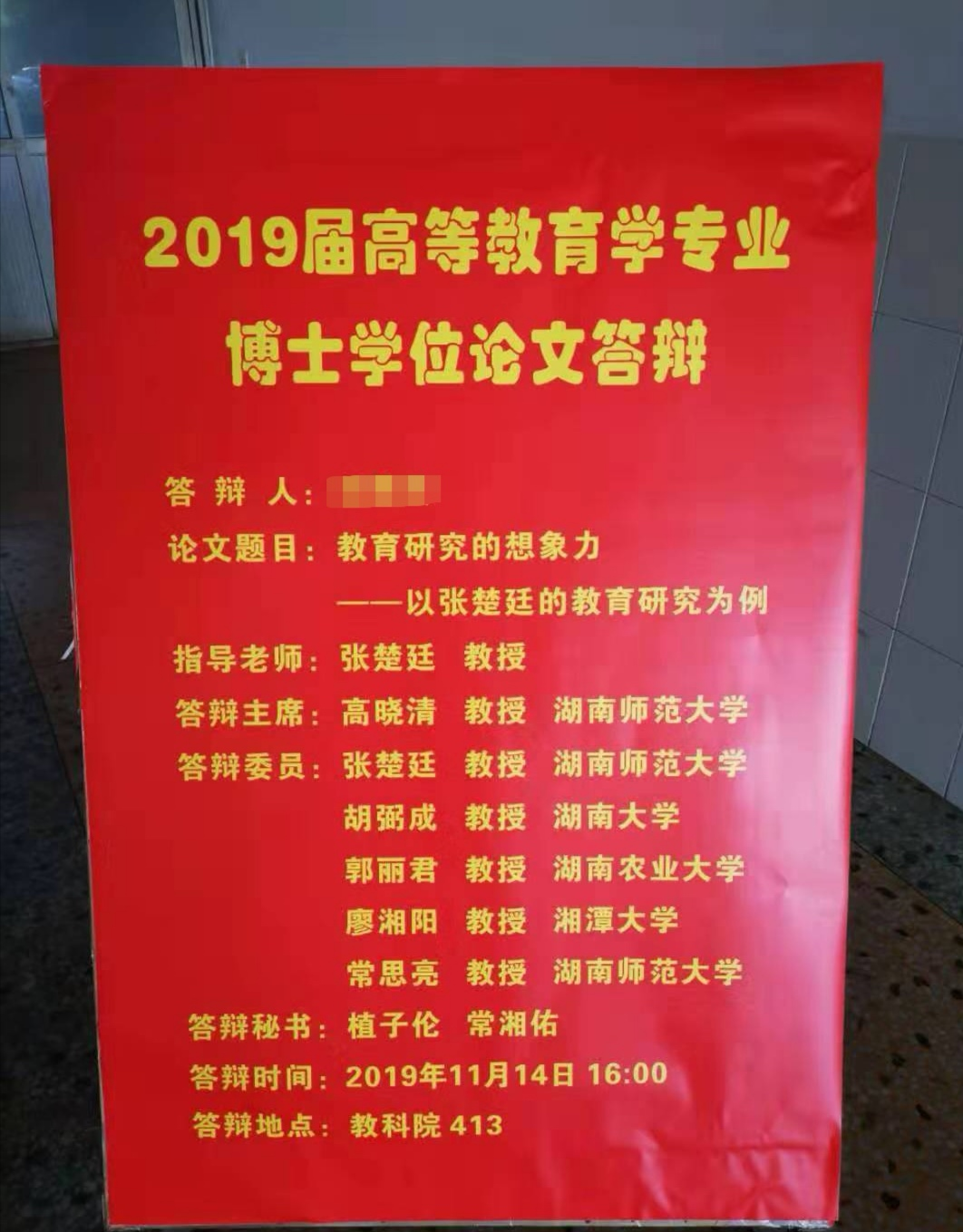 The online transmission comes from the notice of defense of PhD graduates from Hunan Normal University. Network screenshot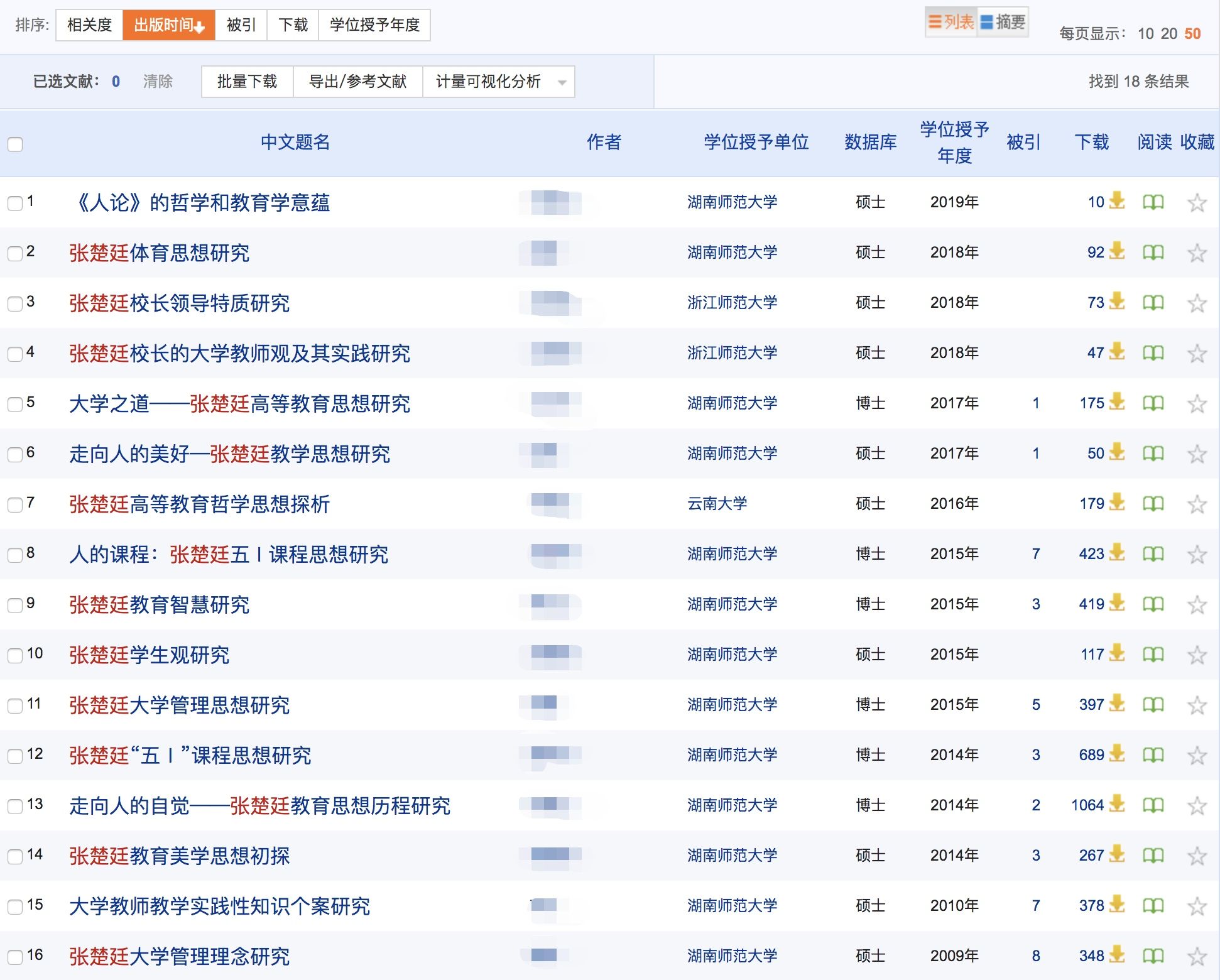 HowNet shows that from 2005 to 2019, there were a total of 18 master's and doctoral dissertations on Zhang Chuting's academic thoughts, of which 15 authors were from Hunan Normal University, and 9 instructors were Zhang Chuting himself. Network screenshot
Zh
Tutors questioned as "academic research objects" of students
Zh
Zhang Chuting was born in 1937. He is a doctoral tutor in higher education and a doctoral tutor in curriculum and teaching theory. According to the official website of Hunan Normal University, Zhang Chuting served as the president of Hunan Normal University from April 1986 to April 2000.
Zh
Zhang Chuting has become his "research object" for his PhD students, and he has to personally guide students to defend their dissertations. Many people think that this is "academic corruption" and "slapstick". Netizens questioned the legitimacy of this approach and found that this is not the first time Zhang Chuting has become a research target for his students.
Zh
A Beijing News reporter searched on the Internet and found that there were nearly a hundred papers with "Zhang Chuting" in the title. Among them, from 2005 to 2019, a total of 18 master's degree doctoral dissertations, 15 of which were from Hunan Normal University, and 9 were completed under the guidance of "Zhang Chuting" as the instructor. There is a lot of space in the thesis to describe the personal growth history, academic research experience of the research subject "Zhang Chuting", and the author's high evaluation of it.
Zh
Zhang Chuting's doctoral dissertation on the research of Zhang Chuting's educational wisdom published in 2015 was Zhang Chuting. The abstract of this thesis reads that "Mr. Zhang Chuting is not only a nationally renowned university president, educator, philosopher, thinker on the stage of China's higher education," but also "an aggressive reformer."
Zh
Zhang's master's thesis published in 2017, "Towards the Beauty of People: A Study of Zhang Chuting's Teaching Thoughts", Zhang Chuting serves as a supervising professor. The abstract introduces, "The key part of this thesis is how Zhang Chuting's teaching ideas make people better." Chapter 2 of the text reads, "In China, the world's most populous country, Mr. Zhang Chuting bravely bears A heavy responsibility has been placed on humanistic education. "
Zh
Today, the Beijing News reporter repeatedly contacted several departments of Hunan Normal University and multiple offices of the College of Educational Science, but they did not receive a response to this matter. Some teachers on duty reported that the school has taken a winter break. All previous thesis defense work for students completed.
Zh
In the face of controversy, Zhang Chuting 's doctoral student said in an interview with the media today, "Zhang Chuting has brought many doctoral students, and only a few people have written his thesis. He ca n't think that there is a student research teacher who is slapstick. Hunan Normal University has made great contributions, both academically and morally. Netizens should not follow blindly. They should make rational judgments and see for themselves whether the dissertation really has no academic content. "
Scholars: guide students to research themselves without academic independence
Zh
Xu Jilin, a well-known scholar and doctoral tutor in history, said in an interview with the Beijing News in the evening that domestic and foreign universities have no explicit requirements on whether instructors can participate in the defense of master's Ph.D. graduate thesis. Member of the panel, but some schools allow it and it's common. Therefore, the Hunan Normal University's defense announcement is not inappropriate in this respect, and there are no violations.
Zh
But Xu Jilin also said that the situation of student research supervisors is "unheard of". "Writing a dissertation is a public academic act, and tutors should not use privileges to obtain private benefits. Even for serious academic research needs, tutors should avoid suspicions. Students study you. Does he (the student) dare to study objectively and impartially! "
Zh
Luo Kaisheng, a doctoral supervisor of the School of Educational Science of Capital Normal University, believes that if there is a student who studies Zhang Chuting for the sake of academic prosperity, there are many related research papers by researchers at home and abroad.
Zh
If Zhang Chuting instructs his students to research themselves, they may lose the objectiveness and fairness of the dissertation and violate the academic norms generally accepted in the industry. Teacher Zhang Chuting participates in the reply as a reply member, and doing so will lose academic independence. "Zhang Chuting is a teacher specializing in arts. But if he instructs students to write touting their own papers, there are some basic requirements that fall short of academic norms."
Zh
Proofreading