The year 2021 signals a fatal year for Huawei's smartphone business.
In a prime location at Donlim Emperor Court, an emerging shopping mall in the southern Chinese city of Foshan, sprang up a Huawei store with 1,700 square meters of floor space. The Huawei logo occupies a prominent place on the wall, making this place one of the shopping mall's treasured properties. Management has included it in the brochures, hoping to attract more potential customers.
However, 8 months after opening, the store was announced to be permanently closed. The scene inside is quite deserted, with only a small Christmas tree and some ragged furnishings. That shuffle signaled difficult times for Huawei to come. Once the brightest star in the Chinese smartphone market, accounting for nearly half of the market share, the company is now cornered with a lack of both components and software.
According to its internal business outlook, Huawei estimates that this year will only ship less than half of last year, down 60 percent in smartphone production. This severe decline blew away Huawei's retail chain. A director for renting premises at Donlim Emperor Court, Eddie Cen, said that the owner of the Huawei store closed above admits that Huawei smartphone supplies have been exhausted.
Huawei has run out of smartphone supplies (photo: Nikkei)
Shops selling Huawei phones have mushroomed after rain in China. At his peak, his distribution chain operated up to 30 points of sale, now closed to nine. Outside of Foshan, reports point to increasingly scarce goods, prompting distributors to turn to selling products from Oppo, Vivo and Realme in order to maintain business.
Retailers love to sell Huawei products because of its impressive margins. According to Tony Zhang, a phone distributor in Foshan, a brand-new Huawei phone can sell for 1,000 yuan (about $ 154) more than its original price. Its profit margin is three times higher than that of other Chinese firms. When the company was suppressed by the US, people in the country rushed to buy Huawei phones to support the domestic brand.
Thanks to that soaring demand, Huawei was able to beat Samsung last year as the world's largest smartphone maker. In large part thanks to the unprecedented booming home market that helped offset the decline in international markets. In October 2020, Huawei said that the number of retail stores in China had reached 10,000. The company completely overwhelmed fellow brands, pressing Samsung for a market share of less than 1%.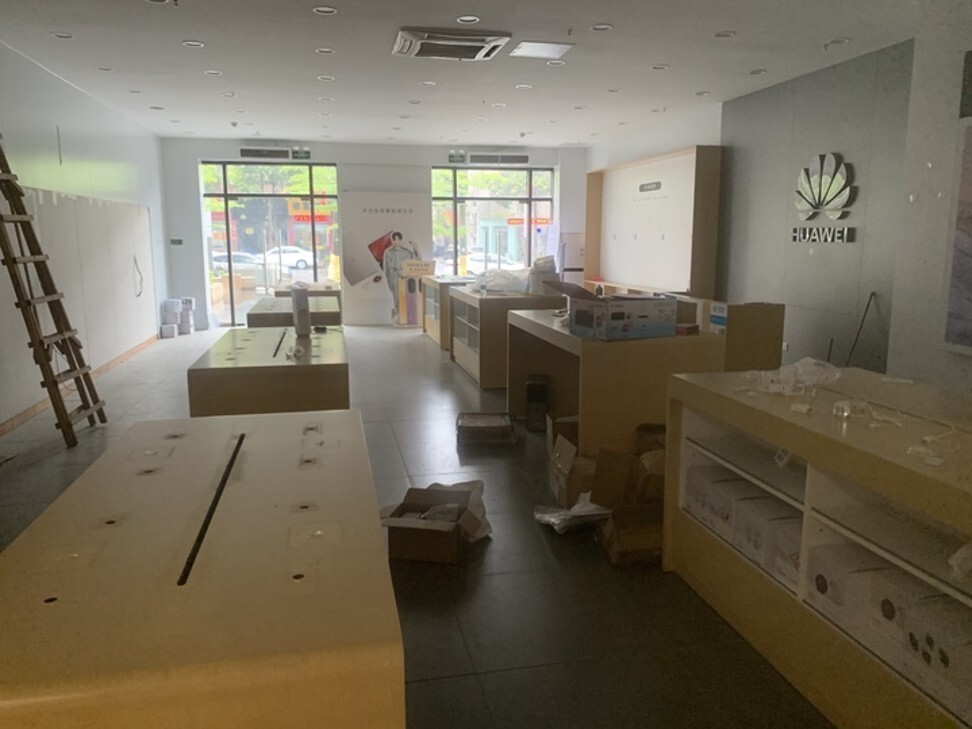 A view of the thing at a Huawei phone store after closing (photo: SCMP)
Things only really get serious when the Trump administration severs the company's ties to global supply chains. The ban prevents Huawei from accessing semiconductor goods related to US technology, be it memory chips or processors, image sensors, … After a period of effort to accumulate chips and components In the end, Huawei couldn't do anything more.
Market research firm IDC warns, the company's phone sales this year may only reach 70-80 million units. And analyst Ethan Qi from Conterpoint Research is more pessimistic, sales may shrink by only 1/5 compared to 2020. "Almost all retail stores no longer have Huawei phones for sale" – Qi said. According to him, even the small shops do not have enough inventory.
In Shenzhen, China's southern electronics center, reporter SCMP visited 5 stores to inquire about the Huawei Mate X2. However, they only received a shake of their heads. An unnamed retailer said that the selling price of the newly released foldable phone is being pushed up, due to the scarcity of supplies. The announced price itself is more than 64 million dong because of production difficulties, and now it has increased to more than 85 million dong.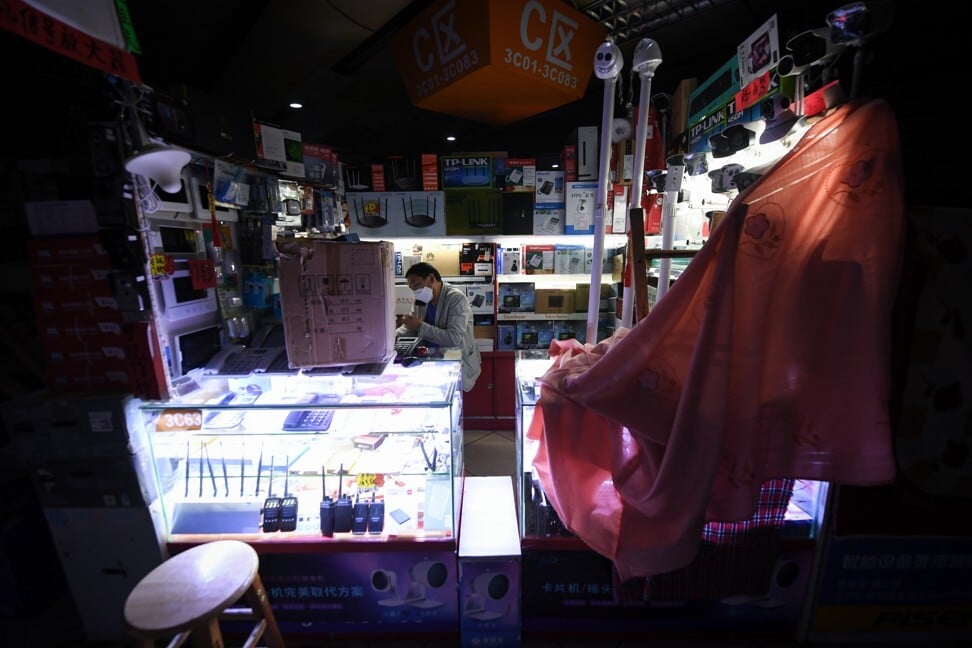 Almost all retail stores no longer have Huawei phones for sale (photo: SCMP)
Huawei's older phones are also out of stock. "With the Mate 40 Pro in the yellow version, my store now has only a few left" – admitted this retailer. Many other store owners were unable to survive when the stock was depleted. A shop owner claiming Anh Hai had to close a Huawei phone store in Sichuan province, only 9 months after opening.
In the video uploaded to the Xigua Video platform, Anh Hai confided "put all your heart on" Enter this store, but in the end still can't save it from bankruptcy. Despair now in stark contrast to when it first opened. He used to be full of belief in life-changing, flourishing business in the first videos.
Supply began to experience malfunction last September, he said. There are periods up to more than 10 days with no new shipments. He gradually became confused when Huawei's management himself could not be transparent about the supply capacity. Now, he lost up to 100,000 yuan (more than 350 million) when he had to stop doing business.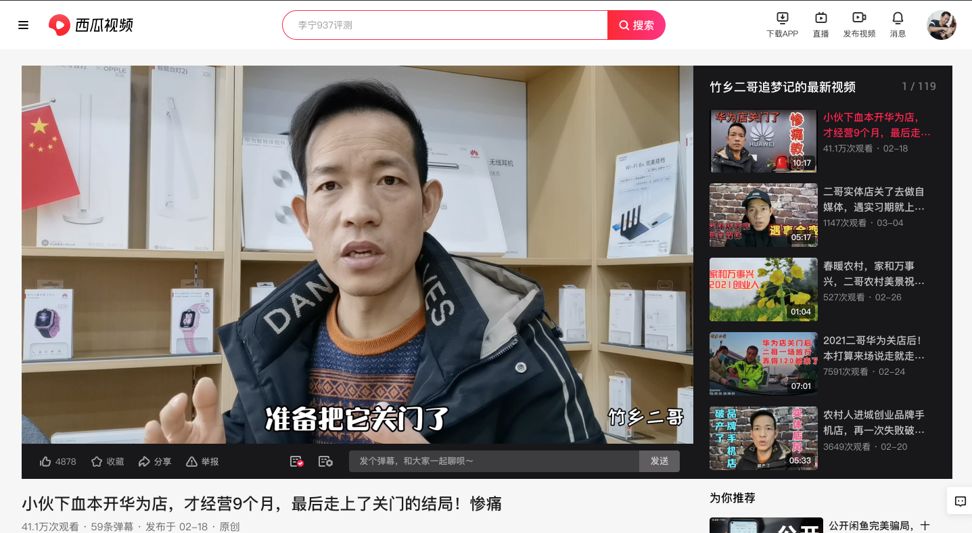 The man closed in helplessness because he could not import the goods, suffered a loss of more than 350 million VND (photo: SCMP)
According to a recent report from Tencent News, Huawei still has a little bit of Kirin 9000 chip left, enough to produce small amounts of the upcoming P50 and Mate 50. Production of mid-range and low-cost products has been stopped. A few months ago, the company accepted to sell the sub-brand Honor for $ 15 billion, in order to reduce the burden and open the way of life for Honor.
Many analysts believe that Huawei will soon be dislodged by other fellow brands. Oppo and Vivo will be quick to take over the company's customers, while Realme is also getting a huge boost thanks to the space left behind. The Chinese brand used to be the brightest star in the smartphone sky in this country, now only a little shimmering.
Ambitious Man