After the launch of Huawei Mate X and Huawei Mate Xs, we have recently had many rumors about Huawei's next generation folding screen smartphone, Huawei Mate X2. Today's article I will summarize the leaked information about this Huawei Mate X2. Let's see what is interesting in Huawei's next generation of folding phones.
See also: Listen to Rumors: iPhone SE 3 owns a mole-style screen, powerful configuration like iPhone 12 and attractive price like iPhone XR
Huawei Mate X2 will have a different folding screen from the two predecessor generations
At the first time I saw two Huawei Mate X and Huawei Mate Xs, I could not hide my amazement when they both own innovative reverse folding screens, giving us a very beautiful overall design. and modern. If we compare the design of the two machines with the Galaxy Fold at that time, I believe that the victory will belong to Huawei Mate X and Mate Xs.
Returning to the leaked rumors, I surfed on LETSGODIGITAL's tweet, they posted a very detailed sketch photo of this Huawei Mate X2. Based on the rendered image, the Huawei Mate X2 will have the screen folded together and the back will have a secondary screen similar to the Samsung Galaxy Z Fold 2 5G. However, it seems that the Huawei factory will have a much larger size.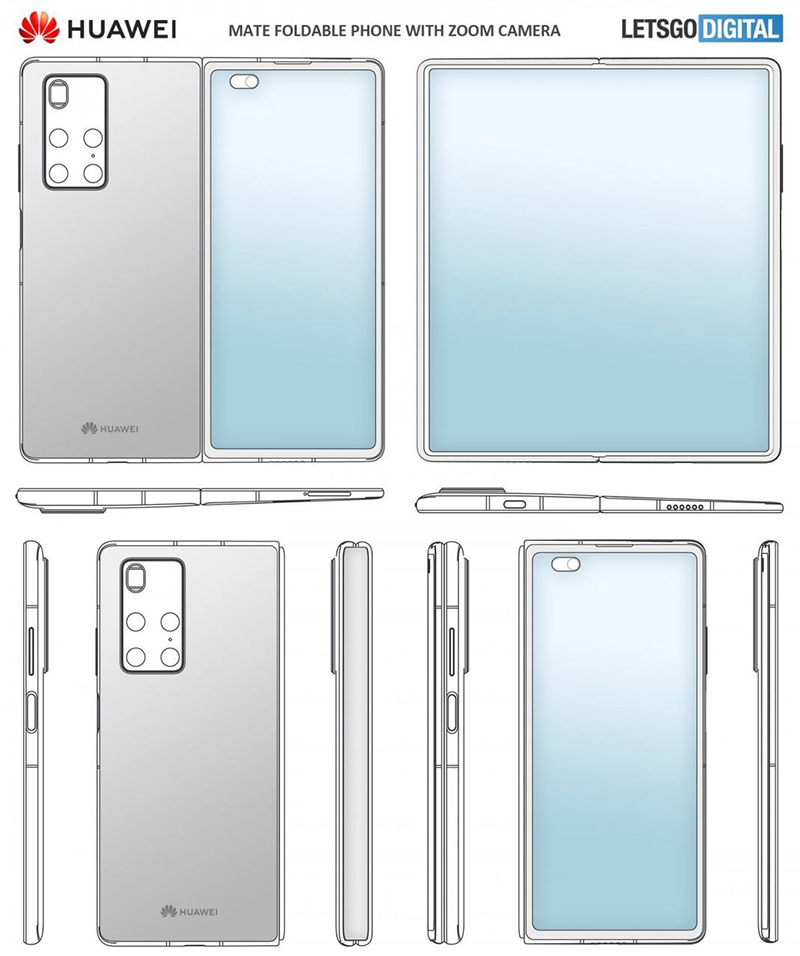 In terms of parameters, according to sources from the Gsmarena site, the Huawei Mate X2 will have an 8.01 inch screen, when opened, this size can be considered as a tablet. Along with that, the device is rumored to own 2K resolution for more sharp display. The device also owns an external panel with a size of 6.45 inches and a built-in camera hole in the left corner of the screen.
I appreciate the visibility of Huawei Mate X2 in the future, because Samsung and BOE are the main screen suppliers for Huawei Mate X2. In addition, the Mate X2 is only equipped with a 90 Hz refresh rate, although not too high, but still enough to bring us smooth touch operations on the screen. But hey, I think the 120 Hz refresh rate not equipped on Huawei Mate X2 is regrettable.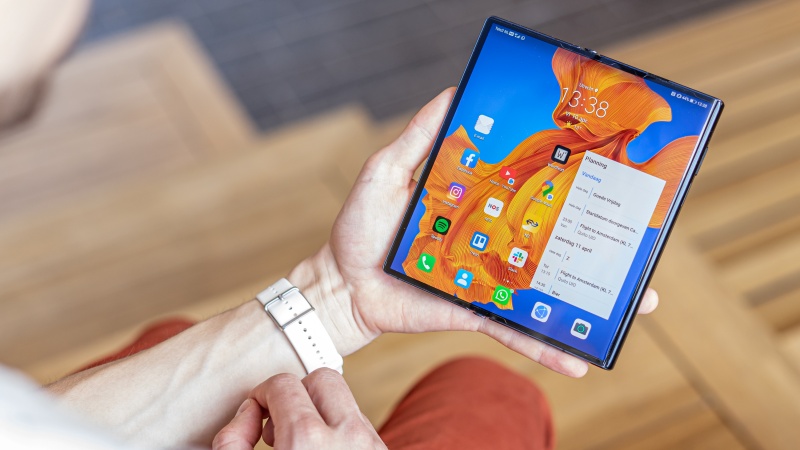 Besides, I also saw Notebookcheck sharing the most realistic render image based on the render of LETSGODIGITAL that was leaked above. This information makes me more authentic for the rumor that Huawei Mate X2 will have a foldable screen similar to the Galaxy Z Fold2 5G. Currently, I do not have any information about the camera parameters, so when I have it, I will update immediately.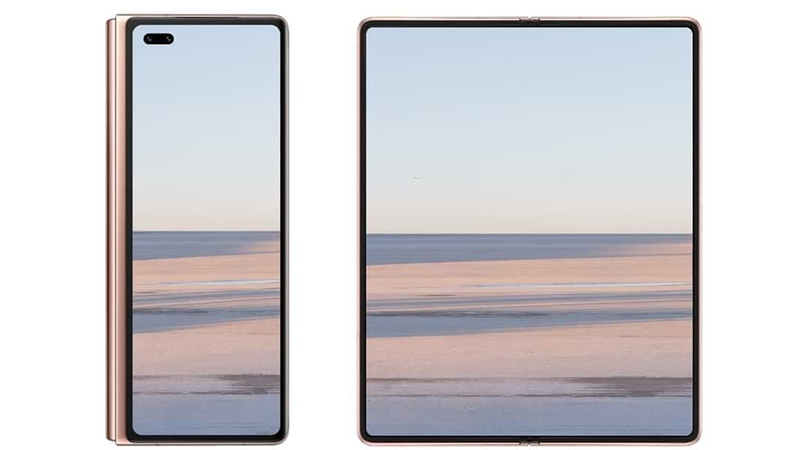 And yet, Huawei has implicitly asserted that the foldable screen design looks like the rumors above of the Mate X2 through a teaser photo of the company. So finally, Huawei Mate X2 will have a folding screen similar to Samsung Galaxy Z Fold2 5G.
Honestly, I like the design of Mate X and Mate Xs before because it looks very luxurious and brings a much more modern and elegant beauty. On the other hand, I don't really like having an extra monitor.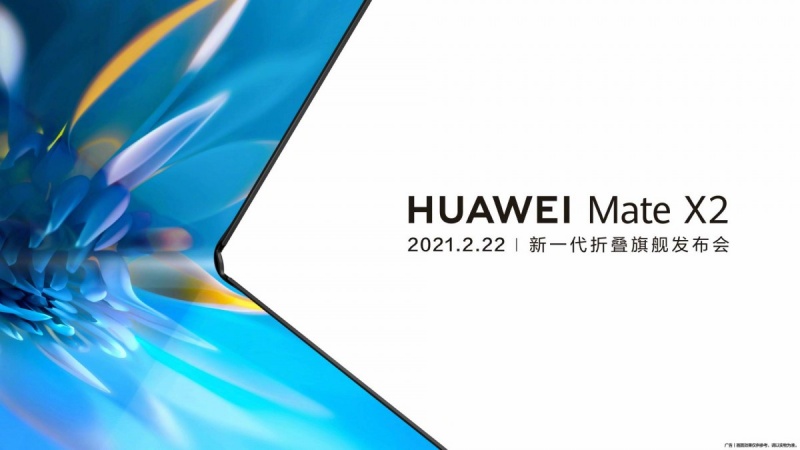 Huawei Mate X2 uses Kirin 9000 chip
I also read from Gsmarena that the Huawei Mate X2 will definitely be equipped with Kirin 9000 chip, supporting 5G. For those of you who don't know, the Kirin 9000 has been used on the Huawei Huawei Mate 40 Pro with an Antutu score of 686,835 points. That is on the Mate 40 Pro, and the Kirin 9000 equipped on the Mate X2 I believe will be much more optimized.
With the Antutu score that Kirin 9000 achieved, I believe that Huawei Mate X2 will have extremely outstanding and stable performance than ever. Not to mention that Huawei's Kirin chips are also very optimized for AI technology to help process and optimize the user experience with the performance and camera of the machine a lot. Currently there are no parameters on RAM as well as internal memory, so I will update later!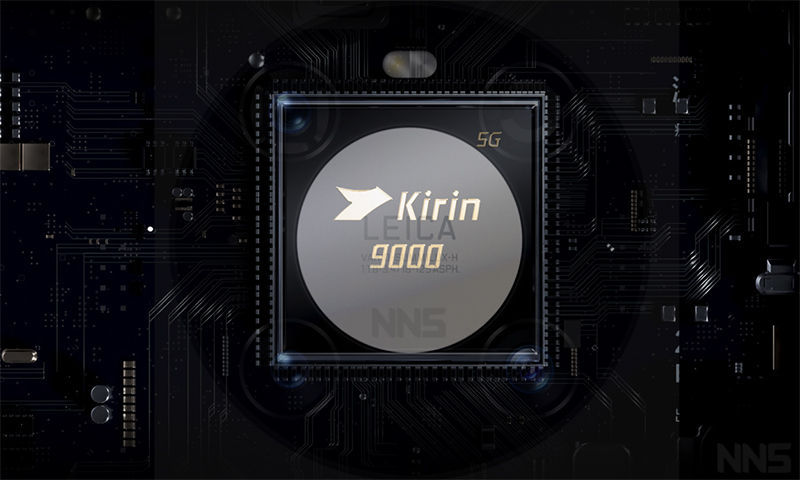 According to the source above, the Huawei Mate X2 will be equipped with a 4,400 mAh battery, it can be said that this battery is too modest at the present time and I think it is not used enough in a day! Carrying a machine with a folding screen that folds in and then folds into a high profile suitable for fighting games and watching movies like the Mate X2 surely increases power usage and 4,400 mAh certainly does not respond. sufficient.
In return for the too modest battery capacity, we are equipped with 66W fast charger. With this fast charge we will shorten the charging time and enable us to be able to continuously use the device.
Huawei Mate X2 will be launched in February coming soon
You hear right, Huawei Mate X2 has been confirmed by Huawei to launch on February 22, 2021 in China based on information I read from Techrada. It can be said that this is good news for fans and international technology users as well. So after we finish the Lunar New Year, we will see the launch of the Huawei Mate X2.
Regarding the selling price, it is possible that the Mate X2 will have the same price as its predecessor, Huawei Mate X in mid-2019 with a price of $ 2,600 (about 60 million).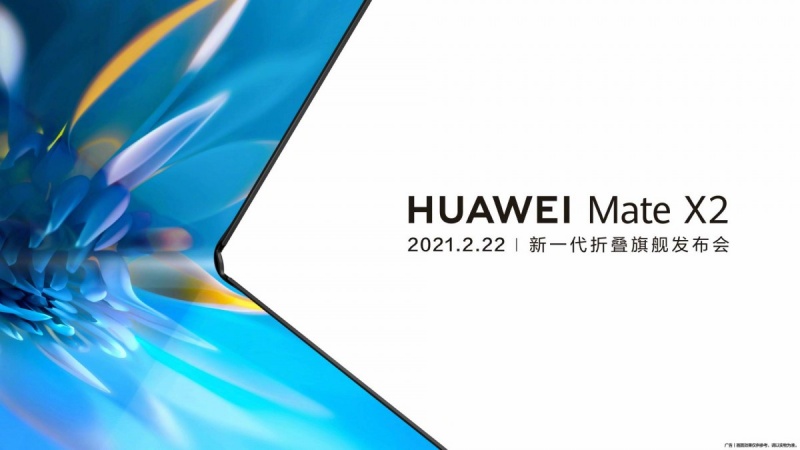 Epilogue
It can be said that Huawei has always brought us unique and innovative devices. Huawei Mate X2 with a new folding screen design and powerful configuration with Kirin 9000, when launched, this will certainly be an extremely impressive machine. My article will continuously update until the launch. Let's wait until February 22.
What do you think about this Huawei Mate X2? Please leave your comments in the comments.
Thank you for your time following this article, I wish you a Happy New Year.
See also: Listen to Doubt: Nokia 2.5 has a large screen, the performance is enough for MediaTek chip and has a cheap price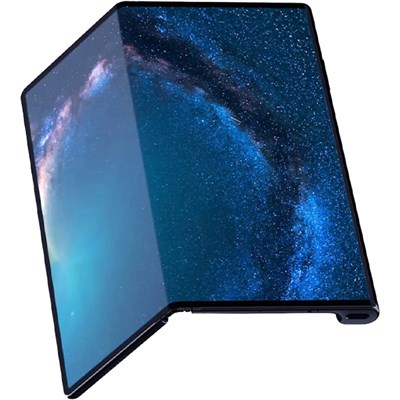 Huawei Mate X2
Rumor
See details
Edited by Vu Truong An
Not satisfied with the article
422 views
Related posts
Huawei Mate 40 Pro detailed review: The most powerful chip on the top Android line – Kirin 9000 5G comes with quality camera


3




20 hours ago

Huawei is about to launch the Huawei P40 4G version: It uses the Kirin 990 chip and has many similarities with the 5G version


1 day ago

Huawei Mate X2 foldable smartphone exposes sharp renderings with a completely new design, look just want to buy now and always


3 days ago

Huawei Mate X2 is officially set the launch time, the folding screen structure is different from the Mate XS


3 days ago

Huawei Mate X2 high-end foldable smartphone with Kirin 9000 chip will be launched in February 2021


5 days ago

Huawei Mate X2 will be equipped with completely new folding screen technology, effectively solving the problem of folds


5 days ago
.