Continue to use the Android operating system
According to the latest information from the manufacturer, the new product is Y9 Prime of the world's largest mobile phone company Huawei running Android operating system and has full access to Google services, including storage. Play Store app, Gmail, Google Maps …
Not only did Y9 Prime 2019 other Huawei smartphones launch the market to continue to work well with the Android platform as well as Google services. Currently, more than 80 million Huawei smartphones have been updated to Android 9 Pie with EMUI 9 interface and this number is expected to increase to 100 million by the end of June 2019.
Y9 Prime 2019 still works based on the latest Android platform
Breakthrough design in the segment
The appearance of the 2019 Y9 Prime also represents Huawei's leading role in the smartphone industry through a technology-rich product. The new phone is in the mid-range segment but is integrated with AI photography technology, the design of the full-fledged FullView screen, features the trendy self-pop-up camera (camera turned on) with long battery life.
Huawei Y9 Prime 2019 has a 6.55-inch FullView screen, "full" display and not as "rabbit ears" or "punched" screen. The display area of ​​the machine accounts for 91% of the front, optimizing the experience space for users, so despite its large size, it is neatly handled like a 5.5-inch screen smartphone. Moreover, the base plate of Y9 Prime 2019 is capable of displaying 16.7 million colors with 85% color range, capable of filtering blue light to protect the user's eyes.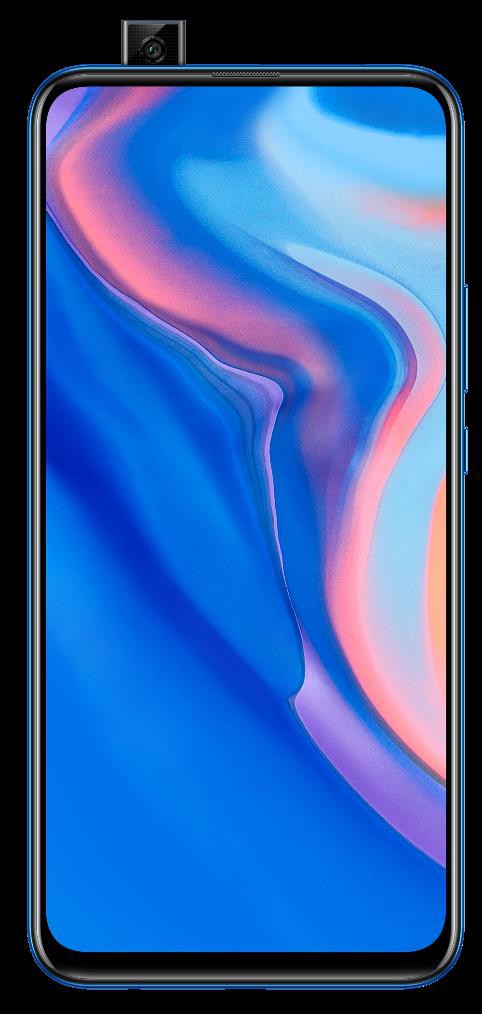 Huawei's latest phone owns a FullView screen and trendy camera
In order to get the optimal borderless display, Huawei designed the selfie camera of the device according to the pop-up mechanism. When the user needs it, the front camera will turn on in the blink of an eye and automatically record it later. Moreover, this pop-up camera can slide up and slide down 100,000 times, which is equivalent to if every day you activate the camera 100 times before, the durability of the device still reaches over 2.7 years. When the phone detects signs of falling, this camera automatically activates the protection and hide mechanism.
Powerful configuration, smooth experience
Not only focusing on design, Huawei also focuses on user experience by integrating superior hardware in the segment. Y9 Prime 2019 equipped with a 12nm Kirin 710F chip with high performance but lower power consumption, was upgraded both to the CPU processor and GPU graphics processor. It has 4GB of RAM and 128GB of internal memory, uses version 2.0FS partition and read-only file system (Read-Only File System, EROFS) should optimize performance.
Energy-saving chip combined with 4,000 mAh battery allows users to comfortably experience all day long without paying attention to charging. Moreover, Y9 Prime 2019 uses USB-C port, not only helps to exchange data faster and more conveniently but also makes your life simpler. With the symmetrical design of USB-C, users can plug the cable without caring about the top or the bottom. It also retains the 3.5mm audio port for compatibility with any headset.
The camera is also detailed so that Y9 Prime 2019 "takes down" rivals in the segment when the camera is integrated with three rear cameras. Including a 16MP main sensor with F / 1.8 lens that captures 50% more light than usual, is ready to "challenge" even at night. In addition, 8MP sensor with 120-degree wide-angle lens for users to take panoramic photos. Finally, the 2MP sensor serves as a depth meter, allowing for soft-image removal images that are not inferior to professional cameras.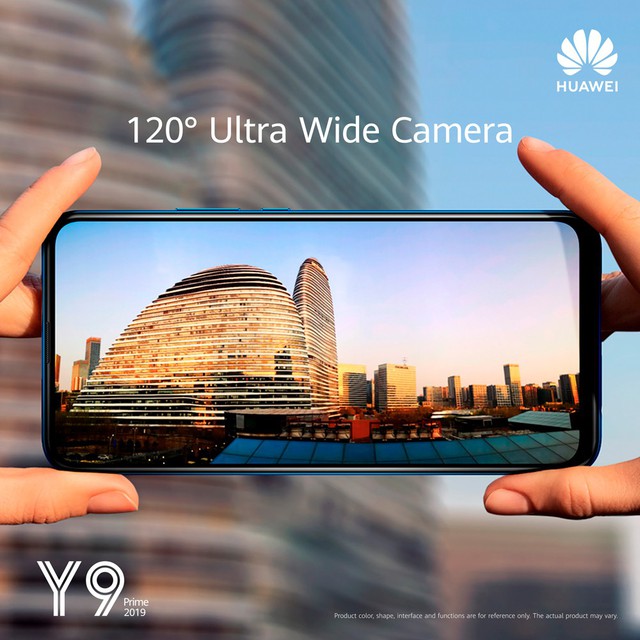 The camera is also a detail for Y9 Prime 2019 to "defeat" rivals in the segment
In addition to hardware, the ability to take photos on Huawei's smartphones has a significant contribution of software when integrated with artificial intelligence technology. AI on 2019 Y9 Prime supports image stabilization for exposure up to 6 seconds, automatically beautifying skin naturally or creating portrait light effects such as shooting in studio. It must also include the ability to record video motion super slow 480 frames per second, features that are only available on high-end smartphones.
Huawei always demonstrates its philosophy of protecting the interests of users, through its commitment to continue to update software, security patches for current products and be consistent with new value-added products.