Mr. H.N. Long, owner of a chain of technology stores in Saigon, said he had owned the EliteBook X360 830 G5 in June. Still not hot, HP plans to release an upgraded version of the HP EliteBook X360 830 G6, which keeps him looking forward.
The HP EliteBook X360 830 G6 portrait has just been unveiled by the manufacturer
HP EliteBook X360 830 G6 – the "must-have" computer for every entrepreneur
Mr. H.N. According to Long, the HP EliteBook X360 830 G6 does not have a lot of improvements in appearance but is focused on upgrading internal features and performance. This is quite understandable, because until now, the G5 has not revealed any defects based on its appearance. The EliteBook X360 G6 is a truly upgraded version, an "extreme" laptop experience for every entrepreneur and business.
Specifically, the HP EliteBook X360 830 G6 provides users with maximum connectivity to handle jobs that are 100% effective with a maximum configuration of up to 32GB RAM, 8th Generation Intel® Core ™ i7 processor and 2TB NVME solid storage .
With the built-in operating system Windows 10 Pro, advanced features are suitable for managing devices and applications in the enterprise, protecting data and allowing users to access Windows update for Business.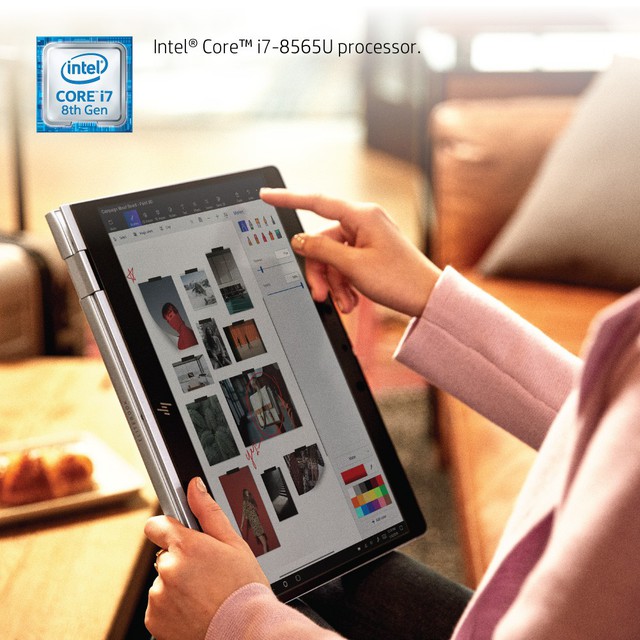 HP EliteBook X360 830 G6 is extremely flexible, providing maximum support for users
Featuring a 360-degree screen rotation, the Elitebook x360 830 G6 allows users to use tablet or tent mode, extremely flexible when working in groups. Still pressure-sensitive pen application up to 4096 as G5 generation, G6 allows users to use, write, draw on the screen with the feeling of writing and sketching is equivalent to holding a pencil on paper background.
With the HP EliteBook X360 830 G6, users can also easily work in groups while on the go or where there is a lot of noise. The improved G6 has noise filtering capability, equipped with a third microphone and a loud voice speaker to help users stay in touch. All important contracts or meetings can be transmitted completely through the Elite G6.
In addition, the flexibility of the HP EliteBook X360 830 G6 enterprise management application is also confirmed by the newly updated Smart Card, NFC module and bluetooth 5.0 standard, allowing for computer connection and residual transmission. Data is confidential, fast, safe.
Not only does the Elitebook x360 830 G6 score an absolute score because of its versatility and versatility.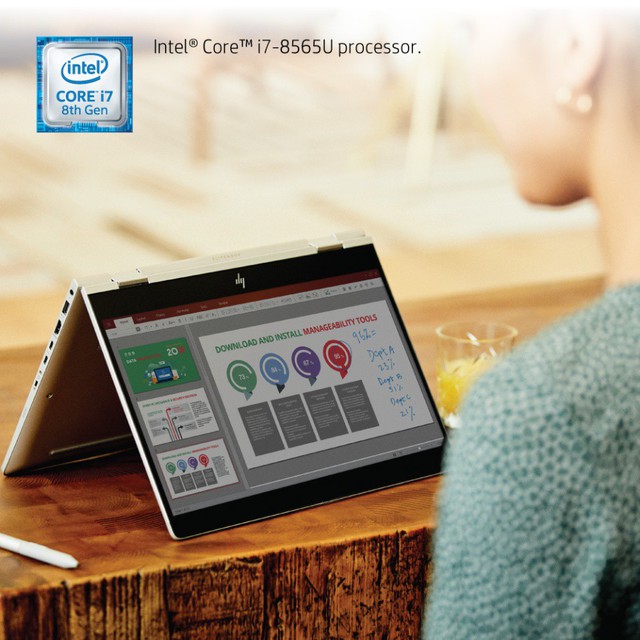 The HP EliteBook X360 830 G6 fights against future growing malware through self-protection security solutions, implemented with both hardware and software.
HP Sure View Gen3 option reduces visual light when the screen is viewed from the side, making sure the information you are working on G6 will be protected "absolutely safe" from "curious eyes" .
HP Sure Sense helps quickly identify traditional viruses or even bad information that has never been detected. The BIOS feature helps the computer to automatically recover after being attacked, HP Sure Recover Gen2 ensures fast, safe and automatic recovery only with network connection …
Besides, the Elitebook x360 830 G6 also enhances computer security with three authentication elements including fingerprint recognition and face recognition.
The Elitebook x360 830 G6 has a private camera shutter to block physical webcams when not in use. This feature is similar to the camera slider on most of the higher-end Elitebook 1000 series and with camera kill on the most advanced laptops available today.
With the above advantages, it can be seen that the HP EliteBook X360 830 G6 is a "must-have" computer for every entrepreneur, and is also a computer worth owning if users want to increase their security and flexible application capabilities in managing your business.
The HP EliteBook X360 830 G6 will soon be launched in Vietnam through a genuine distributor of Synnex FPT Distribution Co., Ltd. to a group of business customers, businesses can "see, touch, directly experience "Its advantages.