The standout feature of the iPhone 11 is undoubtedly the new camera system. The iPhone 11 is more affordable, but has the same high-quality lens as the iPhone 11 Pro and iPhone 11 Pro Max (except for the third telephoto lens reserved for the Pro model).
The standard wide-angle camera on the ‌iPhone 11‌ line offers the same 12 megapixels and f / 1.8 aperture as on last year's iPhone XS devices, while the new 12-megapixel ultra-wide camera has an f / 2.4 lens. Apple has also expanded the aperture of the telephoto lens on Pro models to f / 2.0 – an improvement over the f / 2.4 lenses found in the iPhone X and XS – allowing more light to reach the sensor and capture. more details.
Changes in Camera app based on lens
Apple has also redesigned the camera system from the beginning to help the lens work smoothly, as well as radically improve image processing technology. In keeping with these more advanced capabilities, Apple has provided the original Camera app with a complete repair dedicated to its iPhone 11‌ devices.
For example, when you shoot with a standard wide lens as shown above, the Camera app interface becomes semi-transparent to show the wider field of view of the ultra-wide camera, giving you a preview of the image taken with it.
When using a telephoto lens on a Pro device, the Camera app will use the standard wide lens to fill additional areas of the screen, as shown in the screenshot below. There's even an optional new camera feature to take advantage of additional lenses and let you fix elements in your photos without cropping.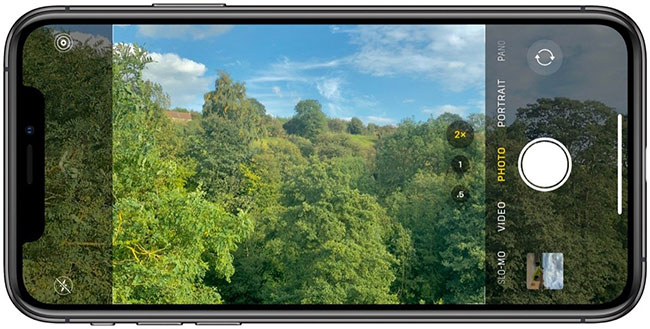 Switch between super wide, wide lens and Telephoto
You can choose between different lenses by clicking the numbered buttons at the bottom of the viewfinder: .5 is the new super wide lens, 1x is the standard wide lens and 2 is a telephoto lens (only available on iPhone 11 Pro‌ and Pro Max).
At first glance, it seems that these lens modes are fixed options. If you swipe up on one of the buttons, you'll see a zoom wheel, which lets you switch cameras through a series of color-changing levels.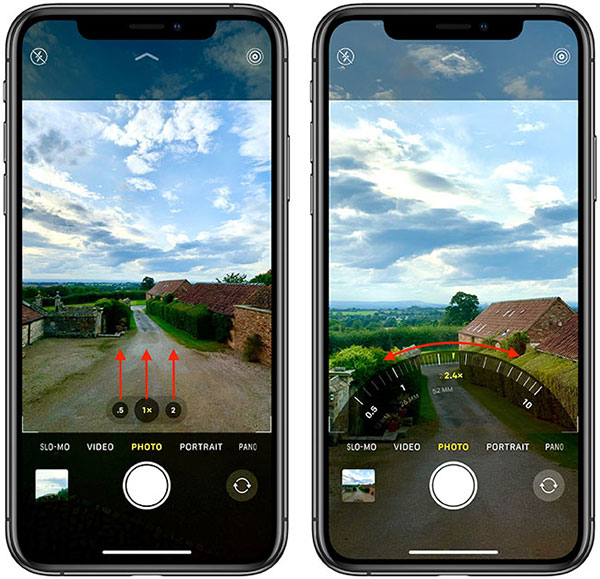 Along this wheel, you will also see a 35mm equivalent focal length of each lens sensor combination. The wheel disappears after you choose a custom focal length, and if you decide you want to go back to the standard focal length, simply touch the center lens button.
>> See also: Comparing iPhone 11, 11 Pro, 11 Pro Max and iPhone XR, XS, XS Max configurations, is it worth the upgrade?
.