Not all of the photos you take are perfect, no matter how good your camera equipment will be when you take a blur, not clear. Using SmartDeblur will help you sharpen photos, restore this blurred photo.

Related posts
How to use SmartDeblur, recover more beautiful and blurred photos
How to install SmartDeblur
Using SmartDeblur recovers blurred photos to sharpness
Soft image processing software, making images sharper
Tips for using windows 8.1 effectively
You have pictures that capture beautiful moments but unfortunately are blurred, blurred due to camera shake, focus on the wrong subject, … or but important photos are old but you do not need too much Worry about SmartDeblur, image sharpening software will help you to solve this problem for you. With a simple interface, easy to use, SmartDeblur will be an indispensable software for photography enthusiasts to recover the blurred photos.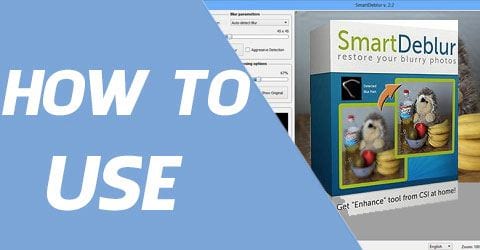 How to use SmartDeblur
Step 1: When you open the program, there will be a message window pop up, this message will let you choose the basic settings before using the software. At the bottom will have 2 options:
– Show this dialog on startup: displays a message when starting the software
– Open the example after close: Open the sample image when closing the message.
You can uncheck it if you do not want to make these settings. Finally click Ok to start using SmartDeblur.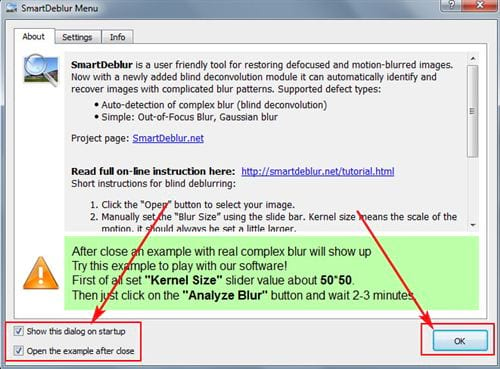 You can re-open the settings panel by clicking the button i Menu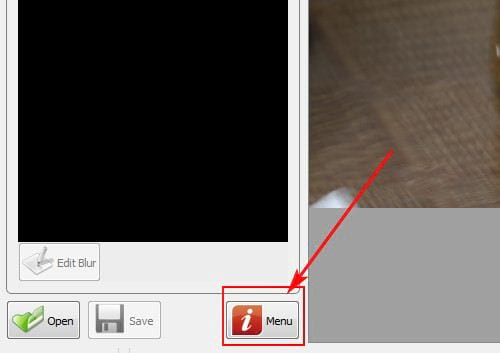 Step 2: Back to the table Menu We can see that there are 3 tabs About, Settings, Info.
– About : Contains basic information about software
– Info : Contains information about software copyright, command options, shortcuts
– Settings : Initial settings for the software, these settings can all be changed using the software. You will only set up in the section Common Settings , higher settings are for Pro version only (paid)
Default Blur Size : Size of the selection for sharpening
Default Smoothness : Default definition
Max Image Dimension: the default size of the focus image, if the added image has a larger size, it will automatically be resized to this default size.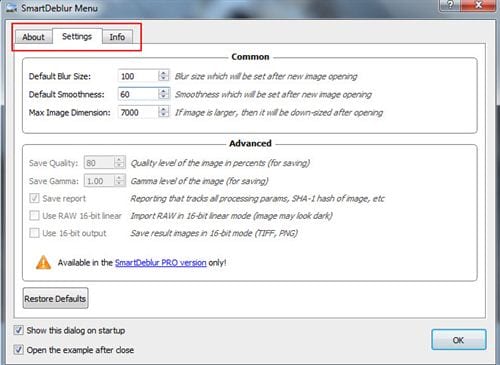 Step 3: In this example, ElectrodealPro will use sample images of the software. You can add a new image by clicking the button Open below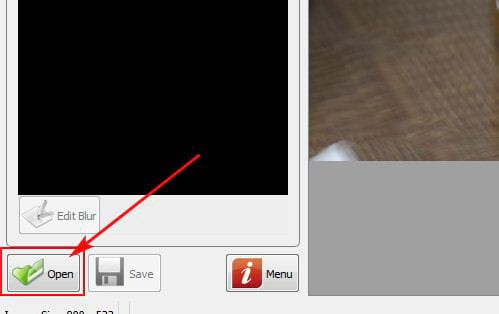 Step 4: To select the focus area, you directly click the image, a focus frame will appear. You can resize it by holding the squares in the corners and dragging the mouse.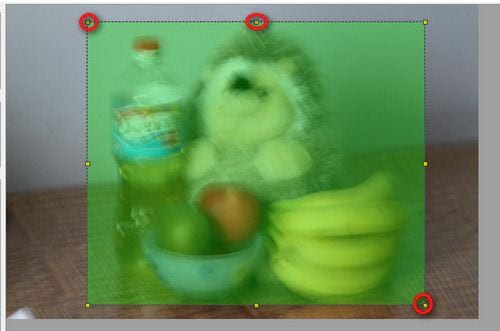 Step 5: SmartDeblur has three types of blur recognition to process, you can see in the Blur Parameters section
– Auto-Detect Blur: automatically detect blurred parts
– Out of Focus Blur: wrong focus point detection
– Gaussian Blur: blurred image recognition by Gaussian Blur method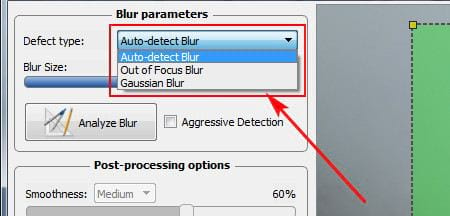 Step 6: Since the sample image of the software is a completely blurred image, we will leave the recognition mode Auto-Detect Blur, After you have selected the area you want to sharpen, click Analyze Blur to start sharpening. If you want the software to analyze more deeply, you can tick it Aggressive Detection.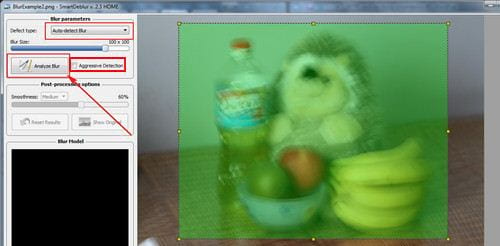 Step 7: After sharpening, you can choose the sharpness at Smoothness in Post-processing options . There are also 2 other buttons Reset Results (return previous results) and Show Original (display original image).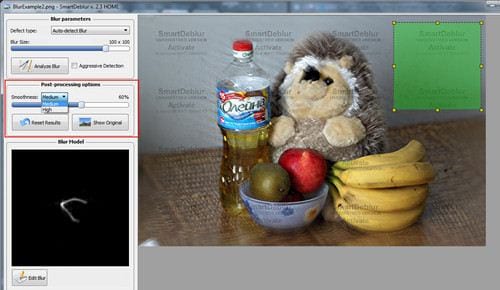 .
Since we are using the free version, the image after sharpening will have the SmartDeblur logo, you should use the premium version to no longer have these logos.
Step 8: If you want to view the original image and the blurry image at the same time for comparison, you can click on the icon on the left in the section View Type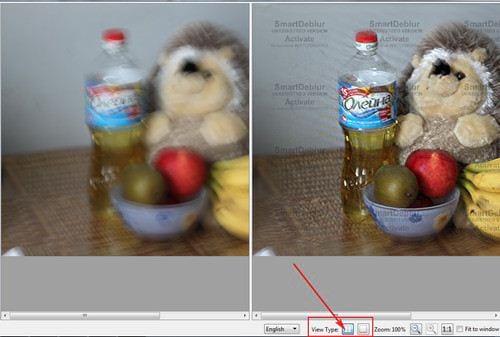 Step 9: After you have finished focusing, click Save , choose a folder you want to archive, name the new photo (File Name ), choose the format you want to save (Save as type ), click Save to save the focused image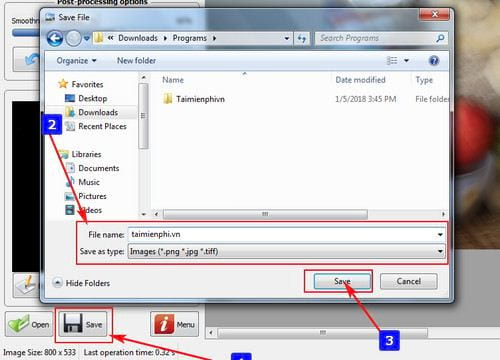 https://thuthuat.taimienphi.vn/cach-su-dung-smartdeblur-29779n.aspx
Above are instructions on how to use SmartDeblur. Hopefully, through this article, you will know more about a software to sharpen your blurred, wrongly focused images. In addition, you can also use Photoshop software to sharpen your images, however, you need to have knowledge of Photoshop to do it. Good luck.
.