No need to install, you can use Facebook Messenger Rooms to create an online meeting room with up to 50 people right on the Facebook Messenger app available on your phone or web browser without time limits such as Zoom, manipulation. Simple to use, bring meetings, and effective online learning like never before.
Related posts
Facebook is integrating Messenger Rooms with Facebook Live
Facebook Messenger Kids User Guide
Sign out of Messenger, exit Facebook Messenger on iPhone, Android, Windows Phone
How to use Facebook Messenger on Opera
How to install Facebook Messenger for MAC
Feature Facebook Messenger Rooms officially launched to users with a strong advantage in permission create online meeting rooms free up to 50 people. In particular, this feature does not limit the usage time, works on both Web platform and mobile application.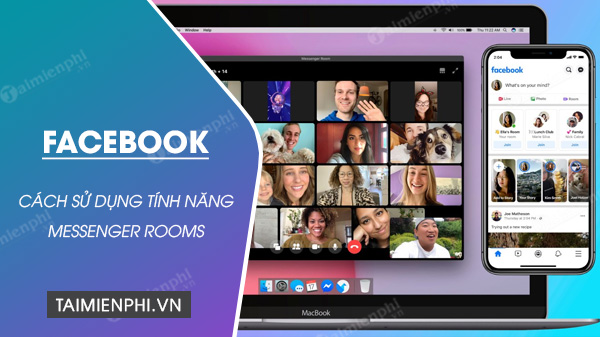 Make a video call group Facebook Messenger Rooms
To learn more about how to use Facebook Messenger Rooms and its features, invite Taimienphi to refer to the content in the article below.
Download and install Facebook Messenger app:
=> Link to download Facebook Messenger for iOS


=> Link to download Facebook Messenger for Android



Use Facebook Messenger Rooms on your phone

1. Create meeting rooms with Facebook Messenger Rooms
Step 1: First, users log into the Facebook Messenger application on the phone or tablet.
Step 2: Click on the card Everybody at the bottom of the screen and select Create meeting rooms .
Step 3: Press the button Trial to experience the newly launched Facebook Messenger Rooms feature.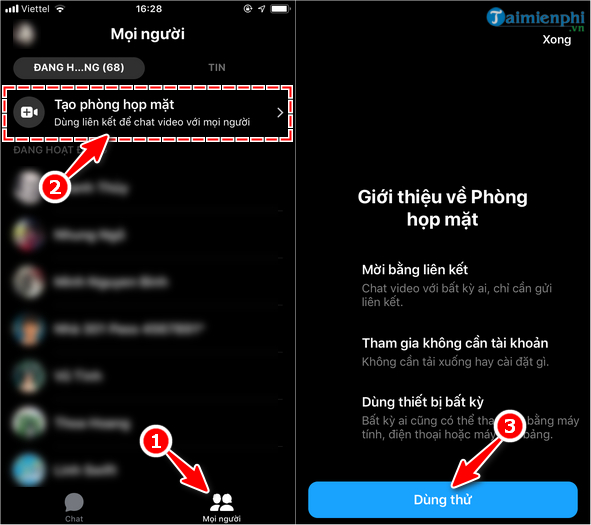 Step 4: The meeting room creator has the right to set up how to join the meeting room. By default, Facebook will install automatically People with the link are available to join your meeting room. To change, you click on the section Who can join, then choose:
– People with the link
– Only people on Facebook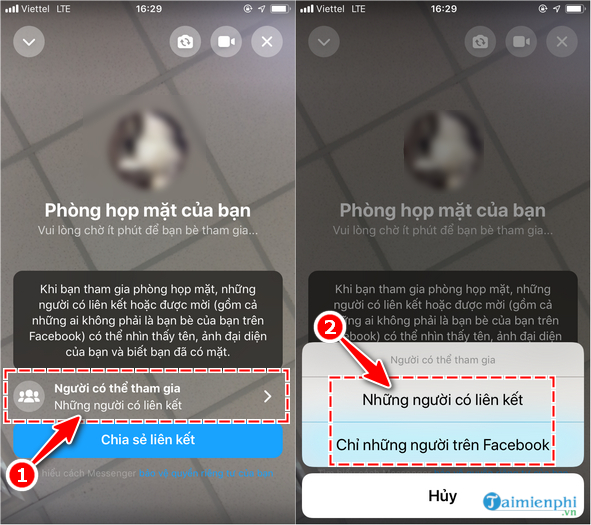 2. Invite others to join and enter other people's meeting rooms
Step 1: Press the button Share link at the bottom of the screen.
Step 2 : Press the button Copy to copy the meeting room link and send it to other users.
Or you can quickly share via Zalo, Skype, Messages, Gmail, … by clicking the icon in the notification panel.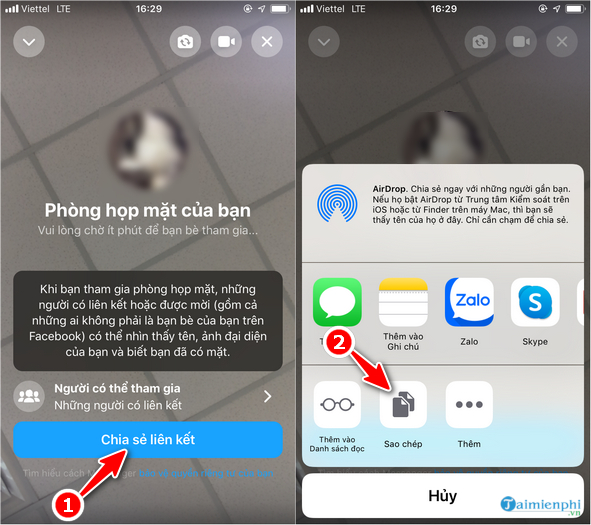 Other users just need to click on the link shared by you, the system will automatically redirect to your meeting room. In case you want to join someone else's meeting room, ask that person to share the meeting room link, then click ok.
3. How to cancel and end the meeting room
To stop joining the meeting room, simply press X sign icon in the right corner of the screen. Facebook Messenger Rooms will give users 2 options, including:
– End of the meeting room : Delete all members and disable links
– Leave : Retain the information and data and you can log back into the meeting room.
In this example, Taimienphi chooses End of the meeting room .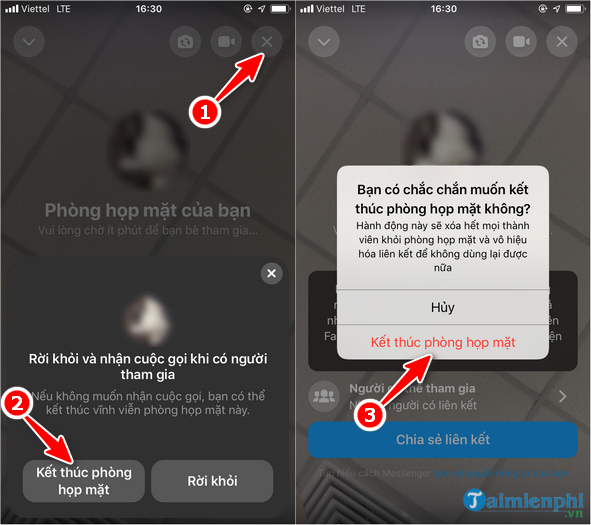 Thus, Taimienphi has finished sharing for users detailed instructions on how to use Facebook Messenger Rooms on phones, tablets. Have you experienced or commented on the newly launched Facebook Messenger Rooms feature, or leave your comments in the comments below!
https://thuthuat.taimienphi.vn/cach-su-dung-facebook-messenger-rooms-video-call-50-thanh-vien-cung-luc-58600n.aspx
In addition to Facebook Messenger, there are many other video calling apps on the phone that we can choose from for work, study, for clarity, you refer to the top Video calling application here.
.