EVKey is similar to Unikey when it is an percussion created based on Unikey. Therefore, how to use EVKey is similar to Unikey and in addition it inherits a lot of good features, develops a number of utilities and features that Unikey has not yet or have been able to do.

Related posts
Download and install EVKey, type Vietnamese on your computer
Shortcut typing in Unikey, quick text composing tips with Unikey
Summary of Unikey shortcuts on the computer
How to install Unikey, setup Unikey to type Vietnamese on the computer
Install more Fonts for Unikey, type Vietnamese on the computer, laptop
Way using EVKey Just like Unikey, but it's not that we don't need to use EVKey if we already have Unikey. Experiencing a new tool like EVKey will show you many positives as EVKey has a lot of added and added features to suit most users.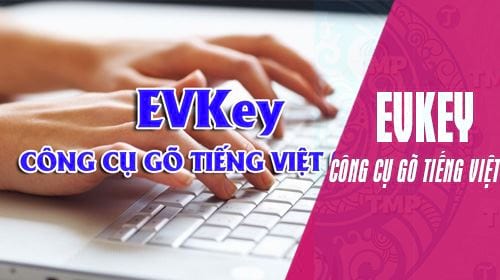 If your computer has Unikey installed, do not hesitate to install EVKey too, this tool is packaged so that users can run it, just like some versions of Unikey when Unikey is not installed. can still be run directly in the machine. EVKey is a product based on Unikey of a freelance programmer, so when using it, please report the error on the email address in the software to be able to update and fix the error, help users have the most complete version using EVKey.
How to use EVKey, type Vietnamese on the computer
– Download EVKey here, download EVKey for computers.
Step 1: Before using EVKey, you should remember turn off other Vietnamese typing software Like Vietkey, type Vietnamese or Unikey to avoid conflicts as well as cause errors in the process of using EVKey.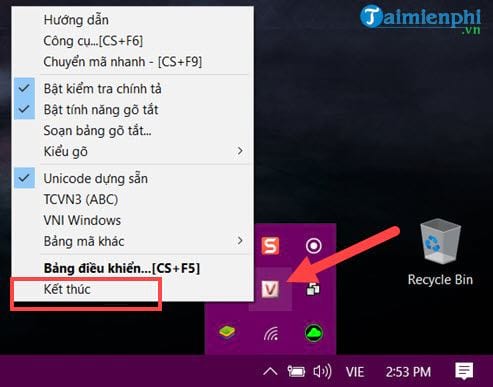 Step 2: Then we proceed extract the EVKey software that you have downloaded above to your computer, after the decompression is complete, we can use EVKey right away.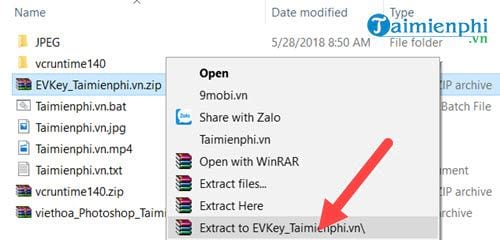 Step 3: EVKey has 2 versions: 32 bit and 64 bit Depending on what operating system you are using, you should note that choosing the file there is extension * .exe to use EVKey to type Vietnamese on the computer.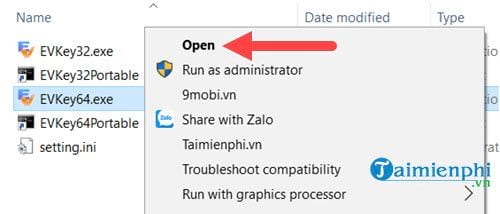 Step 4: Immediately we will see the interface of EVKey on the computer, the interface of EVKey is much clearer than Unikey with the functions classified by different tabs.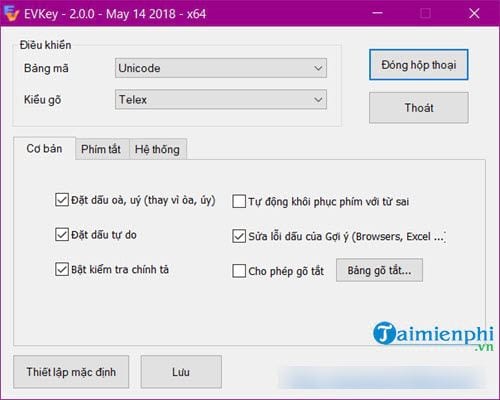 – Dashboard: This section allows us to set up charset (like unicode), or Telex, VNI is very popular with those who have used Unikey before.
The basic dashboard we have the following functions:
– Place the sign: This feature allows to correct the accent order errors when writing Vietnamese.
– Free-to-play: Allows accents to be applied to any character, used in conjunction with the above feature.
– Turn on spell check: allows checking misspellings in the text.
– Automatically recover keys with wrong words: When you type the wrong letter, it will be automatically rearranged, this feature still has many shortcomings when using it.
– Fix suggested door sign errors: Some browsers give suggestions to prevent your typing from being wrong, this feature will help you correct it and it is only available on EVKey.
– Allows shortcut: This feature is completely similar to the shortcut on Unikey when allowing users to enter words to slap.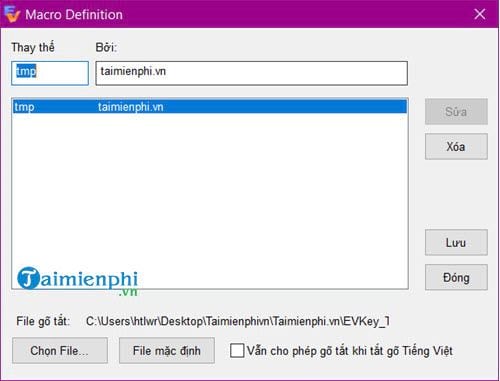 Step 5: Next we move to the keyboard shortcuts, in this section are simply shortcuts that allow you to quickly use a certain function according to your needs.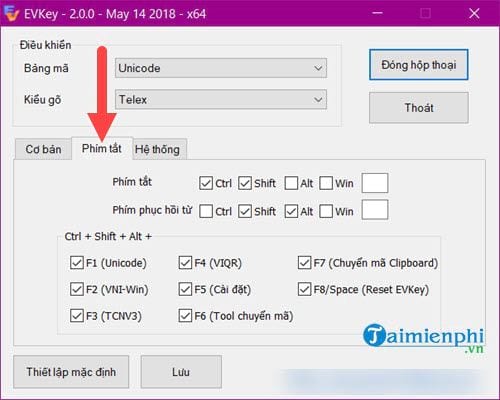 Step 6: The third part is the system (system) where to edit features related to EVKey and computer, here is the same as Unikey when we have the option to interface in English or Vietnamese.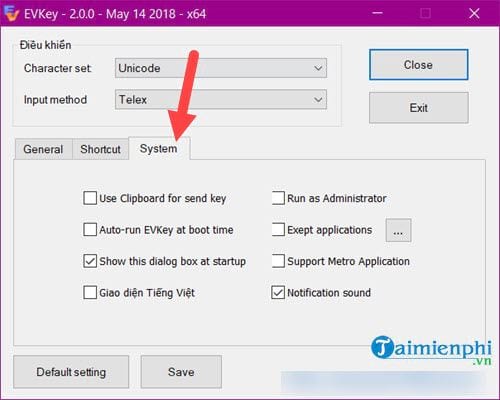 – Use Clipboard to send keys: This is the feature that uses clipboard copy for quick copying.
– Start with Windows: If you use this you must disable it on Unikey to avoid conflicts.
– Show dialog box on startup: Display the full menu table of EVKey every time we start the computer.
– Vietnamese Interface: Use Vietnamese or English interface.
– Run as admin: Use EVKey with the highest privileges on the computer.
– Notification sound: Turn on or off the computer notification sound
And also the app exclusion feature, which allows you to exclude use of EVKey on the apps you specified earlier.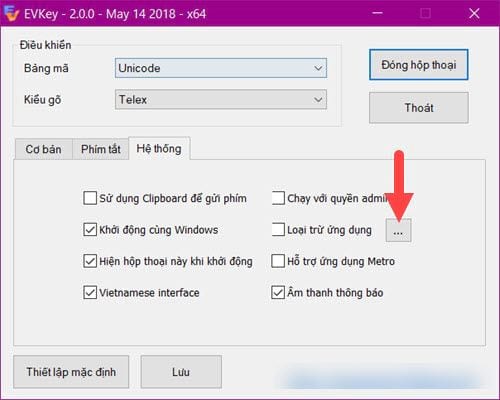 Your job is just to add any application to this list.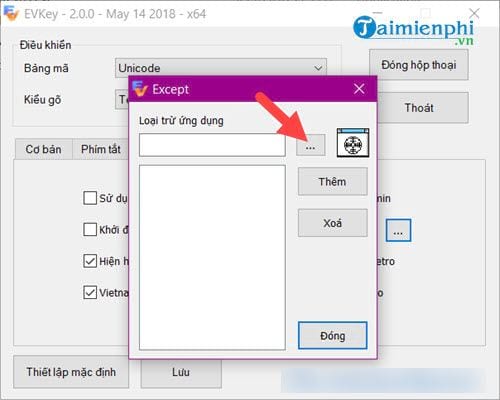 Select any application on your computer, it can be one or more.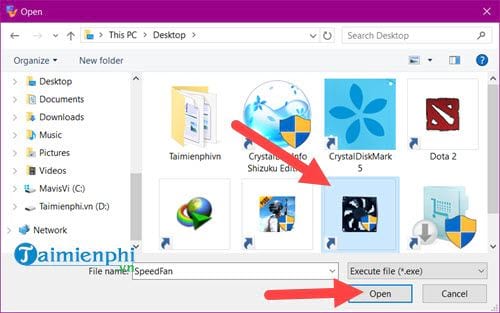 When adding applications to sex, EVKey cannot be used to type Vietnamese.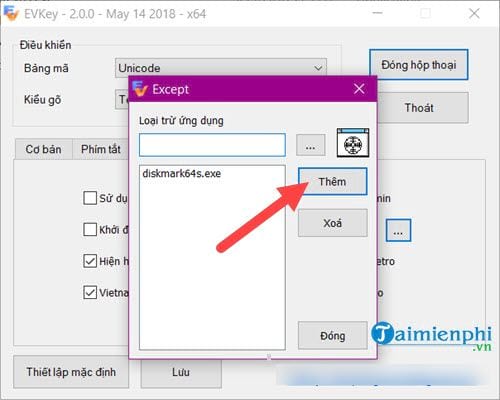 Step 7: One thing to note is that the location where you can find EVKey on your computer is similar to the previous Unikey and Vietkkey software.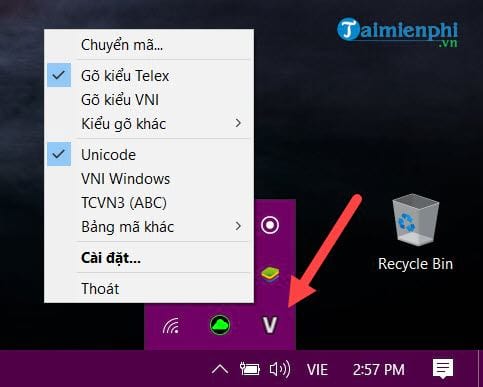 Above is how to use the basic EVKey to help readers understand more about the features that the EVKey software has. Although it is a version developed based on the open source code of Unikey, but EVKey has more outstanding features and solves many problems that EVKey cannot do.
https://thuthuat.taimienphi.vn/cach-su-dung-evkey-go-tieng-viet-tren-may-tinh-35426n.aspx
In addition to the above EVKey, there are many Vietnamese typing software that users can use today to type Vietnamese. Most Vietnamese typing software on the computer is free and if you want to try it, you can refer to the top Vietnamese typing software on your computer right here.
.