Using Deep Freeze freezes the computer hard drive is the way that users still do when installing many software on the computer without losing time to remove, just restart windows and all settings on the hard drive will disappear. lost. Refer to how to use Deep Freeze below by ElectrodealPro for details on how to do it.
Related posts
Freeze removal, remove Deep Freeze freezing software on computer
How to install Deep Freeze, the software freezes the computer hard drive
How to password protect settings using Deep Freeze
The Epic Games Store gives free Stranded Deep
Set of wallpapers creating Facebook status "So Deep"
Deep Freeze Standard protects a computer by shutting down all previous operations and modifications when the program starts. If you want to install any software on your computer for long-term use, you must turn off the operation of Deep Freeze Standard before you can install it. If you do not understand the working principle of this hard drive freezing software, please refer to the instructions below.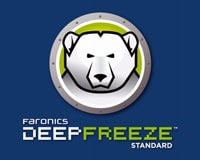 How to use Deep Freeze Standard
Download some install Deep Freeze software here: Download Deep Freeze
If you are not sure how to install, you can refer how to install Deep Freeze has been guided by ElectrodealPro in the previous article.
Step 1: Since Deep Freeze Standard does not have an icon on the Dexktop screen, but only a small white bear icon in the system tray, so you can only open this utility by holding down the key. Shift on the keyboard and Double click in the system tray icon or using key combinations Ctrl + Alt + Shift + F6.
Click OK to enter the Deep Freeze Standard interface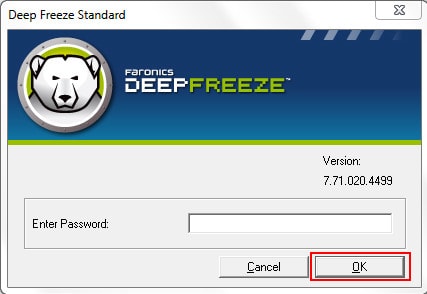 Step 2: On the interface of Deep Freeze Standard, at Tab Status There are 3 main settings for you to choose from.
– Boot Frozen (default mode): Activate freezing mode, prevent all operations such as copying, overwriting, deleting .. data.
– Boot Thawed on Next: Allow the computer to restart with a predetermined number of times (select in Restarts) in a state where the hard drive is allowed to write, install normally.
– Boot Thawed: Turn off freeze mode, which means you can now install, write or delete data on your hard drive normally.
After you have selected the modes, click Apply and Reboot
Attention: The computer must be restarted for the modes to be activated.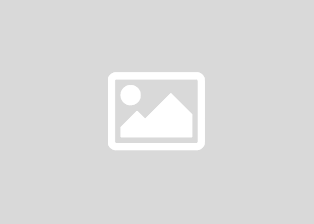 After the setup is complete, all operations such as installing, recording or deleting … the data on the hard drive will be immediately removed when you click on freeze mode, which means whatever you are doing. proceeding to the frozen hard drive returns to the state right before freezing when we restart the computer. Download Deep Freeze to use sometimes is quite useful for example if we install a file that is infected with a virus, then just restart the computer. Freeze hard drive can only function normally when freeze mode is off or remove freeze Deep Freeze out of the computer.
In addition to Deep Freeze Standard, you can refer to many other hard drive freezing software that is appreciated by other users available above at taimienphi.vn such as Shadow Defender, Power Shadow, Returnil Virtual System Premium Edition … In it , Shadow Defender provides tools to protect the computer's files from the intrusion of viruses or other effects without complicated manipulation or using other support programs.
https://thuthuat.taimienphi.vn/cach-su-dung-deep-freeze-standard-dong-bang-o-cung-469n.aspx
Good luck!
.