The method of transferring data between a phone and a computer or transferring files between a phone and phone is now much simpler, as there are countless applications that support the conversion process such as Copy My Data. Copy My Data is a free application for smartphone devices to transfer data back and forth even without the Android and iOS operating systems.
The application relies on a WiFi network that connects Android and iOS to link and connect them together. So you can transfer any type of file from Android to iOS or vice versa from iOS to Android. The conversion process takes place quickly and evenly, the files have been successfully converted for easy user management. The following article will guide you how to transfer data with Copy My Data.
How to transfer photos and videos from your phone to your computer
Transferring data from Android to iPhone is easy
How to use Xender to share files across platforms
How to share data between 2 iOS devices with AirDrop
Instructions for using Copy My Data to transfer data
Step 1:
First of all we need Download the Copy My Data app for Android and iOS Follow the link below and proceed to connect with WiFi on both connected devices.
Download Copy My Data for Android
Download Copy My Data for iOS
Step 2:
After installation is completed, the user proceeds grant access to the application be notified on screen.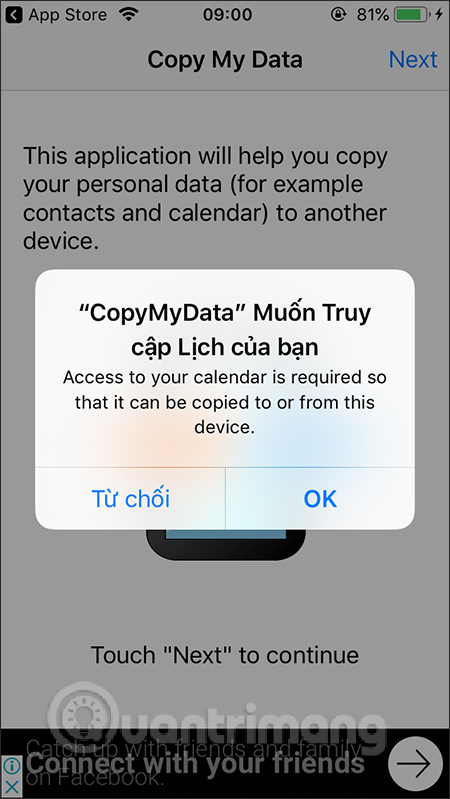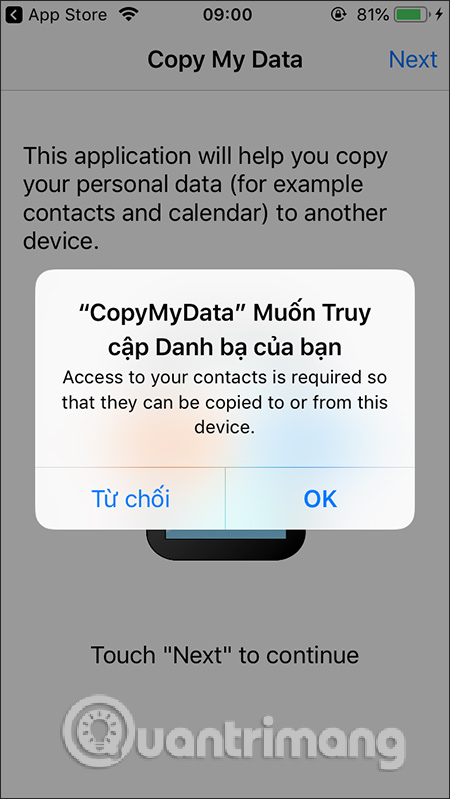 Next we will proceed Transfer data from iPhone to Android, Candlestick at the iPhone screen Click on the item To or from another device over WiFi. When 2 devices connected to the same network you will see Android device name to transfer data displayed in the next screen.
Note to the user, the process of searching for devices connected via WiFi can take a few minutes, so you need to ensure a stable connection source. In case the device name cannot be found, restart the app and reconnect WiFi on both devices.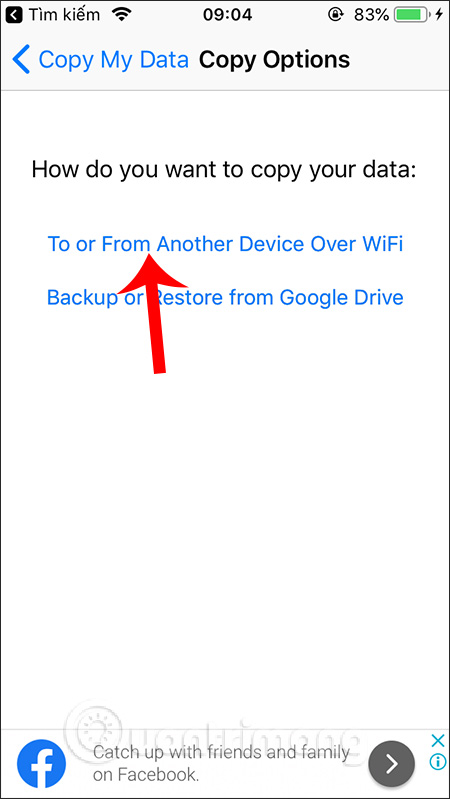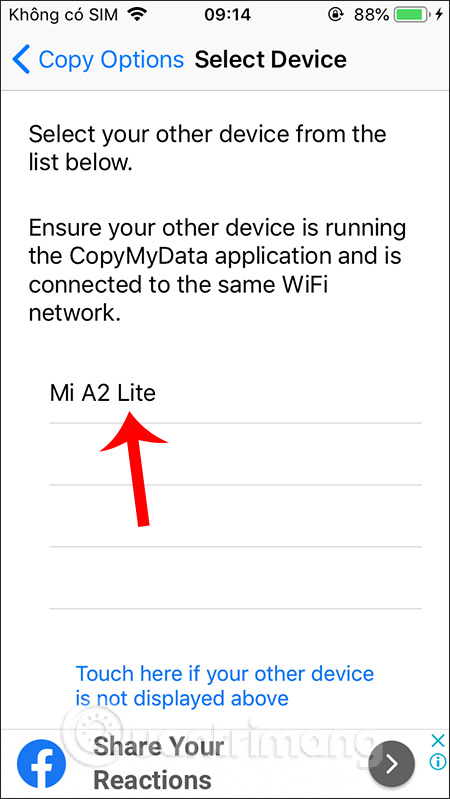 Step 3:
Click on it Android device name to pair. Switch to the new interface, the user has two different options: Copy data to selected device (transfer data from iPhone to Android) and Copy data from selected device (transfer data from Android to iPhone). With this article we will Select Copy data to selected device.
This time on iPhone Provide a connection code to Android devices.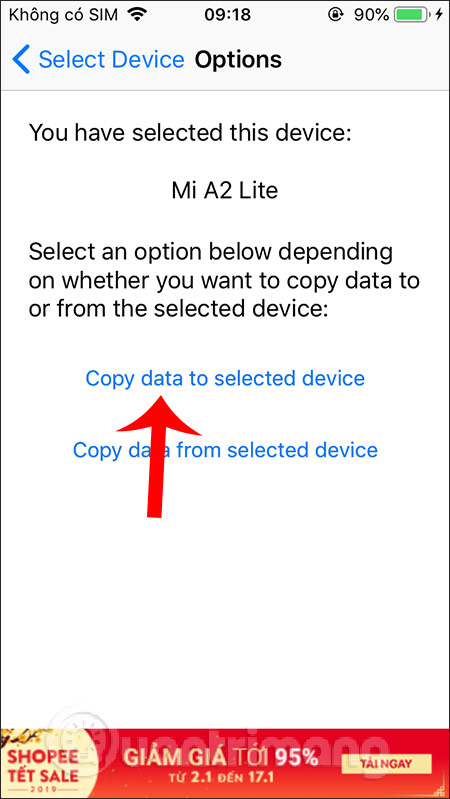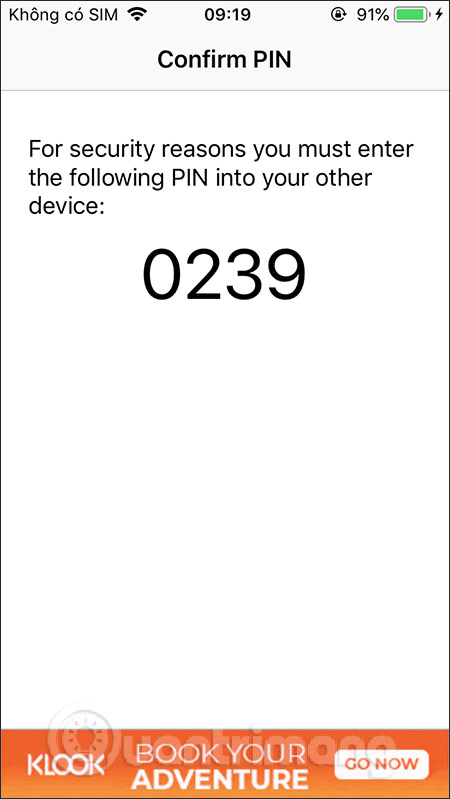 We will Enter this code into the application interface Copy My Data on Android already Click Next below to continue.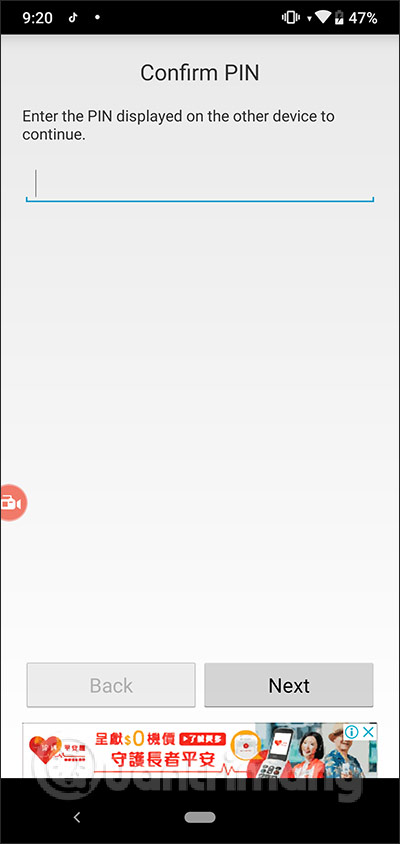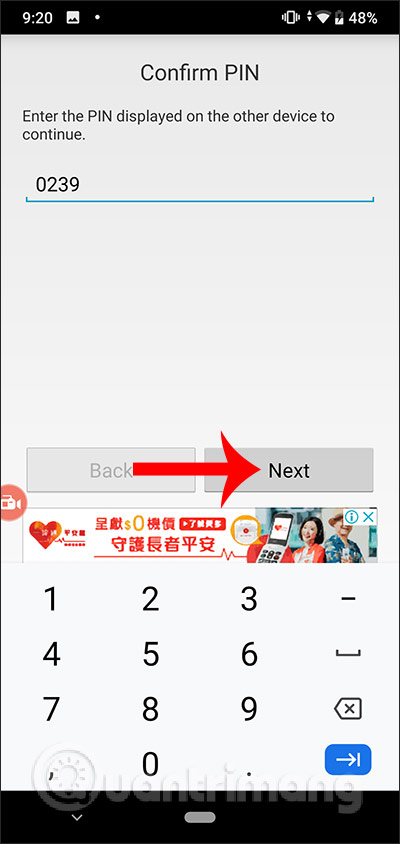 Step 4:
On the iPhone screen shows the The data you want to copy to Android. If you don't want to copy anything, move the white circle button to the left, Click Next in the upper right corner to continue.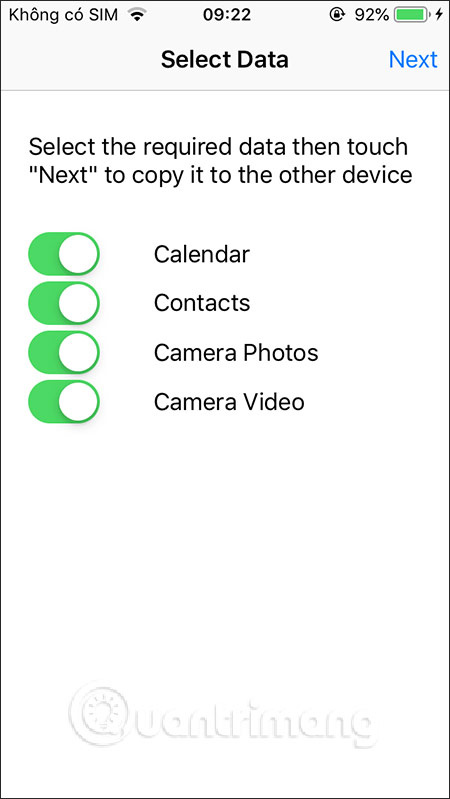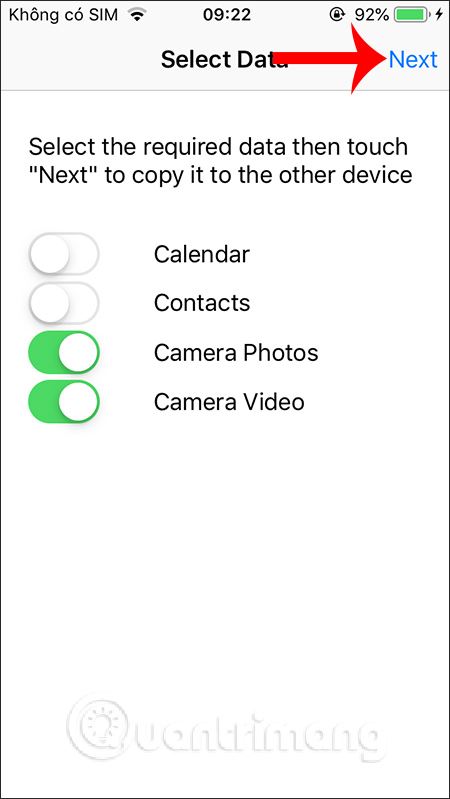 Step 5:
Immediately the data transfer process will take place on iPhone with Transferring Data interface. Users will see details of the amount of data to be converted. When the process of transferring data from iPhone is successful, you will see a summary list of the number of files transferred to Android, here are photos and videos.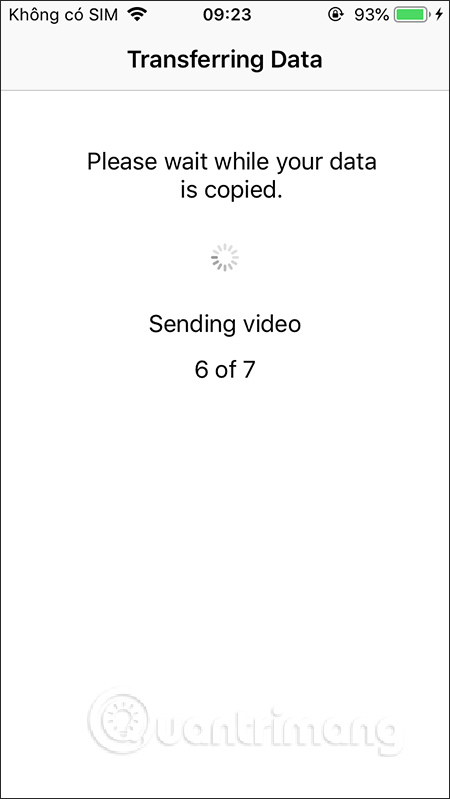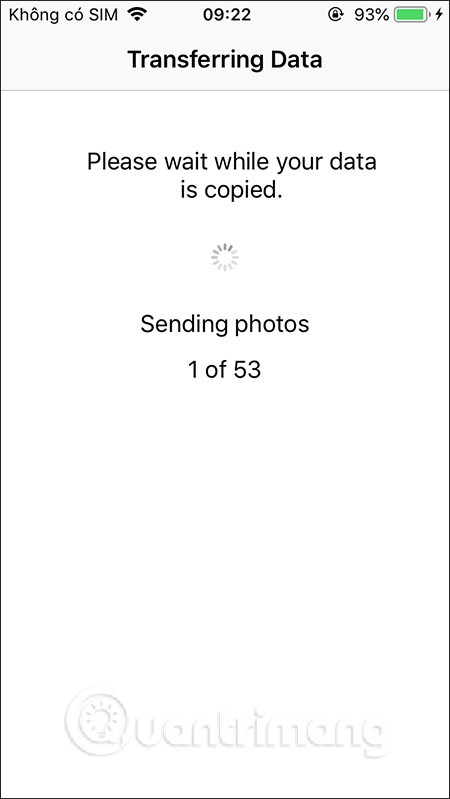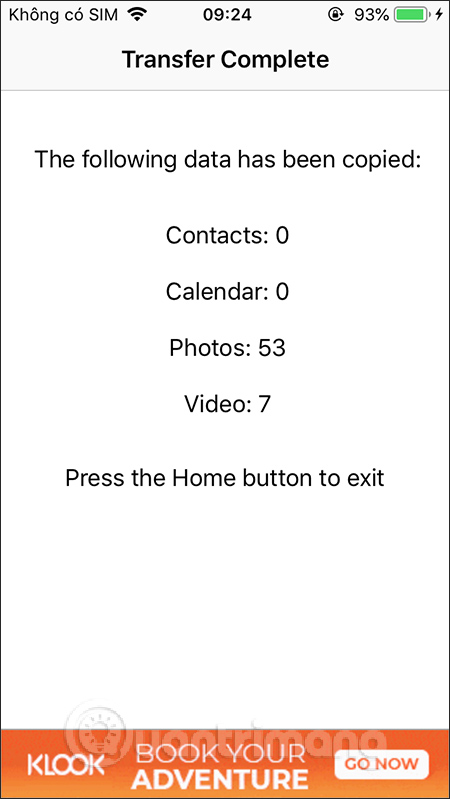 With Android device, the process of receiving data is also conducted simultaneously with the process of transferring data from iPhone. When receiving data successfully we also see a list of the number of files received. Click Finish to exit.
Note, during the transfer and receive data, it is not allowed to turn off WiFi or turn off the phone screen. When the number of transferred files is displayed, it is successful.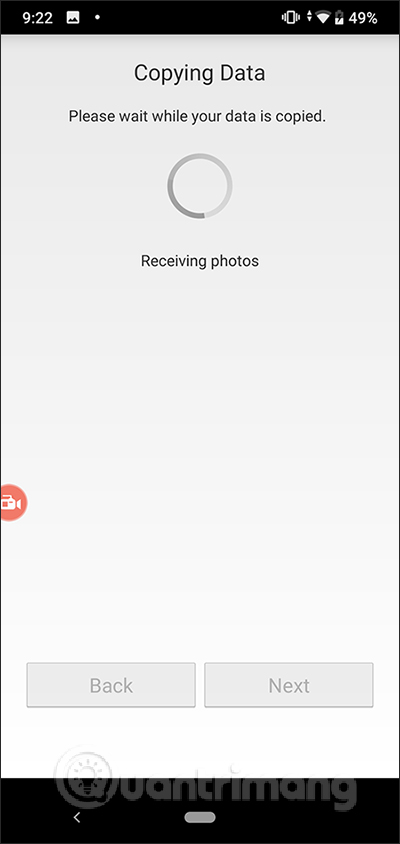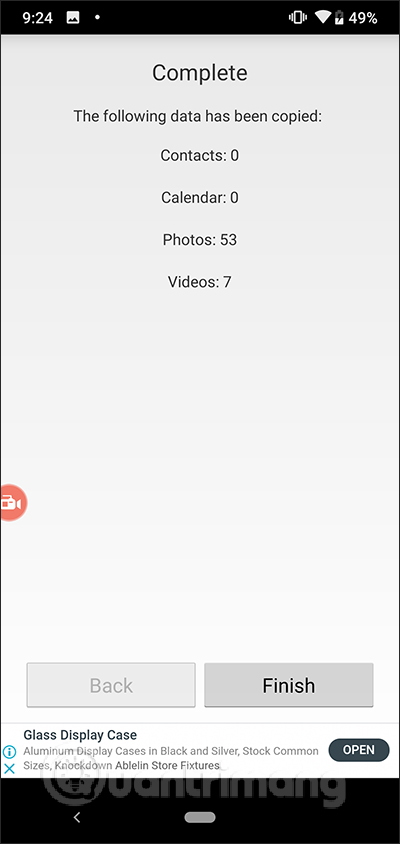 Only with the Copy My Data application, the transfer of data between smartphone devices is much easier. We do not need cables or have to rely on computers to mediate data transfer. Hopefully in the near future the manufacturer will provide more different types of data to transfer between the two devices.
I wish you successful implementation!
.