Bandicam includes screen recording mode, game recording mode and device recording mode. So through this software, users can use it for many different work purposes such as guiding a certain operation on the computer or recording video games. Details of how to use it Bandicam how? Please follow the article below.
Related posts
What's new in Bandicam 4.5.1.1597?
Find Out The Benefits of Bandicam, the best screen capture and video recording software
How to install Bandicam, a computer screen recording software
Bandicam 4.5.8.1673 – High quality screen recording
Minimum computer configuration to install Bandicam
Would you like to share your gaming skills with others or record a tutorial on how to use your favorite show. Bandicam is a screen recording program that allows you to easily record games in full screen or any part of the screen. See detailed instructions below to learn how to use Bandicam including installation steps, video recording and screen capture with Bandicam.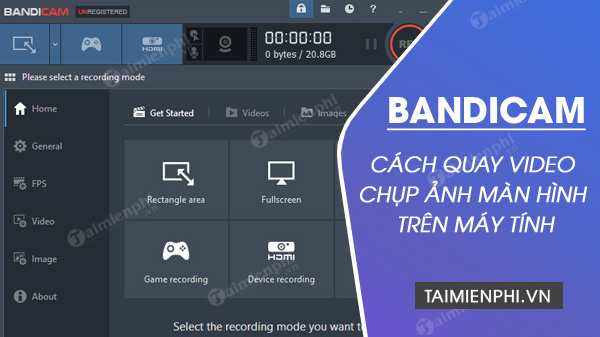 User guide for Bandicam software
How to use Bandicam to record videos, take screenshots
1 – Install Bandicam
Step 1: Download the Bandicam installation file here:
=> Link Download Bandicam for Windows


Step 2: Navigate to the directory containing the installation file, right-click and select Open.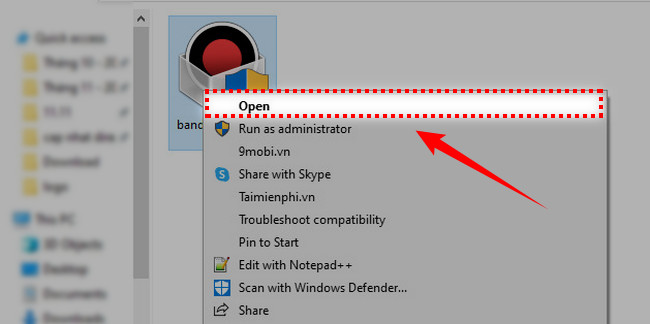 Step 3: Choose Yes.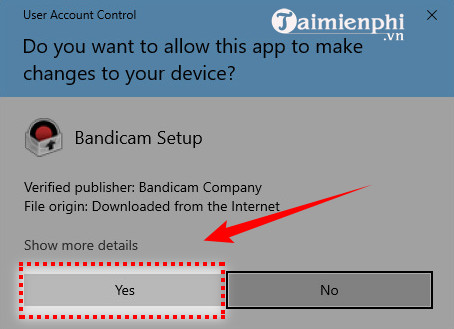 Step 4: Select the language for the software, here I choose the language is English (English), click OK to continue.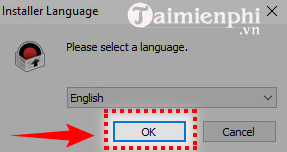 Step 5: Choose next.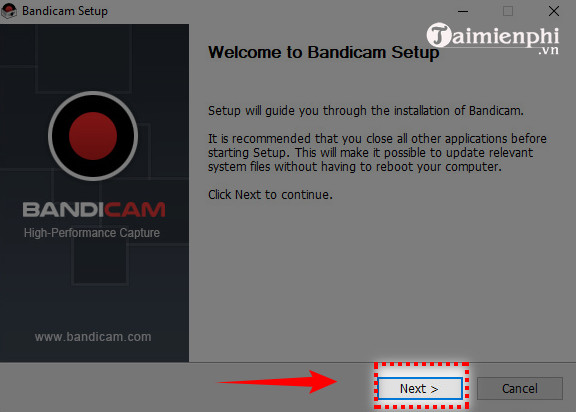 Step 6: Click to select I Agree to agree to the terms of use of the software.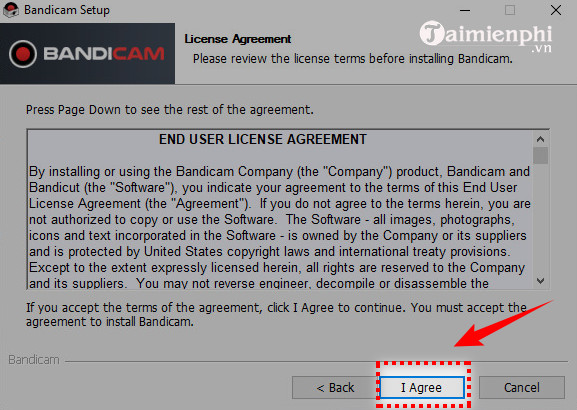 Step 7: Choose next.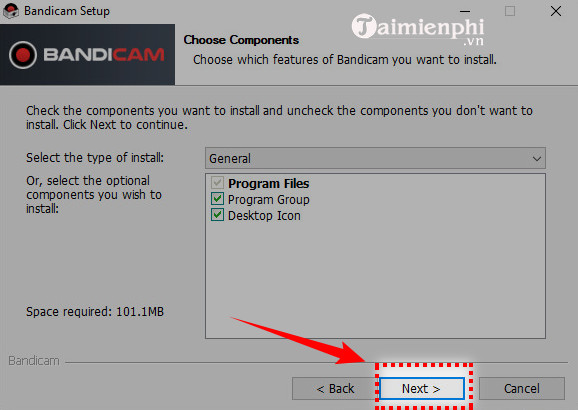 Step 8: Click Browse to select the drive containing the installation file, then click Install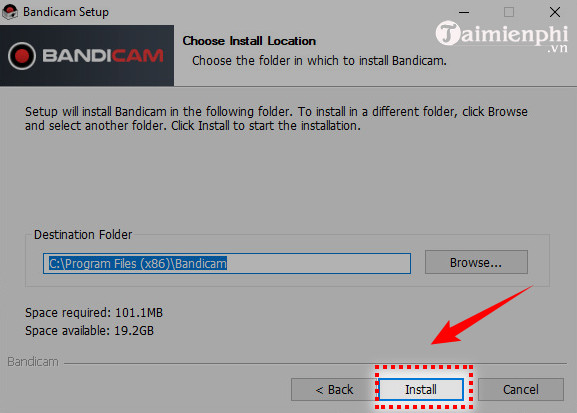 Step 9: Bandicam installation takes a few minutes.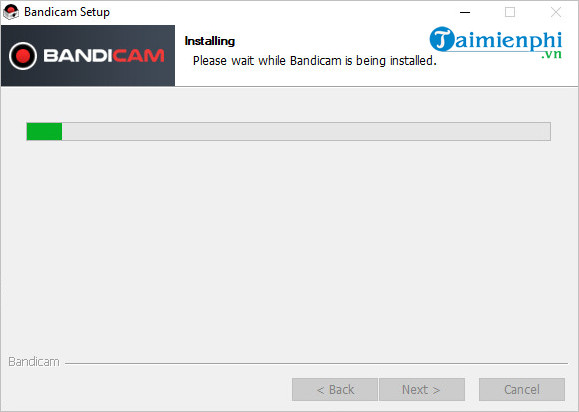 Step 10: Checked Run Bandicam If you want to start the software right after the installation is complete, then click finish.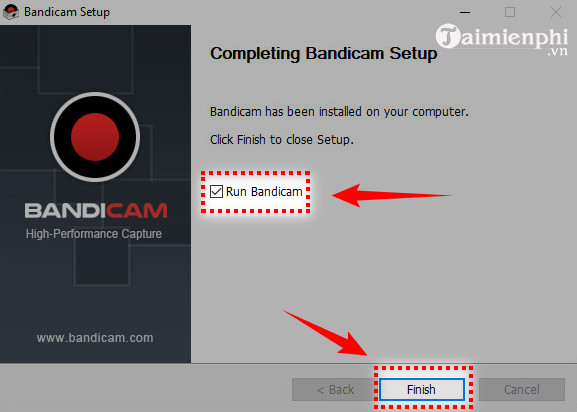 And here is the working interface of the software after a successful installation.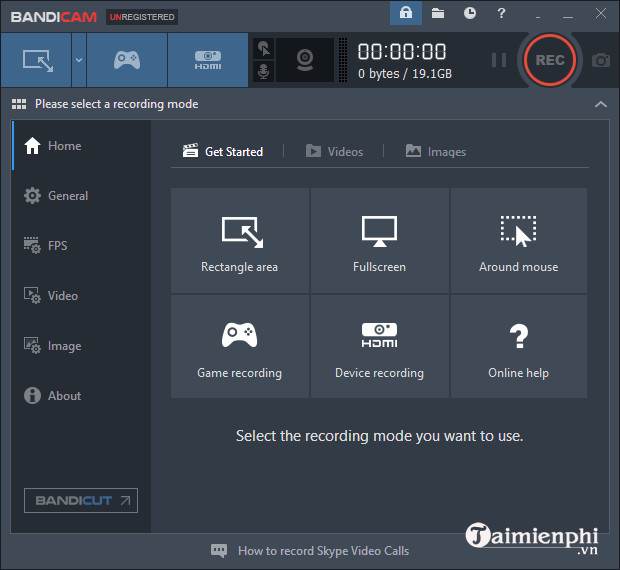 2 – How to record screen video using Bandicam software
In the procedure of using Bandicam, there is an indispensable guide to recording the screen as well as recording video games on computer with Bandicam
Details: How to Record a video of your computer screen with Bandicam
Screen recording of the Desktop
Step 1: Start the Bandicam software and click on the rectangular icon in the upper left corner of the screen.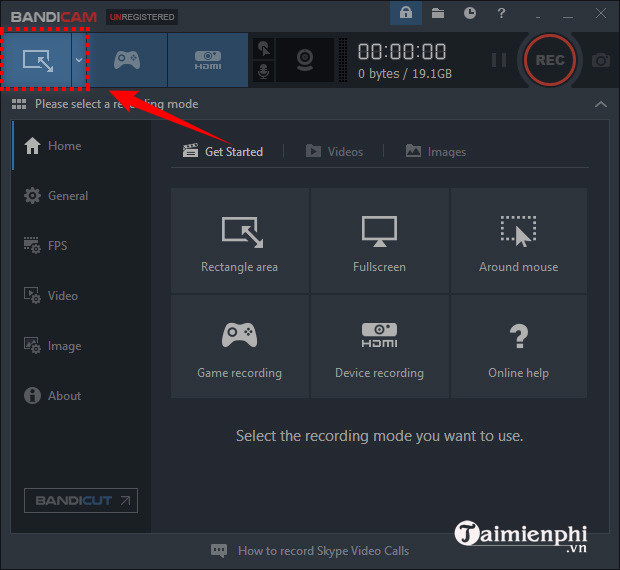 Step 2: Select a screen recording mode.
You need to select one of the following screen recording modes:
– Select a recording area: Hold down the mouse button to scan to an area to be rotated on the screen.
– Rectangle on a screen: There are a variety of fixed window sizes available, or you can change it by dragging the window edges before rotating.
– Full screen: Record video, take pictures in full screen.
– Around Mose: Just get the areas around the cursor.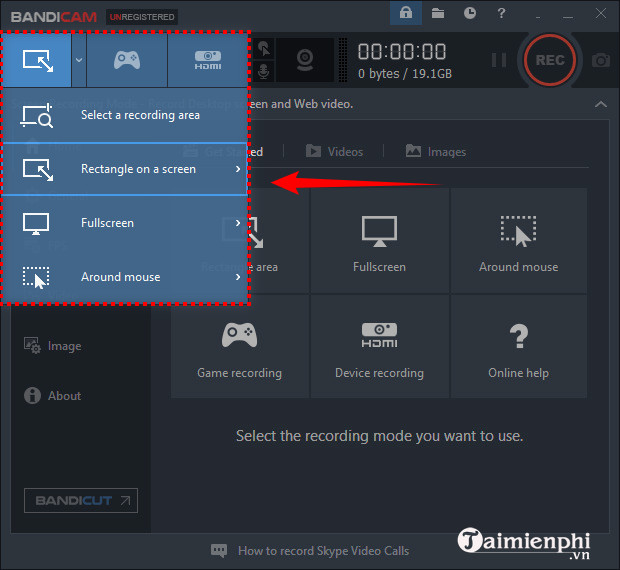 Step 3: After selecting the recording mode (here I choose the full screen recording mode – Full screen), please click the button REC to start screen recording.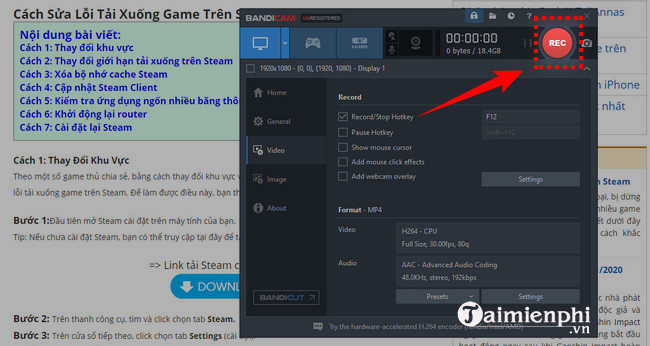 Screen recording game play
You click on the game icon and go to the Video section of the software's working window. Here, we can change the Record / Stop Shortcuts or use the F12 key according to the program's setting.
You can also use other settings such as use pause shortcut, Show mouse pointer, Add click effect, Insert Webcam to create small frame for webcam while recording. Want to use any option just tick that option. Then open the game, click the record icon REC to record video games.
Click Pause to stop or Stop to finish recording the screen.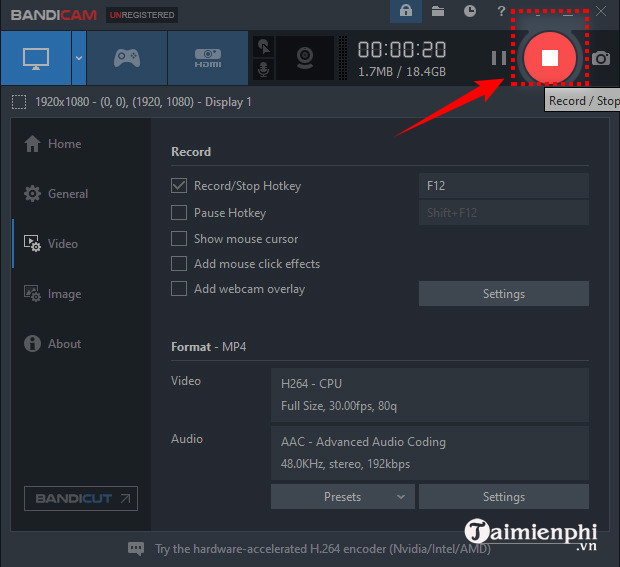 3 – How to take screenshots using Bandicam software
See also: How to take a screenshot with Bandicam
* Besides the normal screen capture feature, Bandicam also supports a number of other advanced options. Click on the item Image to establish:
– Hotkey: shortcut to take screenshots.
– Repeat screen capture: Adjust screen capture to repeat after a certain period of time.
– Show mouse cursor: shows the mouse pointer in the snapshot.
– Add logo overlay: insert a personal icon in the photo.
– Enable shutter sound: with recording sound.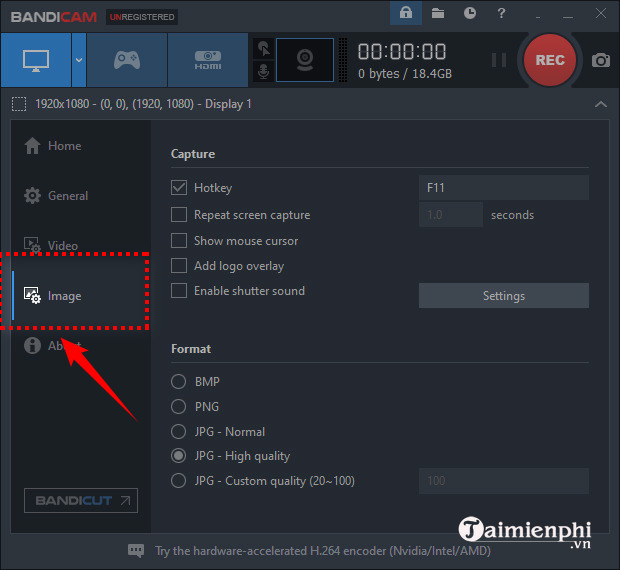 * To take a screenshot of your computer using Bandicam, you can press the F11 key or click the small camera icon next to the REC word.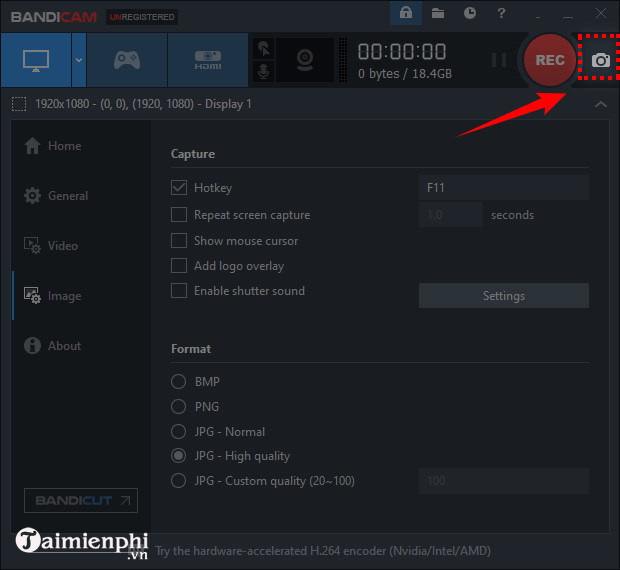 All videos and screenshots are saved in the output folder. If you don't change these save addresses, they'll be in Documents / Bandicam by default. You click on the Folder icon (Open Output Folder) to open.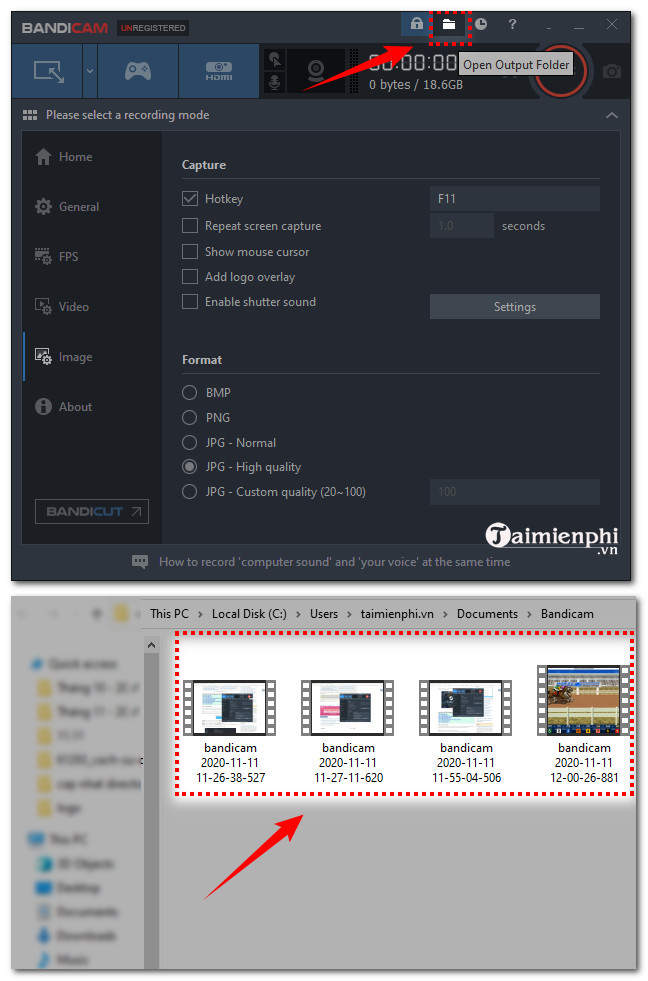 https://thuthuat.taimienphi.vn/cach-su-dung-bandicam-quay-video-chup-man-hinh-61293n.aspx
Above are detailed instructions on how to use Bandicam from the installation to video recording or screen capture. The software can record everything on your PC screen as high quality video as well as capture screenshots with a high compression ratio that is far superior to other screen recording software providing the functions. the same, similar.
.