Curious about the new features in macOS 10.15 Catalina version but do not know how to update? Currently this version is in developer beta (the beta will be made public in July). All you need to try out macOS Catalina despite possible errors is having an Apple Developer account.
After spending $ 100 to participate in the Apple Developer Program, you can reach the beta of macOS Catalina. This version features notable new features Sidecar (turning iPad into an external display for Mac), Music on macOS (replacing iTunes) and the new Photos app.
You need macOS 10.15 to use Apple's other betas. On June 4, Apple announced that the installation requires macOS 10.15 beta or Xcode 11 beta, to be installed via iTunes. Many people have questioned this information because Apple removed iTunes in iOS 10.15. However, the tools you need to install the iOS and iPadOS developer beta are available in Finder in macOS 10.15. Just click on the device on the left menu in the Finder after plugging it into your iPhone or iPad.
During installation, you'll get a warning about 32-bit apps installed on your computer that won't work in macOS 10.15. After installing Catalina, you'll see a notification about Screen Time and other new features.
Detailed instructions for Mac software update
How to fix signature error when upgrading macOS
3 ways to downgrade to an old version of macOS
How to install the beta macOS 10.15 Catalina for developers.
Step 1. Go to developer.apple.com and click Account above the top bar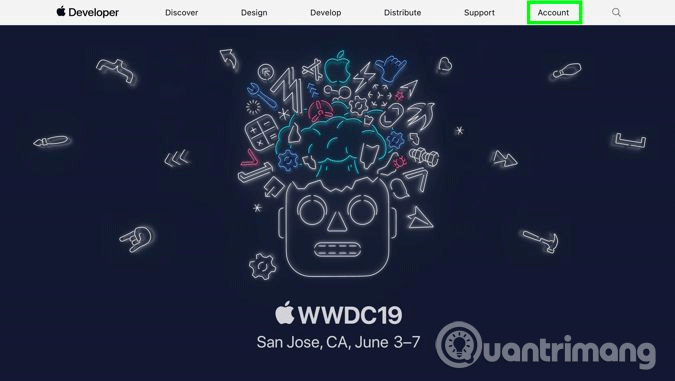 Step 2. Sign in to the Apple developer account.
Step 3. Click Downloads.
Step 4. Click Install Profiles.
Step 5. Click the download button and open the setup DMG file.
Step 6. Mở file .PKG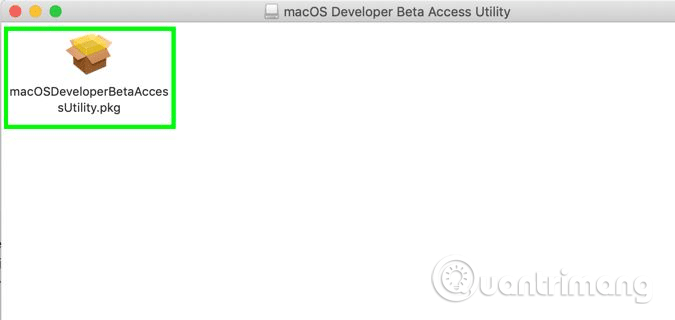 Step 7. Click Continue.
Step 8. Continue to click Continue.
Step 9. Click Agree to agree to the software license terms.
Step 10. Click Install to install the beta.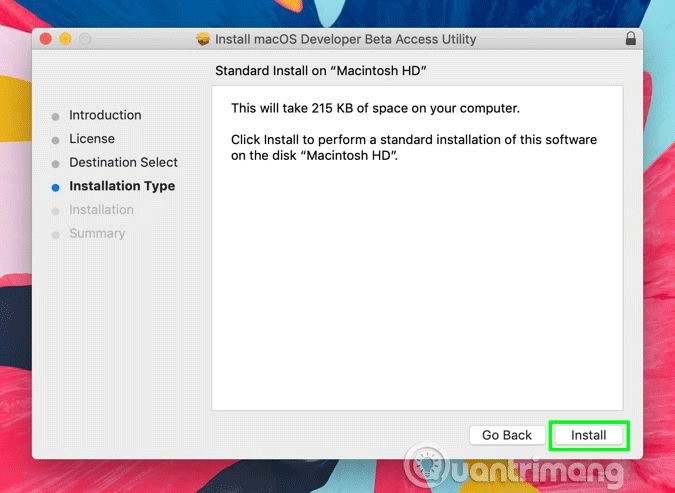 Step 11. Enter the system password or use Touch ID to verify the account.
Unlock Mac with Touch ID on iPhone
Step 12. Click Close after the installation is completed.
Step 13. Click on the Apple logo in the top left corner.
Step 14. Choose System Preferences.
Step 15. Click Software Update.
Step 16. You should see macOS 10.15 Catalina dev beta option, click on Update now.
Step 17. Click Continue.
Step 18. On the next page, click Agree to agree to the software license terms.
Step 19. On the dialog box that appears, click Agree once again.
Step 20. Click Install.
Step 21. Click Continue when the installer detects that an app is not running on macOS 10.15.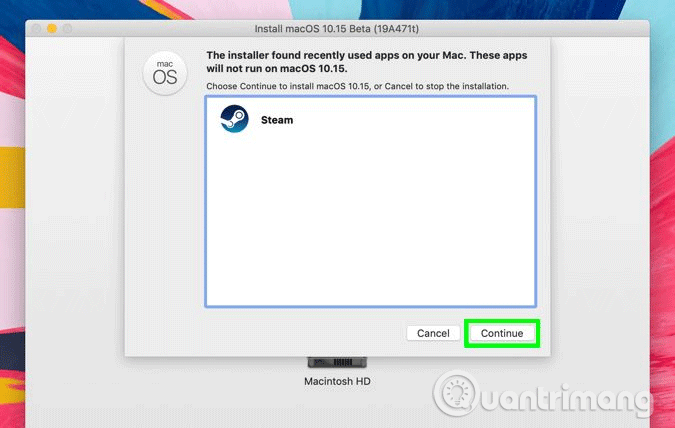 Step 22. Log in as an administrator.
Step 23. Wait for the installation to complete.
Step 24. After the installation is completed, click Restart to restart the computer.
So your Mac is running beta of Catalina.
Wish you all success
.