If you have an Xbox One connected to your living room TV, the amount of time you spend gaming can take up the rest of your family. What happens when someone wants to watch TV? Usually, you have to get out of your seat to wait for your turn, but thanks to Xbox game streaming, you have another option.
All you need is a backup Windows 10 PC, a good connection between your Xbox One and your router so you can stream and play Xbox One games while sitting in front of your PC. Here's how to do it.
How to stream Xbox One games to Windows PC
Enable Xbox game streaming
Connect to Xbox on Windows 10 PC
Check and correct streaming quality settings
Enable Xbox game streaming
Before you can stream Xbox games to your PC, you'll need to connect to your Xbox.
1. Turn on Xbox One and go to Settings. You can do that by pressing the Xbox button on the controller and scrolling with D-pad.
2. In the area Settings, Please scroll down to the section Preferences and choose Xbox app connectivity.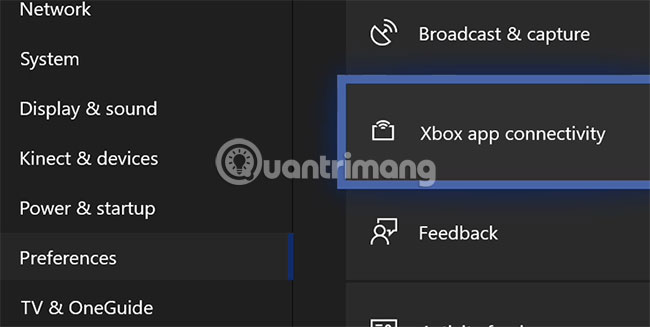 3. Activate the feature "Allow connections from any device" or "Only from profiles signed in on this Xbox" in section Other devices. In section This Xbox, Please enable the option "Allow game streaming to other devices".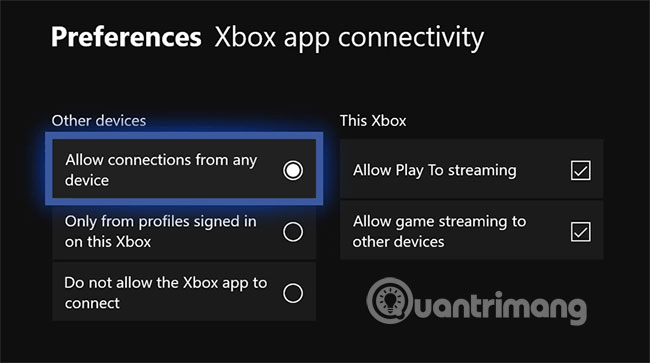 After completing these steps, you can return to the Xbox One home screen. Make sure your Xbox One is connected to your local network (wired connection is preferred in this case). If you cannot connect using an Ethernet cable, make sure that you are using a good quality wireless connection with high bandwidth and low interference (like 802.11ac connection on the 5GHz band).
Connect to Xbox on Windows 10 PC
Xbox One is ready to connect, so head over to your Windows 10 PC and make sure you have the Xbox One app installed (most likely pre-installed). If you already have this app, then connecting to the Xbox is pretty straightforward.
1. First you will need to login. If you use a Microsoft account to sign in to your PC, it will be used by default. If you use a different Xbox account, tap Sign in and choose Not you? at the top, otherwise select Let's play.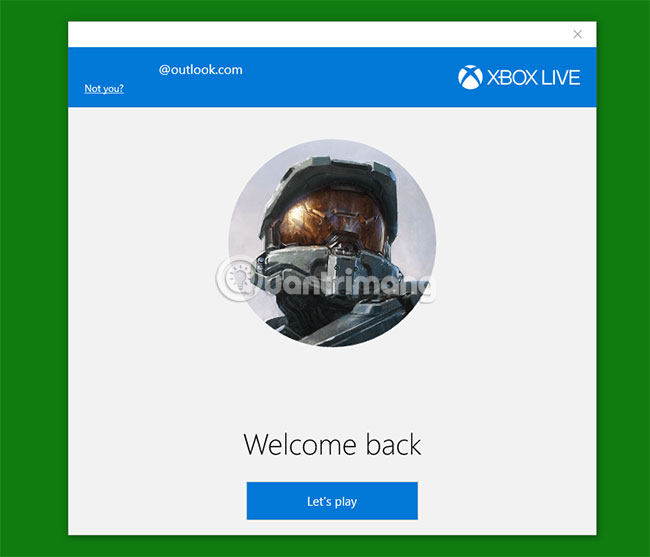 2. Click the streaming icon in the menu on the left, just above the settings icon at the bottom. The Xbox app will scan the network for Xbox One consoles, so choose the Xbox you want once the scan is done, listed under Add a device.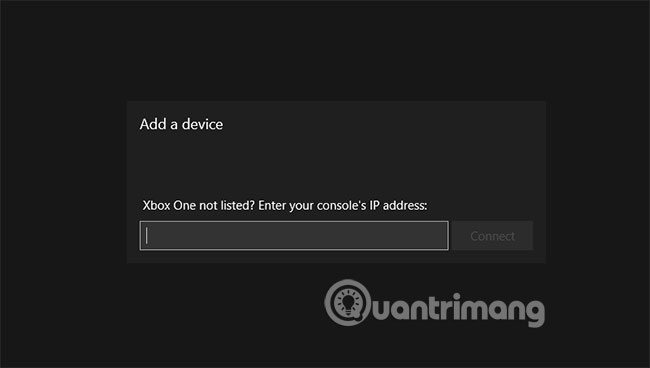 3. If the Xbox app can't find your Xbox, use network analytics software to find your Xbox One IP address. Alternatively, you can go ahead Settings > Network > Network settings > Advanced settings on Xbox One to find it. You can then use your Xbox IP to manually connect to the Xbox.

4. Once the Xbox is connected, you can start streaming Xbox games to your PC by clicking Stream. If this option is disabled and mode Instant On already enabled, you can click Turn on to turn on Xbox on the remote.

When you click Stream, Xbox will begin streaming the game directly to your PC, where you can start controlling the Xbox controller. If you're too far away from your Xbox, you can connect your Xbox One controller to your PC instead.
Check and correct streaming quality settings
It's best to check the streaming quality before you start playing to avoid lag. To do this, select Test streaming in the area Connection on the Xbox app, then click Start test.

Once the test is complete, the Xbox app will give you results of streaming quality levels ranging from low to very high.

You can set your preferred streaming quality after you start streaming. Hover in the streaming window to bring up the menu at the top and hit the quality icon on the right side. If you need to improve (or lower) your streaming quality, you can do it anytime.

When you're done, use your PC streaming connection as if you were sitting in front of Xbox One. Navigate to the home screen, select your favorite game and start playing.
Only Xbox One supports game streaming (at the moment), and as the article explains, the setup process isn't complicated at all. Whether you want to go back in time with Assassin's Creed or take down your enemies on Fortnite, you don't have to sit in front of the TV to do it. If you're looking to share a single Xbox in your family, especially with kids, this method of streaming Xbox games works very well.
Do you have any tips for sharing Xbox games you want to share with everyone? Feel free to leave your comments in the comments below!
Hope you are succesful.
.