It is difficult to imagine when you want to know the current percentage of battery capacity of the device by looking at its icon on the system tray in addition to clicking and dragging the mouse. If you find this inconvenient, you can use the Battery Percentage Icon to monitor your device's battery capacity in a clearer and more intuitive way. It also has the ability to warn (color) whenever the battery is low, or within a certain level.
Battery Percentage Icon has an extremely compact installation capacity of 604 KB, it is compatible with Windows 10. You go to here or follow the link below > click Get to install.
Developer: Soleon Innovation
Price: Free
Open Battery Percentage Icon, the application will display the current battery percentage of the device on the system tray (next to the battery icon of the device). Click to see more information about the battery.
– Battery capacity: Shows % remaining battery.
– Charge rate: Shows how much mW is being charged to the battery.
– Design capacity: Standard capacity of the battery, in mWh.
– Full charge capacity: Maximum capacity of the battery when fully charged.
– Remaining charge capacity: The remaining battery capacity that the device has.
– Battery status: Charging state, not charging the battery.
– Battery health: Battery health status.
When looking at the parameters Design capacity and Full charge capacity, you can know how much capacity your battery has.
By default, Battery Percentage Icon updates % of battery capacity every 10 seconds, you can change it in Settings > Refresh battery every by clicking on the % battery icon of the application will see the access option.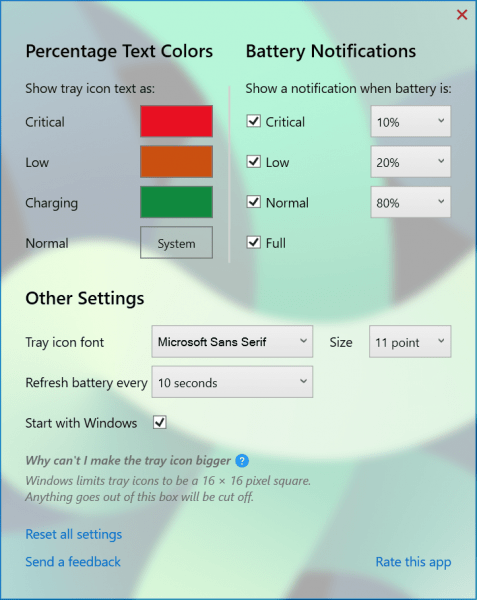 When the battery is at 10% (Critical) then you will get a color message warning the battery is very low, you can change the color and percentage of the warning at Battery Notifications and Percentage Text Colors.


Hùng Anh