If in a previous article, ElectrodealPro shared with you the instructions to remove linked apps on Facebook in general, today, ElectrodealPro will continue to share more about how to remove applications associated with Facebook on Android through app settings.
Related posts
Facebook – Uninstall, remove apps on Facebook
Remove the Facebook and Garena link in the game
Disconnect Facebook with Skype
Remove unnecessary apps on Facebook
Block invitations to play facebook apps
With a huge library of linked apps, games and services, Facebook is in danger of becoming a new digital "trash". Not to mention, linked apps can be the top target for hackers, leading to a high risk of data theft, or a locked Facebook account.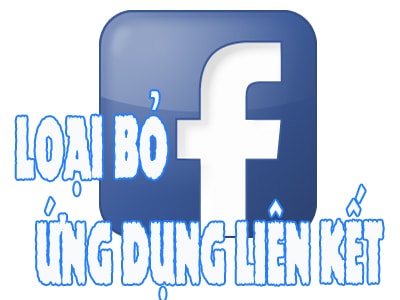 To avoid such dangers as facebook being locked, users need to self-protect by removing and removing applications associated with Facebook on Android or iPhone. Of course, the removal of apps linked on Facebook is only done when you want to remove junk apps on Facebook, which are not in use.
How to remove, remove applications associated with Facebook on Android
In the guide below, we will choose Bigo Live as a test application to remove from Facebook.
Step 1: Click on the three dashes icon, then select the item Account Settings.
Continue to click on the item Apps in the bar Settings (Settings) User Accounts.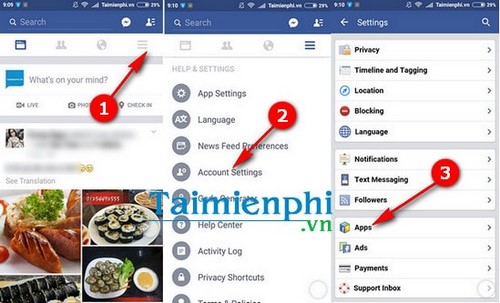 Step 2: Click select item Logged with Facebook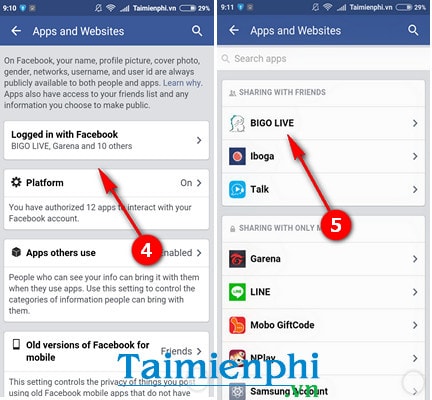 In the view of the apps associated with the Facebook app, you'll see an entry Sharing with friend, ie share with friends when there are notifications from these applications, similar items Sharing with only me is the user's own share.
Click on the Bigo LIVE icon.
Step 4: In the application notification settings view, you will be able to change which app sharing objects from friends to personal or public as you wish by clicking on the item. Visibitlity of app and choose the desired level of privacy.
In the section below are the information that users provide to the app developer including public personal information, friends list, email address.
You scroll down and continue to select items Remove App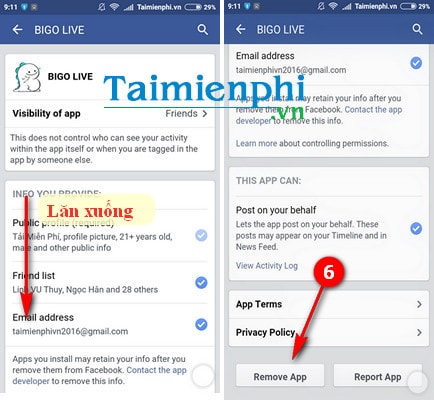 Step 5: To confirm whether the user wants to remove Bigo Live from Faceboo's app circle, click Remove.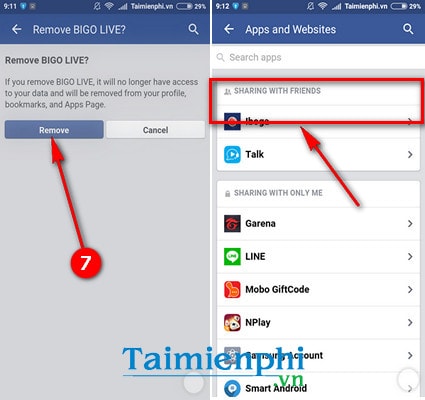 So you have completed all stages of removing the application associated with Facebook on your Android phone, similarly you can do with many other applications easily.
Removing the app linked on Facebook does not require complicated operations, but it is very necessary to calculate before deciding to remove the application associated with Facebook on Android. Because after removal, it will take a long time to re-link. Thus, you need to define in advance to remove junk apps on Facebook accurately, to ensure the fastest annoying removal.
Facebook social network has advantages over other social networking services such as Zalo, Viber or Bigo Live thanks to its vast and diverse connectivity, the way to access Facebook is also very simple on any device from Android to iOS. , after logging into Facebook, users can easily exchange, share or even stream live videos on Facebook that are extremely interesting.
With features stream live video on FacebookYou can chat, share live space with friends around, this is a very interesting feature that is being used on Bigo Live and welcomed by a large number of users. However, based on the needs and entertainment purposes, readers can choose for themselves a social networking service that is most suitable.
https://thuthuat.taimienphi.vn/cach-go-loai-bo-ung-dung-lien-ket-voi-facebok-cho-android-8959n.aspx
.