Installing anti-virus software is essential to protect Windows from annoying things like Ransomware, viruses, trojans, malware, adware, etc. Antivirus is a complex piece of software. The software is deeply linked with the computer system to protect it from Internet threats or the connected peripherals. Therefore, not always work remove anti-virus software from Windows is also an easy job.
You should not use more than one antivirus software on your computer. Windows Defender will be automatically disabled by the system so as not to interfere with other antivirus software. Names you can pay attention to like Kaspersky, Bitdefender, Malwarebytes, … to better protect Windows. If not, you can remove them as Windows Defender alone is enough for the average computer user.
content
Why is it difficult to remove anti-virus software?
Antivirus software is a complex structure. Usually, the developers of Antivirus tools try to make it as difficult as possible so that the software is not removed from your system. This is done with the aim of preventing viruses and other threats from disabling or uninstalling untivirus software without your knowledge. But this is very annoying for computer users. Sometimes, anti-virus programs can render your system unusable.
For example: While uninstalling the software, you may encounter any issues like freezes, system crashes, blue screen, file left over, reboot loop, improper uninstall, etc.
To deal with it, untivirus software developers provide one tool to uninstall antivirus software from Windows. Thanks to that, you can easily uninstall anti-virus programs with just a few clicks. Meanwhile, each software has its own removal tool.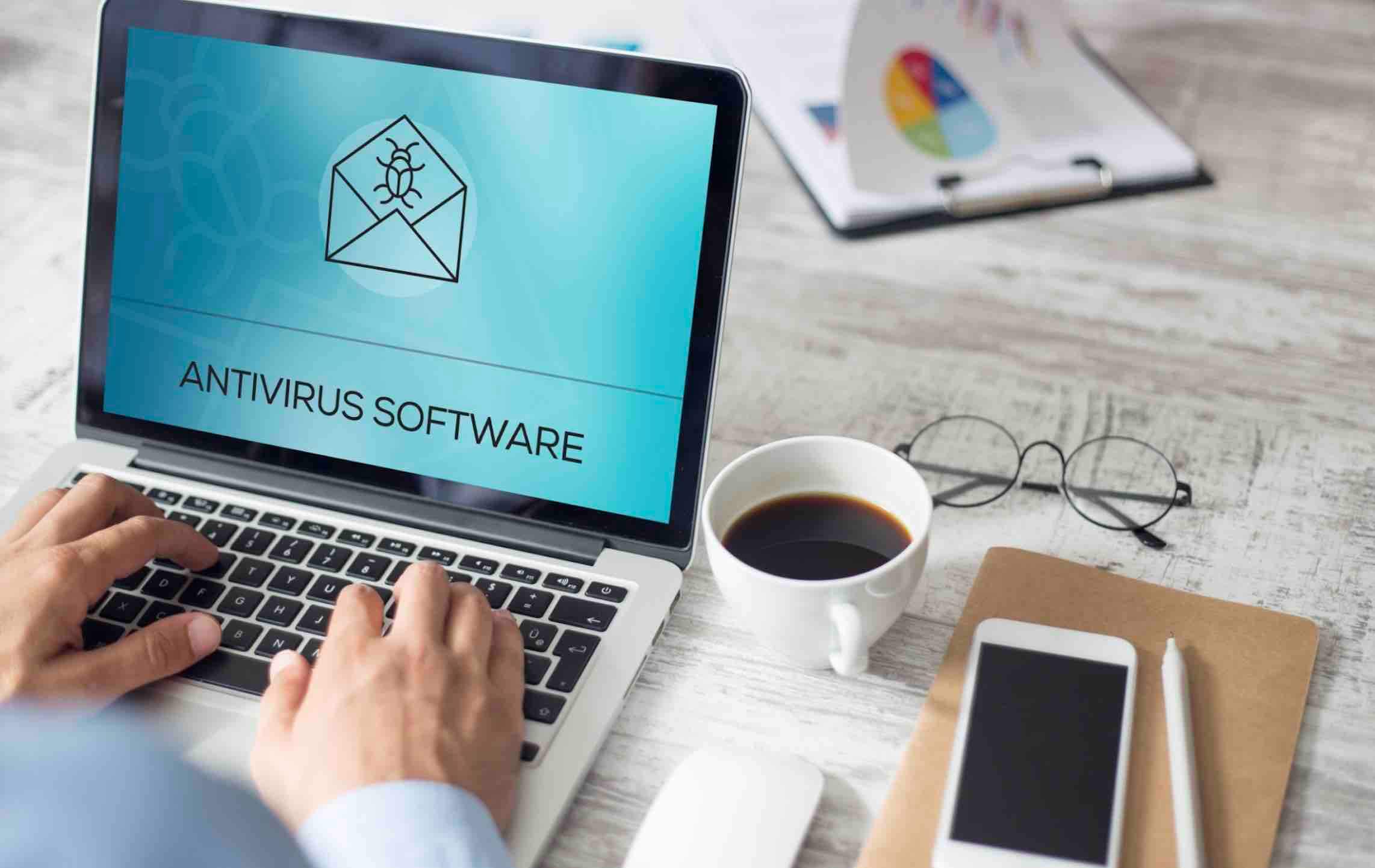 Uninstall Antivirus in Windows
First try to uninstall your antivirus software in the normal way.
You open Control Panel -> Programs and Features.
For Windows 10, press Windows + I to open Settings and tap Apps.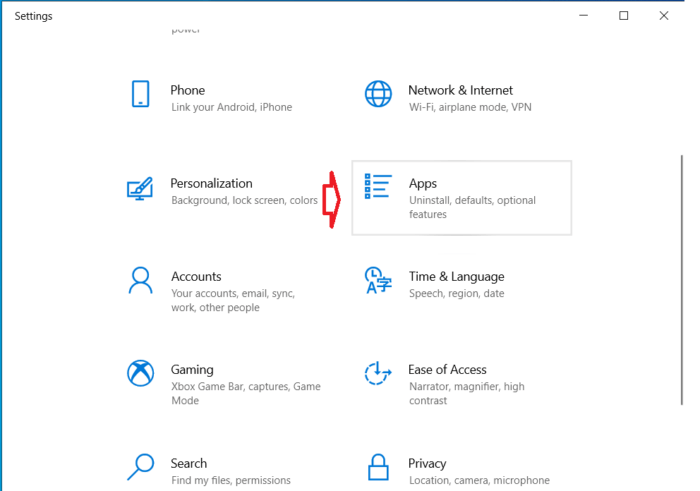 A new window will open, in a tab Apps and Features You select the program on the right and click Uninstall to uninstall.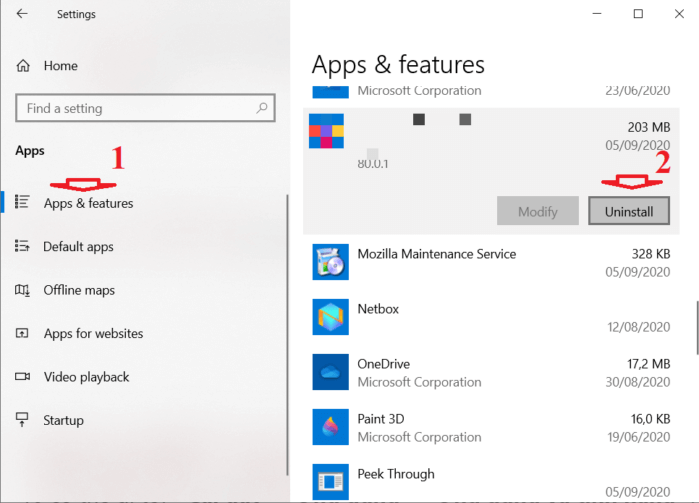 If the uninstall is going on normally then you don't need to use the removal tools below. If not, or you want to be sure to completely remove the anti-virus software, please refer to the instructions below.
Uninstall Bitdefender
Depending on whether you are using a trial or paid version, Bitdefender has different uninstall tools.
Step 1. You go to Bitdefender uninstall page, choose the version, choose your antivirus product type, internet security, comprehensive security, etc. and download the uninstall tool.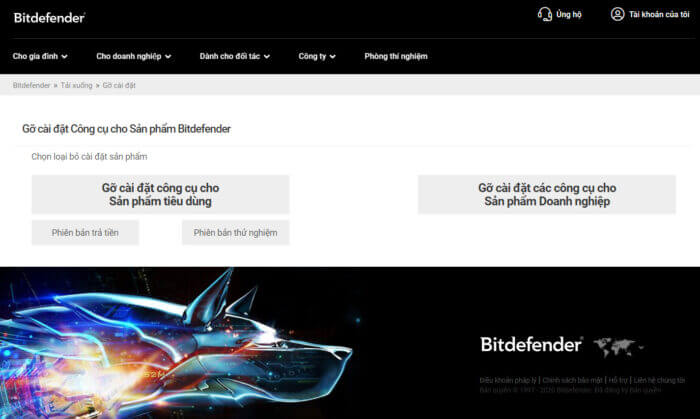 Step 2. Once downloaded, please open Bitdefender uninstall tool and click the button "Uninstall".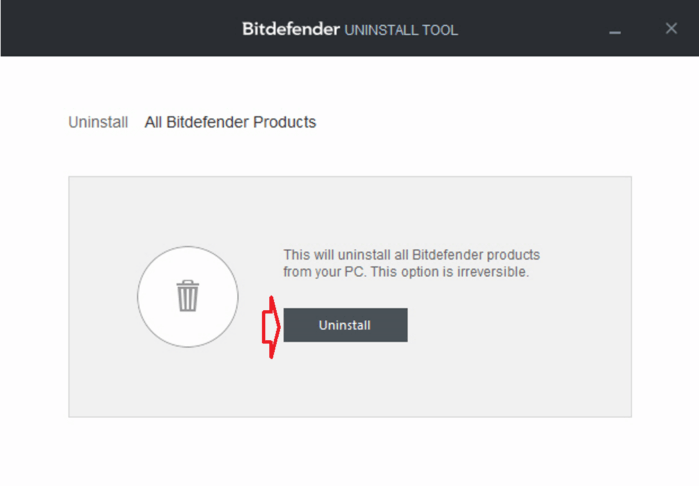 Step 3. It will uninstall all Bitdefender products installed on your PC.
Uninstall AVG
Unlike Bitdefender, AVG gives you a simple tool called AVG Remover to uninstall all AVG software.
Step 1. Download the AVG Remover tool and run it.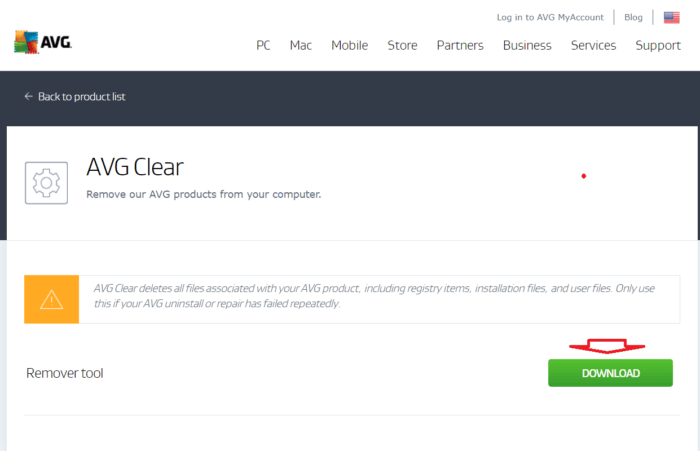 Step 2. Click the button tiếp tục in section AVG Remover and follow the wizard to uninstall the AVG antivirus and other AVG software.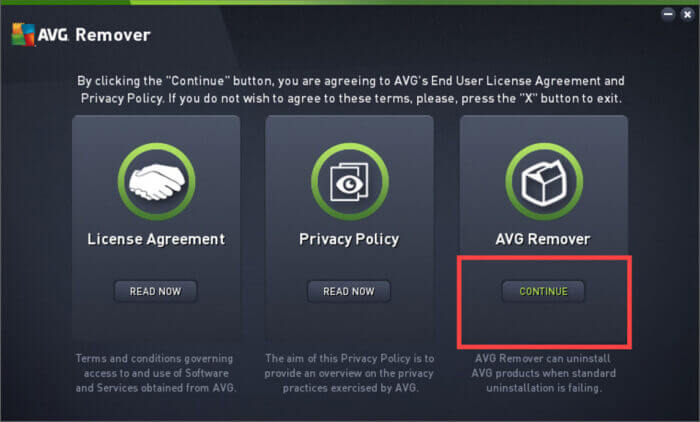 Uninstall Avast Antivirus
Avast also provides a very good tool for uninstalling Avast antivirus software and its other software.
Step 1. First, download the Avast uninstaller tool.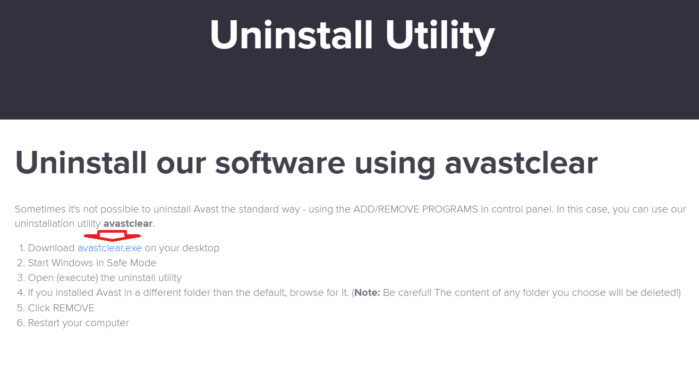 Step 2. Next, boot your computer Safe Mode.
Quick tip: In Windows 10, press Win+ X, point to Shutdown and sign out => Hold down the Shift key on the keyboard and click on Shutdown.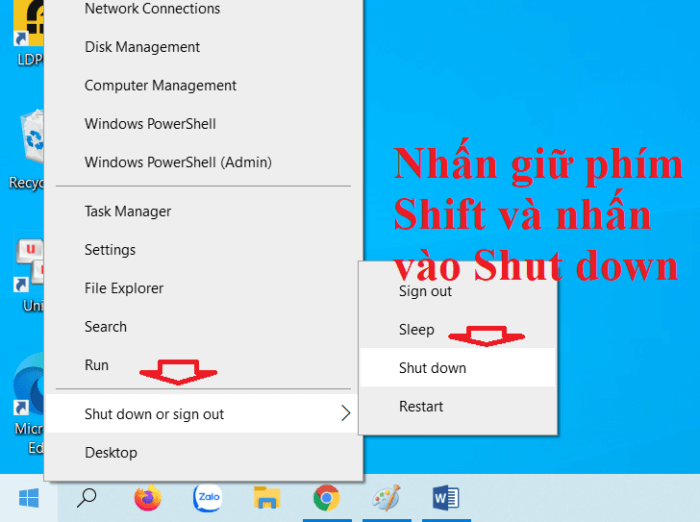 Step 3. In safe mode, open the uninstall tool. Select the Avast product you want to uninstall from the drop-down menu. Then click the button Uninstall to uninstall the Avast antivirus software.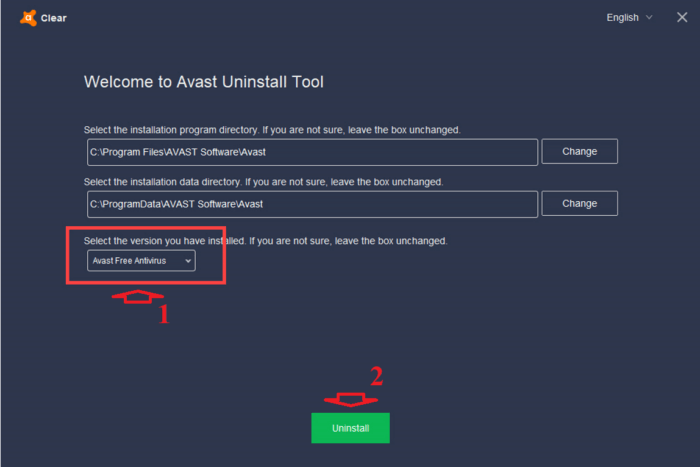 Uninstall Avira Antivirus
To uninstall the Avira software, you must manually delete all related folders and then use Avira Registry Cleaner to delete its Registry keys.
Step 1. First you visit this site to download the tool.
Step 2. After the installation is complete, the software will scan all Avira related data. You tick all the items in the table and click Remove.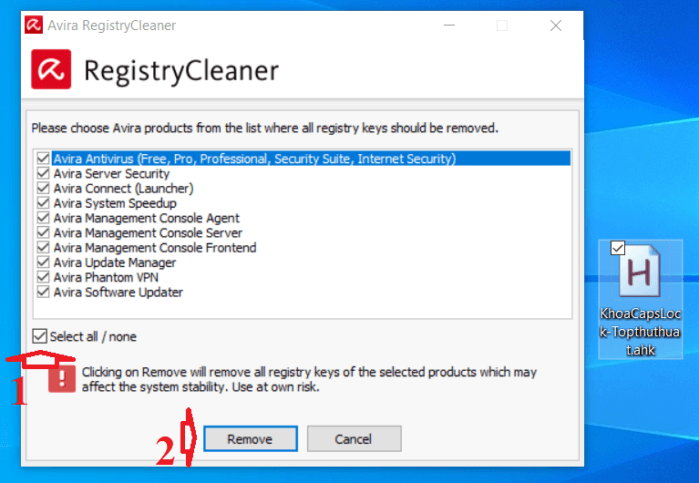 Uninstall Norton Antivirus
Nortan provides the Remover and Reinstall tool to uninstall Norton antivirus and all other Norton software.
Step 1. Go to the official support page and download the Norton Remover and Reinstall tool.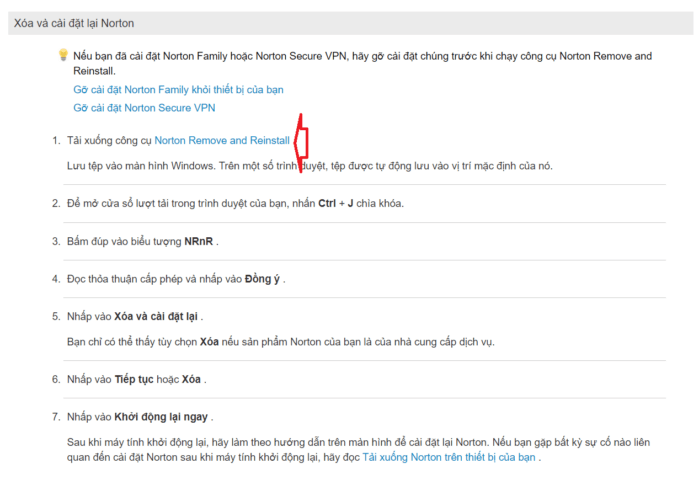 Step 2. After downloading, open Norton Remover and Reinstall tool. Here, click on the link Advanced Options appears at the bottom.
Step 3. Next, click the button Remove Only and do follow the wizard to uninstall Norton software. After uninstalling, reboot your system to complete the process.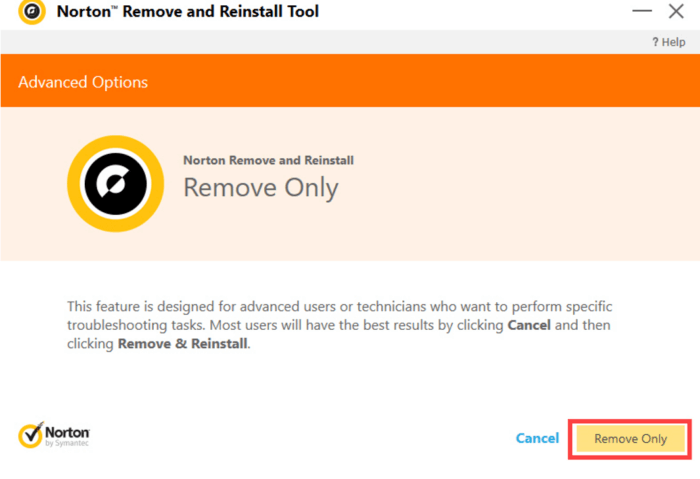 Uninstall Malwarebytes Anti-Malware
Step 1. To uninstall Malwarebytes Anti-Malware, download Malwarebytes Cleanup Utility and run it.
Step 2. Just one click, the tool will automatically detect and remove Malwarebytes Anti-Malware. Once removed, reboot your system.
Step 3. After rebooting and logging into your system, Malwarebytes Cleanup Utility will prompt whether to download and install Malwarebytes again. Click "No" if you do not want to install Malwarebytes.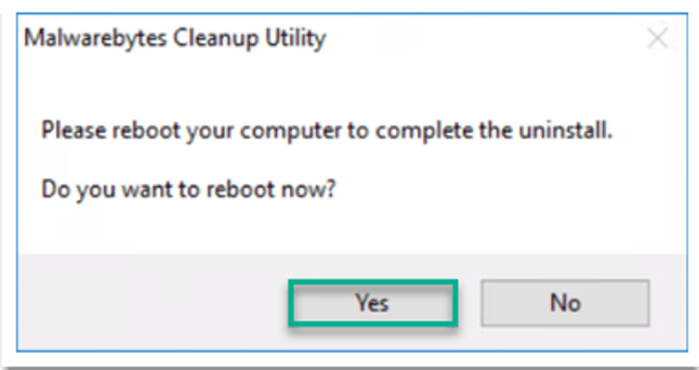 Uninstall Kaspersky
Kaspersky requires the Kavremover tool to properly uninstall Kaspersky anti-virus software or any of its other software.
Step 1. Download Kavremover from the official website.
Step 2. Once downloaded, run the application.
In the main interface of the tool, enter the captcha code in the first box and select Kaspersky product from the drop-down menu, finally click the button. Remove.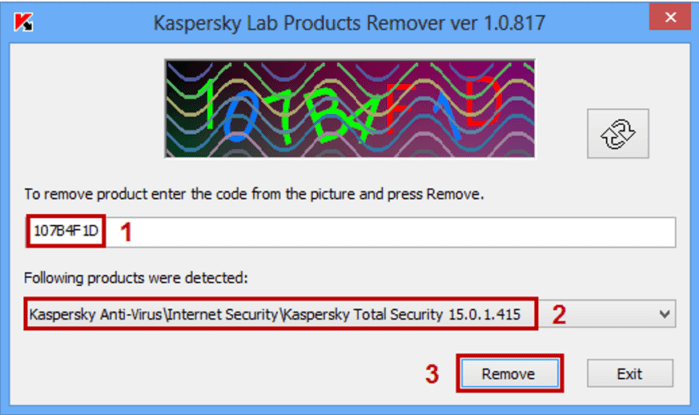 Uninstall McAfee Antivirus
McAfee allows you to properly uninstall its software using the McAfee Consumer Product Removal tool or MCPR for short.
Step 1. You go to official support page and download MCPR tool.
Step 2. Once downloaded, run the application. Agree to the terms and enter a captcha. The removal tool will automatically detect the McAfee software and uninstall it.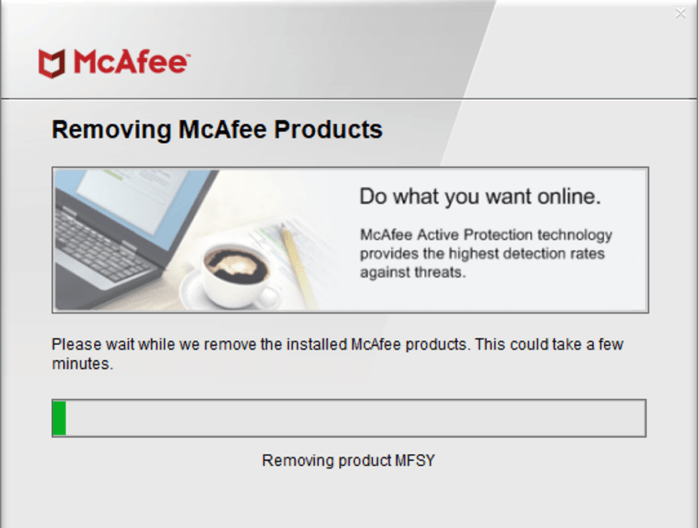 Once done, reboot your system to complete the process.
Uninstall ESET Antivirus
Step 1. To uninstall ESET, download the ESET uninstaller then start your computer in safe mode and run the downloaded tool.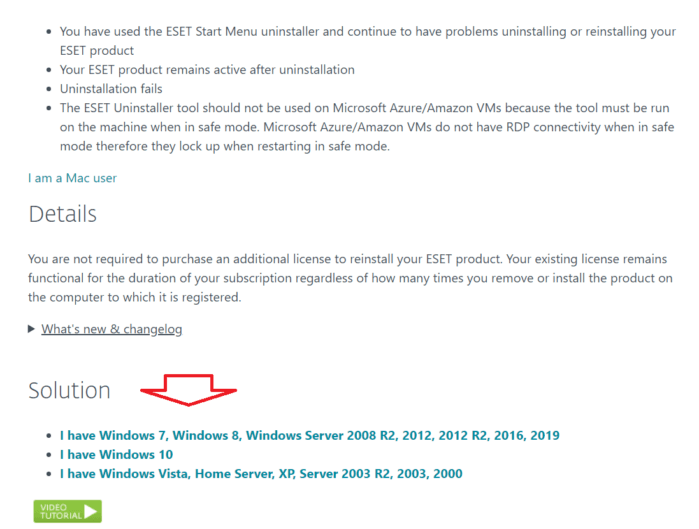 Step 2. Read the warning and enter y To confirm.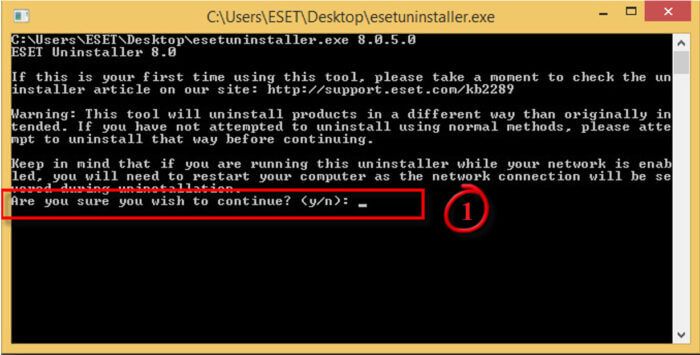 Step 3. Review the items listed in Installed ESET products, enter the number corresponding to the ESET settings in this list that you want to delete, and then press the key Enter.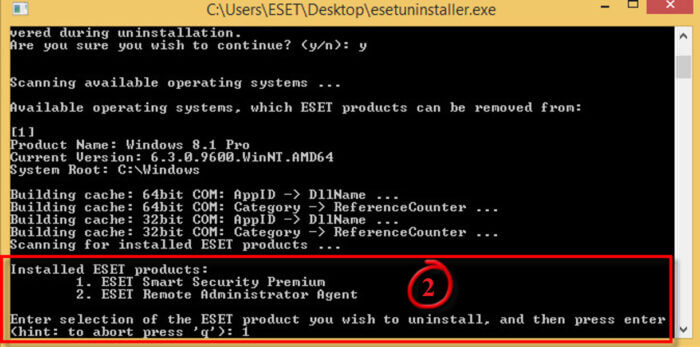 If you are not running Windows in Safe Mode, you will receive an error message. You need to run ESET uninstaller while in safe mode.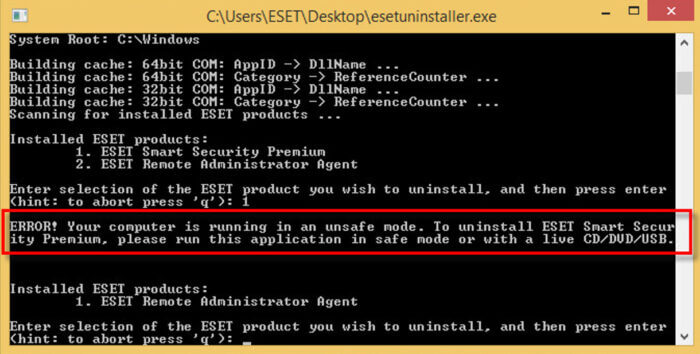 Step 4. Verify that you are properly uninstalling the ESET product from the operating system and enter y To confirm.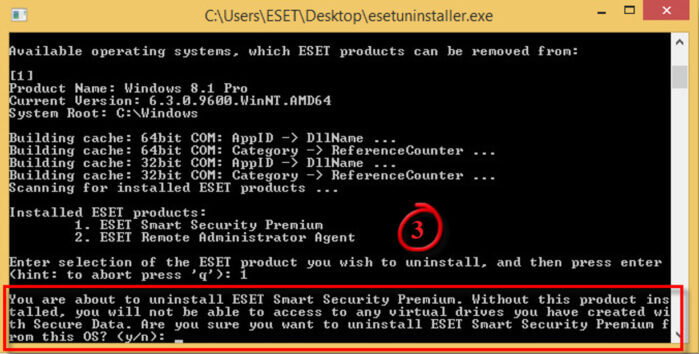 Step 5. After ESET Uninstaller is finished, press any key to exit (or type q then press any key) and then restart your computer in normal mode.
For advanced users, ESET provides advanced user commands. Use the file "esetuninstaller.exe / help" to see all available commands.
Uninstall Panda Antivirus
Uninstalling Panda Antivirus is very easy.
Step 1. Download Panda Generic Uninstaller tool and run it. It will display a prompt letting you know that the system will be rebooted automatically. Click the button Yes to continue.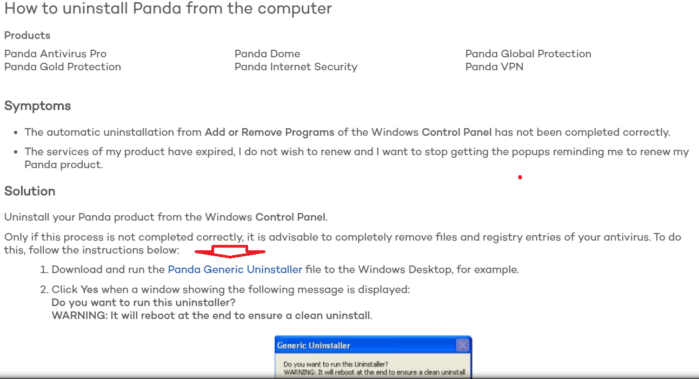 Step 2. The tool will automatically detect the software and uninstall Panda Antivirus. Once uninstalled, reboot your system to complete.

End
If you want to uninstall any antivirus you should use its own appropriate uninstaller. This ensures a clean removal of all installed untivirus tool components. If you can't find a way to make your antivirus software, do a search on Google or Bing.
Also, if possible then let yourself and everyone know any other antivirus software and its uninstaller by commenting below.
Good luck!
The post How to remove an antivirus from your computer: AVG, Avast, Avira, ESET appeared first on Computer tips – Informatics for you.