Learn how to register idol CUBE TV, readers will have a better understanding of how to register as an Idol Streamer CUBE TV as an intern, a freelance live stream or a paid contract at CUBE TV. After registering as Idol CUBE TV, you will be considered to sign a contract from BIGO and make money from your class game livescheam.
Related posts
Sign up for CubeTV, create a Cube TV account
How Livestream Game CubeTV on the computer
How to register, create an account DouYu TV
How to check built-in TV DVB T2
BlueStacks integrates Twitch Stream Game Mobile – Watch live mobile games
Cube TV is BIGO's famous Game livestream channel (the biggest LIVE-platform livestream in Southeast Asia). Cube TV's operational goal is to create a useful playing field for Idol game to earn extra income (Professional gamers hot beautiful girls playing games) and users who want to exchange and follow their game idols.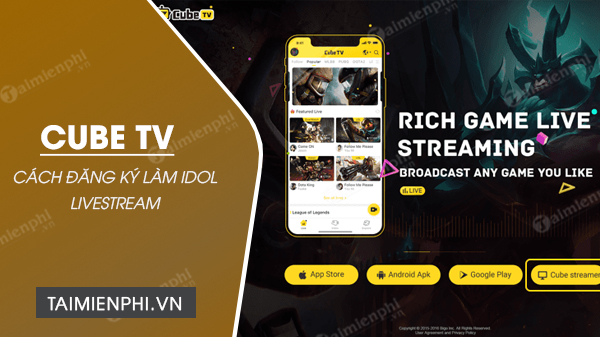 Register for Cube TV idol, Instructions on how to register as a stremer Cube TV
Every month, Cube TV organizes the recruitment and recruitment of free Streamer and Level A, B, S game Streamer nationwide. If you've used Cube TV for a long time, have the ability to play games and want to try being a Streamer on Cube TV then you need to find out how to register as our Cube TV stremer.
How to register the latest CubeTV idol
1. Eligibility for registration as an idol Cube TV
– For game Streamer: Know how to play PC games and mobile games like PUBG, LOL, DOTA2, Lords Mobile, Rules of Survival, …, know how Livescheam attracts viewers.
– For Hot Girl: Pretty face, knows how to talk, knows how to play game and has talent as a Streamer
– There are computers, phones to play games, webcame to record Live Live
2. How to subscribe to Stream Cube TV
Normally, in order to be able to register as a free Cube TV stremer and be considered for live contract, salary contract of Cube TV, you need to perform the following steps:
Step 1: Register an account on Cube TV (If you do not have an account, you can refer to How to create a Cube TV account here)
Step 2: Visit Cube TV's Facebook to follow Cube TV's latest Streamer recruits. (Click here for quick access to Facebook Cube TV)
Then click on the link to register for the CubeTv Streamer internship under the latest Cube TV recruitment link on Facebook.
The screen displays the LiveStream Cube TV registration form, press "continue"to go to the next registration step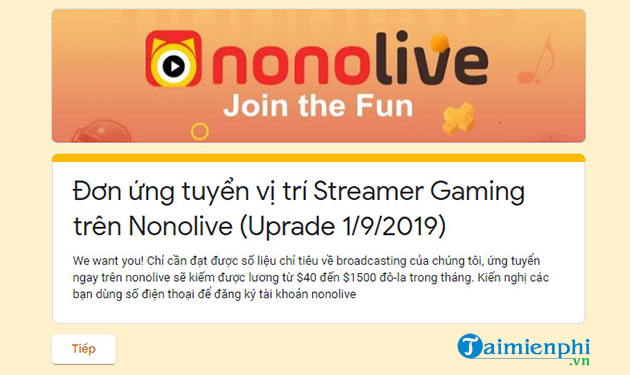 Step 3: Here, you fill in your personal information to complete the registration process (including full name, Nonolive ID number (account ID number at Cube TV), email address, choose the game type you want to livestream, … .), press "continued"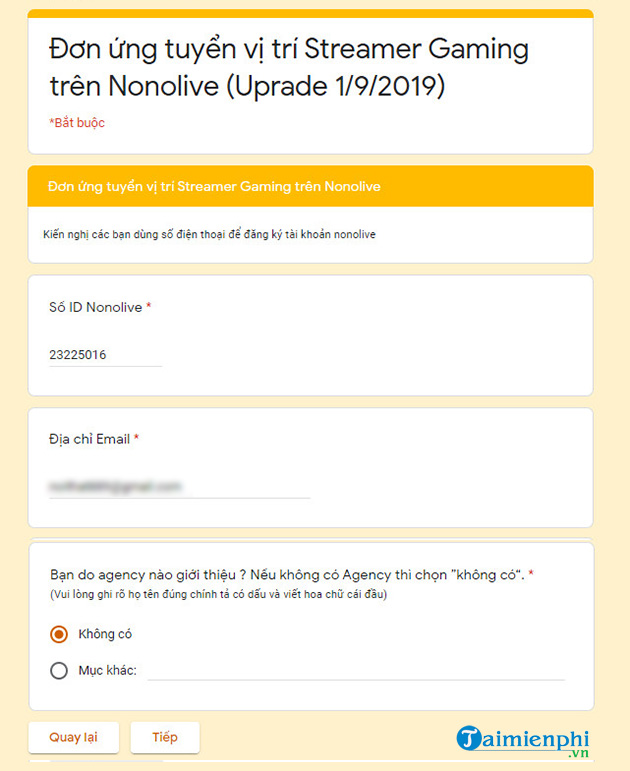 Step 4: The screen shows the Stream Cube TV registration process completed. You need to wait about 7 days for Cube TV to consider signing up as a stremer Cube TV. If you satisfy the criteria set out by Cube TV, you can be scheduled for a Live Casting at the scheduled time. Casting time is 3-5 days.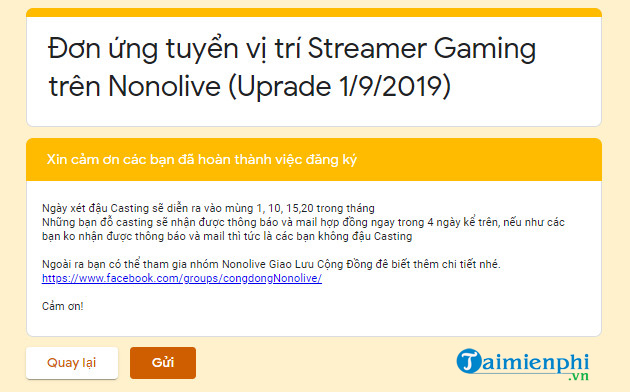 3. A few notes when registering as an idol on Cube TV
– If you register as a stremer Cube TV Freelance, you need to sign a 2-month probationary contract to assess your qualifications and sign an official contract.
– In case you want to register as a HotGirl Streamer, after completing the steps as a freelance Streamer above, you need to continue to register as a hotline Streamer according to Cube TV's female idol recruitment link on Facebook.
– How to make money on Cube TV: In order to become an idol and make money on Cube TV, you need a lot of Livestream time, rate, view rate in each livestream from a large user, qualified for Cube TV ranking.
In the case of B, A, S level Streamer subscribers and top 20 ranked in the target game registration, you may be considered for a 7-day Streamer contract without practice.
You do not know how to register, do not know how to register the latest Cube TV idol, you can contact and ask for information on the Nonolive community at the Facebook group link below: https://www.facebook.com/groups/congdongNonolive/
https://thuthuat.taimienphi.vn/cach-dang-ky-idol-cubetv-58677n.aspx
Above, ElectrodealPro has shared for you details on how to register as a stremer Cube TV and how to register the newest Cube TV idol. Hope the information in this article is useful to you, helping you find a way to live the game to satisfy your passion and make money from it. In addition, for your reference How to Live Stream Facebook Here to stream video directly to Facebook.
.