The printing of certificates of merit using mail merge is no longer new or unfamiliar to those who specialize in printing certificates of merit, certificates of merit, invitations … at shops or printing enterprises anymore. that you can also do by yourself if you follow the instructions of ElectrodealPro.

Related posts
Synthesis of beautiful Certificate of Merit and Certificate of Merit
Performances summarize the best preschool year
Reward and discipline students in SMAS
Some good invitations and power of attorneys
VnEdu – Guide to managing reward and discipline students
Surely you also know that certificates of merit are used to award and praise individuals and collectives with good achievements. To show the dignity as well as the value of that commendation, use the certificate of merit or print certificates of merit To award it, it will be a testament to the efforts and effectiveness to achieve good results of the person who received the certificate of merit or merit.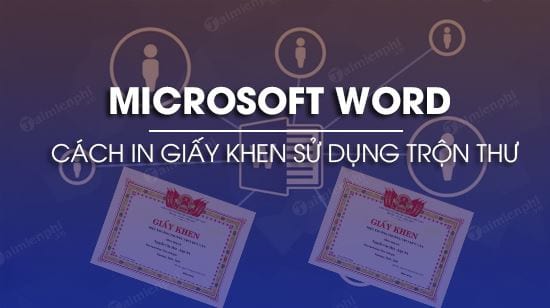 Use Word Mail Merge to print commendations in bulk
How to print certificates of merit using mail merge
With Word application, you can use the mail merge feature to create certificates of merit and printing of merit certificates series It is very fast and you do not have to pay extra effort or expense to outsource processing.
To print a certificate of merit to use mixed villa, you need to prepare:
– Computer pre-installed Word text editor program. This article we use Word 2016.
Use an existing .DOC certificate template to just mix mail. Download Certificate of Merit here.
– You need to have an Excel file to the reward list. For example, you can create a reward list as shown below.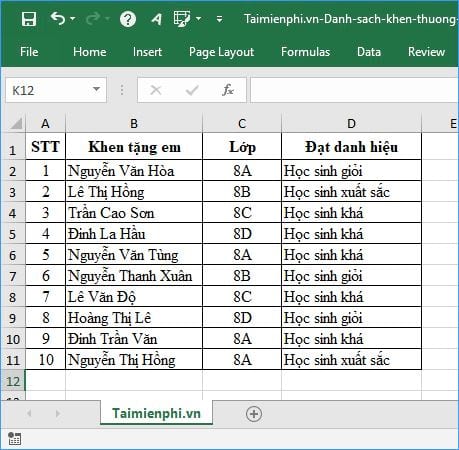 Step 1: Open the Word file as a template of the certificate of merit, click on the tab Mailings ->Start Mail Merge -> select Step-by-Step Mail Merge Wizard to take steps Mail Merge.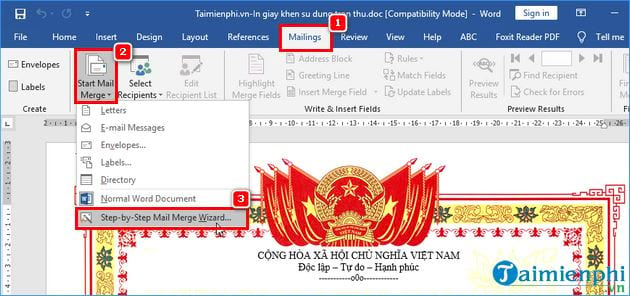 Step 2: Select the style to merge Word text, because it is used to write Certificate of Merit, so you choose Letters -> Next, you press select Next: Starting document.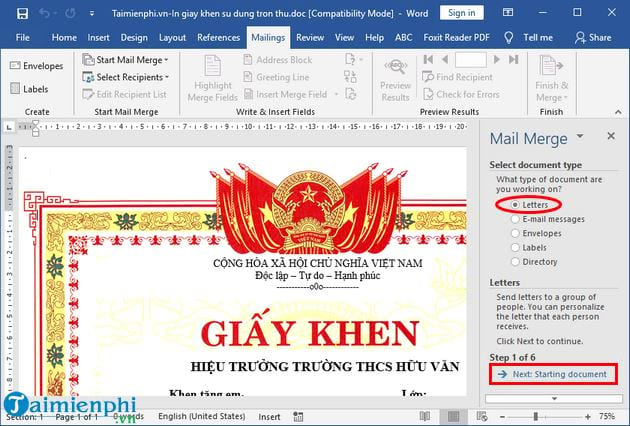 Step 3: Here, you select the starting text for mail merge. Since you initially opened the Word document that needs to be merged, you choose Use the current document (use current document) -> then select Next: Select recipients.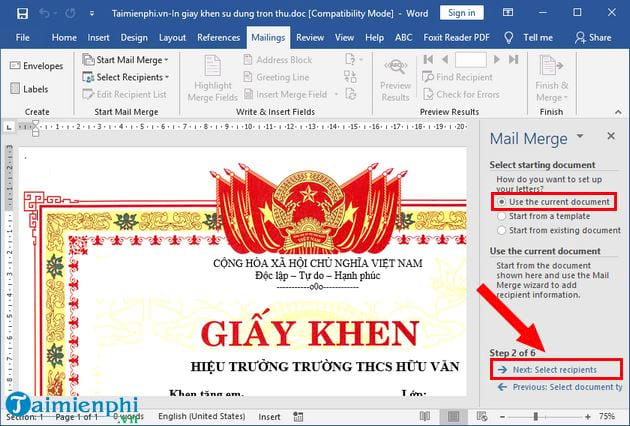 Step 4: At this step, you will have to add the list of student names for the commendation, classes, and titles … so that the Word application automatically adds information into the Certificate of Merit. If not, you will choose is Type a new list to create a new one.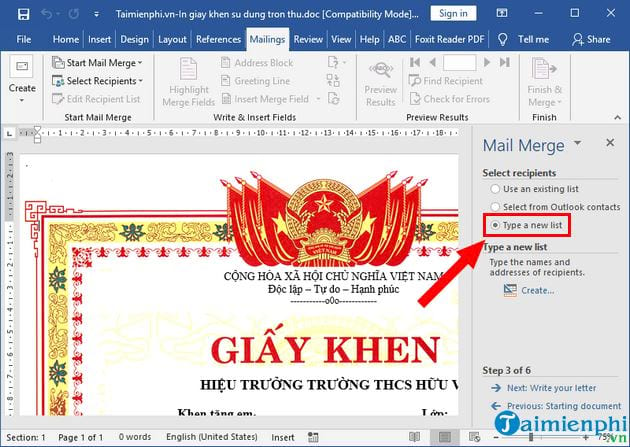 Since you already have a reward list in the Excel -> file, you choose Use an existing list (using available list) -> next, you choose Browse to go to the reward list file (here is the Excel file) or choose Select a different list file if you have already selected it once and want to add another list.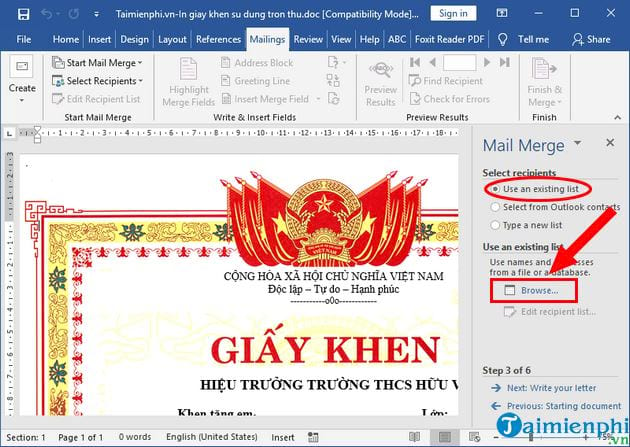 In the window Select Data Source -> you select to file list -> then press Open.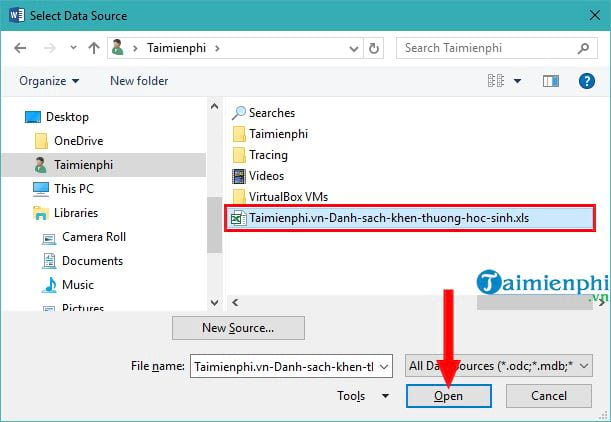 Choose sheet contains list -> press OK.
In the dialog box Mail Merge RecipientsBy default, all recipients are selected, if you want not to send to anyone, you uncheck the name of that person -> after you've selected, click OK.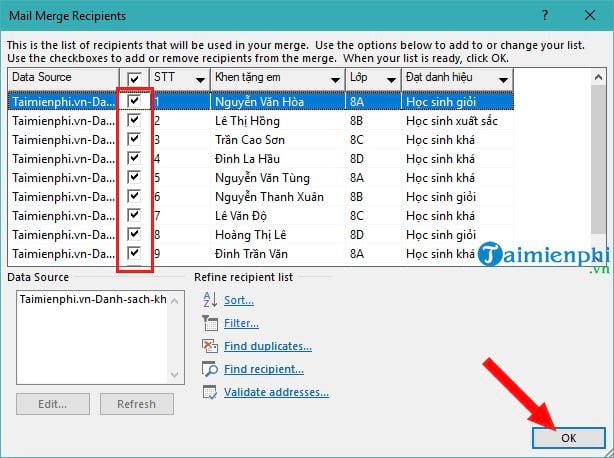 You press Next: Write your letter to go to the next step.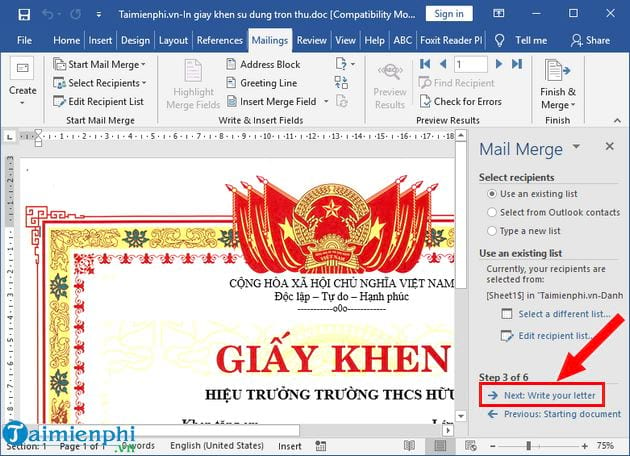 Step 5: Here, you do the following: place the mouse pointer on the field you want to insert information -> then select Mailings -> select Insert Merge Field -> select the information field that matches the information in the Bonus List Excel file.
In-line example Praise for you You place the mouse pointer here -> then go to the menu select as above and then select the field Praise for you, line Class you choose is Class, at the line Won the title choose Won the title.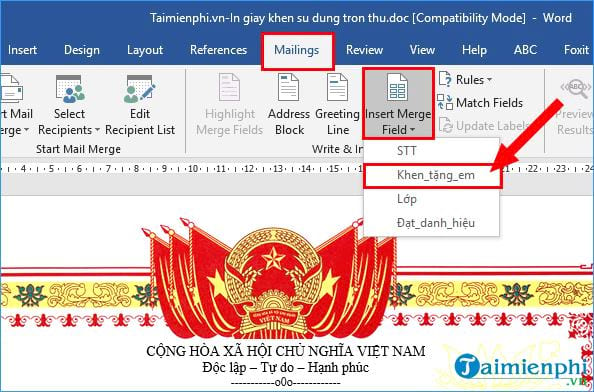 Or you can also perform a field selection directly in the window Mail Merge on the right -> after you've added it. you choose Next: Preview your letters to skip to message preview.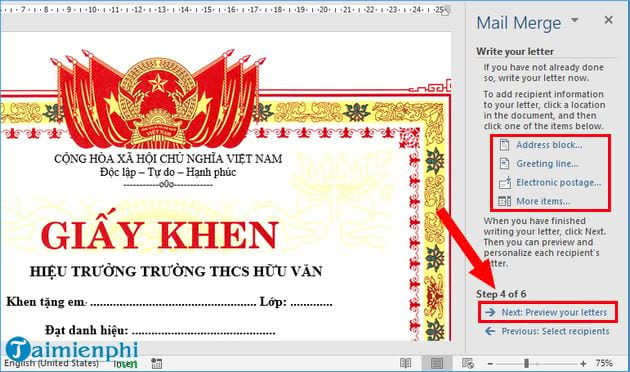 You should note that additional adjustments such as increasing the font size, bold, italic, highlight text … to suit you.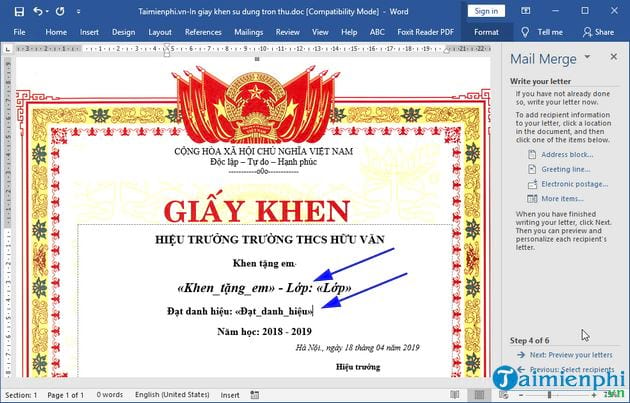 Step 6: For information to appear correctly in the position of the certificate -> click on the icon next and previous See the picture below to see each certificate of merit (each certificate will be 1 name, 1 class, 1 title respectively). After checking and editing the exact content you choose Next: Complete the merge.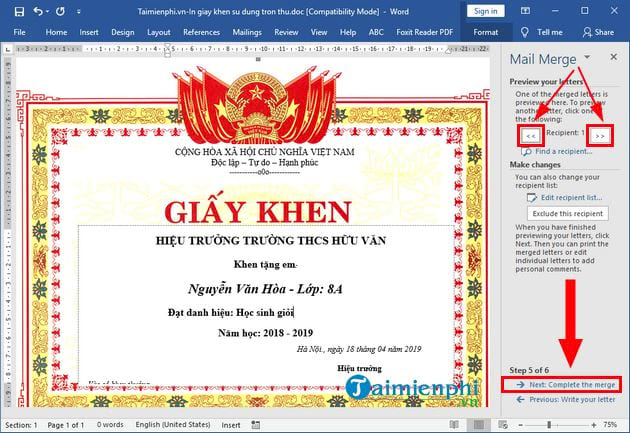 Step 7: To print the certificate, click select Print as shown below: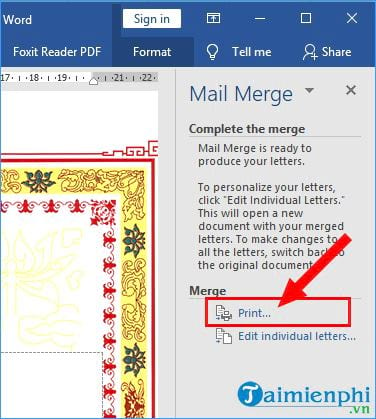 Then set up the printing. You can print the entire reward list if you choose as shown below. If only printing the current one, you choose Current record.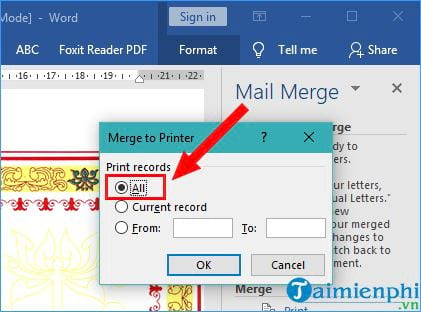 Or actively choose to print the certificates you want according to the list of Excel files. The picture below is that you choose to print from 2 to 4. The file to be printed will be from 2 to 4 according to the Bonus List Excel file.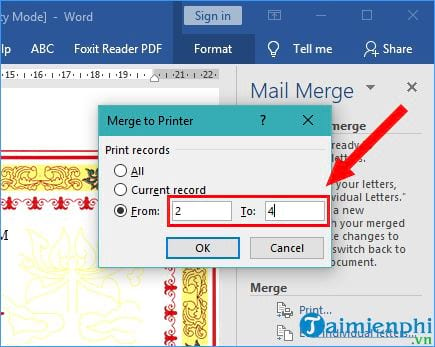 The above is how to print certificates of merit using mail merge in Word application, the operations are not too complicated, guys. With this mass mail merge, it will only take time when you create a reward list, while the reward template you choose, use the right template or you can also edit, customize if you want.
https://thuthuat.taimienphi.vn/cach-in-giay-khen-su-dung-tron-thu-35472n.aspx
You should also refer to the summary Certificate of Merit template The most beautiful is selected by ElectrodealPro to have more options and use it when you need it! Good luck.
.