[ad_1]

On Firefox 74, there is a free add-on called Facebook Container, which prevents social networks, including Facebook, from tracking users' activities when accessed through the browser. In this article, ElectrodealPro will guide you on how to prevent Facebook from spying on users on Firefox.

Related posts
Firefox 42, web browsing is not being tracked
Install and use Firefox to surf the Web effectively on your computer
Fix errors in French on Firefox, download Firefox with French
Firefox adds a feature to block social networks from tracking users
Firefox – Remove add-ons from the browser
Facebook Container will automatically block Facebook trackers to protect user privacy while online. Refer to the following article of ElectrodealPro to learn how to prevent Facebook from tracking users on Firefox with Facebook Container.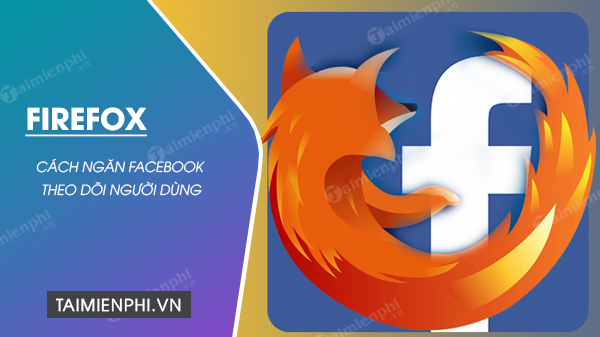 How to prevent Facebook from spying on users on Firefox browser
How Facebook Container works
Facebook Container works by isolating a user's Facebook activities in a completely separate browser session, also known as a "Container". After activating the utility and logging into Facebook, the page will load in a separate blue tab, meaning that you access Facebook from within the Container and not connected to the rest of the browser.
The free Mozilla extension will wipe Facebook cookies, sign out of websites, and close open Facebook tabs. Also other features like Like button, … on Facebook on other websites will not work.
Note: Facebook Container does not collect any information on Facebook as well as information on the container. Also the add-on can be conflicted with another add-on called Multi-Account Container, allowing the user to add one or more websites to the container.
How to install and activate Facebook Container on Firefox
Visit the Mozilla Add-Ons page, find, download and install the Facebook Container, or alternatively visit the "addons.mozilla.org", find the Facebook Container, then click Add to Firefox to install the add-on in the browser.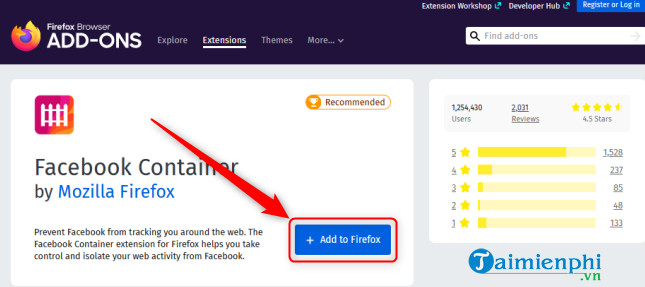 Download Facebook Container for Firefox Go to your device and install it here.
On the screen will display the window Add Facebook Container, here find and click Add.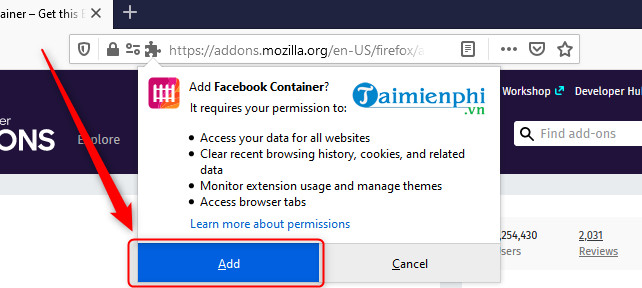 To check if the Facebook Container is activated and working properly, just log into your Facebook account and see if the page is opened in a separate blue tab.

Tweak some exceptions on Facebook Container
Container isolated activity on Facebook user account in separate blue tab on browser. However in some cases you may want to use your Facebook account to interact on other websites.
To do this, you can add that site as an exception and allow interaction with Facebook. To do this, in Firefox open the web page you want to add. Next, click on the Facebook Container icon and select "Allow Site In Facebook Container".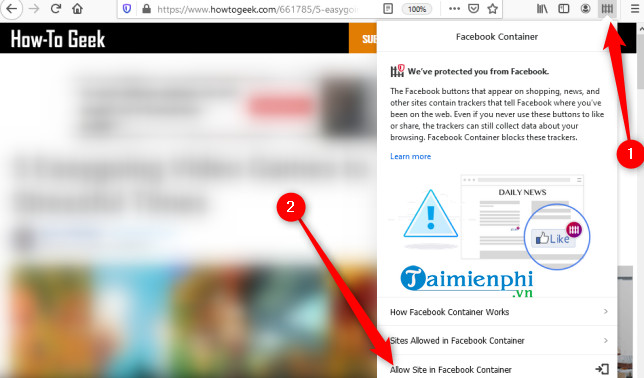 Click to select Allow, the page will refresh automatically and apply the settings you just made.
https://thuthuat.taimienphi.vn/cach-ngan-facebook-theo-doi-nguoi-dung-tren-trinh-duyet-firefox-57357n.aspx
This article on ElectrodealPro just instructed you how to prevent Facebook from tracking users on Firefox with Facebook Container. Also, readers can refer to other articles already on ElectrodealPro to learn more ways to prevent Block Facebook from collecting user information for advertising here.
.

[ad_2]