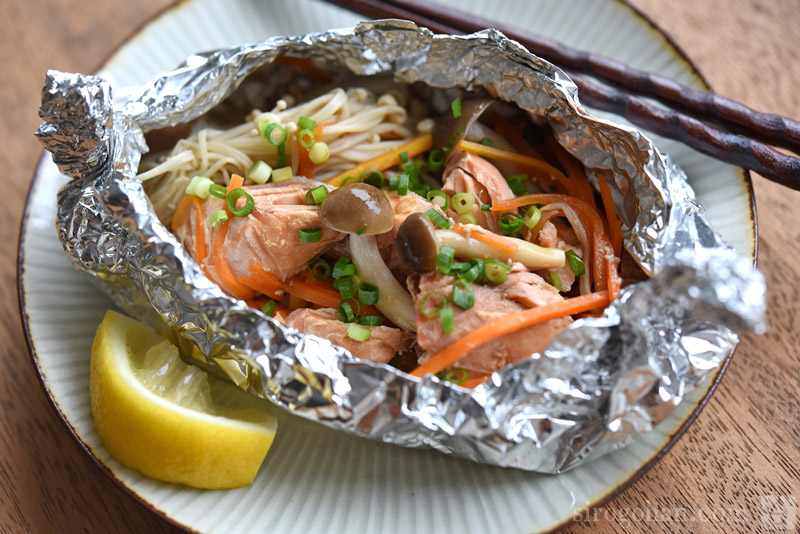 Cooking time: 30 minutes or less
Speaking of simple recipes using salmon fillets"Salmon grilled in foil".. Introducing how to make with a frying pan.
Please bake vegetables such as mushrooms together in foil and finish it with a generous amount of side dishes.
Keywords for this recipe

salmon
Ponzu sauce
Enoki mushroom
Shimeji mushroom
Autumn taste
Carrot
Fish dish
How to make salmon foil grilled in a frying pan
Preparation for grilling salmon in foil
First, for salmon filletsOne pinch of salt for each slice (not included)Sprinkle thinly on the whole and leave it for 5 to 10 minutes.
Prepare the vegetables while letting the salt blend in. Cut off the enoki mushrooms and shimeji mushrooms, and cut the carrots into thin slices.
* If the carrot is a thick stick, it will be difficult for the fire to pass through, so as much as possibleAs thin as a matchstickTry cutting it closer to.
How to grill salmon in foil and wrap it in aluminum foil
First, use about 30 cm of aluminum foil to wrap one. Sprinkle a little salad oil in the center and spread the oil with chopped carrots (you can also use kitchen paper, of course).
Spread the oil about the size of a fish fillet andPlace the salmon fillet with the skin down(Because it is better if the skin is cooked well).
Next, serve the carrots in the back and front of the salmon. Place shimeji mushrooms and enoki mushrooms on top of salmon, and finally put butter on top.
* Carrots are harder to cook than mushrooms, so they are not on fish.Serve next to the fish so that it is in direct contact with the frying panIt is good.
How to wrap aluminum foil, firstAlign the aluminum foil in the back and front so that there is no gap, and make a crease just above the arrangement...
Since there are several centimeters on each side of the part that does not contain ingredients,Wrap the excess part around and round it firmly like a corner...
* It is recommended to make the corners with aluminum foil because it can be used like a handle even after heating and it will be easier to take out the hot foil.
How to make salmon foil grilled / recipe
Transfer the wrapped foil to a frying pan, cover and heat.
The first heat is medium heat and heats for 4 minutes... Always keep the lid on, continue,Reduce to low heat and heat for 7-8 minutes..
When the time is up, turn off the heat, remove the lid, and serve on a flat plate.* If you are making it for the first time, you may want to be careful of steam, open the aluminum foil, and check the salmon and carrot fire streets once.
* If the stove function does not allow heating for 4 minutes on medium heat and the heat is automatically adjusted to low on the way,Try extending the heating time over low heat for about 2 minutes...
Even if you sprinkle chopped green onions when you eat, the color and flavor will improve.
Whether to sprinkle with commercially available ponzu soy sauce or squeeze lemon and sprinkle a little soy sauce, Please try either one!
[Youtube video of grilled salmon in foil]
The recipe video is uploaded on youtube's white rice.com Channel. In particular, please refer to the video, such as how to wrap aluminum foil.
Return to recipe above
[Supplement]
If the finish is ponzu soy sauce, a lot of butter is delicious, and if it is lemon & soy sauce, the butter is modest but delicious.
Other mushrooms such as shiitake mushrooms, maitake mushrooms, and king trumpet mushrooms can easily pass through the fire, so try replacing them with your favorite ones.
Recipe update information: All process photos have been retaken and the procedure explanation has been rewritten (2020.06)
..