Installing WordPress on Bluehost is extremely simple with Bluehost WordPress 1-Click. However, there may be cases where installing Bluehost WordPress 1-click doesn't suit your circumstances.
In this article, you will learn how to install WordPress on Bluehost using different methods. We will also cover what makes BlueHost a unique hosting for WordPress.
How to install WordPress on Bluehost
Install Bluehost WordPress 1-Click
Switch domain to Bluehost

Switch website to Bluehost

Step 1: Back up the previous WordPress site
Step 2: Back up the previous WordPress database
Step 3: Import the database
Step 4: Import WordPress files

Install a new WordPress theme
Install Bluehost WordPress 1-Click
On any web host that doesn't have the 1-click WordPress installation option, you will need to set up WordPress manually.
You will need two things: Domain name and web hosting. Bluehost offers both of these. The best part is that the basic web hosting package of Bluehost is very cheap ($ 2.95 / month, equivalent to about 70,000 VND / month).
When you click the button 1-Click Install sign-up on Bluehost website, you will see a screen where you can set up a domain name for your new website.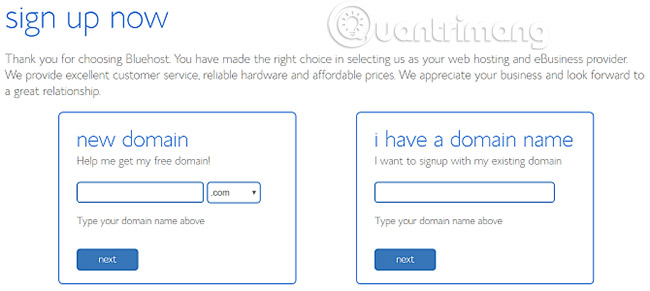 If you don't have a domain name, select the option New Domain. You will get a free domain name for the first year using Bluehost hosting.
The only point is that your domain name needs to be available for registration.
If you already have a domain name, enter it in the field I have a domain name.
The next steps are very simple. Just fill in your personal information, choose the hosting package you want and fill in your payment details.
Finally, enter a secure password to access the controls of your website.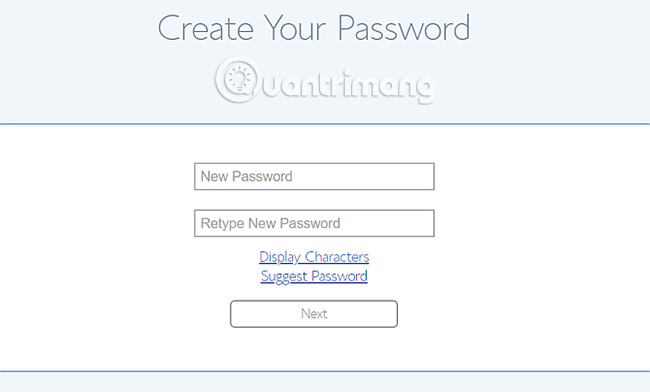 When you're done, you should see your main website portal screen.
If you are familiar with Cpanel on most web hosts, you will notice this dashboard is much simpler (you can click Advanced to see a more traditional Cpanel).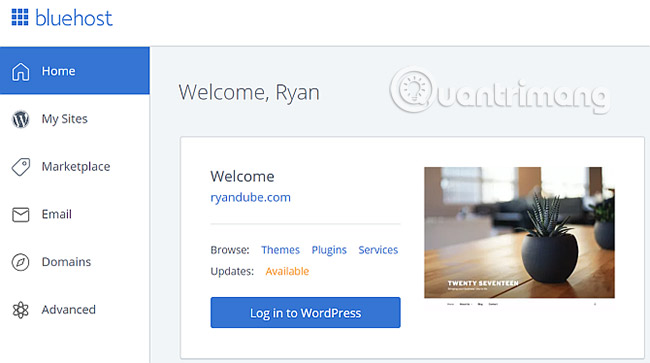 You should see a button Log in to WordPress. This is because your WordPress site, with the domain you choose, is installed, and ready to go.
It's 1-click installation (one-click installation). You have almost everything done at this point.
Switch domain to Bluehost
If you choose to take advantage of registering a free domain name, then you can stop here. Your WordPress site is connected directly to that domain.
However, if you have registered a domain, you will need to point or move that domain to Bluehost.
Assigning (Assign): This means you change the nameserver settings at your current domain registrar to point to Bluehost.
Transferring (Transfer): This means you changed the previous domain registrar to Bluehost.
If you want to transfer domain from the old registrar to Bluehost:
Click Domains in the left navigation bar.
Choose Transfer a new domain to your account.
Fill in the field Enter domain to transfer.
Then, Bluehost will take care of the domain transfer for you. This is the easiest approach if you don't know how the transfer will happen or you simply don't want to pay attention to it.
If you want to keep all your domains with the same registrar or don't want to change domain registrar for any reason, then you don't need to do so.
Just go to the website of the domain registrar where you bought your domain and edit the nameservers there. You will usually find this in Domain settings by clicking Manage DNS.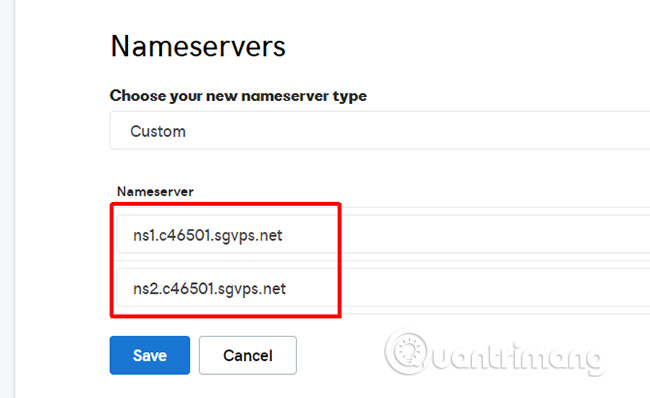 You will need to enter two nameservers.
The details for the first Bluehost nameserver are:
ns1.bluehost.com
162,88,60,37
The details for the second Bluehost nameserver are:
ns2.bluehost.com
162,88,61,37
It can take 24 to 48 hours for the conversion to complete. Once done, the next time you enter your domain in the URL field of your browser, you will see your new Bluehost website appear.
Switch website to Bluehost
If you are moving a website to Bluehost, this process will require a bit more effort. However, it is not too complicated.
This process includes the following steps:
Back up your old WordPress files.
Backup your old SQL database.
Create a new matching SQL database on Bluehost.
Upload your old WordPress files to Bluehost.
Step 1: Back up the previous WordPress site
To backup WordPress files, simply connect to the old server with your favorite FTP client.
Upload all the website files to your local computer and place them in an easy-to-remember location.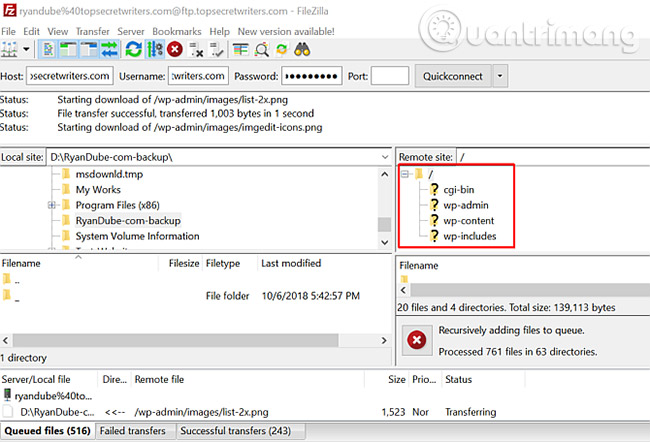 Next, go to Cpanel on your old server and download the SQL database for that website.
Step 2: Back up the previous WordPress database
You will usually be able to do this by clicking the icon Backups.

Scroll down the list of your SQL databases and click on the relevant database link to download it.
Usually, it will be downloaded as a compressed file. When you upload that file to Bluehost, Bluehost will know how to handle the file.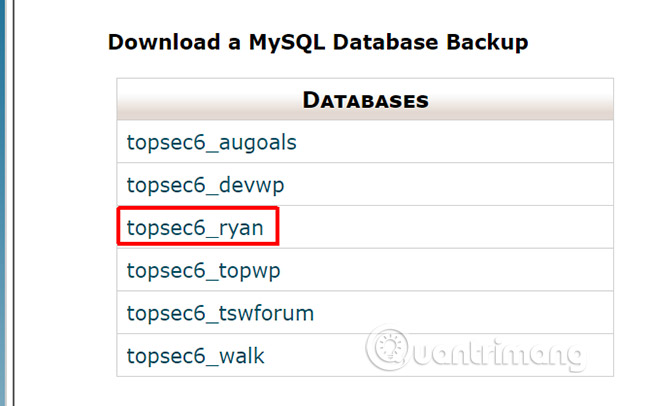 Now you are ready to upload your old website to your new Bluehost account.
Step 3: Import the database
Log in to Bluehost and click Advanced in the left navigation panel.
In Databases, click on MySQL Databases.
Create a database using whatever website name you like.
Scroll down and create a new MySQL username and password.
Scroll down and in section Add User To Database, assign the created username to the new database.
Choose ALL PRIVILEGES on page Manage User Privileges final.
Now go to the folder on your computer where the old website files you backed up and find the file wp-config.php in the root directory.
Edit the three lines in that configuration file where the database, username and password are specified.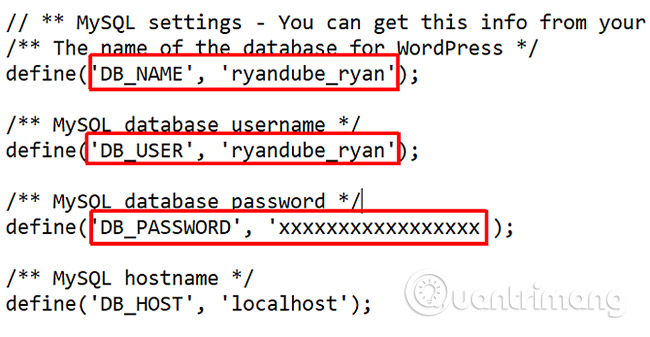 Now import the database you backed up by clicking Advanced in Bluehost Portal Page and click phpMyAdmin.
Select the new database you created, click Choose File and select the database you backed up earlier.
Besure that Partial Import is not selected, and the database format is SQL.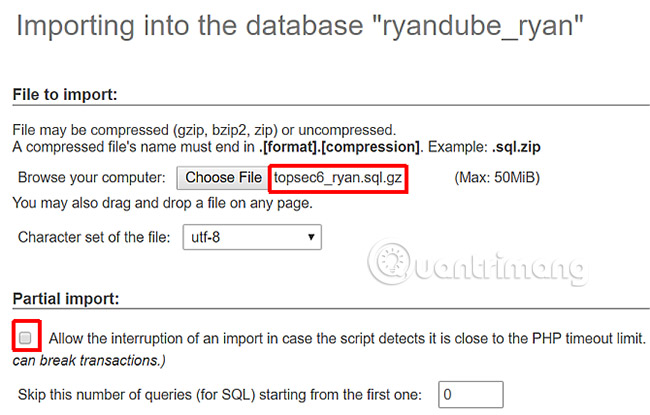 Click Go and after a few seconds, you will see a message that the import was successful.
Step 4: Import WordPress files
In the menu Files, click on FTP Accounts and scroll down the list of FTP accounts.
For an account mapped to the home directory for the website you're moving to, click Configure FTP Client and note down login details. The password here will match the password you registered when opening your Bluehost account.
Open your favorite FTP client and connect to it.
Delete all files in the directory public-html on your Bluehost account. Replace those files with all the files you backed up from the previous WordPress site.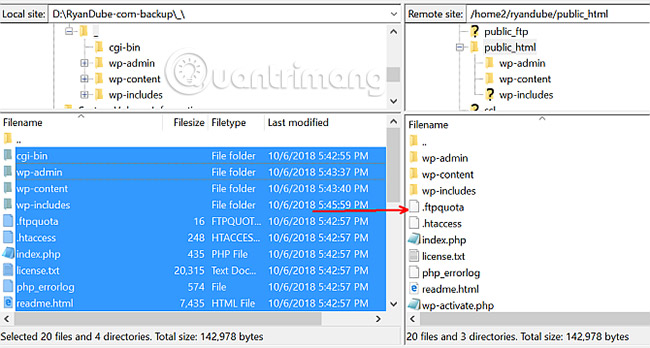 After all the files are uploaded, your website is completely transferred and ready to go on Bluehost!
Just go back to the section Home in the website portal to see how your web page is displayed in the preview window.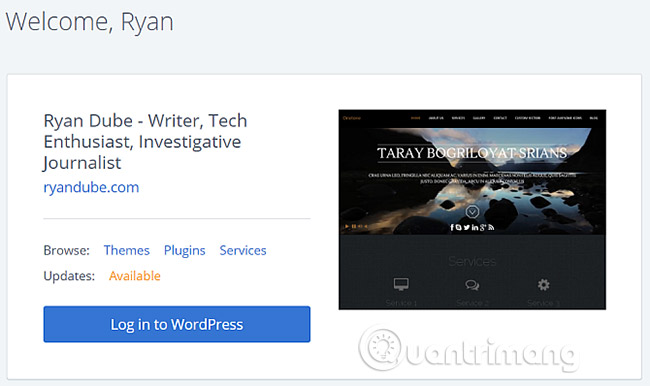 Install a new WordPress theme
Switching to a new host is also a great opportunity to refresh your website's theme section.
15 Versatile WordPress Themes for Web Designers
When you click the tab Home in the Bluehost portal you will see there is a link Themes in the preview window for your website.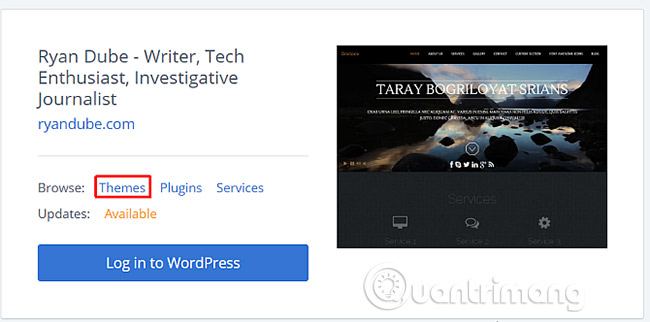 This will bring you to marketplace Bluehost Themes & Templates. You will find thousands of templates available for purchase here.
Regardless of where you buy the theme from, the process of uploading to your Bluehost WordPress website is the same.
Use your favorite FTP application to upload to the theme folder containing all the theme files, folders /wp-content/themes/.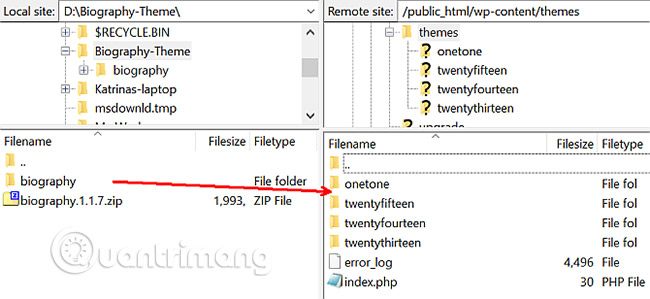 After all files are uploaded, open the WordPress admin panel, click Themes, Find the theme you have uploaded and click Activate.

You may see a message in WordPress that you are missing some plugin for the theme. Just click Begin installing plugins to install all missing plugins.
As you can see, there are a lot of similarities between installing and migrating Bluehost WordPress.
The main difference is the interface of Bluehost Portal, as well as the difference between BlueHost Cpanel and a standard control panel. Fortunately, Bluehost offers all the tools you need to start a new website or migrate from an old website.
If it comes in the end, you're not entirely sure you want to stick with Bluehost. Don't worry, we have provided a list of the best WordPress hosting service providers out there. Take a moment to review one of those options to see if they suit your needs.
Good luck!
See more:
How to set up a Bluehost Webmail account
Compare Bluehost and HostGator web hosting
How to install WordPress on Vitual Server using Cloud9
.