Instructions for installing and watching movies on VieON below help you easily watch popular movies with copyrighted TV programs with steps of installation and use. VieON very simple on Android phone or iPhone.
Related posts
How to see Hai Duong In the Wind in full on VieON
How to buy VIP VieON package only 49k / month
Instructions to watch the Full HD Penthouse Wars on VieON
How to use VieON without phone?
How to watch the movie Sticky rice sticky rice on the computer
Install and use VieON Is the right choice if you are looking for an app to use on your smartphone to watch movies or watch copyrighted online TV channels and completely free channels with sharp image quality, content Compact installation amount.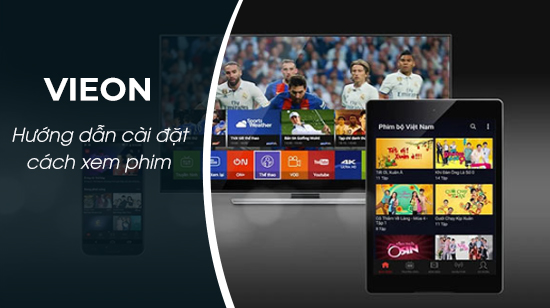 Install and use VieON on mobile phones
Using the web online or using apps to watch movies, listen to music on the phone is a form of entertainment that most users now use when they have free time. Due to the legitimate demand, there are many websites and applications quickly born, meeting the needs of watching movies, listening to music, entertainment … of users. Can be mentioned as zing TV, install FPT Play, watch movies on WeTV, Clip TV … in which it is impossible not to mention the application VieON.
– Download VieON for Android here.
– Download VieON for iPhone here.
Instructions for installing and watching movies on VieON
1. How to download and install VieON on your phone
Step 1: Perform the download VieON for Android or iOS phones follow the download link provided above. Or you open the app CH Play on Android phones and App Store for your iPhone up.
Step 2: Enter search keyword is VieON to find apps to install.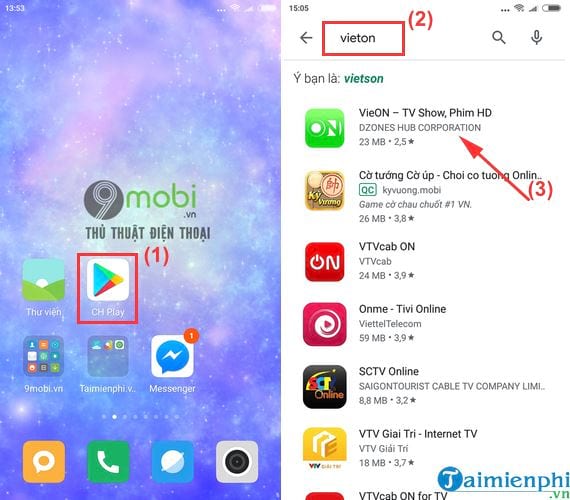 Step 3: Click SettingImmediately the process of downloading and installing the application to the phone is done.
Step 4: The download process is finished, you press the button Open to start watching the movie above VieON.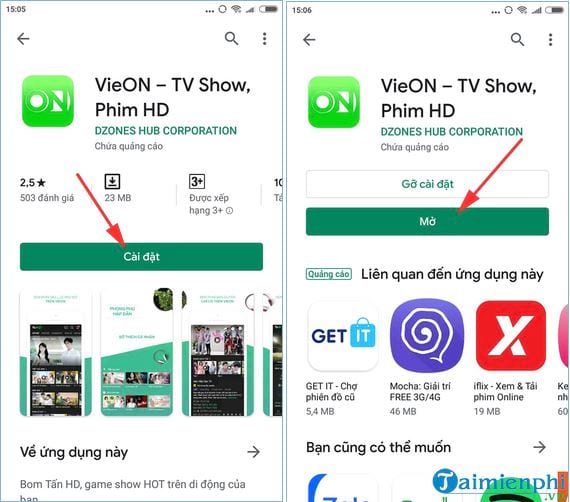 2. How to use VieON to watch movies
When opening the app VieON to use, at Home page will display popular movies, entertainment programs and TV channels, in addition you can access to see more items such as:
– Video: When you come here, you will see the movies, TV Show, VIP Videos being broadcast and being viewed many times.
– TV: This section, when the user enters, will see all the TV channels and broadcast schedule of each TV channel. To watch, you need to log in to VieON to view channels. You can login to Facebook or login to your Google account if you have not created an account or you simply like to log in quickly with Facebook or Gmail.
– Direct: Here, you will see the videos being live.
– Personal: This section contains all of your information and will be displayed in this section.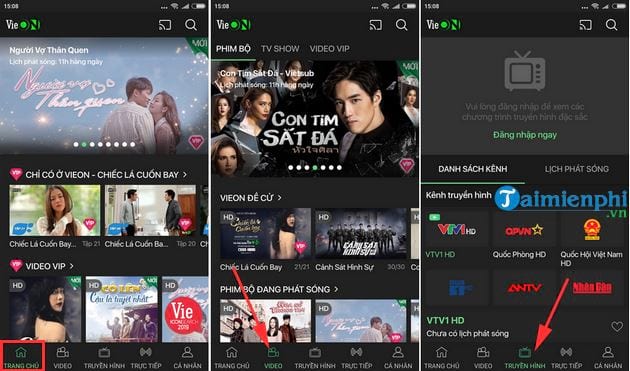 3. How to watch movies on VieON
Step 1: To watch movies, you click on the search icon right at the main screen. Then, enter the name of the movie you want to watch. If you see the movie on the homepage, simply click to watch it.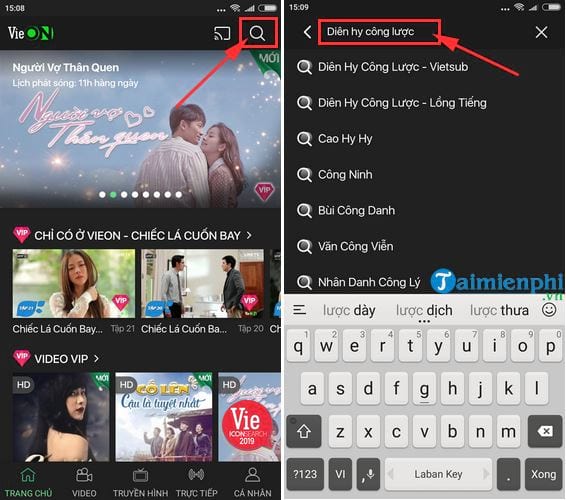 Step 2: Click on the movie you just performed the search above.
Step 3: Select the episode you want to watch.
Step 4: When the movie is played, you can rotate the phone screen horizontally to see the movie more clearly.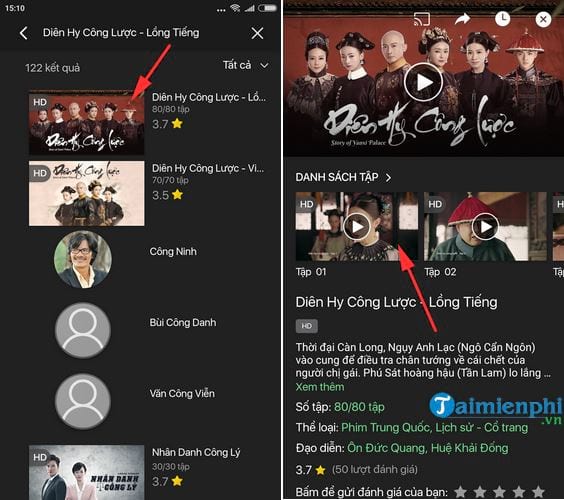 For entertainment programs, TV Show, VIP Video, you can watch the same way as watching movies and instructions.
https://thuthuat.taimienphi.vn/cach-cai-va-xem-phim-tren-vieon-52079n.aspx
Above are the full instructions install and watch movies on VieON on Android phone and iPhone. The steps to install and watch movies on VieON are simple, right? If you have not used this application, download and install VieON now to comfortably watch your favorite movies and programs. Good luck!
.